Bitcoin and Cryptocurrency Exchange
CEX.IO is a regulated multi-functional cryptocurrency exchange and was one of the first platforms to make fiat-to-crypto transactions accessible by offering card payments and bank transfers to clients.
CEX.IO Review And Best Alternatives
In this article, CEX review, we're looking at the CEX crypto exchange platform, writing our thoughts, as well as explaining how you can start on it.
There's no doubt that exchange platforms made traders' lives much easier. Due to the features that crypto exchange platforms offer, like buying, selling, or swapping, it has become one of the essentials in the crypto field.
CEX is a crypto exchange platform that provides its users with different payment methods and also supports many crypto assets. And during our CEX review, we're explaining all about CEX, so let's get started.
About CEX.
CEX.IO is a regulated multi-functional cryptocurrency exchange and was one of the first platforms to make fiat-to-crypto transactions accessible by offering card payments and bank transfers to clients.
Also Read: ChangeNow Review and Best Alternatives.
CEX Features.
Following along with the features that exchange platforms provide, CEX does too. CEX has different features to offer. In the next part, we'll explain all of CEX's features.
Staking.
For those who don't know what staking is. Staking is holding funds in your crypto wallet, which maintains the blockchain operational, for blockchains that use proof of stake, of course. It allows you to receive rewards by letting your coins validate transactions on the chain.
You can stake your coins on CEX and get rewarded for it. Also, with CEX, you can trade your staked coins. CEX will calculate your reward as long as these coins sit in your CEX account.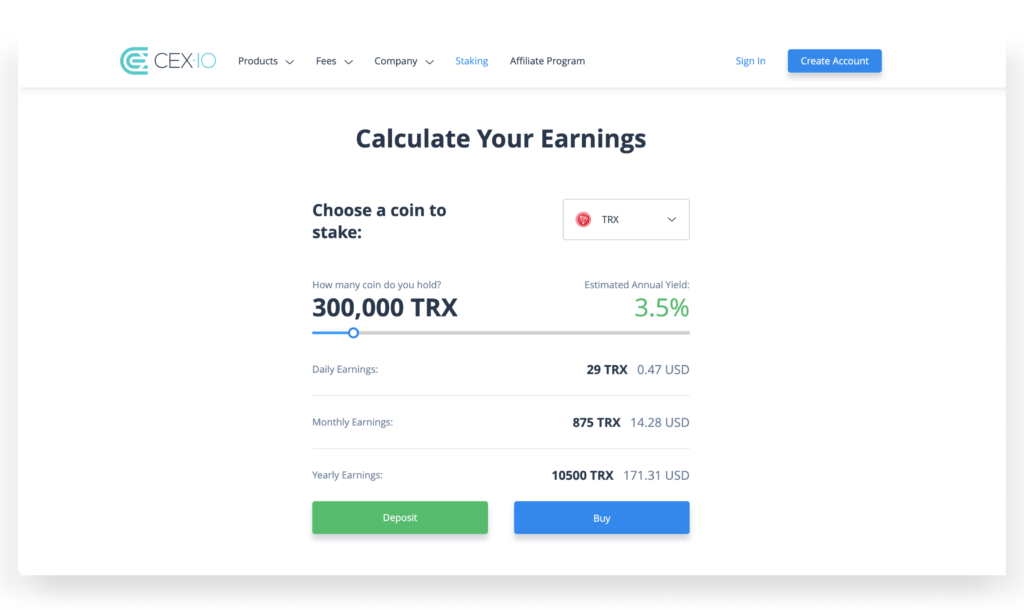 Payment Options
CEX has Multiple payment methods like Visa, Mastercard, bank transfer (SWIFT, SEPA, ACH, Faster Payments), and cryptocurrency.
You can purchase crypto using their platform. However, you can't transact crypto from your wallet to your CEX wallet.
Strong Security.
CEX has substantial protection against DDoS attacks, which have been increasing against crypto exchange platforms lately. Furthermore, all data on CEX is encrypted on cryptocurrency cold storage. Also, CEX complies with PCI DSS standards to safeguard your funds.
24/7 Support.
You'll get all the care you need on CEX. Not only can you look for guides at their help center, but also you can contact them via email, live chat, and phone.
Supported Cryptocurrencies.
In comparison to competitors, CEX loses when it comes to supporting crypto. CEX supports only 18 coins; of course, that includes top coins like BTC, USDT, ETH, and more.
FAQ.
Is CEX easy to use?
Yes, CEX has a simple interface and a straightforward trading terminal. Further, you'll find no problem creating your account, depositing, and trading.
Is CEX Safe?
As we mentioned, CEX is safe and keeps high-security standards against any attack; CEX also provides users with protection under a level two DSS certificate. This means it has proved itself to have a secure environment to transmit and store data.
How Much Is CEX Fees?
CEX has relatively low fees in the field. You can view CEX fees here.
Starting on CEX.
Up next, we're illustrating how you can start your account on CEX and deposit or withdraw; also, you'll learn how to generate an API key on CEX.
Create an Account.
Firstly, visit CEX's main page and click on 'Create an account,' submit your information, and remember to use a solid and unique password that you haven't used elsewhere.
Verify Your Account.
After submitting your information, visit your email and look for a verification link from CEX's team to confirm your account.
Verify Your Identity.

CEX has limits on unverified accounts, and to start trading on CEX, you need to confirm your account. There are different types of verifications that you can view below in the picture.
Once you've signed up on CEX, it'll take you through the process of verifying your account.
Deposit or Withdraw.
Unluckily, you can't transact funds into your account, and the only way to have assets for trading is by purchasing through CEX.
In order to deposit or Withdraw, on the top right, choose the action you'd like to do. Then, you can select the payment method you'd like to proceed with.
Trade on CEX.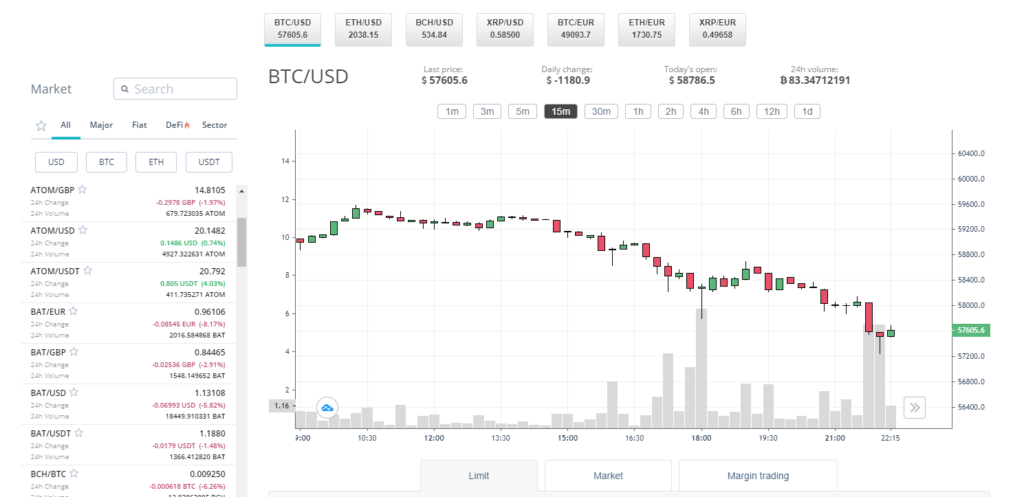 Once you have funds in your verified account, you can start placing orders on CEX.
On the top menu, click on 'Trade', and then you can see the trading terminal. On the left, you can search for the markets you'd like to trade in.
Generate an API.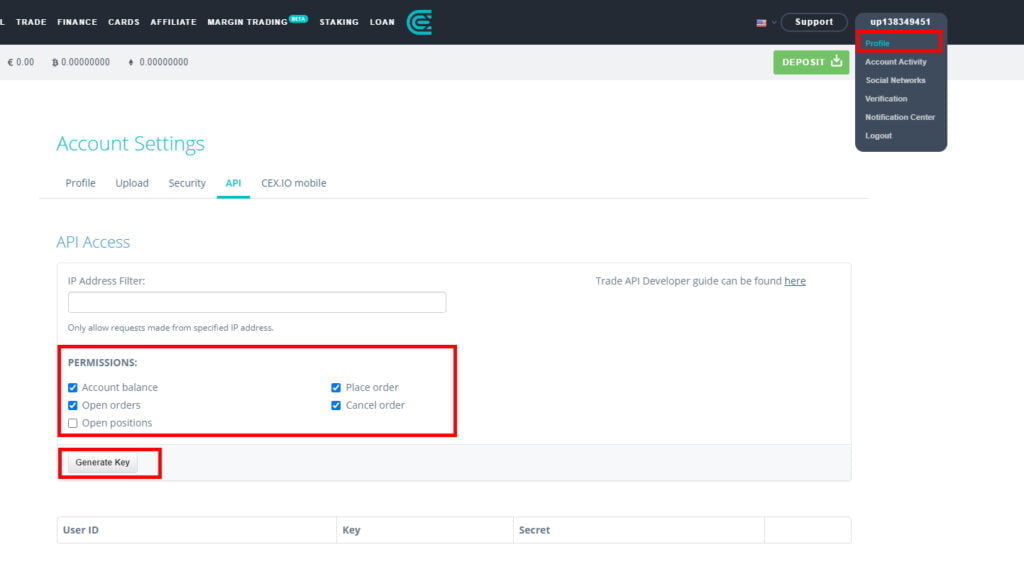 API keys are advanced on CEX, and you can generate your API key to use in automated trading platforms.
On the top right, hover over your account menu and click on 'Profile,' then click on 'API'; after that, you can filter IP addresses with access to that API key or edit given permissions.
Conclusion.
During our CEX review, we found it as one of the most promising exchanges that we've reviewed so far. However, it still lacks some essential features—more in CEX pros and cons.
Pros.
Supports stacking
Easy to learn
Cons.