In this article, Coinmama review, we're explaining and getting started with Coinmama crypto exchanges and demonstrating its features and functions.
An exchange is a marketplace for traders and investors to buy or swap cryptocurrencies using fiat or crypto coins.
Furthermore, exchanges ease trading; you can easily place orders and transfer funds between your wallets and exchanges.
Table of Contents
About Coinmama.
Coinmama is a leading exchange in the crypto community by a group of crypto experts and entrepreneurs. Coinmama enables you to sell/buy crypto easily and securely.
Also Read: Binance Review and Best Alternatives.
Coinmama Features.
Coinmama has different functions and features that have drawn our attention during our Coinmama review. In the following part, we're explaining all of Coinmama's features.
High Security.
The first thing to think about when it comes to financing is security, especially if you place orders on such platforms.
Coinmama has a high security level against the growing cyber-attacks on crypto exchanges. Also, Coinmama doesn't keep your assets, as Coinmama will transfer them directly to your wallet.
Multiple Payment Solutions.
Coinmama has different payment solutions for users. Hence, you can choose whatever platform you prefer, like bank transfer, credit card, debit card, and more.
Global Operations.
Coinmama has a presence in almost all countries, leading to an understanding of how popular Coinmama is. Also, there are over 2 million crypto investors all over the world who have trusted Coinmama with their exchanges.
Easy to Use.
Combining Coinmama's multiple payments solutions and global operations leads to its ease of use. Moreover, Coinmama has a simple interactive UI that would support your daily use of Coinmama.
Supported Cryptocurrencies.
You can purchase any of the following crypto coins on Coinmama:
Bitcoin (BTC)
Bitcoin Cash (BCH)
Ethereum (ETH)
Ethereum Classic (ETC)
Cardano (ADA)
Litecoin (LTC)
Tezos (XTZ)
However, if you're not finding the coin you were hoping for, Coinmama is still expanding and will be adding more coins and tokens soon.
FAQ.
Is Coinmama Easy to Use?
Yes, Once you've created and verified your account on Coinmama, you can start placing orders and trading seamlessly.
Is Coinmama Safe?
Coinmama has a high-security standard. Moreover, the platform doesn't keep customer details in its records.
What are Coinmama Fees?
For buying, Coinmama has a commission fee of up to 3.90%. Also, there is 5% more if you use a Credit/debit/prepaid/virtual card.
And for selling, Coinmama's fee is up to 1.9%. We recommend reading more about Coinmama's fees here.
Starting with Coinmama.
In the following part of our Coinmama review, we explain how to start your account on the platform and get going.
Create An Account.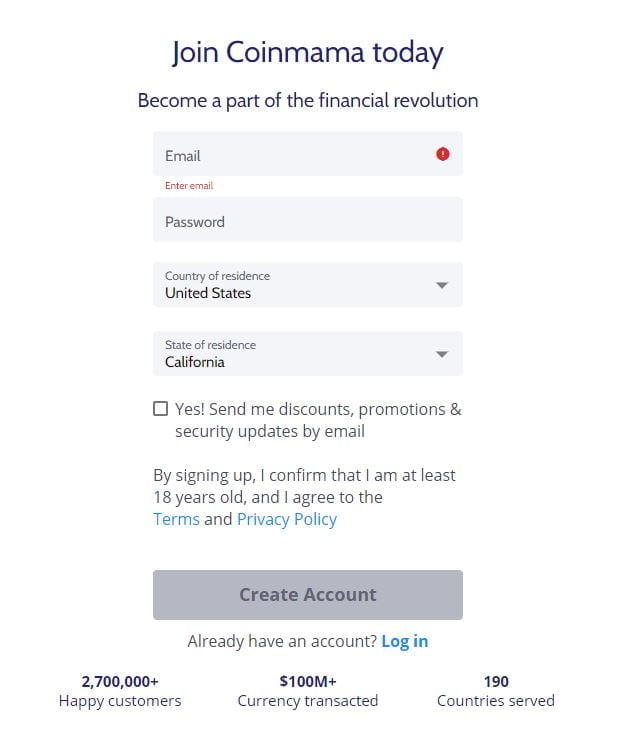 Firstly, visit Coinmama's website and enter your information. Always use a robust and unique password for such platforms.
Verify Your Identity.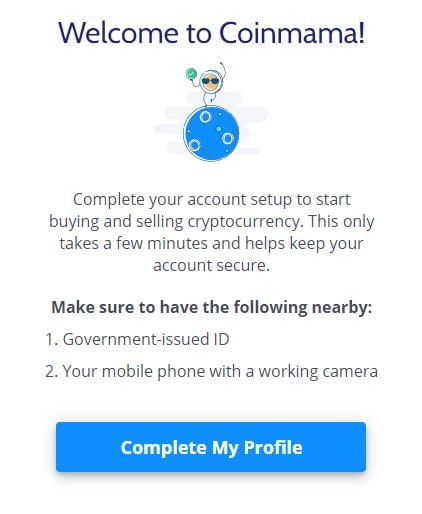 After creating your account, you can verify your identity for further security on the platform. The process is easy, and Coinmama will take you through it.
Place Your First Order.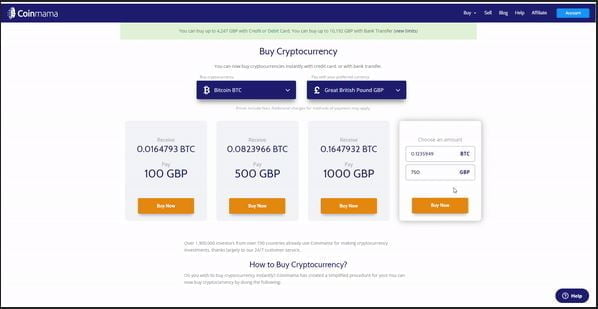 To place your order, select the amount you'd like to purchase. Notice that prices include Coinmama's fees.
Secondly, Enter your wallet address to where you want purchased coins to be transferred.
After that, Choose your payment method.
Conclusion.
Since Coinmama's creation in 2013, the platform has proved to be one of the most trustworthy exchanges. It has given traders and investors many features; the most important is the ease of use and different supported payment methods. However, there is something that we didn't like as well, more in the following Coinmama pros and cons.
Pros.
Easy to use
Supports many payment methods
available globally.
Cons.
Coinmama Comparison and Alternatives Options.
If you didn't like Coinmama for any reason, no problem. We're providing you with the best alternatives for Coinmama to check.
Description:

A non-custodial service created for simple and fast cryptocurrency exchanges. ChangeNow strives for maximum safety, simplicity, and convenience.




Description:

SimpleSwap is an instant cryptocurrency exchange. The service is free from sign-up and has a user-friendly interface that provides an easy exchange process. SimpleSwap offers more than 300 cryptocurrencies to swap and two exchange types: floating and fixed rate.

Description:

An instant cryptocurrency exchange that provides secure, limitless, fast, and cross-chain swaps with no registration required.

Description:

Bitop Exchange is a leading digital financial service platform that provides a secure, comfortable, and equitable digital asset investment environment for users worldwide.

Description:

BYDFi, formerly BitYard, is a leading crypto contracts exchange based in Singapore. It provides secure and user-friendly trading services across 150+ countries, emphasizing a streamlined approach for traders.
Finally, we'd love to hear from you in the comments. So tell us, what are your thoughts on this Coinmama review? Which supported coins would you like to see in the future?