Seed phrase or recovery phrase is a list of words that acts as the key to your wallet. In case of a break of your computer, your wallet's seed phrase is the only way to restore it. With that in mind, you should keep your seed phrase guarded and out of danger; that's where hardware wallets come to play.
Software wallets, also known as hot wallets, store your seed phrase online or on your device, which is always connected to the internet. Yes, that's not safe. That's why in this article, we're introducing all the best available cold wallets for using.
Also Read: Best crypto Trading Bots Ready to use without coding.
Best Hardware Wallets Available.
What Are Hardware Wallets?
Consider wherever your keys are stored, whether on servers, your computer, laptop, or mobile phone. When using a hot wallet; it's almost the same. Cold wallets store your keys, so you are the one responsible for the safety of your keys. However, cold wallets come with many security features like anti-tamper attacks, open-source software, water resistance, and more.
Importance of Hardware Wallets.
Think of your hardware wallet as an armored door for your cryptocurrency. As a matter of fact, hardware wallets is currently the best way to protect your seed phrase because it sets a wall between you and online hackers. But also it protects you from theft that can target your wallet.
The most important security measure that hardware wallets provide is it detects any attempt to open it; as a result, it can take an action such as wiping all the data on it.
Furthermore, hardware wallets are shock-proof which means if the wallet gets hit or smashed it can detect it and wipe all the data to keep your private keys secure.
How Do Hardware Wallets Work?
Cold wallets vary in the way they operate, some use Bluetooth or USB ports, and others use QR codes.
In contrast, some might think that Bluetooth connections or USB may not be safe, but that type of connection is limited, and your private keys never leave your cold wallet.
However, if you're not the Bluetooth or USB type, you can still go for an air-gapped cold wallet. That type of wallets is designed to keep the device in absolute isolation from the world. But, an air-gapped cold wallet uses QR codes to sign transactions.
The first question that comes to mind is how do I make transactions? Many cold wallets have their own integrations that are compatible with either computers or mobile phones or both of them.
For example, to send a transaction using a hardware wallet with a USB connection. Firstly, connect the device to your computer, enter the recipient's address and the amount you are willing to transact in an integration that works with your device. Now comes the good part; you need to confirm the transaction on the device. What happens under the hood is that your private key is in the device and never leaves it, but the USB connection is only used to transfer the signature confirmation
But… What about using an air-gapped cold wallet? The same concept, use integration on your mobile or computer to enter the recipient's address and instead of connecting via USB, ask the device to confirm a transaction. It'll display a QR code, scan it, and you are good to go. Of course, that comes after confirming your device's ownership, like entering a PIN code or something like that.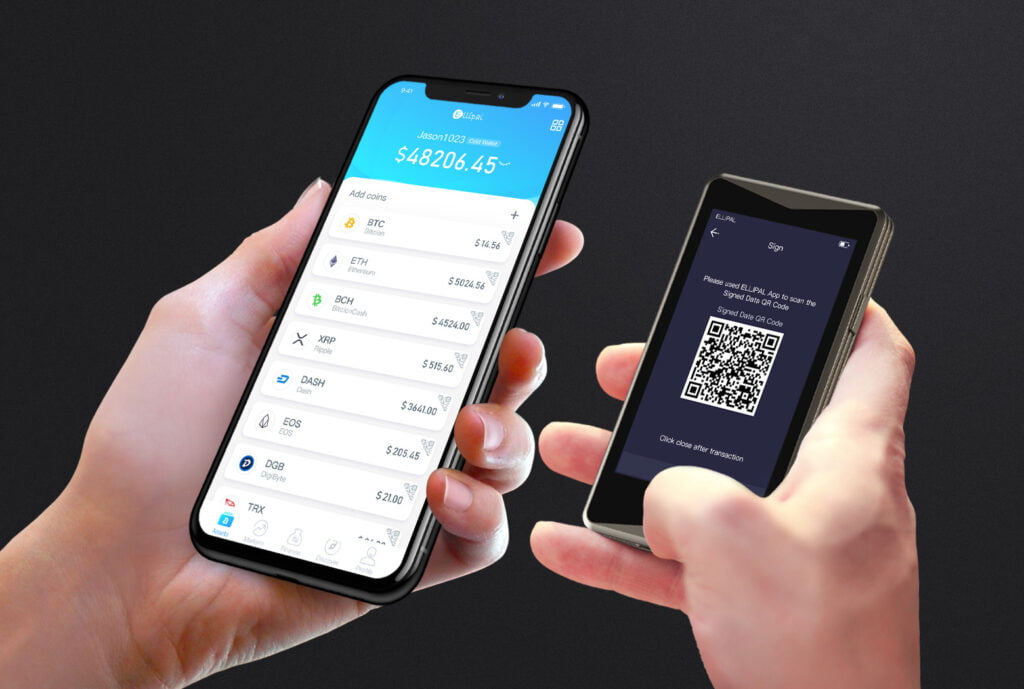 What Happens If I Lose My Device?
Don't worry; your assets will remain safe. All hardware wallets devices are either PIN protected, or passphrase protected so that no one can access your holdings.
And to recover your wallet, you can recover it into any other cold or hot wallet that's compatible with your lost one using the seed phrase generated during the wallet's setup. That's why we always recommend backing up your seed phrase somewhere safe; without your seed phrase, you can never recover your wallet.
Differences Between Cold and Hot Wallets.
In simple words, hot wallets connect to the internet. Hot wallets have the advantage of compatibility with many coins, also it's more likely to get updates faster. However, your private keys are stored encrypted on servers or on your computer. Meaning, if a hacker managed to access them, they'll have control over your private keys. That makes hot wallets a hazardous place to keep your holdings.
Unlike hot wallets, your cold wallet device itself is your own server, as your private key never leaves the device on any occasion. The fallback might be that it's less upgradable and costs more than hot wallets, but it's definitely worth it. Also, many hardware wallets offer great price points; make sure to check our review for the hardware wallets mentioned above, where we spoke in detail about features and prices.
Hardware Wallet Integration with The Software Wallets.
Lots of software wallets and also payment processors allow their users to keep their cryptocurrency safe by integrating with your hardware wallet; Here are some software wallets that integrate with hardware wallets:
MetaMask
Daedalus
Yoroi
Exodus
And there are many more wallets that have the same feature.
What to Look for In a Hardware Wallet?
There are many factors that decide which hardware wallet should you get.
Security Measures: Look for a hardware wallet with strict and hard security measures such as anti-theft, shock-proof, water-proof, and many others. Also, your hardware wallet should be Password Protected and you can look for a hardware wallet with a fingerprint if you want to.
Suitable Display: Try to find a hardware wallet with a suitable screen for you. Some users prefer large and touch screens, some others want small screens with buttons. There are many options that you should dive into and look for what's best for you.
Air-gapped: There are some users that want hardware wallets with Bluetooth connection or USB in order to ease the process of transacting assets etc. It's recommended to use air-gapped wallets with QR codes as it's the best way to protect your assets even though Bluetooth or USB can be safe in some cases.
Reliable Company: The most important point is buying from a reliable company. Hardware wallets parts can't be manipulated during shipment or so. A reliable company will always be more observant than other companies.
Customer Service: It's always better when you buy from a company that has good and efficient customer service in case you faced any issue with your hardware wallet.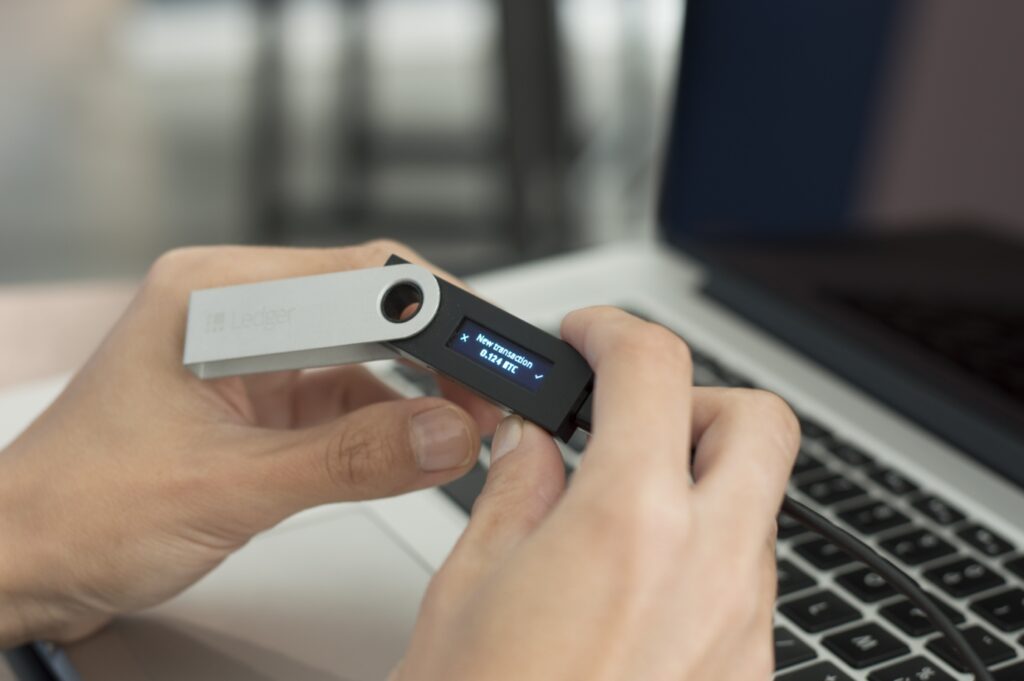 How to Keep Your Seed Phrase Safe.
After starting your first hardware wallet and generating your seed phrase, where do you save your private keys? Of course, your seed phrase is the most important thing in cryptocurrency… If your funds in a bank were compromised, the bank can be able to restore your funds. On the other hand, cryptocurrency is decentralized; which means if you ever lose your funds you can't recover them. That's why you should keep your seed phrase safe.
The first thing you might think about is writing down your seed phrase on paper and putting it on your disk. Or you might also think about taking a picture of your hardware wallet displaying your private keys and saving them on your phone. You should never do that.
We highly recommend using a steel case for your wallets. A steel case is a plate or capsule-shaped from stainless steel which works as a bag for your private keys. There are many forms of it and many shapes that work in different ways.
There are popular companies that have very respectable products in the market, which we have reviewed, here are some names:
Keystone Tablet
Cryptosteel Capsule
Cryptosteel Solo by Ledger
Billfodl
How to Cash out your Bitcoin on a Hardware Wallet:
You can't convert bitcoin to cash directly whenever you want with hardware wallets. You can still sell your Bitcoin on the Blockchain exchange for the fiat currency you want. The exchange platform can handle the transaction on your side and find a buyer so that you convert your bitcoin or any crypto to fiat as quickly as possible.
Pros and Cons of Hardware Wallets.
There's nothing perfect, neither hardware wallets. Here are the pros and cons of having a hardware wallet.
Pros.
Your private keys are kept safe, and they never leave your wallet.
Your wallet is protected with a PIN code.
It has mobility, and you can carry your wallet with you anywhere.
Major security features like anti-tamper and water resistance.
Limited connection to your phone or computer, making it immune to viruses.
Cons.
You need to have your wallet with you to access your holdings.
Works with fewer coins than hot wallets.
It might be compromised during shipment.
It needs integration to work.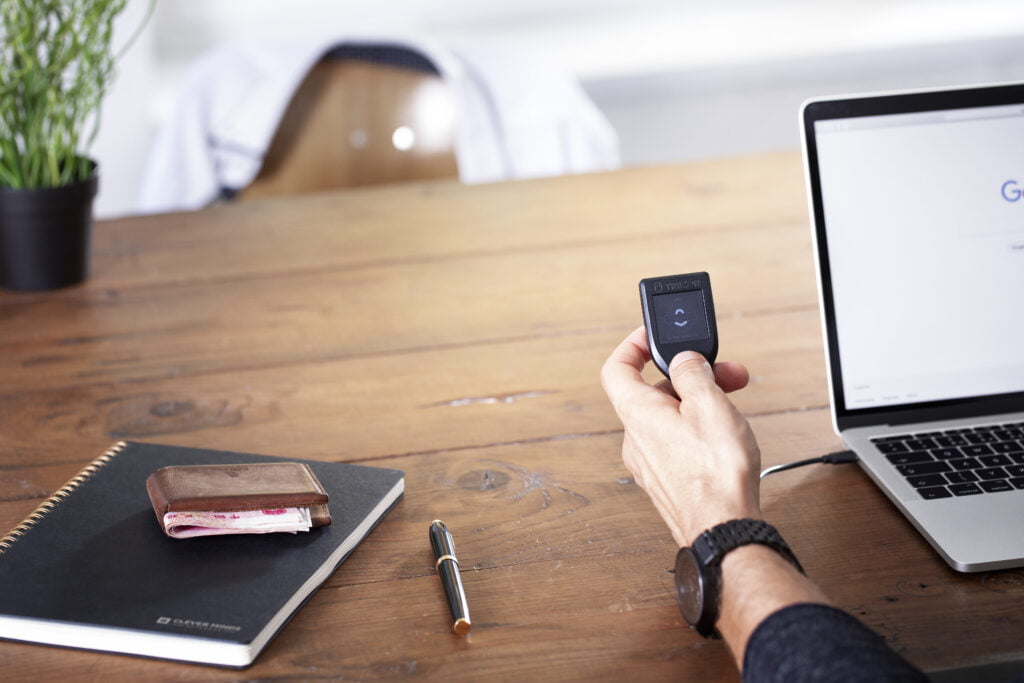 That was almost all you need to know about hardware wallets; now, check our review for each of the wallets mentioned above to have a full picture.
Also, we'd love to hear from you; tell us in the comments section below, which do you prefer, hot or cold? And why?