Cryptocurrency, or digital currency, has been growing lately, as more than 4,000 cryptocurrencies exist. Therefore, many platforms are created to facilitate the exchange of cryptocurrencies and fiat currencies.
As of January 2021, more than 200 cryptocurrency exchange platforms support active trading.
Table of Contents
About Binance.
Being launched in 2017 with the name Binary and Finance, Binance has become one of the most popular cryptocurrency exchange platforms.
Binance supports over 740 cryptocurrency and fiat pairs, like Bitcoin, Ethereum, Litecoin and Binance Coin.
Getting Started with Binance.
To start with Binance, you must create an account on Binance. To get started with using their services, you need to go to Binance or Binance US if you are a USA resident, as Binance has a separate site for USA residents, but it is similar to their global site and has all the functions.
Enter your Email and password, then click 'Create Account.'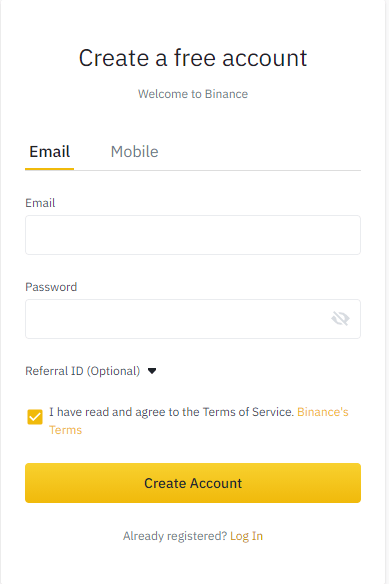 2. You will receive a verification code on your Email. Enter it as below.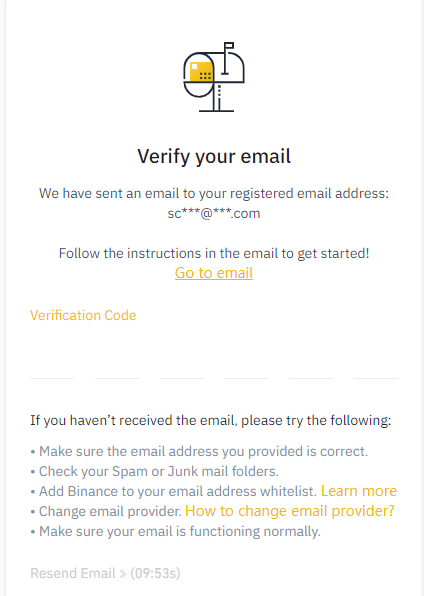 Binance Dashboard and Security.
After completing your registration and confirming your email, you will be sent to the Binance dashboard, where you can overview your account and withdraw from or deposit into your account.
But first, you need to set up your account security to be able to withdraw or deposit by going to Binance Security and enabling Two Factor Authentication (2FA)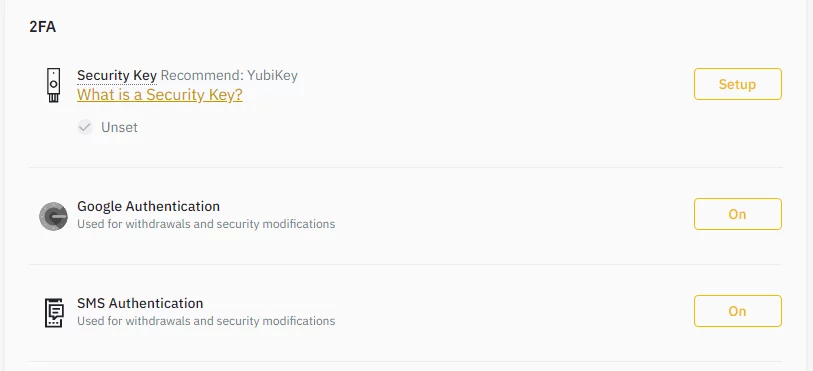 You can complete that by either using Google Authentication or SMS Authentication.
For Google Authentication, click on 'On' next to Google Authentication, and then you will need to download the Google Authentication App on your phone from Google Play or App Store.
After installing Google Authentication on your phone, please open it and use it to scan the QR code displayed on your screen.
Then click on 'Next,' and in step 3, you will see a key you need to write down on paper as you will need this key in case of phone loss.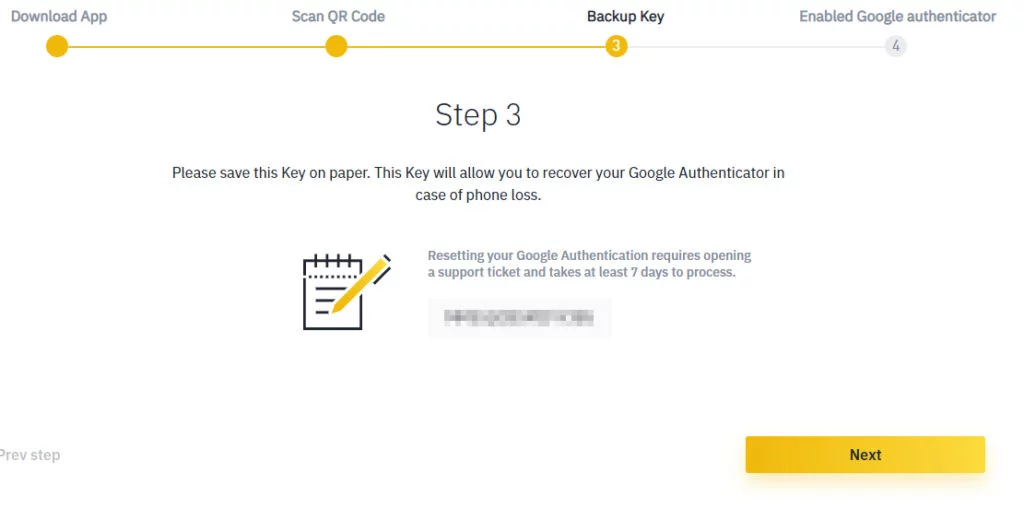 After that, click' Next' and enter the code sent to your Email and the Google verification code, which will be displayed in the Google Authenticator app on your phone.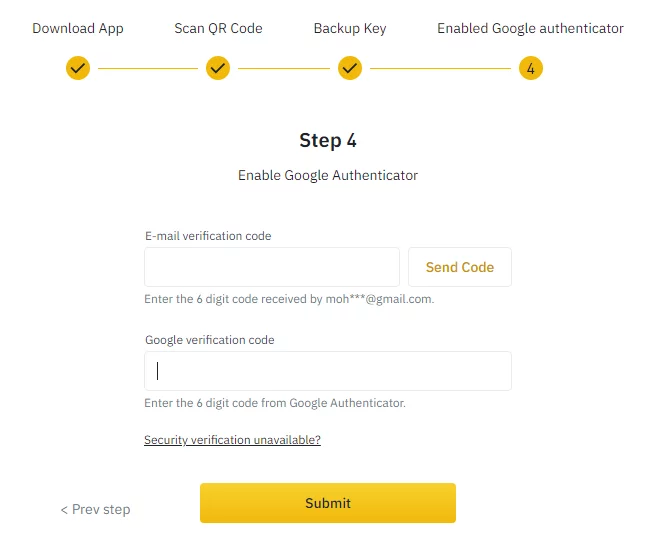 And for Enabling SMS Authentication, you must enter your phone number and the code sent to it.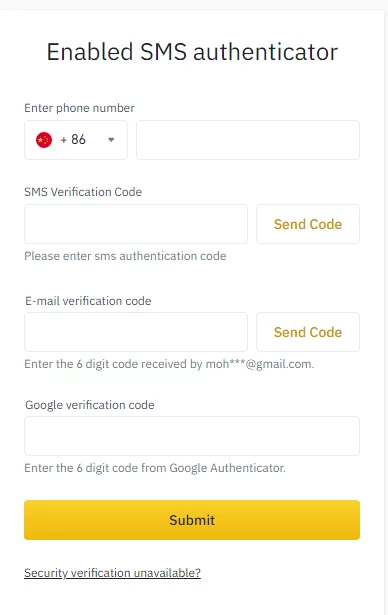 Identity Verification.
All traders on Binance have to verify their identity to provide a safe trading environment on Binance.
After creating your account and turning Google Authentication on, We can get started with Binance account verification.
Go to your Binance profile to complete your personal verification or corporate verification.
Click 'Verify'

2. Select your country, fill in your information, and click 'Submit and continue.'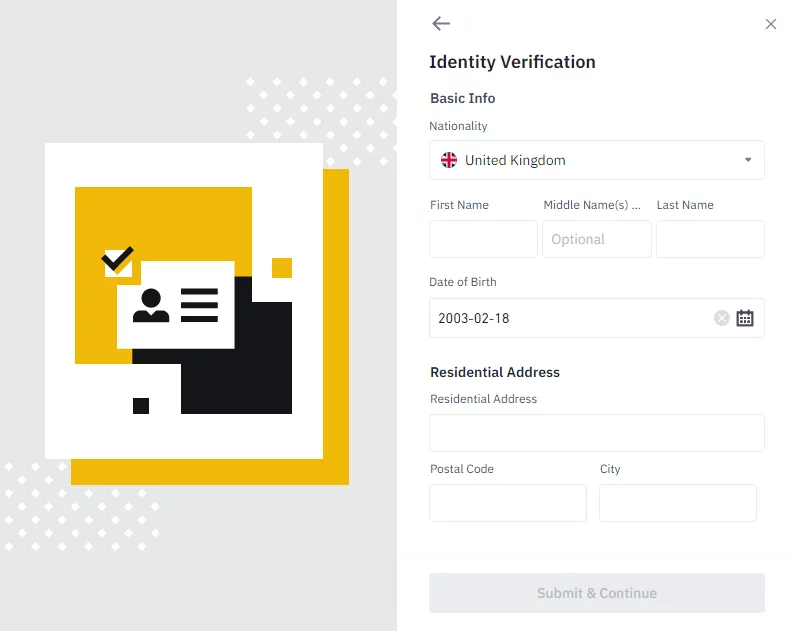 3. Select the document type you would like to use.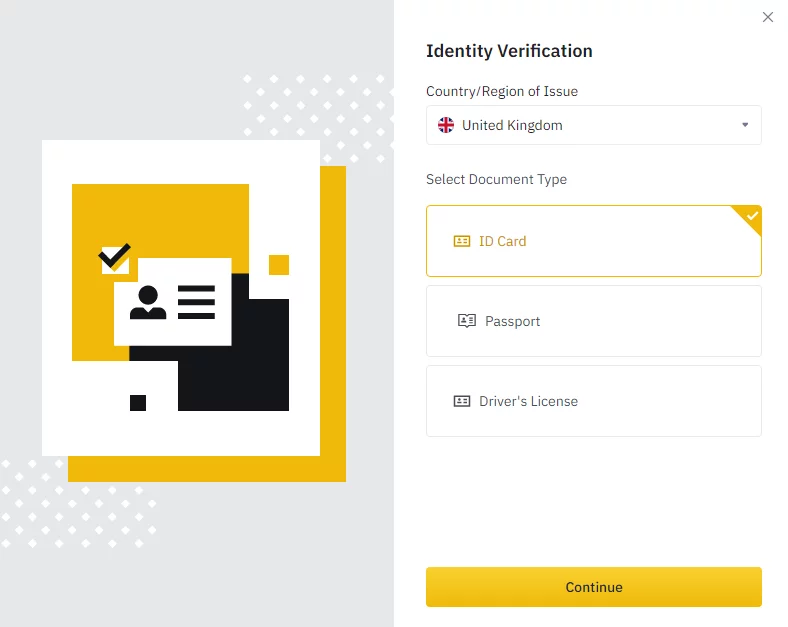 4. You will need to upload both sides of the selected ID.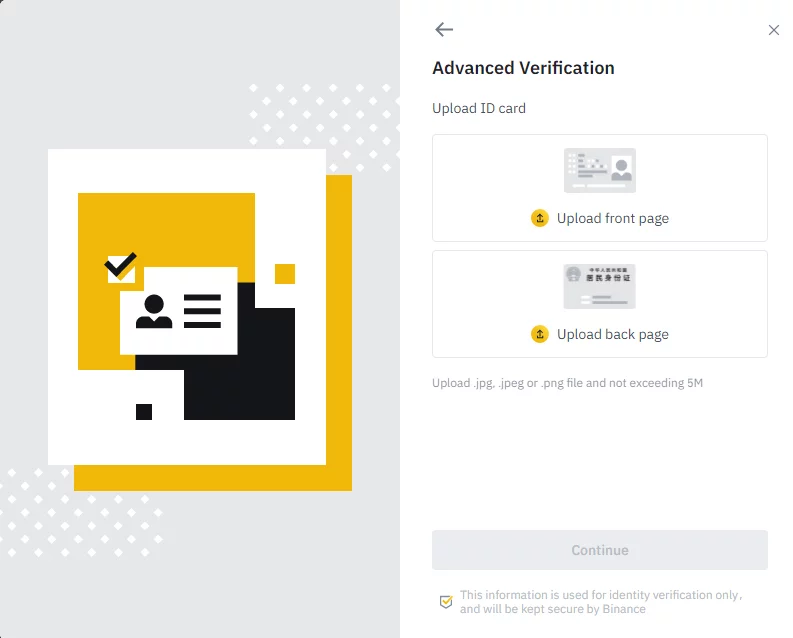 5. After uploading the document photos, the system will ask to take a new photo to verify. Click the picture area to take the picture, then click 'Submit & Continue.'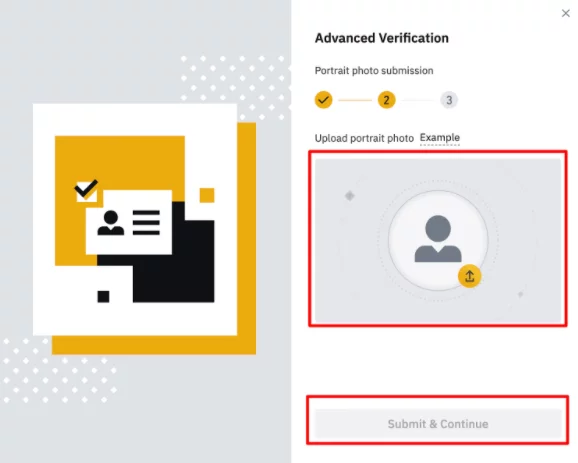 After clicking, the system will ask you to finish facial verification. Click 'Begin Verification' to complete facial verification on the computer. Alternatively, you can move your mouse to 'Use mobile phone' to get the QR code. Scan the QR code via your Binance app to finish the facial verification.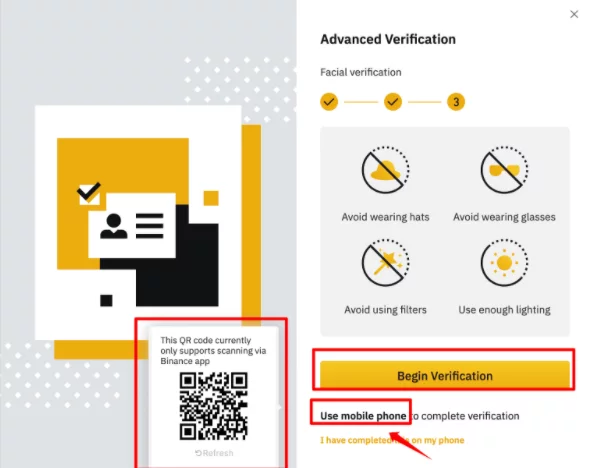 After completing this process, be patient and wait until your identity is verified; it usually takes 1 hour. If denied, you can attempt to complete the verification process up to 10 times per day.
Deposit into Binance Wallet.
To deposit into your Binance wallet.
Go to your wallet overview.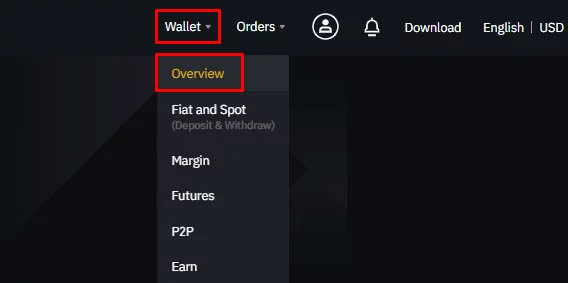 2. Click on 'Deposit'.
3. Now, you can either deposit fiat money or deposit cryptocurrency. We will select 'cryptocurrency.'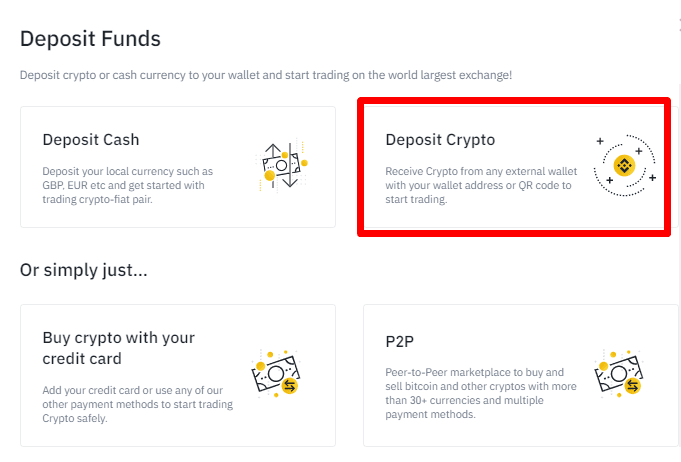 4. Select the cryptocurrency you want to deposit. In this example, we will deposit USDT.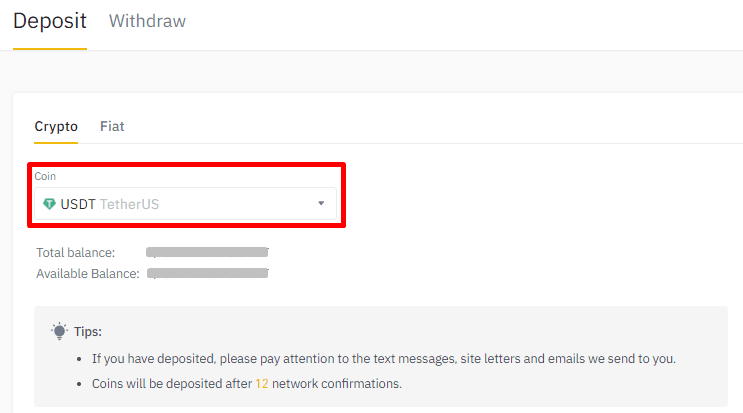 5. Next, choose the deposit network. Ensure the selected network corresponds with the platform from which you withdraw funds.
BEP2 relates to the Binance Chain.
BEP20 relates to the Binance Smart Chain (BSC).
ERC20 relates to the Ethereum network.
OMNI refers to the OmniLayer that runs on the Bitcoin network.
TRC20 relates to the TRON network.
BTC refers to the Bitcoin network.
BTC (SegWit) refers to Native Segwit (bech32), and the address starts with "bc1". Users can withdraw or send their Bitcoin holdings to SegWit (bech32) addresses.
6. In this example, we will withdraw USDT from another platform and deposit it into Binance. Since we are starting from an ERC20 address (Ethereum blockchain), we will select the ERC20 deposit network.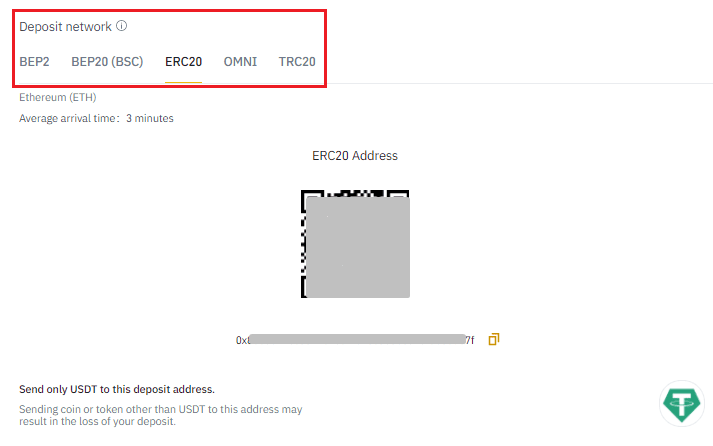 7. Copy the deposit address provided by Binance and paste it on the corresponding platform's address section (where you intend to withdraw your funds)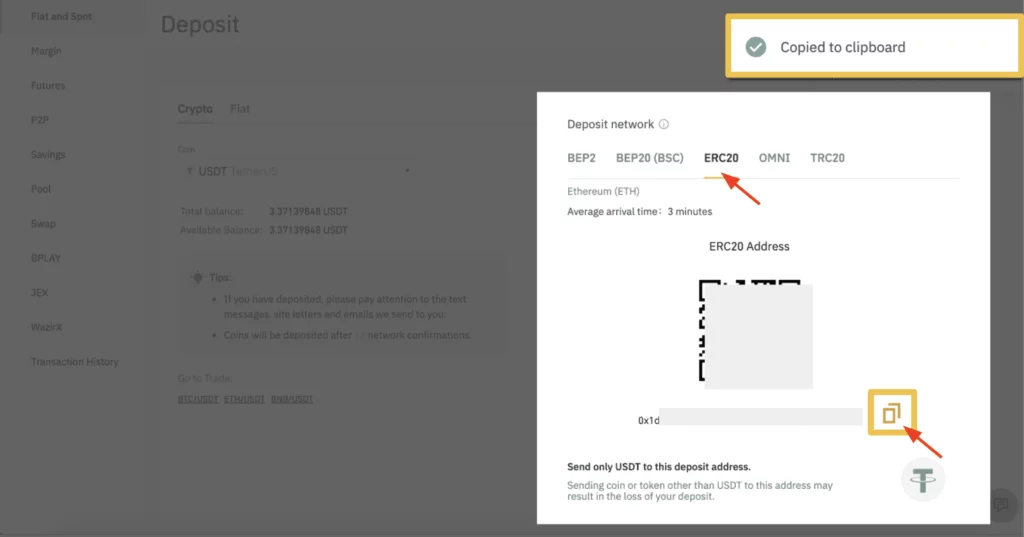 8. After confirming the withdrawal request, you must wait until the transaction is approved. The confirmation time varies depending on the blockchain and its current network traffic.
Withdrawing from Binance Wallet.
Using BNB (BEP2) as an example to withdraw from your Binance wallet.
1. Log into your Binance account and go to your wallet overview page.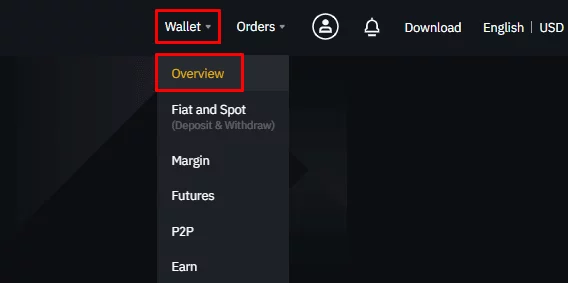 2. Click on 'Withdraw'.
3. Select the cryptocurrency you want to withdraw. We're using BNB as an example.
4. Select the network. We will use Binance Chain(BEP2) as an example.
5. Now, you have to select the Recipient's Address from your address list.
How to add a new recipient address?
5.1 Go to 'address management
5.2 Then Click 'Add Withdrawal Address'.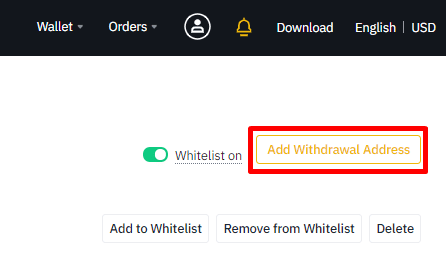 5.3 Now, Select the coin network and input the address information.
5.4 Once done, mark 'Add to Whitelist' and click 'Submit.'
5.5 You will receive a verification code on your Email, and you need to enter the Google Authenticator code from your phone.
6. Now, you can go back to the withdrawal page to continue with your withdrawal, and you can select the recipient's address.
7. Enter the withdrawal amount. At this point, you can see the corresponding transaction fee and the final amount.
8. Now, when you click submit, you will be asked for security verification again using a new code sent to your Email and your Google Authenticator code.
Generating Binance API Code.
What is Binance API code?
With the Binance API code, you will pass the information and data of your Binance account to another application. So, it is like a password for those applications so they can access your account.
And that can be very helpful as many applications can provide you with valuable services like bots and tax calculators. Also, you'll be able to access the analytics report, check your highest gainers & losers, digest news about your favorite cryptocurrencies, set exchange-specific alerts, and more.
How do you get your Binance API code?
To get started with Binance
Hover over your account menu, click 'API Management' and then enter a name for the API code (i.e. My API), then click on 'Create'.
2. Now, you'll need to finish security verification and then click 'Submit'.
3. The API code will now be displayed on the page, and you need to store it somewhere else because it will not be displayed again.
That was all about how to get started with Binance, Create an account, Verify it, Deposit, Withdraw, and create API code.
Binance Comparison and Alternatives Options.
786786786786786786786786786786786786786786786786786786786786786786786786786786786786786786786786786786786786786
Description:

A non-custodial service created for simple and fast cryptocurrency exchanges. ChangeNow strives for maximum safety, simplicity, and convenience.




Description:

SimpleSwap is an instant cryptocurrency exchange. The service is free from sign-up and has a user-friendly interface that provides an easy exchange process. SimpleSwap offers more than 300 cryptocurrencies to swap and two exchange types: floating and fixed rate.

Description:

An instant cryptocurrency exchange that provides secure, limitless, fast, and cross-chain swaps with no registration required.

Description:

Bitop Exchange is a leading digital financial service platform that provides a secure, comfortable, and equitable digital asset investment environment for users worldwide.

Description:

BYDFi, formerly BitYard, is a leading crypto contracts exchange based in Singapore. It provides secure and user-friendly trading services across 150+ countries, emphasizing a streamlined approach for traders.
Also, make sure to check our guide for Best crypto trading Bots ready to use without coding.