Of course, crypto trading can make lots of profits, and expert traders recommend going into the crypto market. On the other hand, trading without knowledge and experience can cause huge losses, especially for novice traders. However, new trades can make profits just like expert traders using copy trading platforms.
Copy trading, also known as social trading, is basically copying other expert traders, bots, or signal providers. Therefore, copiers will get the same results as profits or losses as expert traders. Such trading methods can be very profitable; indeed, that's why it has been gaining much popularity. As a result, we'll provide you with the best social trading platforms and get you started.
Table of Contents
How Does Copy Trading Platforms Work?
For users, social trading links their portfolio to an expert or a signal provider of their choosing. After that, all of the expert's open trades are copied to the user's portfolio. And further actions are copied as well. Therefore, users will get the same exact results as the traders they're following. Of course, you can check traders' history and previous profits before copying them.
And expert traders, after users start a monthly subscription for their services in most cases, it's just trading like they normally would. All of your trades as an expert trader or a signal provider are also copied to traders who subscribed for your signals.
Also Read: 7 Best On-Chain Data Analysis Platforms.
Different Types of Copy Trading.
Copy trading platforms offer many things that you can copy. Of course, different methods will have different profits over time, that's why you should know about them, and choose the most suitable one for you.
Copy Bots(Strategies): Copy preset coded algorithms created by expert traders and programmers. Connects to your exchange account and places orders automatically.
Copy Signals: trading signals are a set of directions from a trading expert that tells you exactly when to buy and when to sell.
Social Trading: When they take a position in the market, set a stop loss, or exit a trade, your portfolio will do the same automatically.
Copy Indexes: Invest in preset portfolios that grow over time.
Best Copy Trading Platforms.
1- CryptoHopper.
Starts at Explorer plan for $19, Adventurer plan for $49, and hero plan for $99 billed monthly plus a free plan.
What Can You Copy on CryptoHopper.
Signals.
Copy an expert by subscribing to signalers who send out trading signals on which your bot can trade automatically.
Templates.
Templates are preconfigured Hoppers that have settings setup already for you.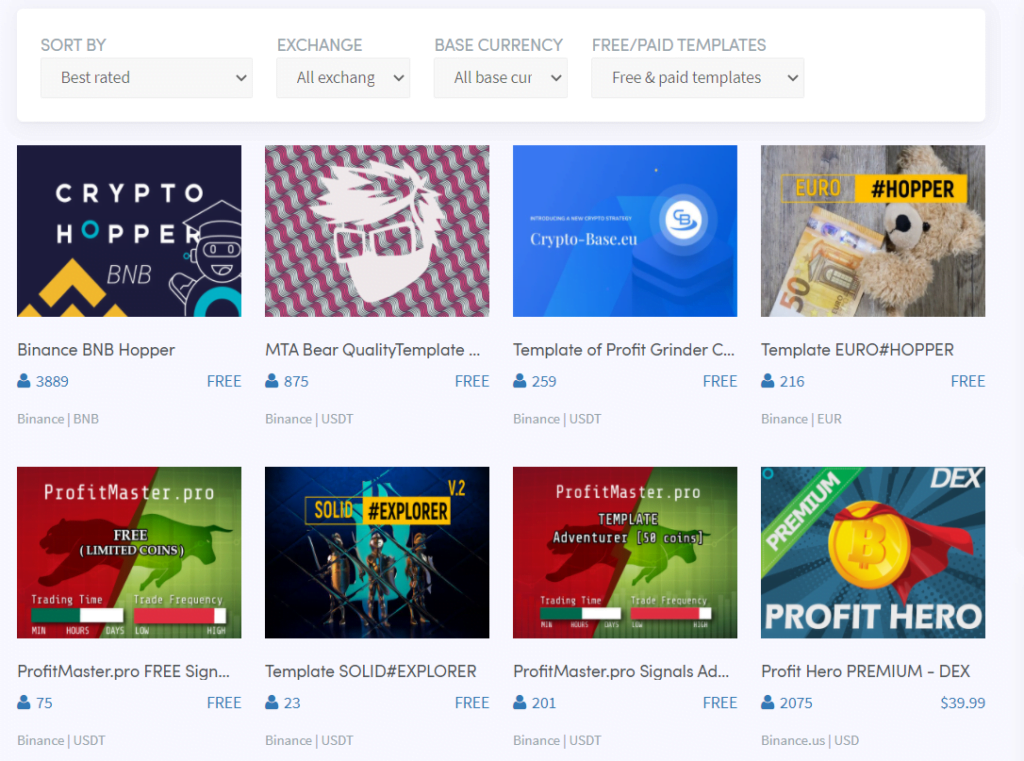 Strategies.
Strategies are packages with algorithms that scan the markets for you. Also, you can backtest these strategies to see if they perform well in the current market.
Learn further information about CryptoHopper in our full detailed review here.
2- WunderTrading.
Has 3 various plans plus a free plan. Prices range from $9.95 to $44.95, and you can get a %50 discount if you pay annually
What You Can Get on WunderTrading.
Marketplace.
On WunderTrading's comprehensive marketplace, you can start copying traders or bots. Also, before copy trading on WunderTrading, you can check traders' previous trades, and their running bots as well.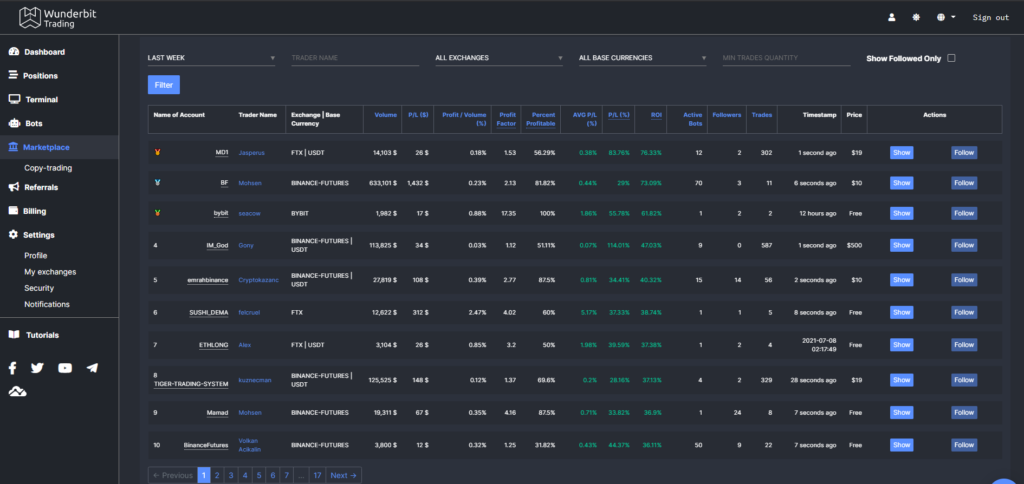 For further information, check our review for WunderTrading here.
3- Coinmatics.
Coinmatics is a great platform for novice traders. You can get access to over 180 strategies to choose between. Their premium plan is only $20.
What Can You Copy on Coinmatics.
Strategies.
Copy expert traders' strategies and get the same results as them. Choose from Coinmatics various strategies.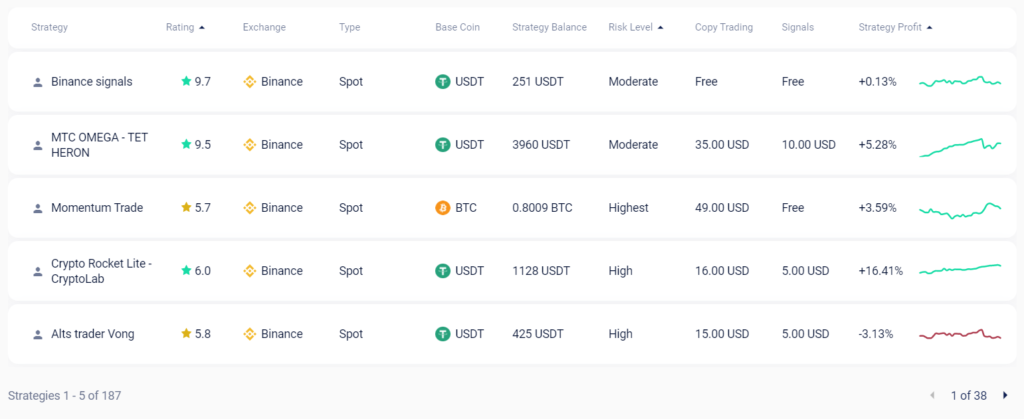 And you can learn more about Coinmatics in this article here.
4- 3Commas.
A very great platform has four different plans for different users. Free plan, $29 for Starter plan, $49 for Advanced plans, or go for $99 Pro plan and get additional exclusive features like unlimited options bots and unlimited grid bots.
What Can You Copy on 3Commas.
DCA Bots.
DCA Bot uses your existing crypto exchange account to create trading orders at the right time. Many presets are available on 3Commas.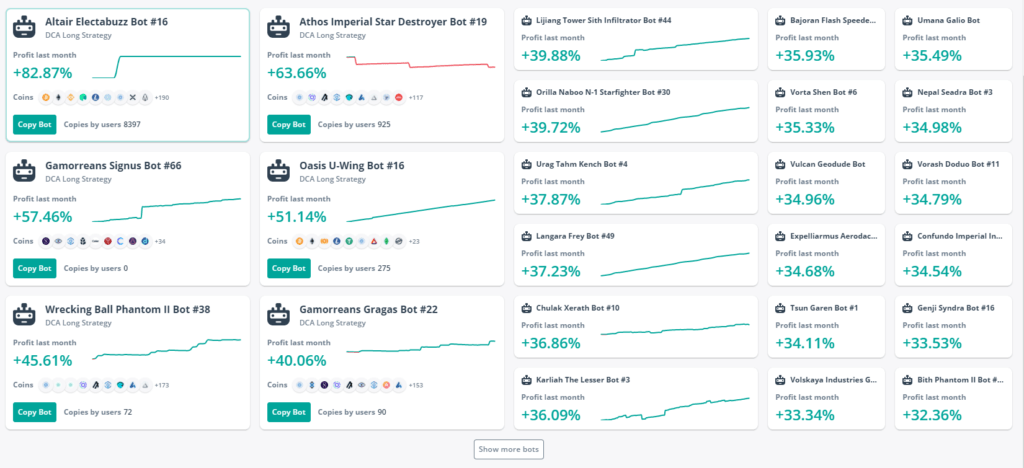 Signals.
Copy signals from experts, and for further safety, make sure to check their previous trades and profits before starting.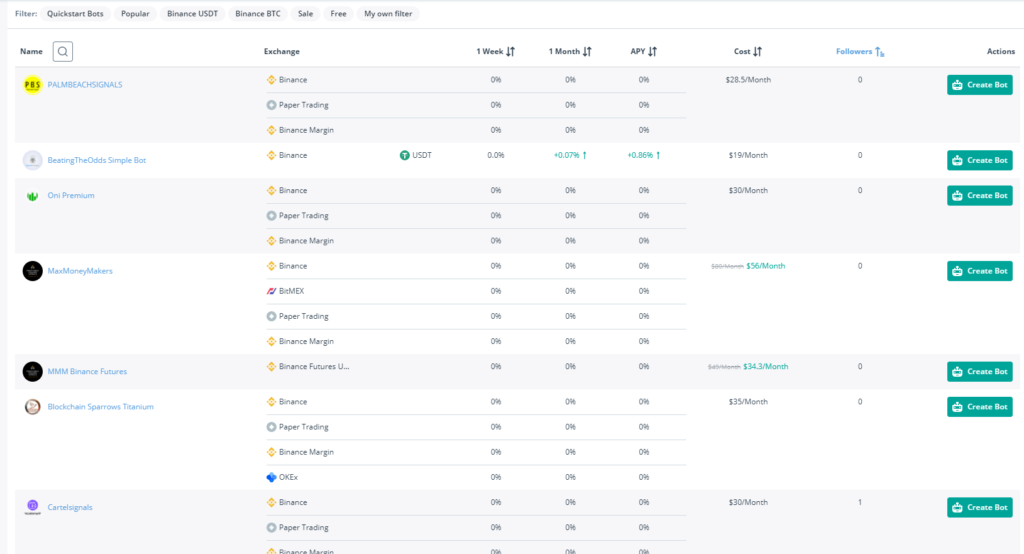 For further information, check out our 3Commas review.
5- eToro.
Opening your account on eToro is completely free, and there are no limitations or hidden fees. However, there is a low fee of $5 on deposits and withdrawals.
What Can You Copy on eToro.
Traders.
Copy traders on eToro's social trading; you can also view all of their previous trading history before copying.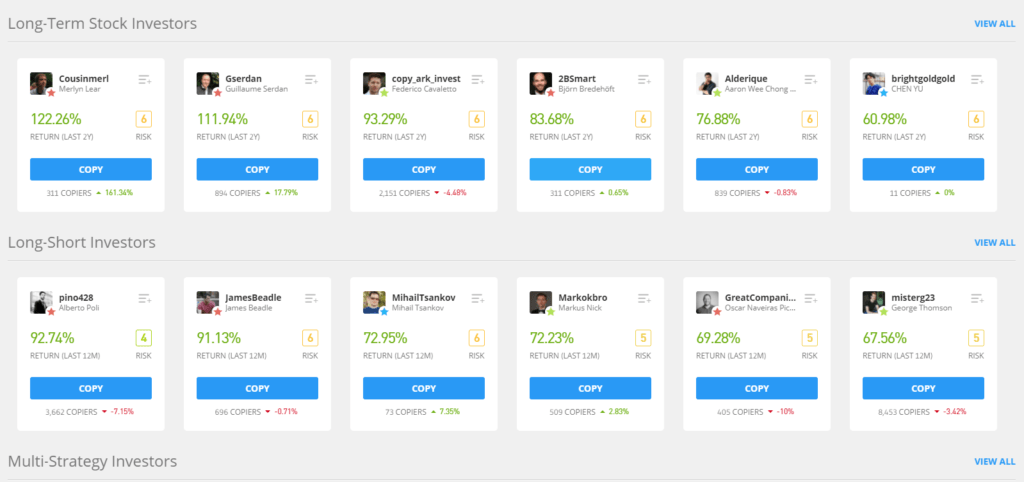 And you can also learn more about eToro in our full eToro review.
6- Jet-Bot.
Comes with 4 different plans paid annually; Binance Broker for $7.99, Beginner for $29, Basic for $41, and Extended for $62, and exclusive features like martingale multiplier, VIP success manager in Telegram, and more.
What Can You Copy on Jet-Bot.
Bots.
Follow top bots on Jet-Bot after viewing their trading history and get the same results.
For more information about Jet-bot and further details, read our Jet-Bot review.
7- Zignaly.
Surprisingly, Zignaly has only the free plan to access all of the platform's features.
What Can You Copy on Zignaly.
Traders.
When you copy a trader, all the trader's trades on his account will be automatically replicated on your account.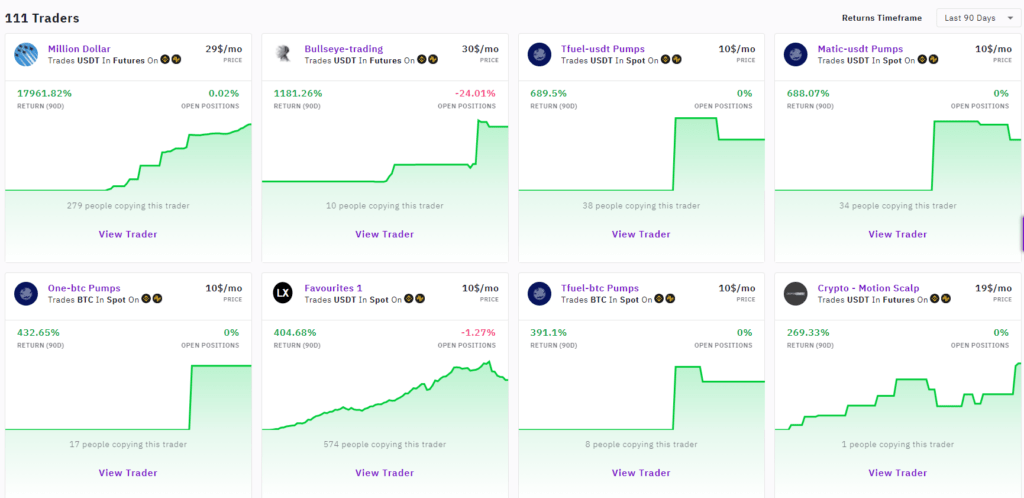 Signals.
If you follow the signals of a signal provider, you will need to take care of the settings. Also, the signal provider recommends the best settings to use together with his signals.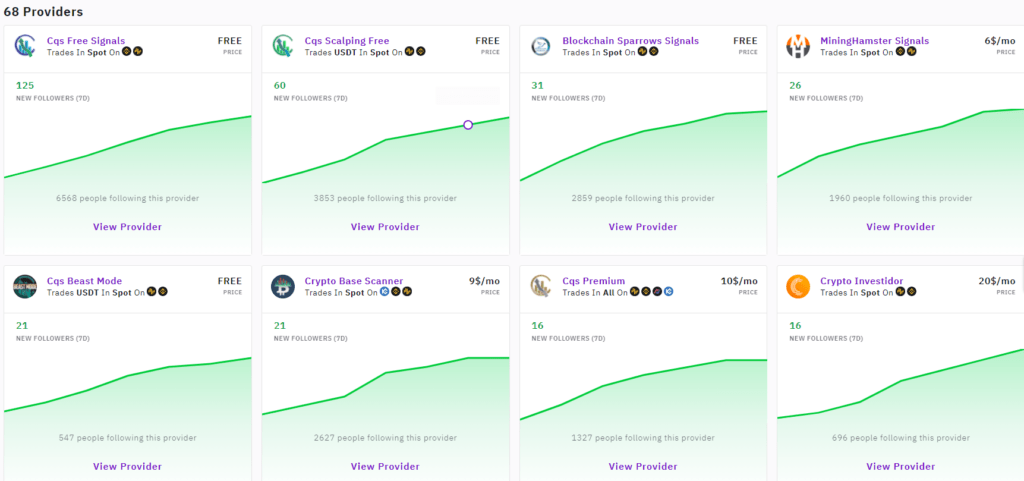 And to learn more information about Zignaly, make sure to visit our full Zignaly review.
8- Stacked.
Comes with Stacked lite plan for free and Stacked invest for $24.99
What Can You Copy on Stacked.
Strategies.
Stacked has many strategies that you can view, and copy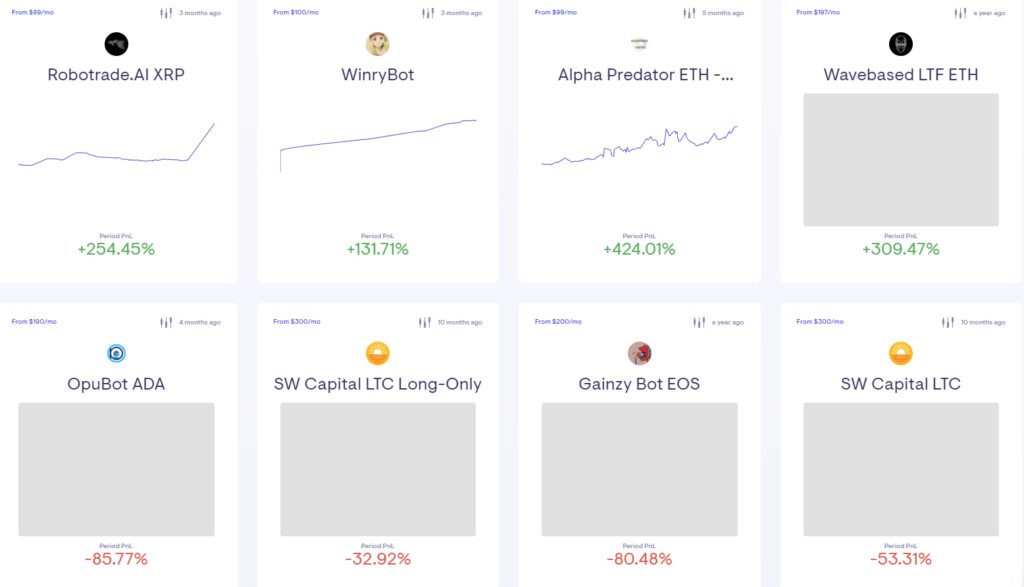 Indexes.
You can now easily invest in a preset crypto portfolio which is reviewed automatically and adjusted to fast-changing market conditions.
And to learn about more and more about Stacked, make sure to check our review here.
9- Kryll.
Use Kryll's holding program to purchase KRLs; therefore, you can trade on the platforms. Also, the need KRL amount depends on the amount of USD you're trading and for how long.
What Can You Copy on Kryll.
Strategies.
Choose between the available preset strategies that seem to have very profitable numbers.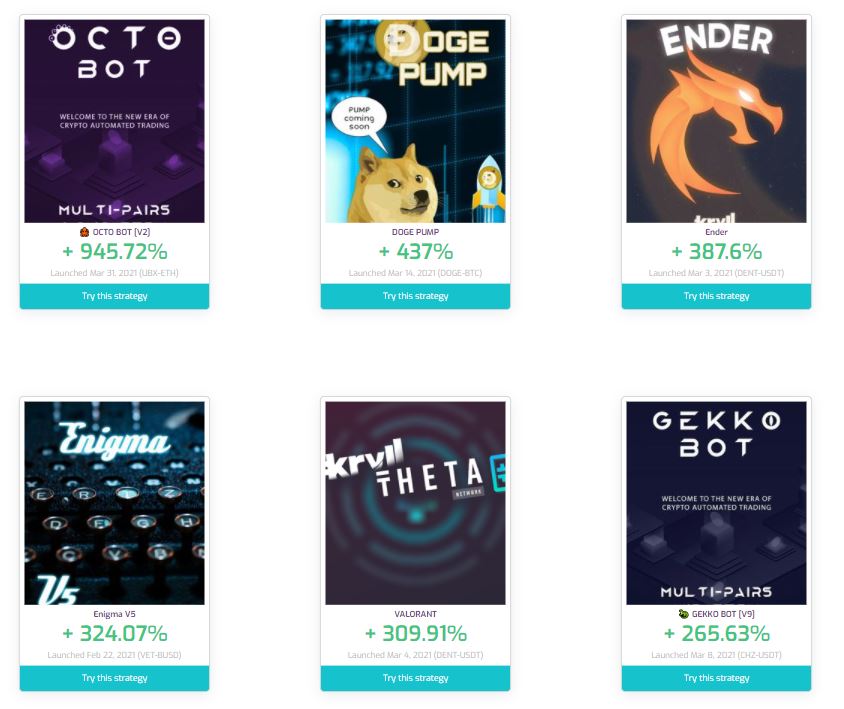 And of course, if you're looking for more information about Kryll, check out our Kryll review here.
Benefits of Copy & Social Trading.
There's no doubt that crypto prices are going much and much higher than it is now. And there's no harm in following an expert trader. Of course, don't risk all your assets in social trading because experts can lose too.
By following expert traders and learning from trades and decisions, you'll definitely learn a lot about trading and make better decisions on your own.
Also, with social trading, you can learn how to assess the risk and improve your risk management skills; therefore, you can avoid potential losses in your future trades.
Altogether, the benefits of social trading and copying traders have made it very popular due to the ease and simplicity of copy trading platforms. As a result, you don't need to learn crypto trading if you don't have time; you don't need to make it a 9 to 5 job; you can just copy an expert.