In this BYDFi Review article, we explore one of the latest trading platforms designed to help you optimize your profits. Delving into every aspect of BYDFi, we'll provide a comprehensive analysis to assist you in understanding how this platform can benefit your trading endeavors.
The landscape of cryptocurrency exchanges is rapidly evolving, with continuous additions of new features to enhance user benefits and profit potential. These platforms enable swift and seamless buying and selling of cryptocurrencies, ensuring minimal waiting time, as there are always active buyers and sellers. Moreover, cryptocurrency exchanges now offer additional functionalities like copy trading, paper trading, and various other features to cater to diverse trading preferences and strategies.
BYDFi stands out as a platform that actively embraces the integration of new features. In this comprehensive review, we'll cover all essential aspects of BYDFi, ensuring you have a comprehensive understanding of the platform. Additionally, we'll provide you with a step-by-step guide to getting started on BYDFi.
Table of Contents
About BYDFi.
BYDFi (formerly known as BitYard) takes the forefront as a prominent cryptocurrency contracts exchange. Based in Singapore, BYDFi offers secure, user-friendly, and rapid crypto asset trading services across over 150 countries. Embracing the product concept of "Complex Contracts Simple Trade," BYDFi is dedicated to delivering the ultimate streamlined trading experience to its customers.
Also Read: All Cryptocurrency Exchange That You Really Need To Know.
BYDFi Featuers.
In the following section, we will talk in-depth about all the features you need to know about BYDFi.
Copy Trading.
Copy trading is primarily tailored for individuals lacking ample experience or time for active trading. Rather than having to make decisions on which trades to enter and conducting extensive research for informed choices, users can simply replicate the trades executed by experienced traders. This allows them to benefit from the expertise of others without having to actively manage their investments.
As of the current writing, a considerable number of traders on the platform offer the option for users to copy their trading strategies, resulting in a diverse range of achieved returns. Below is a glimpse of what the dashboard looks like: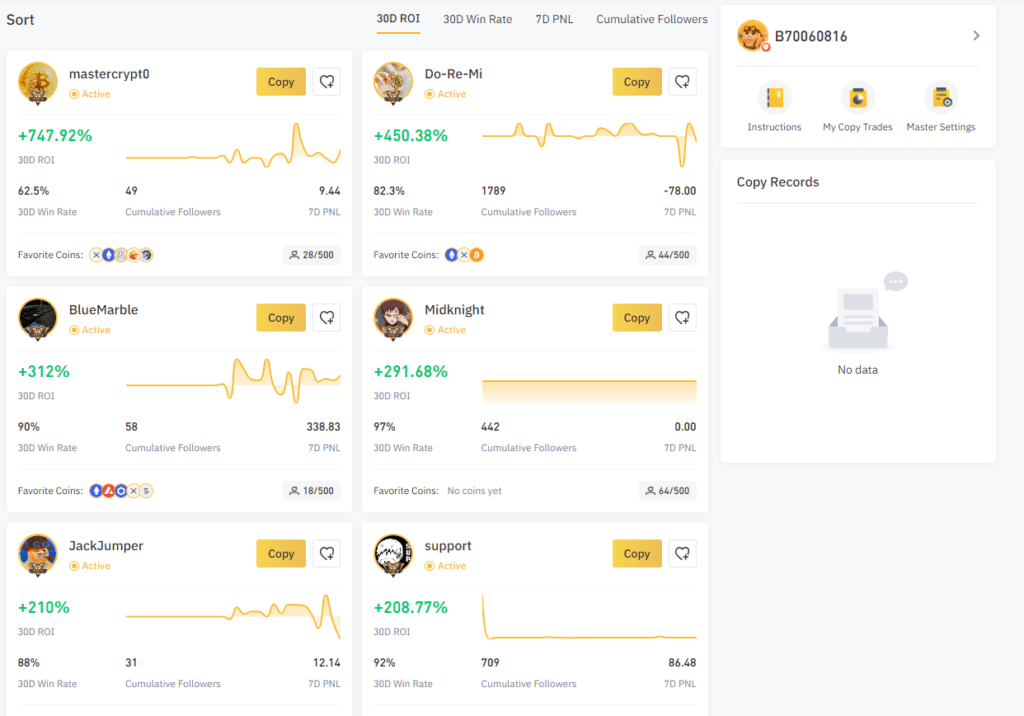 On BYDFi, all trading data is fully transparent and traceable, allowing you to review and verify each trader's performance. This transparency empowers you to select the trader you have the utmost confidence in. Once you click on a trader's profile, you gain access to their comprehensive trading data presented as follows: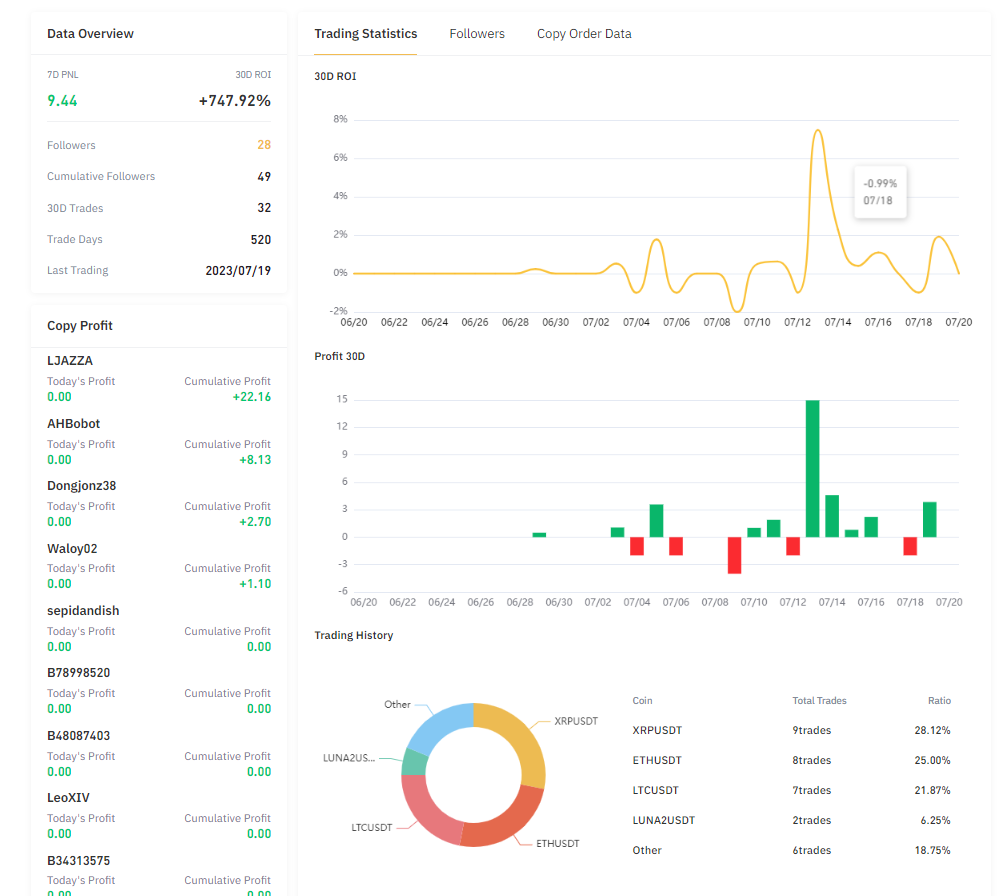 Spot Trading.
BYDFi offers an exceptional spot trading experience with an extensive selection of over 600 trading pairs. With spot trading, you gain access to a comprehensive trading dashboard that provides full control over your trades. The platform supports various timeframes, enabling you to implement your preferred trading strategy with ease and flexibility.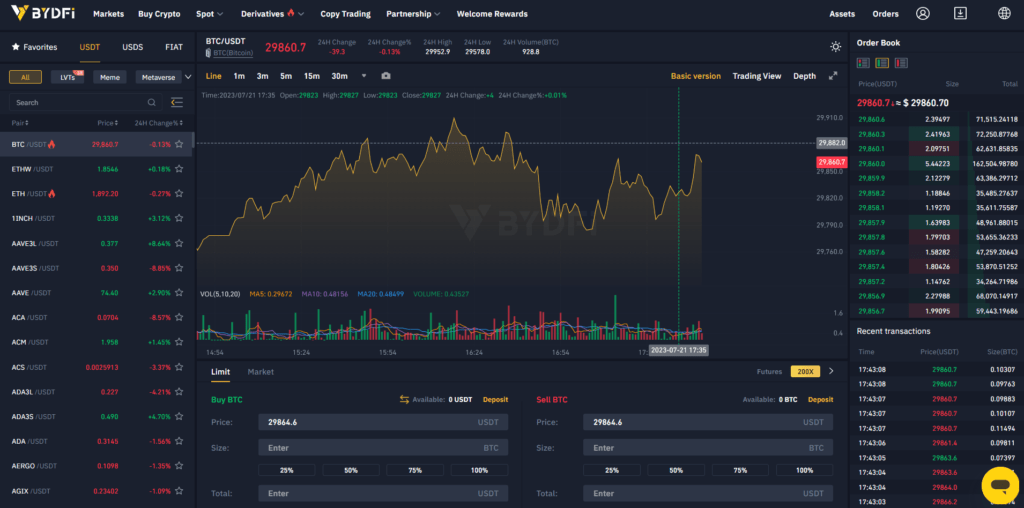 Also, with Convert & OTC portal you can easily convert BTC and ETH into other crypto seamlessly.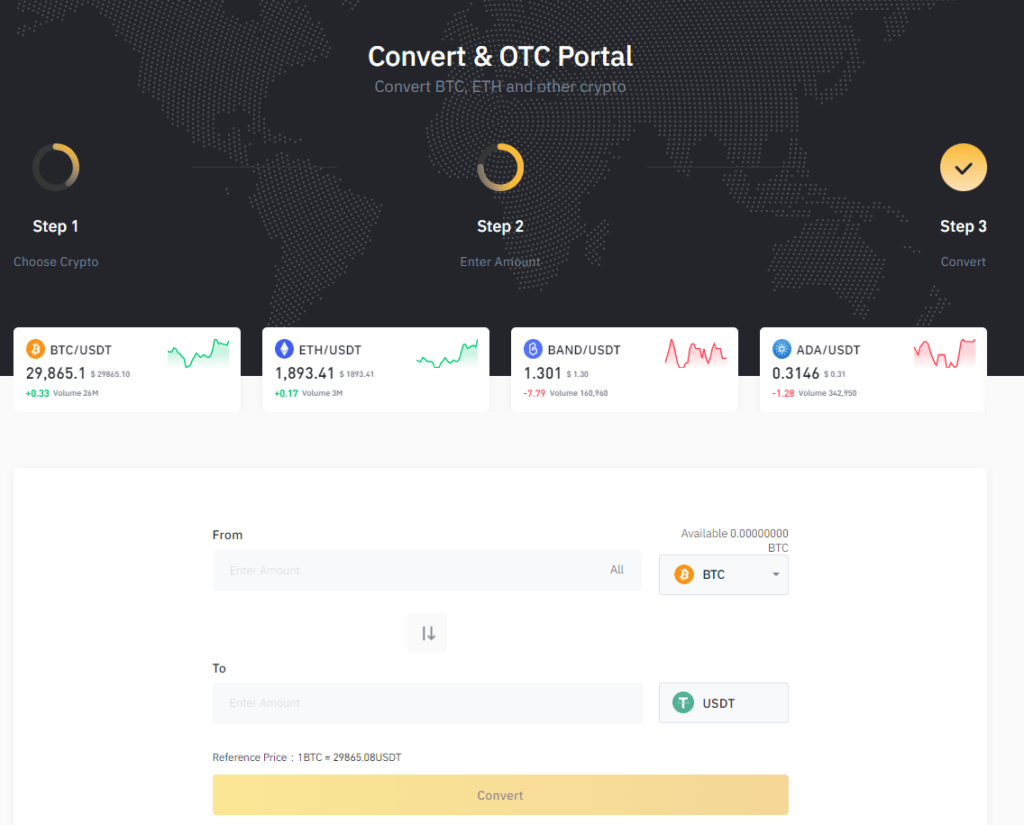 Low Entry.
Trades on BYDFi can be initiated with a minimum of 5 USDT. Therefore allowing users the flexibility to start with smaller investments. Additionally, the platform accommodates higher trades, with the maximum limit set at 20,000 USDT for those seeking to engage with larger positions.
Competitive Fees.
BYDFi has recently made adjustments to the trading fees, reducing them from 0.075% to 0.05%. Now, when opening a position, BYDFi will pre-deduct the combined opening and closing fee of 0.05%, while there will be no additional charges when closing the position. This change aims to provide users with a more cost-effective and transparent trading experience.
Fair And Transparent Prices.
BYDFi employs a K-line weighted average methodology, drawing data from three major crypto exchanges: Binance (30%), OKEx (40%), and Huobi (30%). This approach ensures the platform displays the most equitable and precise cryptocurrency prices, enhancing transparency and reliability for users.
BYDFi Rewards.
For newcomers on BYDFi, you have the opportunity to earn rewards of up to $2888 by completing straightforward tasks like undergoing a KYC process, sharing feedback about BYDFi, and more. These rewards are designed to encourage engagement and introduce users to the platform's features.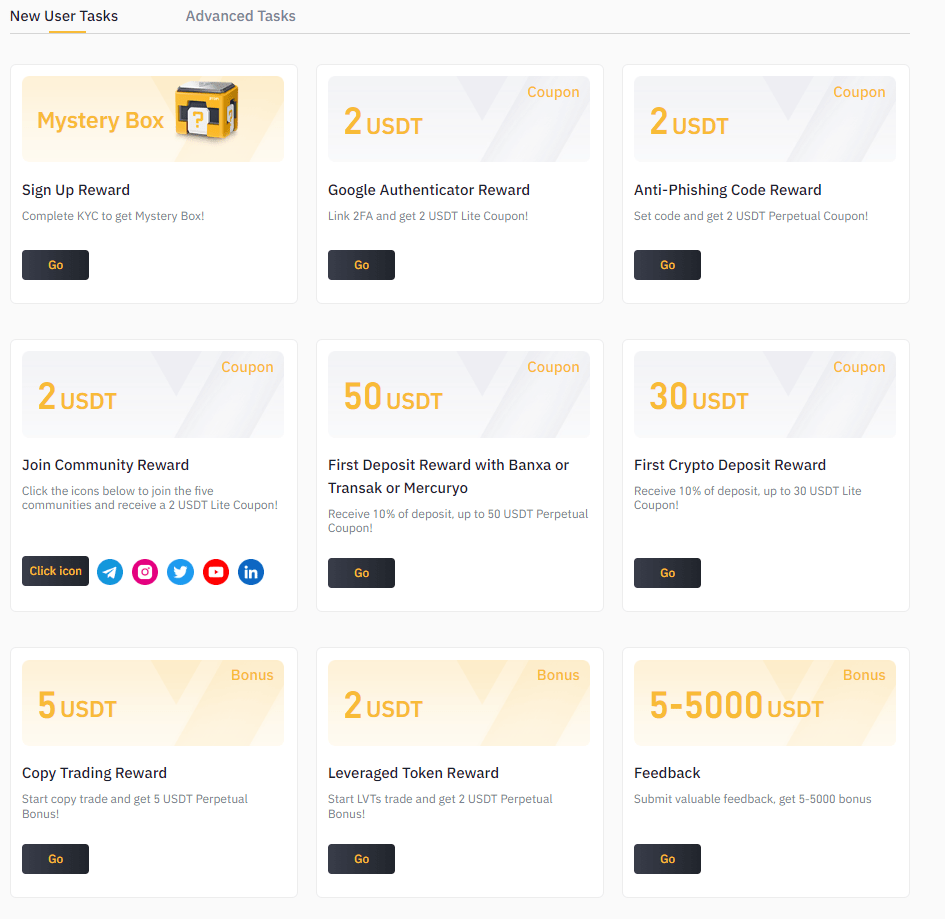 FAQ.
Is BYDFi Secure?
BYDFi places paramount importance on the implementation of robust, accurate, and all-encompassing security protocols. The platform is dedicated to employing the most stringent security measures and cutting-edge tools across multiple levels, including trading systems, network transmission, customer accounts, fund custody, insurance, and auditing. Regular stress tests and security audits are conducted to ensure strict compliance with the highest security standards, providing global clients with unparalleled protection for their assets within the industry.
How Much is BYDFi Fees?
BYDFi offers competitive fees across its various trading services:
Spot trading: 0.1% – 0.3%
Converting: 0.1% – 0.15%
Lite contracts: 0.05%
Perpetual contracts (Taker): 0.06%
Perpetual contracts (Maker): 0.02%
Is It Easy to Learn BYDFi?
BYDFi boasts a remarkably user-friendly UX and interface, making it effortlessly easy to learn and comprehend. As a result, If you're already familiar with other crypto exchange platforms, adapting to BYDFi will be a breeze. But, For newcomers to the world of crypto exchanges, it may take a couple of hours to get acquainted with BYDFi's intuitive design and functionalities.
Getting Started with BYDFi (Create Your Account And Start Trading Instantly).
In the following section of our BYDFi review, we are going to demonstrate how to start your account on BYDFi. Also, we will guide you with a step-by-step process on how to start copying expert traders.
Sign up on BYDFi.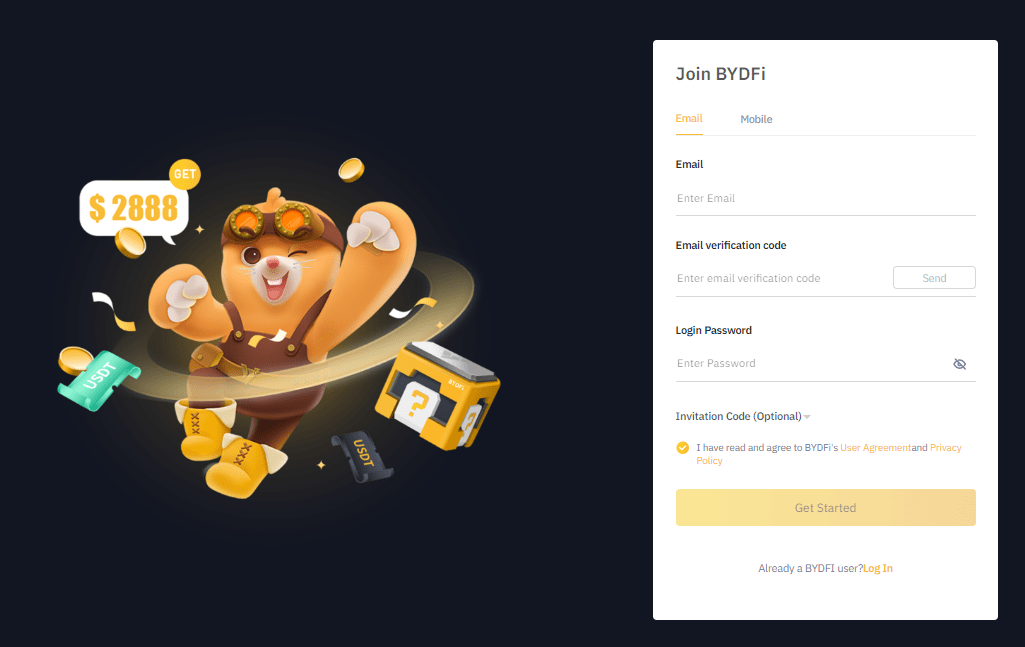 To begin, navigate to BYDFi.com and begin filling in your account information. Be sure to create a strong and unique password. Once you've completed the necessary details, check your email for the verification code sent by BYDFi to finalize your account creation process.
Deposit Assets into BYDFi.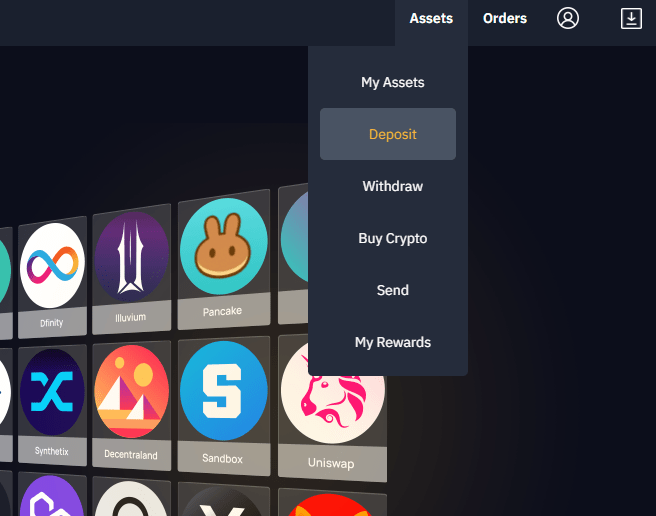 To make your first deposit on BYDFi, simply navigate to the top right corner, hover over "Assets," and then select "Deposit" from the options provided. This will initiate the deposit process on the platform.
Now, you can easily proceed with transferring assets from your wallet into BYDFi.
If you don't have crypto on another wallet, you can also click on "Buy crypto" and proceed with the process of buying cryptocurrency through BYDFi.
Check out Market on BYDFi.
After successfully setting up your account, access BYDFi.com and click on "Markets," located in the top left corner. By doing so, you gain access to view all the available markets offered on the platform.
Click on any of the trading pairs, and it will take you right away to spot trading with that specific pair.
Start Copy Trading on BYDFi.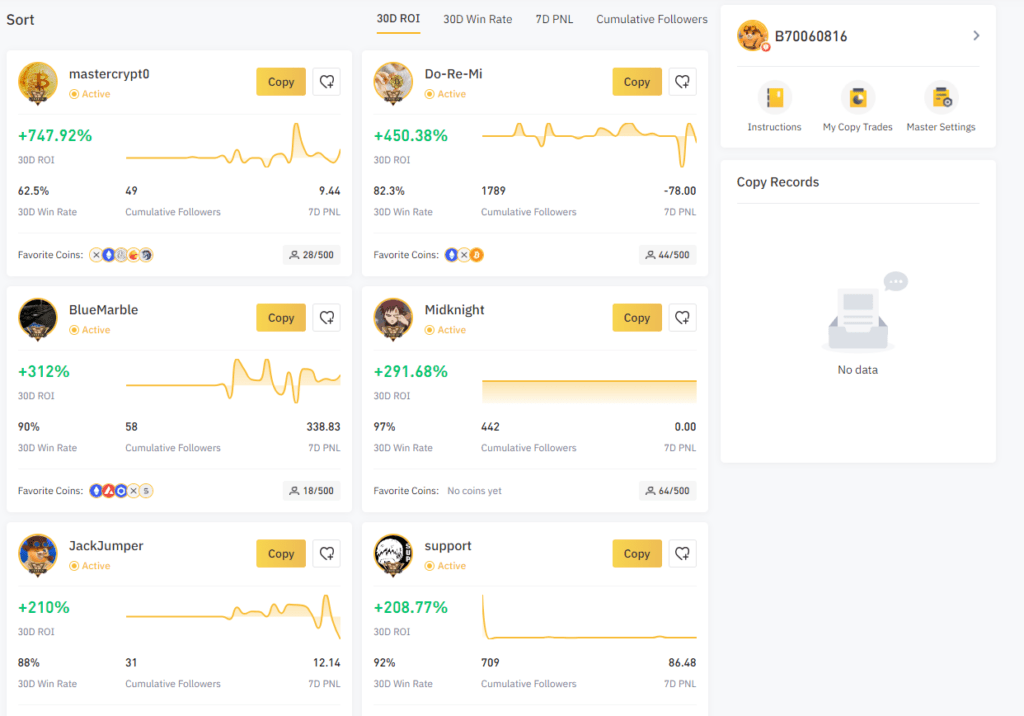 Undoubtedly, one of the standout features of BYDFi is copy trading. To access this functionality, simply click on "Copy Trading" in the top navigation bar. There, you'll find a list of all the traders offering signals for copying. As demonstrated earlier, clicking on any trader's profile will expand and display their previous trades for your review and consideration.
Once you have selected the trader you wish to follow, click on "Copy," and you can then proceed to customize your copy-trading preferences as per your requirements.
BYDFi in A Nutshell.
Although smaller and less renowned than most exchanges, BYDFI has left us impressed with its offerings. The user interface is user-friendly, catering to both beginners and experienced users alike, providing easy navigation. Additionally, the absence of mandatory KYC for basic cryptocurrency deposits and trading is a notable advantage.
BYDFI stands out with its diverse range of over 400 cryptocurrencies, and its trading fees, ranging from 0.1% to 0.3%, are competitive and appealing compared to popular exchanges.
Regarding products and services, BYDFI offers a satisfactory array of features that cater to the needs of both beginners and experienced traders seeking higher-risk opportunities. Though not on par with larger exchanges in terms of a complete product suite, BYDFI is steadily advancing toward that goal.
Pros.
Huge trading variety
Copy trading
Competitive trading fees
Beginner-friendly
Cons.
No paper trading
Cannot connect to wallets
No NFT services
No staking capability
BYDFi Comparison and Alternatives Options.
Following this BYDFi review, if you are still exploring other options, we have compiled a list of the top alternatives to BYDFi. Take the time to review each of them to gain a comprehensive understanding of your choices.
Description:

A non-custodial service created for simple and fast cryptocurrency exchanges. ChangeNow strives for maximum safety, simplicity, and convenience.




Description:

SimpleSwap is an instant cryptocurrency exchange. The service is free from sign-up and has a user-friendly interface that provides an easy exchange process. SimpleSwap offers more than 300 cryptocurrencies to swap and two exchange types: floating and fixed rate.

Description:

An instant cryptocurrency exchange that provides secure, limitless, fast, and cross-chain swaps with no registration required.

Description:

Bitop Exchange is a leading digital financial service platform that provides a secure, comfortable, and equitable digital asset investment environment for users worldwide.

Description:

BYDFi, formerly BitYard, is a leading crypto contracts exchange based in Singapore. It provides secure and user-friendly trading services across 150+ countries, emphasizing a streamlined approach for traders.
Finally, we would love to know your thoughts on this BYDFi review. Kindly, make sure to comment in the comments section below, and we will be replying to you as soon as we can.