You definitely have heard of Crypto.com as a crypto wallet or a trading platform, but in today's article, Crypto.com Pay Merchant review, we'll introduce the platform as a crypto payment gateway.
During the past years, we all have witnessed how popular Bitcoin and other altcoins are getting. In fact, in a few years, crypto payments can be one of the main payment methods. Not only that it provide security and privacy, but also crypto payments help with the market volatility.
You might think that developing your online or local store to accept crypto payments is a difficult job. It is a hard job unless you use payment gateways, which makes the job much easier. For only a small fee, you can set up your store in a few minutes. Also, Crypto.com Pay Merchant is one of the most trusted payment gateways for cryptocurrency, and throughout this article, we'll get you started with the platform.
Table of Contents
About Crypto.com Pay Merchant.
Tap into the global cryptocurrency economy and start accepting Bitcoin and other popular cryptocurrencies on your website. Crypto.com Pay Merchant is a payment gateway full of useful features to accept payments in crypto easily.
Also Read: CoinPayments Review and Best Alternatives, Is It The Best Crypto Payment Gateway?
Crypto.com Pay Merchant Features.
In the following part of our Crypto.com Pay Merchant review, we'll share with you the best features of the platform that really impressed us.
Powerful Dashboard.
Once you sign up on Crypto.com Pay Merchant, you'll gain access to one of the most powerful dashboards we've ever seen. You can overview your business, add customers, and much more.
QR Code Payment.
Crypto.com Pay Checkout generates a QR code embedded with payment information on behalf of the merchants. A customer can scan this QR code using the Crypto.com App, available on iOS and Android.
Support of Integrations.
You can use any of the following integrations if you go with Crypto.com Pay merchant:
Woo Commerce
Opencart
Ecwid
Oveit
NopCommerce
Presta Shop
Cashback.
Merchants are not entitled to cashback incentives provided by Crypto.org Chain. Instead, the cashback incentives are granted to the customers as Crypto.com Pay Rewards when they choose to pay in CRO. Crypto.com Pay Rewards are always distributed back to Crypto.com App.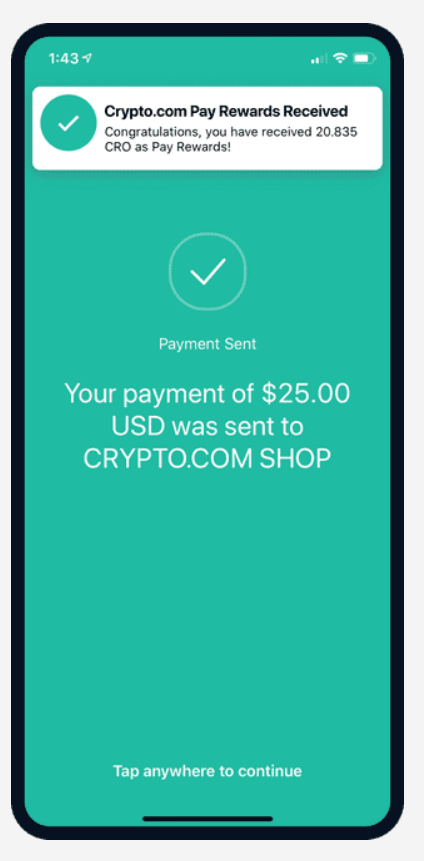 Supported Coins.
Crypto.com Pay Checkout currently accepts the following cryptocurrencies:
Crypto.com Coin (CRO)
Bitcoin (BTC)
Ethereum (ETH)
Ripple (XRP)
Litecoin (LTC)
Dogecoin (DOGE)
USD Coin (USDC)
True USD (TUSD)
Crypto.com App and Crypto.com DeFi Swap support other DeFi tokens.
Also, more coins are coming soon.
FAQ.
How Much Is Crypto.com Pay Merchant Fees?
In fact, Crypto.com Pay Checkout has deficient fees as it charges a 0.5% fee for all settlements. A minimum transaction fee can be applied for a tiny settlement amount.
Is Crypto.com Pay Merchant Safe?
Of course, yes. Because of Crypto.com's huge experience in the crypto world, they developed one of the most secure platforms. Also, your funds are transacted directly into your wallet, and there is no middleman.
Starting with Crypto.com Pay Merchant.
In the following part of our Crypto.com Pay Merchant review, we'll take you through the process of getting started with the platform.
Sign up on Crypto.com Pay Merchant.
Firstly, head to Crypto.com Pay Merchant main page, click on "Sign up as a Pay Merchant", then proceed with completing your information.
Verify Your Account.
After that, head to your email and check for an email from the Crypto.com team to verify your account. Once verified, you can move to the next step.
Confirm Your Business.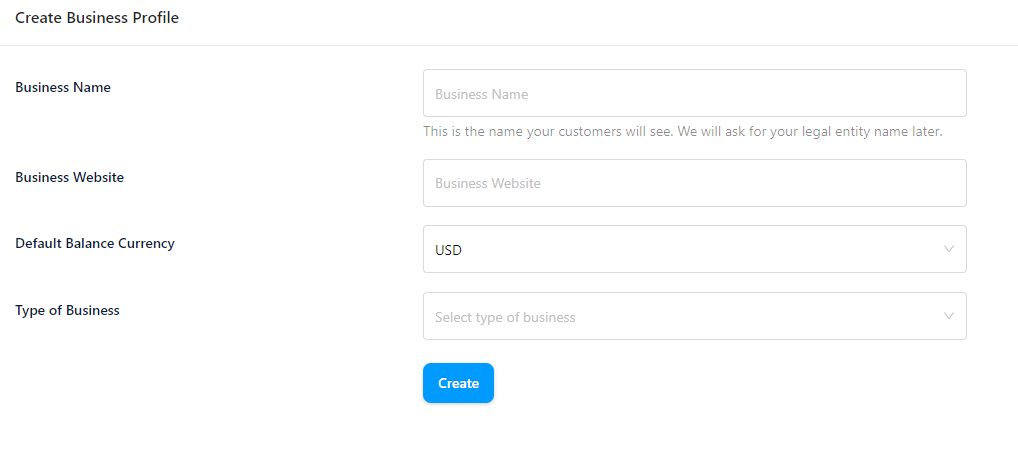 Finally, head to your dashboard and start verifying your business in order to gain access to the platform's features and functions.
After that, you can start using Crypto.com Pay Merchant and all of its integrations.
Conclusion.
Crypto.com is one of the biggest exchange platforms, and when we look at a payment gateway developed by Crypto.com, we expect a lot. Luckily, the platform met most of our expectations. One of Crypto.com Pay Merchant's powerful factors is the wide support of coins and the simple and comprehensive dashboard; however, there are still some drawbacks of the platform, more in our Crypto.com Pay Merchant pros and cons.
Pros.
Wide support of coins
available in most of the countries
simple and easy to use
Cons.
Needs the mobile app in order to operate
Doesn't support as many integrations as other payment gateways
Crypto.com Pay Merchant Comparison and Alternatives Options.
Before you make up your mind, we've made a list of the best alternatives for Crypto.com Pay Merchant that you can check out our review for them too.
Description:

Integrate NOWPayments and start receiving online payments in crypto. Accept Bitcoin, Ethereum, and 100+ cryptos globally on your website, store, and social media accounts.

Description:

Take advantage of our global crypto payment gateway made easy and accessible for everyone — whether you're a business owner, crypto user, or even from another planet.

Description:

CoinRemitter is a payment processor that facilitates accepting cryptocurrency for merchants and opens more doors for businesses.

Description:

CoinGate is a payment gateway for blockchain payments. Their goal is to grow the adoption of cryptocurrencies on a global scale by laying out a reliable payment infrastructure that caters to the needs of both merchants and their customers: accessible, convenient, and customer-oriented.

Description:

Introducing Speed, your go-to Bitcoin and Stablecoin payment processor, designed to revolutionize the way you get paid. Whether a business owner or an individual, Speed's lightning-fast platform allows you to accept and send Bitcoin payments anytime, anywhere, and globally.
Ultimately, we'd love to hear your thoughts, so make sure to share them with us in the comments section below, and we'll be responding to you.