In the rapidly evolving landscape of the crypto and traditional finance industry, traders are actively seeking diversified investment opportunities. While major cryptocurrencies like Bitcoin and Ethereum continue to dominate the market, there is a growing interest in other promising cryptocurrencies such as ADA, BCH, DOGE, and more. Additionally, traders are exploring investment options in commodities, stocks, spot, and derivatives, looking for a convenient and user-friendly platform to access these assets. Bitop Exchange emerges as the ideal solution, catering to both retail and institutional clients and positioning itself as a primary hub for crypto, commodities, binary, and stock trading.
In this comprehensive Bitop review, we delve into the platform's robust features, strengths, areas for improvement, and potential limitations. As traders increasingly demand seamless access to various investment products, Bitop aims to exceed their expectations by offering a wide range of products to trade with low costs, enabling them to manage diversified portfolios effectively.
Table of Contents
About Bitop.
Bitop Exchange is a leading digital financial service platform that provides a secure, comfortable, and equitable digital asset investment environment for users worldwide. There are plenty of types of products to trade, which include cryptocurrencies, US stocks, and binary options. Any hot and top products that you can think of in the market, such as Bitcoin, Ethereum, Ripple, Crude oil, gold, Dax, Silver, Amazon, Apple, Tesla, and Netflix, are all available in Bitop Exchange.
The core team of Bitop comprises experts from the traditional financial securities industry and the top internet companies such as Microsoft, who have rich experiences in financial transactions, cryptocurrency trading platforms' research and development, global market operations, etc.
Also Read: Best Crypto Trading Bots.
Bitop Features.
In this Bitop review, we will start by exploring the platform's standout strengths, illuminating the features that have propelled it to prominence in the crypto space. By gaining insight into these positive attributes, you will have a better understanding of the platform and its compelling value proposition.
High Funds Security.
Bitop prioritizes the protection of user funds' security at all times. Bitop implements a series of robust security measures, including multi-factor authentication, encrypted storage, rigorous auditing/monitoring, and the establishment of an asset guarantee fund. Multi-factor authentication refers to the system enhancing account security through methods such as SMS verification, email verification, and Google verification to prevent unauthorized access and ensure the safety of user account assets.
User personal information and sensitive data are stored using encryption technology, effectively safeguarding user privacy. As for the asset guarantee fund, it is designed to address potential security risks and unforeseen events. This guarantee fund provides each user with a dedicated address, allowing users to monitor the status of their assets on the blockchain anytime anywhere.
Additionally, apart from regular security audits, Bitop has implemented a real-time monitoring system to monitor trading activities and account behavior, promptly identifying and addressing any anomalies.
Trading Variety.
Bitop stands out for its extensive range of trading options and instruments, making it appealing to traders. It offers over 340 cryptocurrencies for spot trading, attracting those interested in exploring various altcoins and potentially gaining substantial returns. Moreover, Bitop goes beyond by providing over 100 derivative pairs with leverage of up to 600x, including CFDs and binary options. These derivatives span markets like cryptocurrencies, futures, stocks, and more. Binary options are available for popular cryptocurrencies, crude oil, and Nasdaq 100 index, allowing speculation on price changes without requiring margin or leverage.
Bitop's product offerings surpass those of major exchanges like OKEX, Binance, Kucoin, and Coinbase. The platform accommodates different trader levels, offering a user-friendly interface for beginners and a diverse range of options for professional traders. This comprehensive product coverage empowers traders to enhance their trading experience and achieve their investment objectives effectively.
Unique Copy Trading Function.
Bitop's copy trading feature is a powerful tool designed to benefit novice and less experienced cryptocurrency traders. It allows traders of all skill levels to connect, exchange knowledge, and thrive in the dynamic realm of cryptocurrency trading.
This innovative function enables users to mirror the trading actions of successful traders using their own funds. By merging online trading with social media elements, users can align their trades with seasoned individuals who have a proven history of profitability and engagement. For those who are new to trading or lack expertise, Bitop's copy trading feature offers an excellent opportunity to learn and capitalize on the strategies of experienced traders.
The copy trading process is seamless and transparent. A leaderboard ranks the top traders based on key metrics such as 30-day Rate of Return (ROR), 30-day win rate, trade frequency, and cumulative followers. Detailed 30-day activity graphs illustrate a trader's performance, and users can review a trader's history, including the assets and trading pairs they have participated in over time. This high level of transparency empowers users to make well-informed decisions when selecting traders to follow and replicate trading strategies from.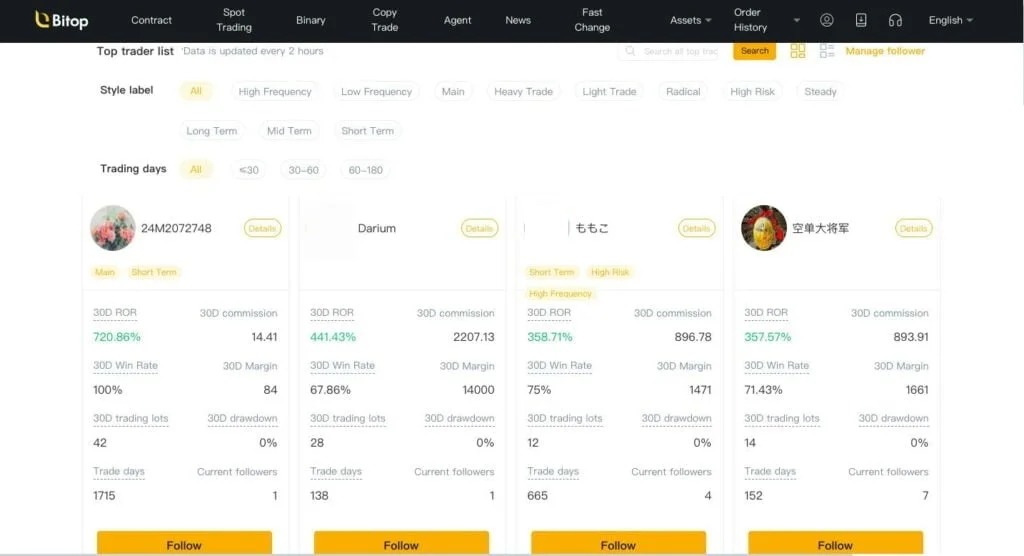 Bitop's copy trading feature is a boon for inexperienced traders, offering a dual advantage. By emulating successful traders, they tap into the insights of seasoned experts, amplifying their investment growth. Learning from these experts' strategies potentially leads to increased profits and reduced risks, bolstering trading skills.
In parallel, adept traders who offer their expertise gain equitable compensation. Drawing followers allows them to earn based on follower numbers, encouraging them to sustain successful track records and share knowledge. This setup incentivizes skillful traders, fostering Bitop's copy-trading community's credibility and expansion.
Regulations of Bitop.
Bitop is a regulated trading platform that adheres to various regulatory standards. It secured licensing from the U.S. Securities and Exchange Commission (SEC) in May 2021 and acquired the Money Services Business (MSB) licenses for both the United States and Canada in June and July of the same year, respectively. These regulatory approvals highlight Bitop's commitment to compliance and establish it as a reliable and trustworthy trading platform, particularly in the North American market.
Payment Varieties.
Bitop Exchange offers more than just wallet deposits via different blockchain networks like ERC20, BEP20, and TRC20. It has broadened its payment choices to encompass credit card transactions using respected providers like VISA and Mastercard, facilitated by Banxa. This strategic step aims to serve a broader user base, focusing on beginners and newcomers, and enhance their user experience with user-friendly payment options.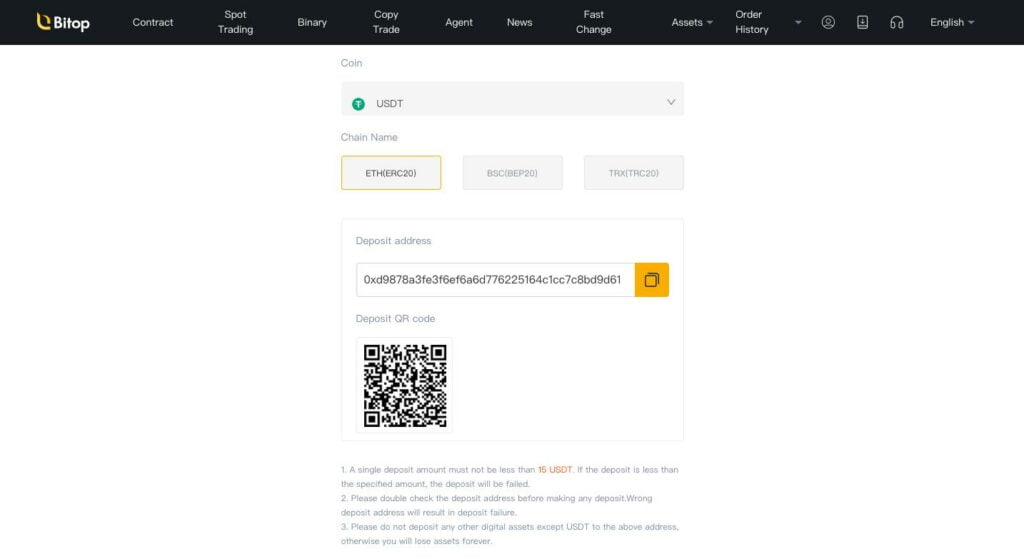 Reasonable Trading Fees & Incentives.
When assessing an exchange, considering the fee structure is crucial, and Bitop's trading fees stand out. In comparison to other platforms like Huobi, Bybit, and Bitget, Bitop's fees are reasonable and in line with industry norms. Here's a breakdown:
Spot trading features a maker and taker fee of 0.1%, which competes well in the market.
Crypto transaction fees vary based on margin and leverage, ranging from 0.12% to 0.16%.
Stock transaction fees are set at 0.16%, offering an attractive and competitive rate for stock trading.
Bitop goes further by periodically offering incentives. Through the bonus program, users can earn rewards that cover up to 50% of their trading fees, effectively reducing overall trading costs and enhancing their cost-effectiveness.
Low Threshold of Deposit & Withdraw.
Bitop offers appealing minimum deposit and withdrawal options for retail traders, catering to convenience. While the specific amounts can vary based on the cryptocurrency and network, they generally present accessible choices. For instance, USDT withdrawals can start as low as $10 via TRC20 blockchain, accommodating smaller transactions. On the deposit side, Bitop permits users to begin with just $15 worth of their chosen cryptocurrency, demonstrating flexibility.
This user-centric strategy towards minimum deposits and withdrawals is well-received by traders, enabling efficient fund management and easy access to the platform's diverse trading offerings without substantial entry obstacles.
Getting Started with Bitop.
Getting started with Bitop is very straight forward, in the following part we will demonstrate and explain how to get started with the platform.
Sign Up to Bitop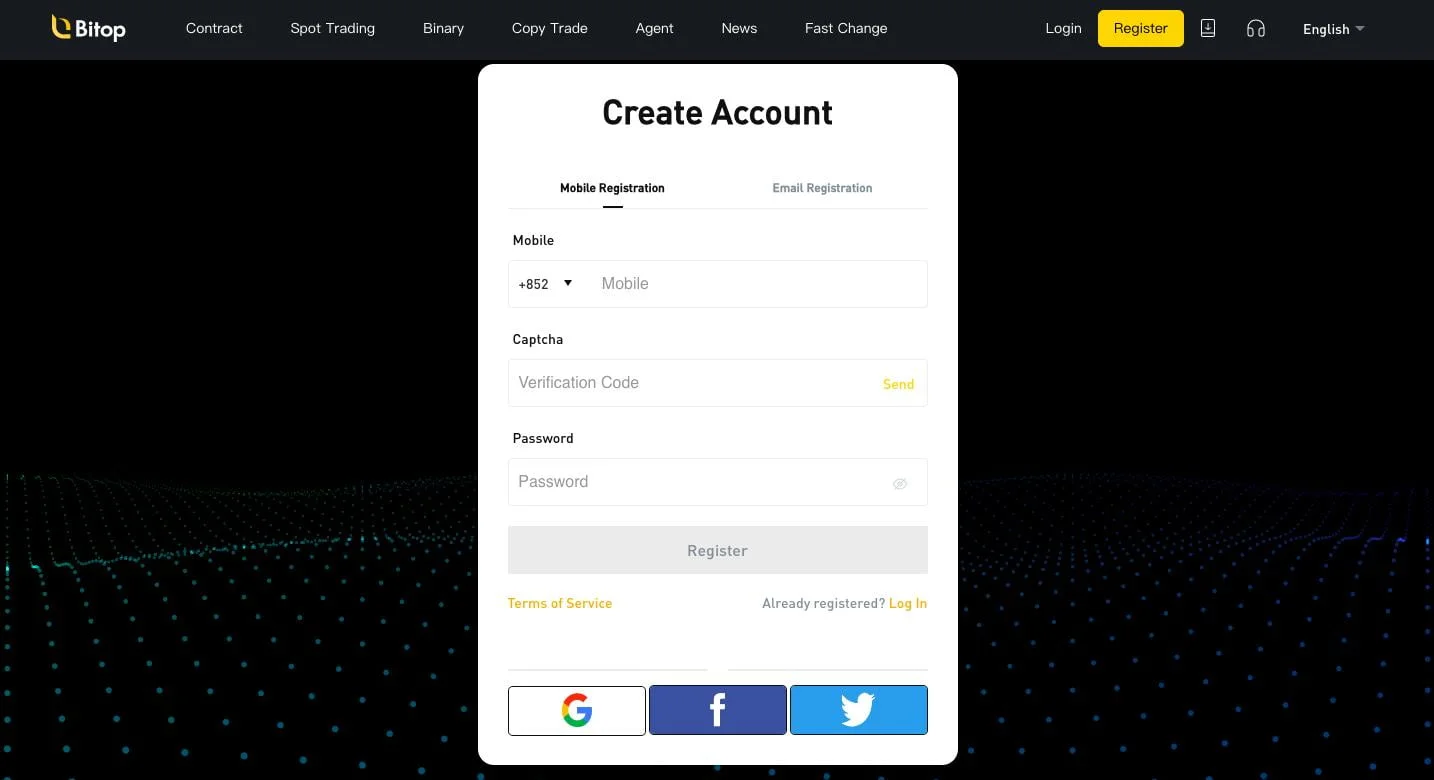 Signing up for Bitop is a straightforward process that grants users access to its wide range of trading services, allowing them to experience the platform firsthand. To get started, please follow these simple steps:
⦁ Visit the official Bitop website: Go to the Bitop website
⦁ Create an account: Click on the "Sign Up" or "Register" button to create a new account. You will be prompted to provide your email address, create a secure password, and agree to the platform's terms and conditions.
KYC Verification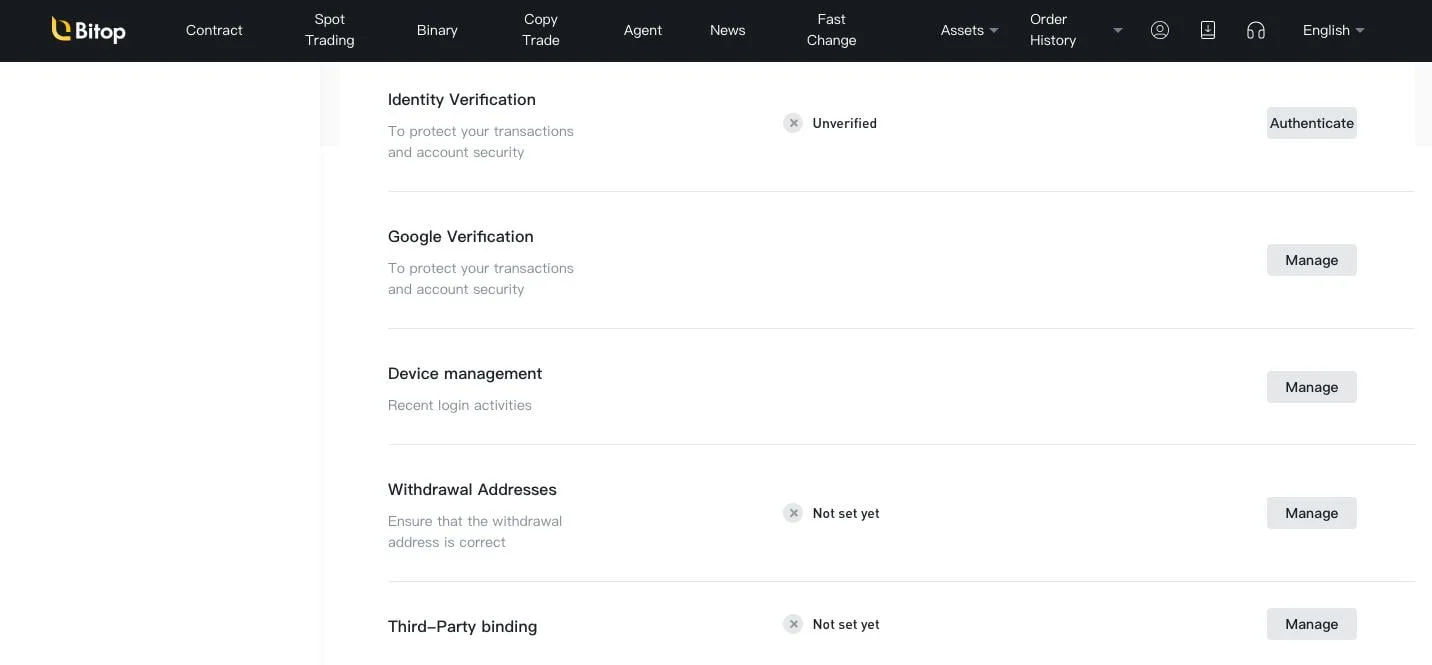 In compliance with regulatory requirements and for enhanced security, you may need to complete the Know Your Customer (KYC) verification process. This typically involves providing identification documents such as a passport or driver's license to verify your identity.
Fund Your Account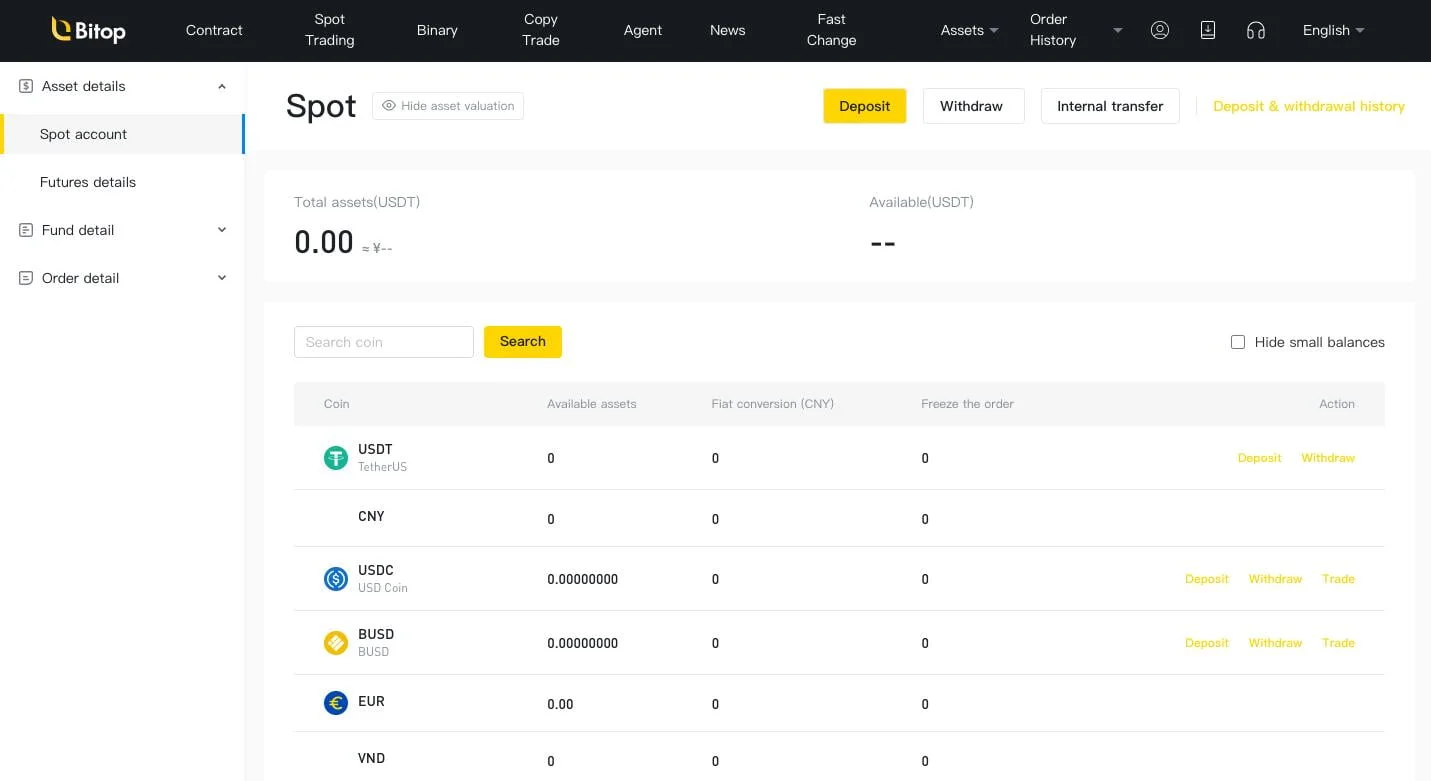 After successful registration and verification, you can proceed to fund your Bitop account. You can deposit various cryptocurrencies or fiat currencies into your account, depending on the options supported by Bitop.
By following these steps, you can join the Bitop community and begin your trading journey with access to various markets and attractive platform features.
Conclusion.
There's no doubt that Bitop is a great option due to the features that the platform provides. There are great features such as copy trading, especially being on an exchange platform. However, there are few things that we didn't like about Bitop, more in pros and cons.
Pros.
High Funds Security
Trading Variety
Unique Copy Trading Function
Payment Varieties
Cons.
Limited Payment Methods
Lack of NFT Marketplace
Bitop Comparison and Alternatives Options.
We have searched for you! Here's our top pick for the best exchange platforms available.
Description:

A non-custodial service created for simple and fast cryptocurrency exchanges. ChangeNow strives for maximum safety, simplicity, and convenience.




Description:

SimpleSwap is an instant cryptocurrency exchange. The service is free from sign-up and has a user-friendly interface that provides an easy exchange process. SimpleSwap offers more than 300 cryptocurrencies to swap and two exchange types: floating and fixed rate.

Description:

An instant cryptocurrency exchange that provides secure, limitless, fast, and cross-chain swaps with no registration required.

Description:

Bitop Exchange is a leading digital financial service platform that provides a secure, comfortable, and equitable digital asset investment environment for users worldwide.

Description:

BYDFi, formerly BitYard, is a leading crypto contracts exchange based in Singapore. It provides secure and user-friendly trading services across 150+ countries, emphasizing a streamlined approach for traders.
Finally, we'd love to hear from you in the comments section below. Make sure to comment your thoughts and we will reply to you as soon as possible.