In this article: Altrady review, we're looking at Altrady as one of the smartest crypto trading platforms and illustrating its features and functions.
Having multiple exchanges means having to learn different usages and functions in each of them and trade on each of them. Also, imagine if your assets are separated between a few exchanges; that means you'll need to trade some there and some here.
Fortunately, all-in-one trading platforms connect your different exchanges and enable you to trade from all of your exchanges in one place. Not only that it brings your exchanges under one roof, but also you'll get more functions like smart trading and a wide range of customization tools.
Table of Contents
About Altrady.
Altrady is the ultimate trading platform for cryptocurrencies. Investors and traders can connect their cryptocurrency exchange accounts to Altrady to experience the convenient buying and selling of cryptocurrencies on just a single platform.
Also Read: Staked Review and Best Alternatives.
Altrady Features.
Altrady comes with various features for beginner and expert traders. In this Altrady review, we'll demonstrate all of Altrady's features.
Smart Trading.
You can utilize advanced trading strategies like Take Profit to optimize your gains, Trailing Stop Order, and more.
Trading Analytics.
Always learn more about your trades' efficiency with Altrady's trading analytics. You'll get analytics on your trades with Altrady's so you can determine the best trading strategy for your assets.
Real-Time Market Data and Alerts
It's important to have real-time data for your trades, as the market prices can move instantly. For that reason, all data displayed in Altrady is in real-time so that you can make fast decisions. Also, you can receive alerts on your desktop, mobile, or email regarding price changes.
Positions with Profit and Loss.
Each time you invest in buying something, a position will be opened, and your profit will be calculated against the current price; When you buy more, your position is increased, and your break-even point is adjusted. But, When you start selling, it will update the break-even point until you fully recover your investment or when you don't have any balance left of what you bought.
Multi-Exchange.
Altrady supports trading on different exchanges: that way; you don't need to learn how to use a new exchange. All you need to do is connect your exchange to Altrady and start trading there.
Crypto Base Scanner
The Crypto Base Scanner is an excellent scanner for the QFL trading strategy. It automatically scans the markets for you and will notify you when a market reaches a possible entry point.
Scaled Ladders.
Scaled Ladders allow you to create multiple orders at the same time. Also, you can adjust the spread time between orders and what size should be applied.
Portfolio Manager.
Keep track of all your holding on different exchanges. Thus, you don't need to keep moving between exchanges to view your performance.
Supported Exchanges.
Altrady supports major exchanges listed in the image below.

FAQ.
Is Altrady Easy to Use?
Yes, During our Altrady review, it is an AIO crypto trading platform Altrady is easy. However, if you're a novice trader, you'll find Altrady hard at first glance. But it'll take only a little time to get used to Altrady.
Is Altrady Safe?
Yes, Altrady connects to your exchange through API keys which are safe to use. API keys don't allow withdrawing funds, and it only allows placing orders. However, you can still edit granted permissions with an API key on your exchange.
What's Altrady Pricing?
Altrady has different prices for different types of traders. Starts at $17.64 ~ $53.04\mo. You can view Altrady's plans in the picture below or here.
Starting on Altrady.
Starting on Altrady is simple and won't take you long. In the following part, we'll demonstrate the steps of creating and verifying your account, also connecting your exchange to Altrady.
Create An Account.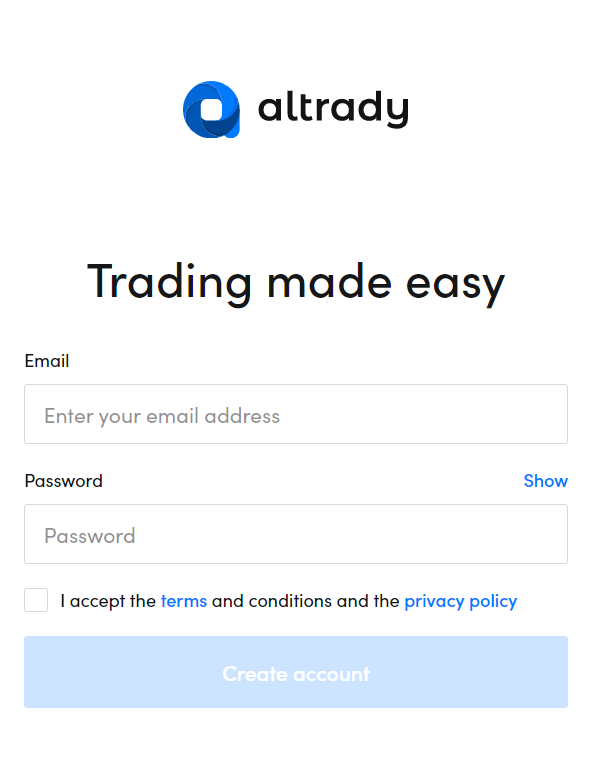 Firstly, visit Altrady's website and enter your information. We always recommend using a strong, unique password.
Verify Your Account.
After submitting your information, visit your email and look for an activation code from Altrady's team.
Connect Your Exchange.
Now, once you've generated an API key on your exchange, you can start connecting your exchange to Altrady.
Firstly, on the left bar, click on 'Setting,' then clock on 'Exchange API Key.'
Now select your exchange and enter your API public and private keys.
Smart Trading.
On your trading terminal, you can get started with Altrady's smart trading.
Take Profit Order: Take profit orders are a good way of making sure that you grab the chance to profit from your trades even when you are away from your trading screen or while you are sleeping.
For example, if you bought BTC for $500, you can set your Take Profit position at a certain percentage, let's say 10%. And when your holdings reach $550, which means a 10% increase in BTC price, they'll be automatically sold.
Trailing Stop Order: You can also start using Trailing Stop Order to limit losses and take advantage of favorable market conditions. You can perform all that using smart trading on Altrady's terminal.
For example, if the price of ETH is increasing, it'll track it; and then you can set a percentage that if the ETH price drops by that percentage, it'll automatically sell to stop loss.
Conclusion.
If you're tired of using multiple exchanges, Altrady served as the best solution. However, there is something that we didn't like. Altrady pros and cons:
Pros.
Smart Trading
Integrates with major exchanges
real-time data
simple UI
Cons.
Altrady Comparison and Alternatives Options.
In this part, we're providing you with the best alternatives for Altrady to choose between. Also, make sure to view our review for each of them so you can get a comprehensive idea.
Starts at $23.00 per month

Description:

All-in-one trading platform for your Bitcoins and other Cryptocurrencies. Trading, Portfolio, Arbitrage, Signals, Demo, and Bots.

Starts at $19.00 per month with a free plan

Description:

Manage all your exchange accounts, use market-making and exchange/market arbitrage, and simulate or backtest your trading.

Starts at $22.00 per month with a free plan

Description:

Smart tools for cryptocurrency investors to minimize risks, limit losses and grow profit across multiple exchanges.

Description:

Dealerify serves as a multi-functional tool for Trading, Copy Trading, and Auto Trading, specifically designed to foster the growth of the social trading industry within the cryptocurrency realm. Their primary objective is to support traders operating in the captivating world of digital currencies by offering a wide range of diverse and appealing services.

Description:

Pionex is one of the world's 1st exchange platforms with 18 Free trading bots. Users can automate their trading 24/7 without always checking the markets.
Finally, hearing from you cheers us. So tell us in the comments section below, what are your thoughts on this Altrady review?