Managing all your different exchange account separately is a pain! But fortunately there has been recently platforms where you can link all your exchanges together and manage all your funds. with the help of automation and bots that feature those platforms, your trading decisions will become better and much more profitable. In this article, Cryptohopper review. we will bring what's all about Cryptohopper.
Table of Contents
About Cryptohopper.
Cryptohopper is one of the leaders in the automated crypto trading industry. It allows its users to automate trading strategies that will trade cryptocurrencies like Bitcoin, Ethereum, Ripple and any other that your exchange offers. The hopper will scan the market 24/7 to open positions according to your trading strategy or signaller. It scans the market for the lowest prices to place buy orders and sell when the trades have moved into considerable profits.
Features
Are you a perfection seeker? If so, Cryptohopper will offer a generous package of features and tools to help your business thrive and grow. And will be demonstrating all of Cryptohopper's features in this Cryptohopper review.
Arbitrage
Arbitrage will make you profit from price differences in the market by simultaneously purchasing and selling an asset. Exploiting the price differences of exchanges or market inefficiencies can make you a lot of profit. Cryptohopper will do all that for you.
For example, say that you have BTC as a base coin; now you need to form a triangle with 3 other coins, including BTC. Let's say BTC, ETH, and LTC.
Firstly, it'll sell Bitcoin and buy 48 ETH.
Secondly, the Ethereum that was just bought will be sold to buy 153 LTC.
Finally, It'll buy Bitcoin back using the 153 LTC. And bitcoin value bought will be 1.005 BTC.
Algorithm Intelligence (A.I.)
What I like the most in Cryptohopper and was excited to write about in this Cryptohopper review is their A.I.
That's an exclusive feature that you will find on Cryptohopper only.
You'll feed your A.I with all possible strategies, it will analyze all of them for you and tell which one works the best in the current market. Truly an astounding feature!
Strategy Designer
Another unique feature on Cryptohopper. What does it do?
Strategy Designer is essential for algorithmic traders as it automates the core of their work.
Instead of using indicators that look at the trends, volume, momentum, and volatility. Strategy Designer will indicate how the market is moving. All you got to do is to choose indicator and candlestick patterns which will be used to scan the market; then Cryptohopper will tell if it's time to buy or sell.
Backtesting
If a bot enables you to backtest your strategies, then that bot is beautiful. That way you don't need to simulate your trading to see if it will work.
As you have a stagey running live on your investment, markets change. Therefore, you need to backtest the new strategy to fit the market changes.
Cryptohopper offers amazing backtesting to analyze if your Stop-Loss, Trailing Stop-Loss, and other settings are correct.
Shorting
Shorting is making a profit while the price goes down.
Let's say that you excepted that BTC is going to drop in value. Then you initiate a short and your bot will sell the position and buy back the position when the price reaches its bottom.
All that can be automatically or manually done in Cryptohopper shorting.
Dollar Cost Averaging (DCA)
When you're in a deep-loss position, the assumption is that prices will rise eventually, So you keep doubling your investment so your average buy price will be lower, and you'll make a profit again when the prices rise again.
Paper Trading
If you're not a risk taker, you can experience the platform using Paper Trading, Which will use simulated crypto in real-life exchange data.
Mirror Trading
Or social trading, If you are a beginner, You can copy an expert using Cryptohopper mirror trading. Experts will send signals to your bot on which it can trade. you don't need to follow all the signals they send, but you can use semi-copy.
Portfolio Management
With Cryptohopper portfolio management, you can track all of what you have from one place.
Ease of Use.
Cryptohopper is very easy to use, especially when it has the mirror trading feature. It makes it much easier with low-risk chance.
Supported Exchanges.
Cryptohopper supports all the major exchanges. And here's a list of the exchanges they support.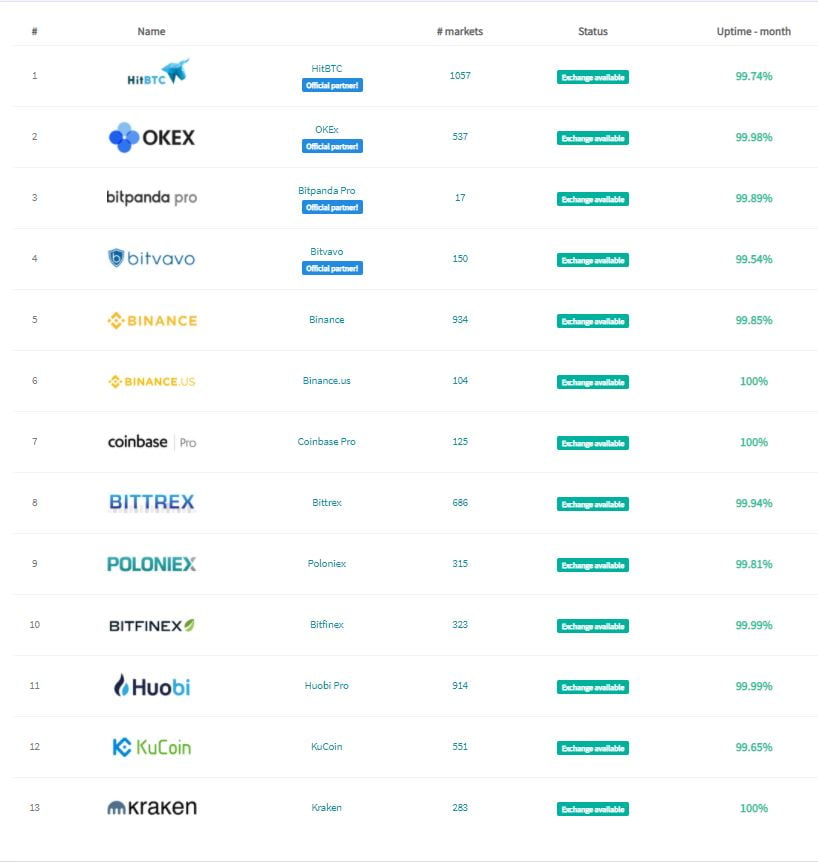 How Secure Is Cryptohopper?
In short, Cryptohopper is secure; why?
Your Cryptohopper account is connected to your exchange account through AIP keys that you generate and give permissions for. Therefore, Cryptohopper doesn't have permission to withdraw your funds.
Also, you can use a two factor authentication for extra security.
How much does Cryptohopper cost?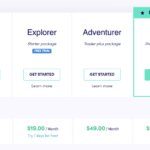 Cryptohopper starts at $19.00/mo. With a free plan. Check their pricing page for further information. And they don't take fees on your transactions.
Get Started on Cryptohopper
In this Cryptohopper review, we'll teach you how to create an account, connect your exchange, select a bot, and copy trading.
Create an account
In order to create an account on Cryptohopper, go to the Cryptohopper site.
As always, We recommend you use a unique, strong password.
Verify your Email
After submitting your information, you'll receive a verification link in your email. Click on it to verify your account.
Connect your exchange
The first thing you want to do after creating your account on Cryptohopper, Is connecting your exchange account.
Go to Cryptohopper > settings page. By default paper trading feature that we explained before will be on; turn the switch off, select your exchange, then put your API key in.
Create a Bot (Hopper)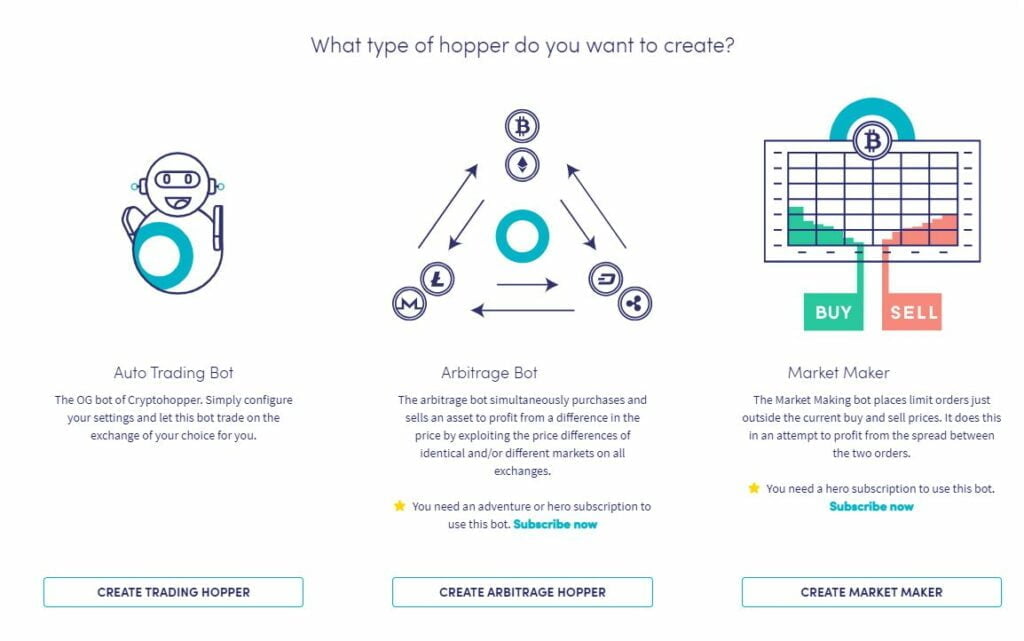 On Cryptohopper, bots are known as hoppers- They call their users hoppers too!
Go to your hoppers tab on the left bar of your dashboard, then click on 'Add new hopper'. Then you can choose the hopper you want and adjust it.
Or mirror trading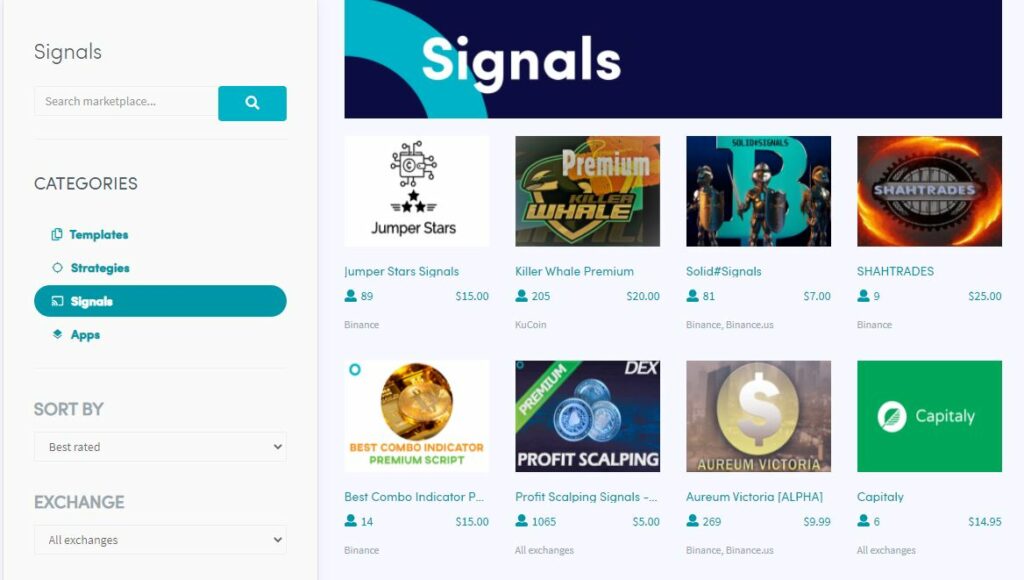 Also known as copy trade and social trade. You can start using signals on Cryptohopper by going to the Cryptohopper marketplace, and you can either subscribe or choose a free one.
Conclusion.
To sum up, Cryptohopper offers you something different than other bots. So in our opinion, that's Cryptohopper's pros and cons.
Pros.
Supported on most major exchanges.
Easy to set up and use.
The mobile app includes advanced security features.
Cons.
Pay for extra signals.
Must purchase a monthly plan to access the most useful features.
Cryptohopper Comparison and Alternatives Options.
Starts at $23.00 per month

Description:

All-in-one trading platform for your Bitcoins and other Cryptocurrencies. Trading, Portfolio, Arbitrage, Signals, Demo, and Bots.

Starts at $19.00 per month with a free plan

Description:

Manage all your exchange accounts, use market-making and exchange/market arbitrage, and simulate or backtest your trading.

Starts at $22.00 per month with a free plan

Description:

Smart tools for cryptocurrency investors to minimize risks, limit losses and grow profit across multiple exchanges.

Description:

Dealerify serves as a multi-functional tool for Trading, Copy Trading, and Auto Trading, specifically designed to foster the growth of the social trading industry within the cryptocurrency realm. Their primary objective is to support traders operating in the captivating world of digital currencies by offering a wide range of diverse and appealing services.

Description:

Pionex is one of the world's 1st exchange platforms with 18 Free trading bots. Users can automate their trading 24/7 without always checking the markets.
After this mouthy Cryptohopper review, you can check our review on Quadency and Bitsgap.