In today's article, HodlBot review, we will examine the platform and explain its features and advantages.
The cryptocurrency market is challenging, especially for new traders; even talented traders must be mindful of operating their portfolios. A crypto coin can change unexpectedly, causing holders huge losses. But coin indexes are an excellent solution for that issue.
Hodlbot is where you can connect all your exchange accounts, link them together, and apply premade portfolios to them. Also, you can rebalance your portfolios manually or automatically. The platform has much to provide, and we will discuss all that during this review.
Table of Contents
About HodlBot.
HodlBot is a customizable cryptocurrency trading bot that enables users to index the market, create custom portfolios, and automatically rebalance their cryptocurrency portfolios. HodlBot is a software service that plugs into your cryptocurrency exchange account and intelligently executes trades.
Also Read: Best Exchange Platforms.
HodlBot Features.
In the following part, we will share all the features you will get using HodlBot. Those features impressed us during our HodlBot review.
Cryptocurrency Indices
HodlBot built the HODL indices for users who want to diversify across the market instead of picking individual coins. Diversification mitigates risk and improves returns. However, studies found that 95% of active traders fail to beat the index.
Customized Portfolios
Select any coins, choose a weighting strategy, and see how it performed in the past. Then, use advanced market metrics to construct dynamic portfolios. You can also create a cryptocurrency index comprised of the top N coins.
Automatic Rebalancing
A portfolio will drift away from its target allocation when the market shifts. HodlBot automatically rebalances your portfolio to keep it on track, saving you time. Portfolio rebalances generally lead to risk mitigation and improved returns.
Tailored to Your Needs
HodlBot is highly customizable. Change your rebalancing frequency, blocklist coins you want to avoid trading and liquidate your assets anytime. On top of that, they provide 24/7 customer support.
F.A.Q
How much does HodlBot cost?
HoldBot pricing depends on your trading volume; if you have a trading volume below $500, HodlBot will be free, $500 – $1,000 costs $6/mo, and Account Value Over $1,000 costs $14/mo.
Is HodlBot safe to use?
HodlBot only requires API keys with trade access, not withdrawal. Therefore, this means nobody can withdraw funds from your exchange account. Also, HodlBot encrypts all their users' data with cryptographically secure hash functions. In addition, they use penetration testing and monitor logs to shut down trading in the case of suspicious activity.
What exchanges does HodlBot support?
Currently, HodlBot supports Binance, Kraken, KuCoin, Coinbase, and Bittrex. This might not be very pleasant for some users, but these are the top exchanges. Also, we hope for more exchange support soon.
Getting Started with HodlBot.
In the following part of this Hodlbot review, we will demonstrate the entire process of creating an account, connecting it to your exchange, and automating your trades.
Create an Account.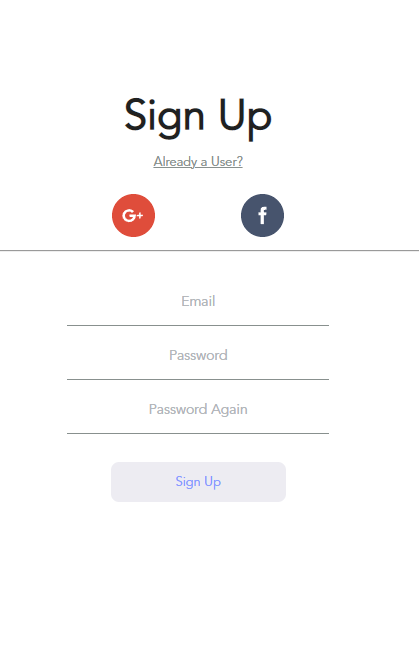 First, head to HodlBot's main page, then click "Sign up" in the top right corner. After that, you can proceed with entering your information.
Verify Your Account.
Now, head to your email and check for a verification link sent by Hodlbot's team.
Connect Your Exchange Account.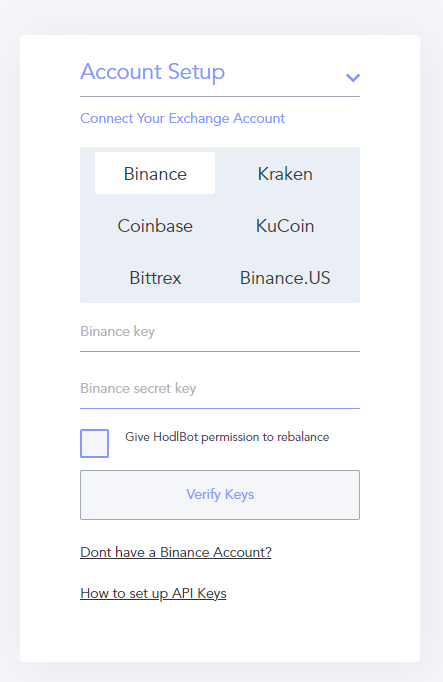 After completing the sign-up process, you can connect your exchange to HodlBot. On your dashboard, select the business you will join, then enter the API key and API secret.
Choose Your Portfolio.
Click "Portfolios" on the left menu to choose the coins index. After that, you will see all the available portfolios for your exchange. Clicking on "Select Portfolio" will apply that portfolio to your business.
Also, clicking on the edit icons will expand the portfolio and show you the exact numbers of each coin in that portfolio.
Rebalance Your Portfolio.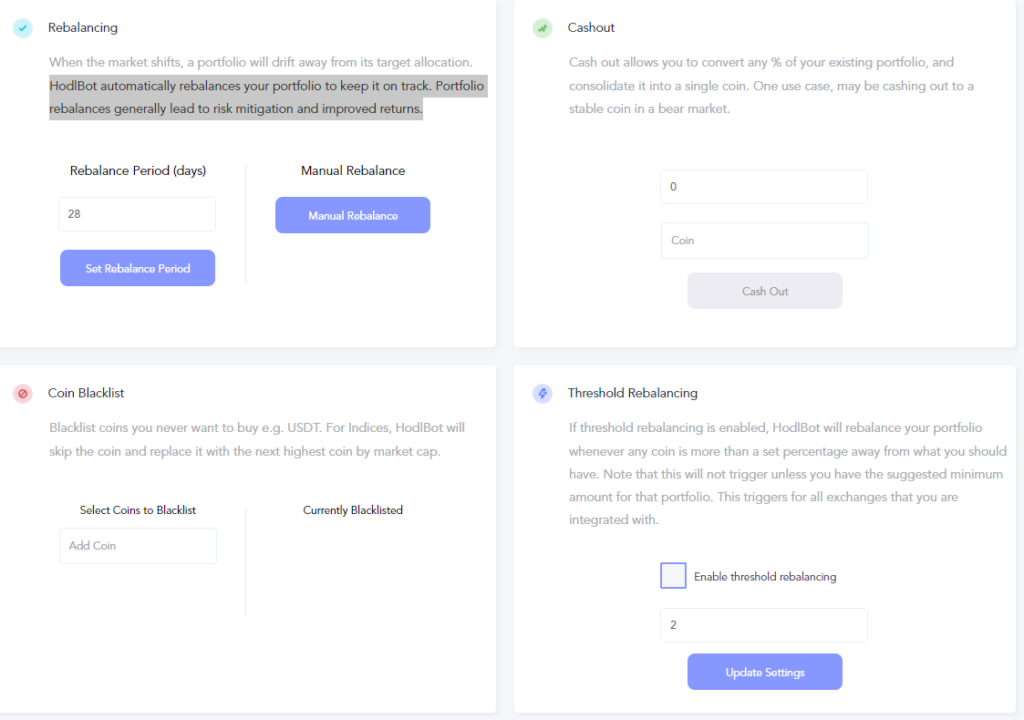 HodlBot can automatically rebalance your portfolio to keep it on track. Portfolio rebalances generally lead to risk mitigation and can improve your returns.
To rebalance your portfolio, click "Utilities" on the left menu; then, you can manually rebalance your portfolio or set a rebalancing period.
Conclusion.
In brief, HodlBot is a great tool to access coin indexes that you can apply to your portfolio. Unlike most automated trading platforms, HodlBot is created to give you options for your portfolio and allow rebalancing to minimize your losses. Learn more in this pros and cons list.
Pros.
Easy to use;
Can adjust the rebalancing period.
Cons.
HodlBot Comparison and Alternatives Options.
We have been listing the best-automated trading platforms, including alternatives for HodlBot. Many options provide the same experience as HodlBot. Each product has a detailed review, which will assist you in getting a comprehensive idea of the platform.
Starts at $23.00 per month

Description:

All-in-one trading platform for your Bitcoins and other Cryptocurrencies. Trading, Portfolio, Arbitrage, Signals, Demo, and Bots.

Starts at $19.00 per month with a free plan

Description:

Manage all your exchange accounts, use market-making and exchange/market arbitrage, and simulate or backtest your trading.

Starts at $22.00 per month with a free plan

Description:

Smart tools for cryptocurrency investors to minimize risks, limit losses and grow profit across multiple exchanges.

Description:

Dealerify serves as a multi-functional tool for Trading, Copy Trading, and Auto Trading, specifically designed to foster the growth of the social trading industry within the cryptocurrency realm. Their primary objective is to support traders operating in the captivating world of digital currencies by offering a wide range of diverse and appealing services.

Description:

Pionex is one of the world's 1st exchange platforms with 18 Free trading bots. Users can automate their trading 24/7 without always checking the markets.
Finally, we would love to know your thoughts on this HodlBot review. So, please share your opinions with us in the comments section below.