Crypto Trading Bots and Trade Automation
HaasOnline is one of the world's most advanced automated crypto trading bots. The platform's primary purpose is to provide a way of making fast, reliable, and profitable deals across all of the supported exchanges.
HaasOnline Review And Best Alternatives
In Today's article: HaasOnline review, we will look at the platform's top features and guide on how to get started with HaasOnline.
There is no doubt that crypto trading bots are real game-changer. You could maximize your crypto profits and trade efficiency using trading bots and automated trading platforms. Firstly, with automated trading platforms, you can bring all your exchanges under the same roof and make trades across all your exchange accounts simultaneously.
Furthermore, trading bots will keep an eye on the market 24/7 and get excellent tools, so you never miss good trading opportunities. And most importantly, trading bots remove emotions from your trades; as a result, your trades will not be affected by fear or recklessness.
Also Read: Best Automated Crypto Trading Bots
About HaasOnline
HaasOnline is one of the world's most advanced automated crypto trading bots. The platform's primary purpose is to provide a way of making fast, reliable, and profitable deals across all of the supported exchanges.
Also, you can Rapidly develop, backtest, and deploy high-frequency crypto trade bots across dozens of cryptocurrency exchanges in minutes, not hours.
HaasOnline allows instant execution of sales and purchases without the need for traders' input. You can automate everything. EVERYTHING!
HaasOnline Features.
In the following part of this HaasOnline review, we will focus on the platform's essential features that got our attention while testing out HaasOnline.
Highly Configurable.
HaasOnline provides a few ways to automate trades. Highly configurable trading bots and also pre-built trading bots, or even developed using HaasOnline.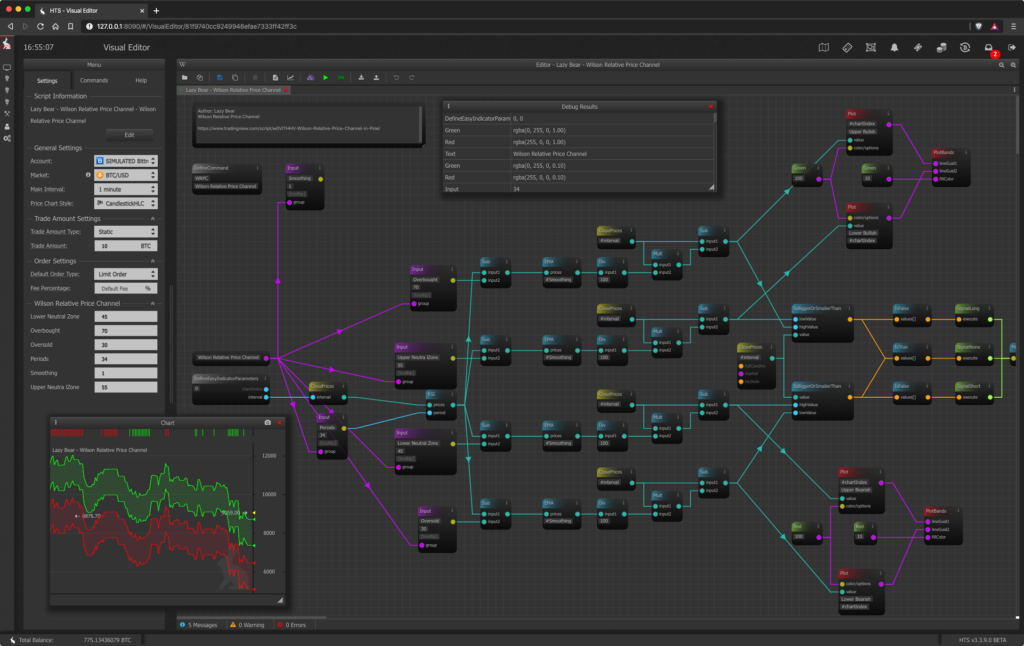 Backtestable Strategies
HaasOnline robust backtesting engines allow you to refine your trading bots using historical data and establish the best combination of parameters to buy or sell.
Simulated Paper Trading
Safely test trade logic in real-time without risking your capital. Use live crypto market movements to refine your crypto trading bots using simulated paper trading.
Minimal Configuration
Use the included HaasBot trading bots with historically proven trading strategies and let them trade around your schedule, 24 hours day or night.
Notifications & Reporting
Stay current with your trading activity by integrating directly with Telegram or Discord. See live updates on profits, losses, and other valuable trade metrics.
Developer Ready
Use custom trade bots, which can be developed with HaasScript or C#. HaasOnline framework allows developers to fully customize trade bots or technical indicators to recreate any strategy or signal.
A highly flexible crypto trading bot
Unlike HaasOnline custom crypto trading bots pre-built for specific trading strategies, the trade bots are highly flexible. This allows you to configure technical indicators, chart settings, safeties, and insurances to replicate any trading strategy with a few clicks.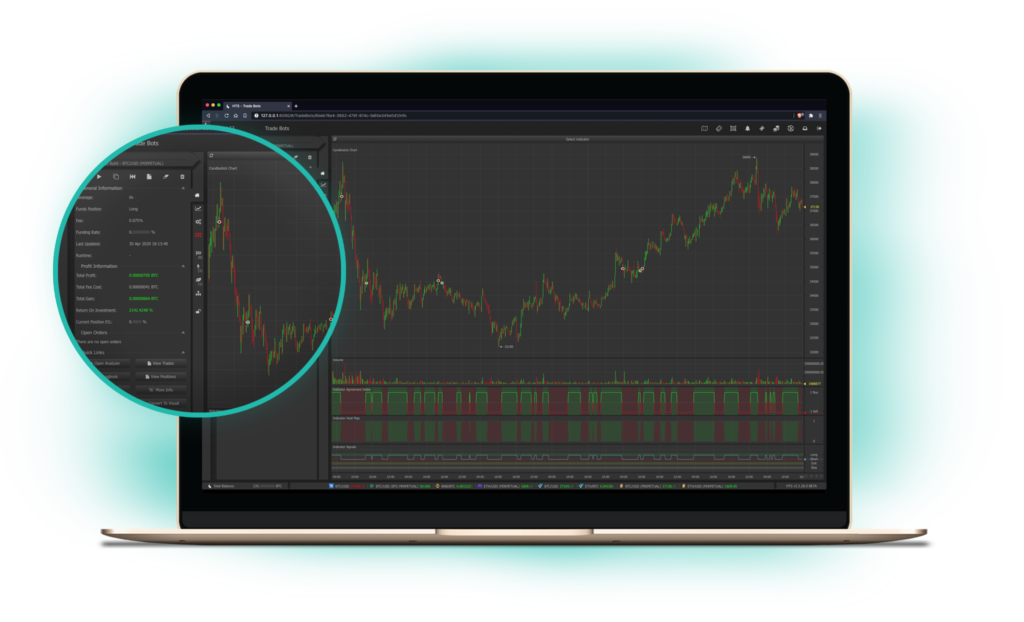 Pre-built crypto trading bots
Traders getting familiar with automated trading prefer to use HaasOnline pre-built trading strategies. These custom bots are loaded with historically-proven strategies that only require you to configure settings in order to deploy on an exchange.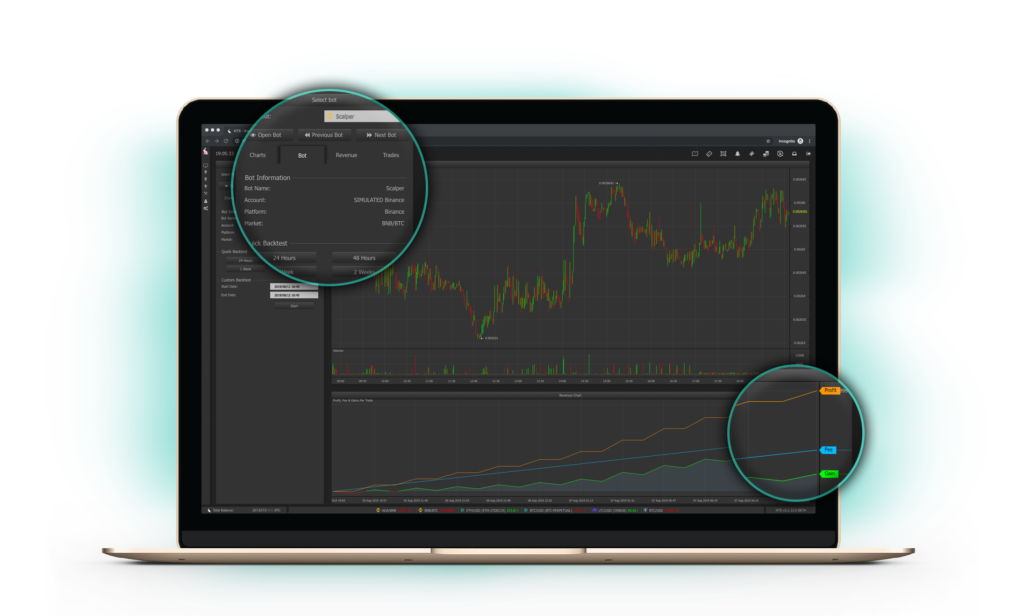 HaasScript for Even More Control.
HaasOnline developed the world's most advanced crypto scripting language, HaasScript. Use the drag-and-drop visual designer to generate scripts without coding or HaasOnline intelligent text-based editor to craft your scripts carefully.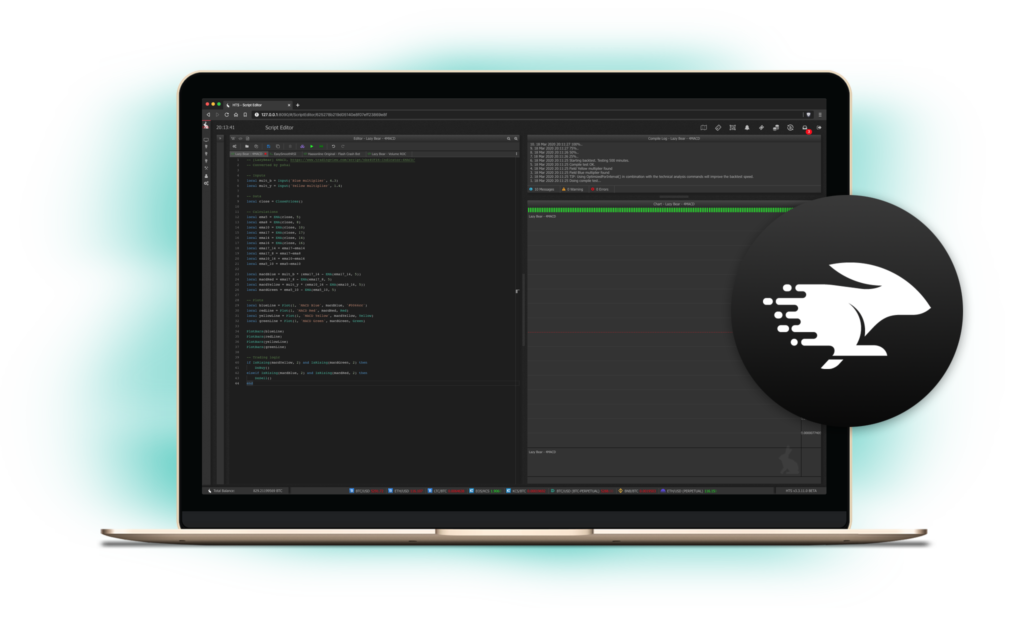 FAQ.
Is HaasOnline Easy to Use?
HaasOnline developers say that the platform can serve both novice and expert traders. However, HaasOnline is not the easiest automated trading platform available in the market.
There are a few things that you have to learn in order to get the best out of the platform.
What exchange platforms does HaasOnline support?
Using HaasOnline, you will get the advantage of platform exchange integration; HaasOnline can connect to the top 24 exchanges at the moment of writing this article, and the number is growing.
Supported exchanges include Binance, Binance US, Bitfinex, Kucoin, Kraken, and more. You can connect to any of these exchanges using an API key.
How much does HaasOnline cost?
HaasOnline has three different plans with various features; it might take a while to decide which plan suits you the most.
HaasOnline has 3 different plans with different features. Beginner, Simple, and Advanced. The beginner plan starts at 0.005 BTC/ 3mo, the simple plan at 0.007 BTC/ 3mo, and the advanced plan at 0.012 BTC/ 3mo. Also, if you decide to pay for longer periods, such as 6 months in advance, you will get discounts.
You can check the picture to get an idea of the differences between the tree plans.
Getting Started with HaasOnline.
In this section of our HaasOnline review, we will guide you through the process of signing up onHaasOnline until creating your first trading bot.
Sign up on HaasOnline.
The first step is to head to the HaasOnline pricing page and sign up by choosing the right plan for you. After that, you can continue by entering your account information.
Downloading HTS.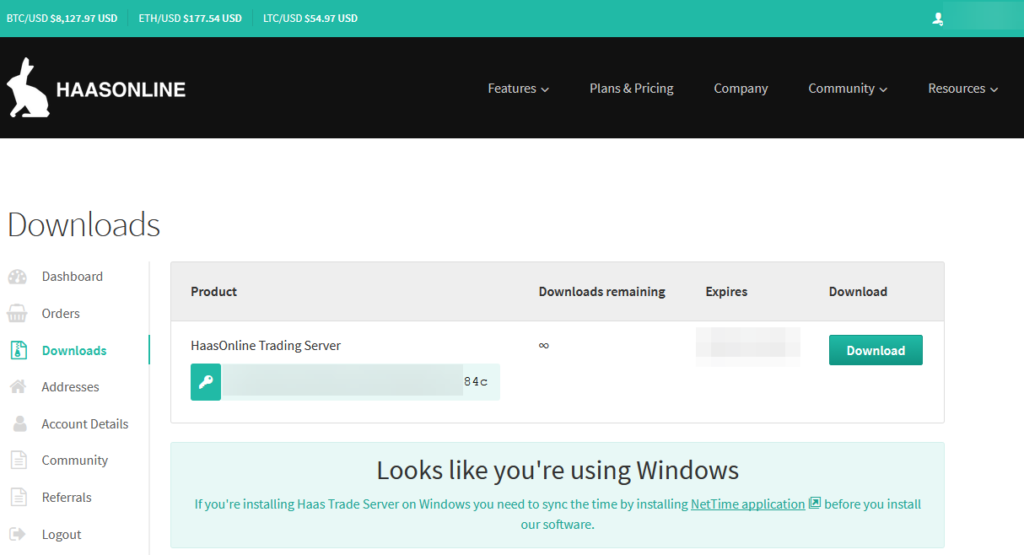 Once you have purchased your preferred HaasOnline Trade Server (HTS) license, you will find the "Haas Trade Server" button enabled under "Downloads" in "My Account."
Configuration.
Now, you need to configure your application and connect it to one of your exchanges. This part will require you to head to the HaasOnline Documentation page for detailed steps and more information.
Once you have configured your application, you can learn more about setting up your first trading bot and connecting it to your exchange.
Conclusion.
During our HaasOnline review, we admired the platform and its features. Clearly, HaasOnline has enormous potential to be the best crypto trading bot. However, the platform is not the easiest to use; you will need to learn a few things before getting started.
Pros.
Very powerful.
Supports top exchanges.
Detailed Documentation.
Cons.
Payments are only in BTC.
It can be hard at first sight.
No mobile app