You probably want all your time focused on trades and making better decisions if you're a trader. But what about taxes? They take a lot of time and consume a lot of effort to finish tax calculations.
So, wouldn't you prefer if you could leave tax calculations for an expert who you can trust? That's where crypto tax calculators stand up. Besides, they'll do your tax calculations perfectly and quickly.
In this article, we'll review TokenTax as one of the best in this field.
Table of Contents
About TokenTax.
TokenTax is a crypto tax software platform. And a full-service cryptocurrency tax accounting firm.
Besides, with the help of many features and tools. You'll easily calculate your taxes without any errors. And we'll explain more about features in this TokenTax review.
TokenTax Features.
Luckily, TokenTax has lots of features that'll assist you in calculating your assets taxes.
Auto Crypto Tax Reports.
TokenTax will automatically use your crypto trading history to populate your form 8949 -used to report capital gains-. Include it with your tax return or easily import it into TurboTax.
TurboTax Support.
Seamlessly import your tax reports into TurboTax for further processing.
Tax Loss Harvesting.
Realize your gains and losses, as the TokenTax Tax Loss Harvesting dashboard will tell you. That way, you can put strategies to reduce your taxable capital gains.
Tax Professional Suite.
In case you have multiple clients. You can reconcile transactions and generate tax forms for multiple clients simultaneously. It's for certified public accountants and filing professionals. Also, you'll have tools to support your clients with cryptocurrencies.
International Taxes.
TokenTax supports lots of popular tax reports. It works in Canada, Germany, the USA, South Africa and other countries. IRS Form 8949, Audit Trail Report, Cryptocurrency Mining & Income Tax Report, International Gain / Loss Report, and TurboTax Cryptocurrency Import.
Supported Cryptocurrencies & Exchanges.
TokenTax supports over 20 major exchanges and wallets. Besides that, they support each crypto listed within the exchanges they support.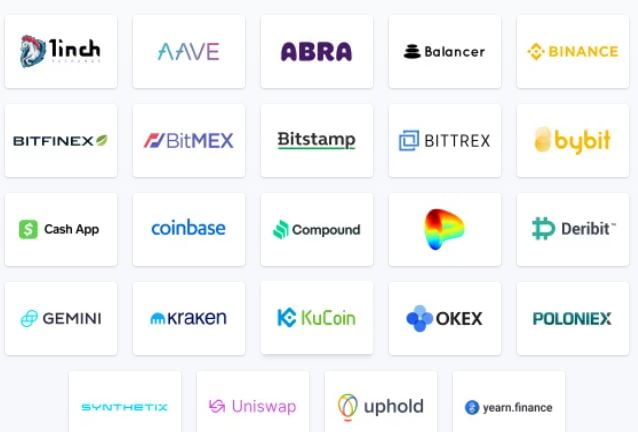 Is TokenTax Easy To Use?
With a user-friendly UI and a live chat. Yes, TokenTax is easy to use, and you can easily get used to it if you're coming from another software.
How Secure Is TokenTax?
Safe and secure to use. Because your exchanges are connected through API keys, you upload wallet transaction history. There is no extra information needed.
Which Tax Reports Does TokenTax Support?
TokenTax supports international tax reports, and here's a list:
FIFO support, LIFO support, IRS Form 894, Audit Trail Report, Cryptocurrency Mining & Income Tax Report, International Gain / Loss Report. TurboTax Cryptocurrency Import.
Which Countries Does TokenTax Support?
If your country uses any of the mentioned tax reports, TokenTax supports it.
What's TokenTax Pricing?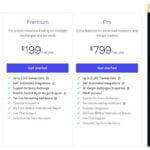 You can subscribe to their different plans at $65, $199, $799, and $2,500. Unfortunately, they don't have a free plan. And you pay per tax year depending on how many transactions you made.
Get Started on TokenTax.
We should add this one to the features list! Getting started on TokenTax will only take you a few minutes. You can't waste time while saving time.
Create an Account.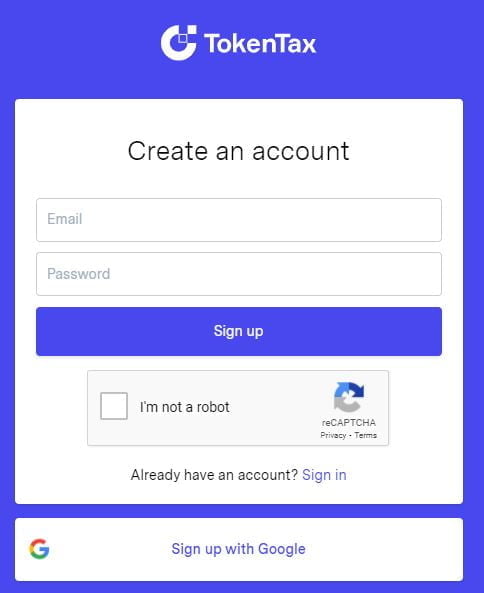 Visit TokenTax Sign-up page and enter your information, and you can also sign up via Google. Remember to use a strong, unique password!
Verify Your Account.
After signing up, visit your email and verify your account using the link they sent to you.
Connect Your Exchange And Import Data.
Firstly, on the main page, click on 'Import Data', then you can add your exchange account or wallet. Or you can choose a CSV file, manual data entry, or even a tax document.
Generate a Tax Report.
To generate a tax report. Go to your TokenTax dashboard, then click on 'Generate tax forms'. And TokenTax will easily take you through the process.
Conclusion.
In a few words, TokenTax is very helpful and useful. With a lot of features and tools to help you calculate your taxes. So, as usual, here's what this TokenTax review got us thinking about its pros&cons.
Pros.
Simple UI
Live chat support
a wide range of supported tax reports.
Cons.
It doesn't support exchanges as many as competitors
No free plan
TokenTax Comparison and Alternative Options.
Product Image / Product Name

Price / Description

Supported Reports / Primary Button

Starts at $49.00 with a free plan.

Automatically imports your transactions, finds all the market prices at the time of your trades, calculates your crypto gains/losses and generates your tax reports!

Starts at $49.00 with a free plan.

The world's most reliable and easy-to-use tax solution for cryptocurrencies. File your tax return in under 20 minutes.

Available in 65+ countries

Complete Tax Report
Transaction History
Capital Gains
IRS Form 8949 and Schedule D (USA)
Skatteverket K4 (Sweden)
Skatteetaten RF-1159B (Norway)

Connect major exchanges like Coinbase, Binance, and BitMEX with automatic API import, or upload a trade history CSV from any exchange.

FIFO support
LIFO support
IRS Form 8949
Audit Trail Report
Cryptocurrency Mining & Income Tax Report
International Gain / Loss Report
TurboTax Cryptocurrency Import.

Accointing is the accounting, tracking, and tax optimization tool for Bitcoin and other cryptocurrencies. They are a team of passionate blockchain investors and believers that have come together to create the most comprehensive and simple-to-use taxes and tracking tool in the blockchain space.

At Recap, they have created a powerful portfolio manager for Bitcoin and all cryptocurrencies that automatically calculates your crypto tax position.

FIFO support
LIFO support
IRS Form 8949
Ultimately, tell us in the comments section what do you think about TokenTax. Are you planning to use it? And if you did, how was your experience?
Also, we'd like to suggest you one of our reviews, Cryptohopper Review and Best Alternatives.