During trading, most traders tend to focus on their trades than taxes. In fact, that sounds very reasonable as the reason for trading is making a profit. However, traders must calculate their taxes to avoid legal issues. But imagine having to fill reports regarding all the trades you've made during a whole taxing season; very exhausting, right? That's why in this CoinTracking review, you're learning how to automate the tax calculation process.
For a better understanding of how crypto tax calculators work, crypto tax calculators can get your transaction data in many ways, either through API keys or different other methods. After that, they start processing your data without any human factor involved. As a result, your report is filled in a speedy, effective, and trustworthy way. Moreover, let's learn more about CoinTracking.
Table of Contents
About CoinTracking.
CoinTracking is the first cryptocurrency tax reporting tool and portfolio manager. Also, CoinTracking started to make cryptocurrency traders' lives easier – not only during tax season.
Also Read: Best Crypto Tax Softwares & Calculators.
CoinTracking Features.
Of course, the more features, the better the tool, and CoinTracking is full of features that help traders fill their tax reports. In the following part of the CoinTracking review, we discuss CoinTracking features in-depth.
Personal Analysis.
We expected to find many supported reports for a crypto tax calculator. However, we were amazed by the number that CoinTracking supports, as you can fill over 25 customizable crypto reports. CoinTracking can also fill profit/loss & audit reports and calculate realized and unrealized gains.
You will also get live charts for all your trades and coins, which helps you understand your yearly performance. You'll get the following statistics.
Trade Statistics.
Trade List
Daily Balance
Average Purchase Prices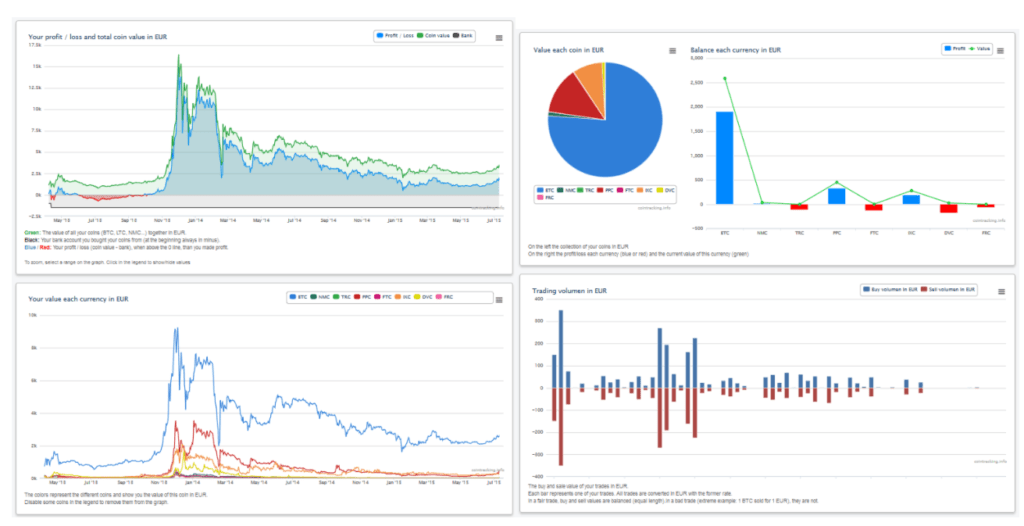 Trade Imports.
CoinTracking integrates with over 110 exchanges that you can choose to either automatically sync or upload your transactions via different file types like CSV. Furthermore, you can export your trades in Excel, PDF, CSV, XML & JSON.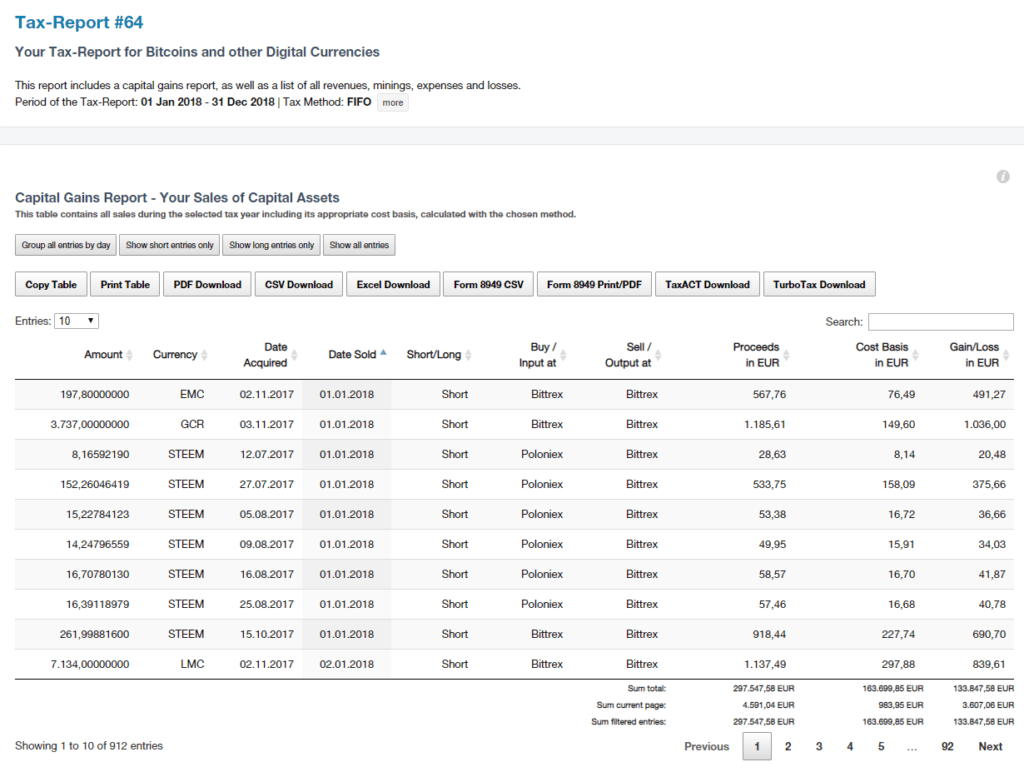 Live Charts.
CoinTracking also has a price list of over 9000 digital currencies available on the market, including price trends, market cap, and the current trading volume. Something that we didn't really expect to find.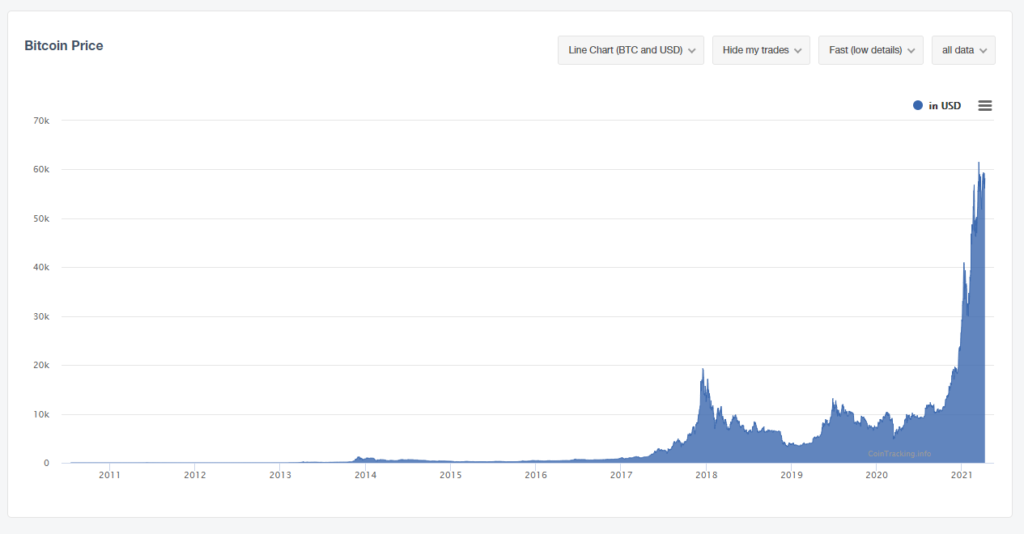 Supported Exchanges.
Our respects to CoinTracking due to the wide range of supported exchanges and wallets, Over 110 exchanges and wallets supported. Make sure to view the complete list here.
FAQ.
Is CoinTracking Easy to Use?
CoinTracking can be confusing the first time. However, getting used to it will make it easy. Also, they have different tutorials on their support to get you used to the platforms.
What Reports Does CoinTracking Support?
Capital Gains Report, Income Report. Gift and Donation Report. Fee Report, Lost and Stolen Report, Closing Position Report
Is CoinTracking Safe to Use?
Yes, CoinTracking is safe, and all your data is encrypted. Also, CoinTracking connects to your exchanges through API keys, and no access to your exchanges is required. Moreover, you can enable 2FA for additional security and create and restore trade backups.
What are CoinTracking Plans?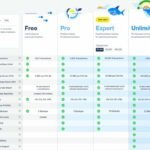 Fortunately, CoinTracking has a free plan. But also, to remove all the limits on the free plans, you can upgrade to a paid plan starting at $10.99~$54.99 here. More details are in the image below as well.
Starting with CoinTracking.
In the following part of CoinTracking review, we illustrate how you can start on the platform and get everything going.
Sign-up on CoinTracking.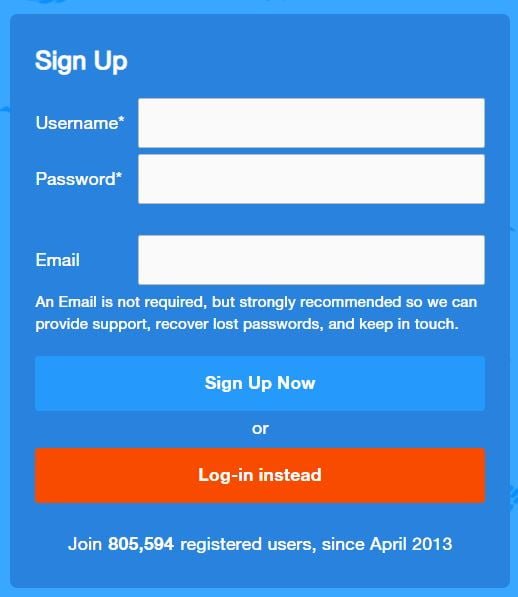 The first step, visit CoinTracking's main page, submit your email, and choose a strong, unique password.
Verify Your Account.
After registration, visit your email and look for an email from CoinTracking to activate your account.
Connect Your Exchange or Wallet.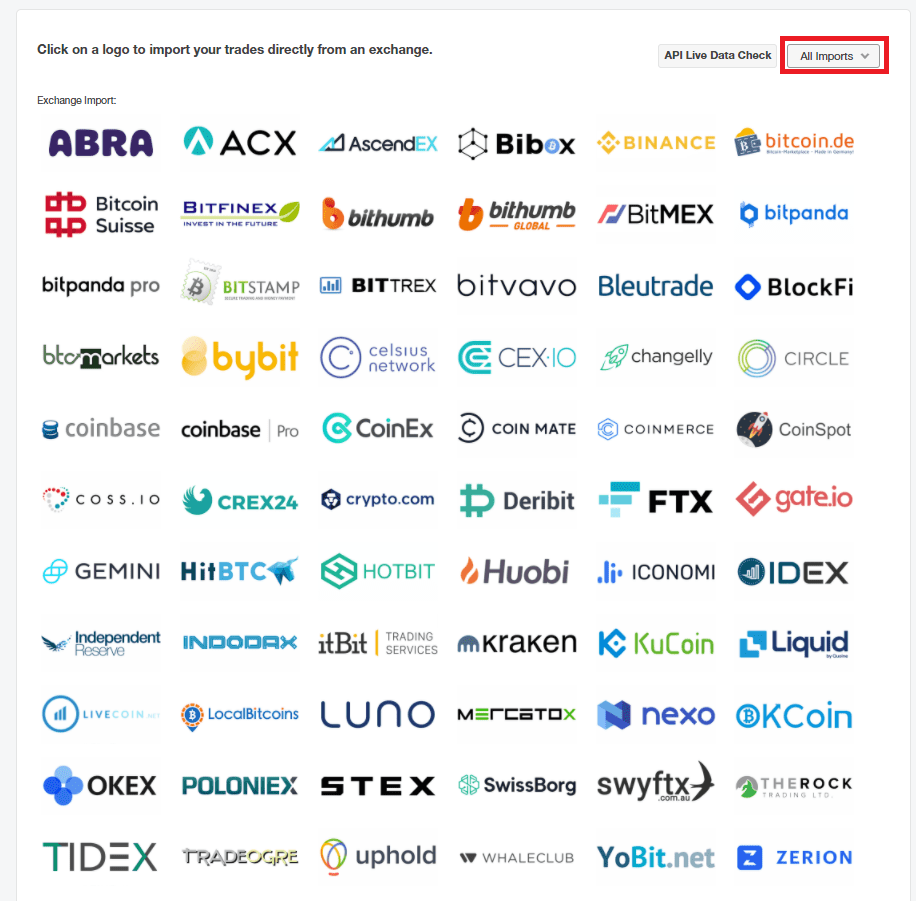 Secondly, connecting your exchange enables CoinTracking to get your transactions' data; therefore, the system can calculate your taxes.
In order to do that, on your CoinTracking dashboard, you'll find a list of supported exchanges and wallets. You can filter them to find your exchange faster.
Enter the necessary information once you've selected the platforms you'd like to link to CoinTracking. For exchange, you can connect through API keys, and wallets connect through public keys.
Generate A Tax Report.
To generate your first tax on CoinTracking, click on Tax Reports' on the top menu, and then a page will open. You can select your preferred accounting method on that page, and there are more advanced options that you can check.
Conclusion.
In brief, CoinTracking can be the only taxing software that you need for your crypto trades due to the different features and customizations that the platform provides. And to enrich the clarity, here is the full pros and cons list of our CoinTracking review.
Pros.
Customizable reports
Many accounting methods supported
Supports over 100 countries
Wide list of tax reports.
Cons.
It doesn't work with TurboTax.
Hard to use at first glance.
CoinTracking Comparison and Alternative Options.
You can choose many options for your crypto tax calculations; here are the best alternatives for CoinTracking. Also, make sure to check our reviews for each of them for better understanding.
Product Image / Product Name

Price / Description

Supported Reports / Primary Button

Starts at $49.00 with a free plan.

Automatically imports your transactions, finds all the market prices at the time of your trades, calculates your crypto gains/losses and generates your tax reports!

Starts at $49.00 with a free plan.

The world's most reliable and easy-to-use tax solution for cryptocurrencies. File your tax return in under 20 minutes.

Available in 65+ countries

Complete Tax Report
Transaction History
Capital Gains
IRS Form 8949 and Schedule D (USA)
Skatteverket K4 (Sweden)
Skatteetaten RF-1159B (Norway)

Connect major exchanges like Coinbase, Binance, and BitMEX with automatic API import, or upload a trade history CSV from any exchange.

FIFO support
LIFO support
IRS Form 8949
Audit Trail Report
Cryptocurrency Mining & Income Tax Report
International Gain / Loss Report
TurboTax Cryptocurrency Import.

Accointing is the accounting, tracking, and tax optimization tool for Bitcoin and other cryptocurrencies. They are a team of passionate blockchain investors and believers that have come together to create the most comprehensive and simple-to-use taxes and tracking tool in the blockchain space.

At Recap, they have created a powerful portfolio manager for Bitcoin and all cryptocurrencies that automatically calculates your crypto tax position.

FIFO support
LIFO support
IRS Form 8949
Finally, we'd love to know and discuss your opinions about this CoinTracking review, so feel free to comment in the comments section.