In this article: Ledger review, we'll take a look at one of the most secure cold wallets out there.
Cryptocurrencies are growing rapidly and getting a lot of concern in the world. As a result, Cryptocurrency wallets are a target for attackers and hackers.
Hot wallets (wallets connected to the internet) are no longer the best place to keep your cryptocurrency as your private keys will be connected to the internet. Therefore it might get exposed to attackers.
On the other hand, Cold wallets are more reliable than hot wallets when it comes to security. Cold wallets are isolated from the outside world, making them a safe shelter for your assets and impossible to hack.
In this article, we'll discuss Ledger and how safe it can be for your crypto assets. Also, we'll bring all about Ledger features and how to get it too.
Table of Contents
About Ledger.
The next level cold wallets. Also, you can send and receive crypto in one single-app, anywhere you go. You'll be the only one in charge of your assets.
Ledger has 2 models of their hardware wallets. Ledger Nano X and Ledger Nano S. In this article, we'll review the Nano X one, considering that it is the most recent and secure one.
Also Read: Ellipal Hardware Wallet and Best Alternatives.
Ledger Nano X Features.
Ledger Nano X comes with popular security options; however, there are some concerns about Ledger. Let's get to the Ledger review.
End-to-End Encrypted Bluetooth.
Let's point out that there are two teams when it comes to hardware wallets. A team that thinks Bluetooth is unnecessary on hardware wallets as it might be vulnerable. And the other team believes that they can make Bluetooth safe and beneficial for the hardware wallet.
Bluetooth connections in Ledger Nano X are end-to-end encrypted. Also, your private key is used on your Ledger, and then the Bluetooth is used to send the confirmation. Furthermore, you can still disable Bluetooth and rely on the USB port.
Mobility.
Ledger Nano X allows you to carry it wherever you go, with no need for cables or a computer. By connecting Ledger Nano X to your phone via Bluetooth, you can complete transactions wherever you were.
Also, Ledger Nano X can stay up to 8 hours of continuous usage or 3 months in idle mode. Meaning, you can go weeks without worrying about charging the Ledger Nano X and still use it whenever you want.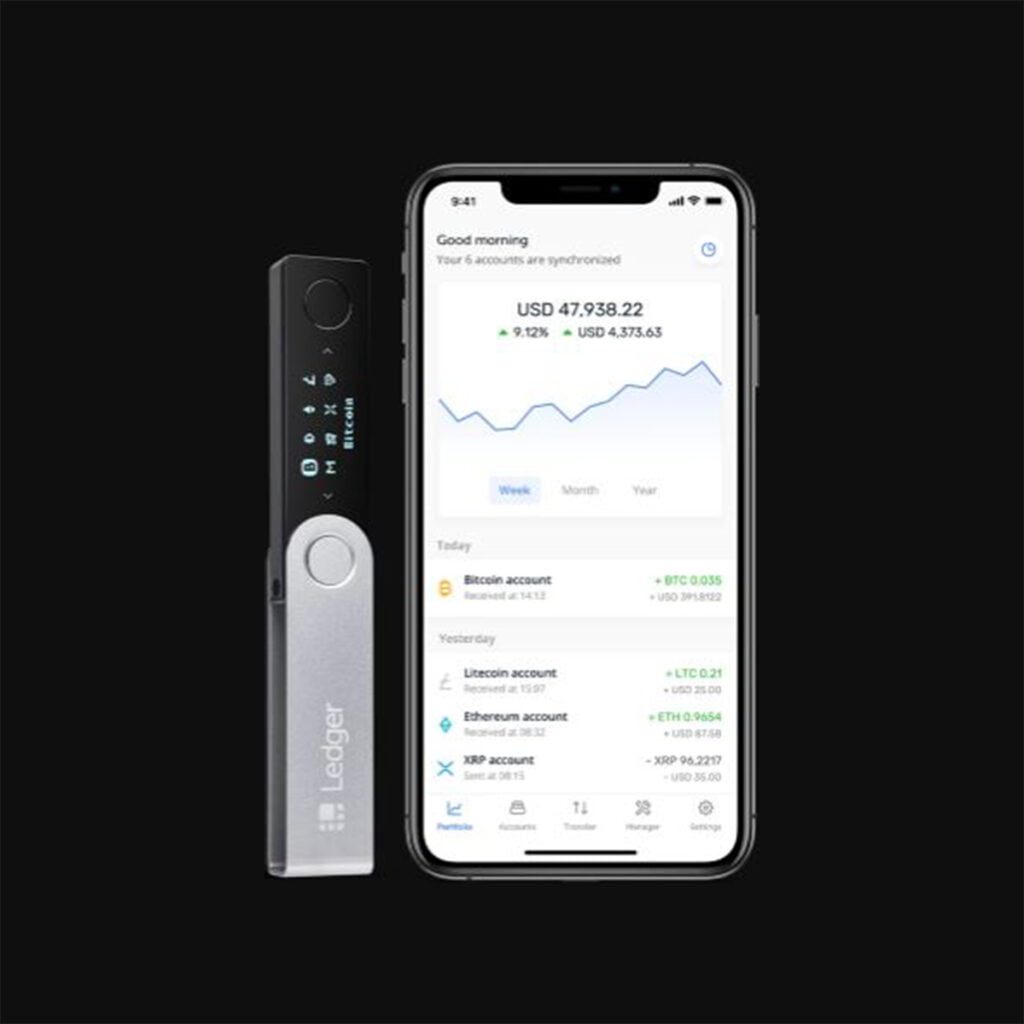 Capacity.
Compared to the older brother, the Ledger Nano S. The newer one has five times more capacity. Therefore, you can install more apps on the Ledger Nano X.
Control Center.
The Ledger Nano X control center allows you to lock the device at any time. Also, you can check the battery status or adjust some settings.
Multiple Account Support.
Ledger Nano X allows you to create more than one account for a single coin. That can come in very handy when needing to transfer or receive using either SegWit or Native SegWit.
Supported Cryptocurrencies.
Ledger Nano both S and X support over 1000 coins and tokens like Bitcoin, Ethereum, XRP, Tether, and more. Also, you can check the complete list Here.
However, some coins may require you to install alternative software so Ledger can send and receive them like ERC-20 tokens.
FAQ.
What Happens if I Lose My Ledger?
Just like any other wallet, Ledger generates a seed phrase which is a list of words that has all the information that you need to recover your wallet. So, we recommend you to backup your seed phrase to recover your wallet in case of loss or damage.
Is Ledger Nano X Safe?
With Ledger Nano X all your private keys are stored offline. Meaning attackers can't access them online. But what about the Bluetooth connection? Earlier in the article, we mention that it is end-to-end encrypted. Also, only public data is transferred via Bluetooth.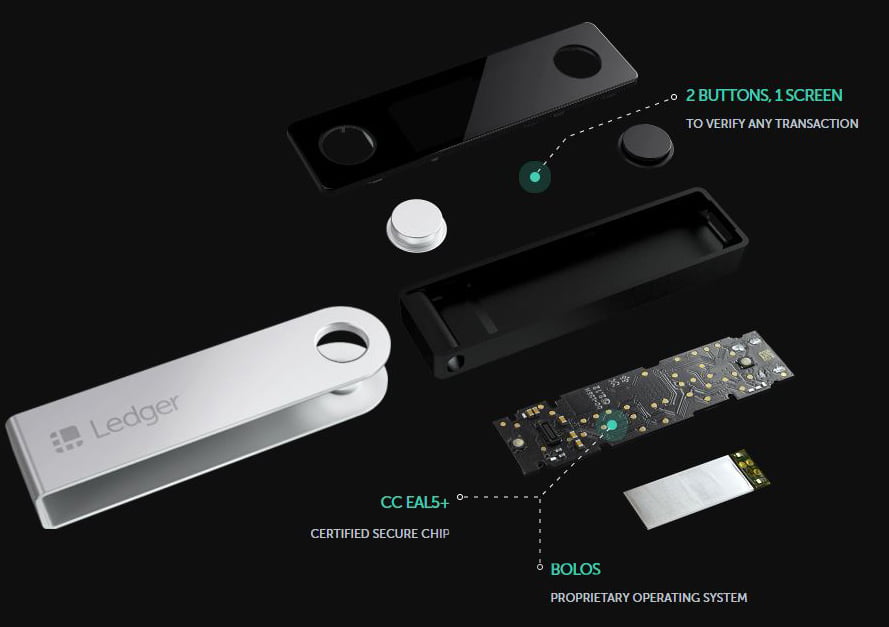 Is It Easy to Use Ledger Nano X?
It is a little bit hard for the first time to setup Ledger due to the bottoms and confirming your seed phrase. However, after completing your installation, Ledger will be very easy to use.
How Does Ledger Work?
Using Ledger Live on your computer or mobile phone, you can enter the recipient's address and transaction amount. Then, by connecting either Bluetooth (mobile only) or USB, Ledger will confirm your transaction. And visa versa for withdrawing or sending, you ask Ledger through Ledger Live to allow transacting out of your wallet.
What's Ledger Nano X Pricing?
The Ledger Nano X starts at $119, and you can get it Here.
Also, they offer a lot of bundles like the Ledger Family Pack. So make sure to find your best deal there.
What's Inside Ledger Nano X Box?
Ledger Nano X device
USB cable
Getting started leaflet
3 recovery sheets
Keychain strap
What are Nano Ledger X Hardware Specs?
Brushed stainless steel and plastic.
Contains a lithium-ion 100mAh battery (0.37Wh = 1 cell)
Size 72mm x 18.6mm x 11.75mm
Weight 34g
Getting Started With Ledger Nano X.
The process of setting up your Ledger Nano X is simple and easy. Also, in this Ledger review we'll take you through the process of creating your account along with making transactions.
You need to know that the buttons are used for navigation, and tapping both buttons simultaneously allows you to select.
Set-up Your Account.
Firstly, after initializing your device, you'll be asked whether you want to create a new account or recover an old one. In the case of creating a new one, the Ledger device will take you through the process.
Ledger will ask you to create a PIN, and it'll show you your seed phrase and ask you to confirm it.
Install Ledger Live.
Visit Ledger's website to install Ledger Live app on your computer or mobile phone. Also, Ledger is compatible with all Operating systems.
After that, Ledger Live app will ask you to connect the Ledger device; also, it'll require confirming that connection on the Ledger device.
Proceeding Transactions.
Using your Ledger Live app, you can transact coins. After setting up your account, you can click on 'Receive' and then the Ledger Live app will display your public address but, you need to confirm that on your Ledger device first.
You can choose to send then confirm it on your Ledger device, and now you can enter the recipient address to transact.
Conclusion.
In this Ledger review, we said all that we wanted to say about Ledger Nano X. Also, keep in mind that securing your assets is essential that means you need to choose the best hardware wallet to use.
Here's Ledger Nano X in brief.
Pros.
You can set it up using your computer or phone.
Very efficient built-in battery.
Supports major blockchains and tokens
Cons.
The Bluetooth may be worrying for some users.
Hard to navigate using its buttons.
Alternatives.
But, what if you don't like Ledger Nano X? No problem, there is a lot of options out there that you can compare and choose between to fulfill your need.
View best alternatives for Ledger Nano X below.
Finally, we'd love to hear from you, so tell us in the comments sections. What do you think about this Ledger Nano X review? And what would you like to see in the next generation of Ledger hardware wallets?