In this article, titled "Ledger Review," we will delve into one of the most secure cold wallets available. Cryptocurrencies are experiencing rapid growth and gaining significant attention worldwide. Consequently, cryptocurrency wallets have become prime targets for attackers and hackers.
Hot wallets, those connected to the internet, no longer provide the optimal solution for safeguarding your cryptocurrency. This is due to the inherent risk of exposing private keys to potential attackers. On the contrary, cold wallets offer superior reliability in terms of security. They remain isolated from the external environment, providing a fortified sanctuary for your assets and presenting an almost insurmountable barrier to hacking attempts. Throughout this article, we will explore Ledger's security features and its potential to serve as a secure haven for your crypto assets. Additionally, we will comprehensively cover all aspects of Ledger, including its features and the steps to acquire it.
Table of Contents
About Ledger.
Introducing the next level of cold wallets: a solution that allows you to both send and receive crypto through a single app, wherever you are. With this approach, you retain complete control over your assets, ensuring their security at all times.
Ledger offers two models of their hardware wallets: the Ledger Nano X and the Ledger Nano S. This article will focus on reviewing the Nano X, as it is the most recent and secure version available.
Also Read: Best Hardware Wallets to Keep Your Assets Secured.
Ledger Nano X Features.
The Ledger Nano X comes equipped with popular security features; nevertheless, there are certain concerns surrounding the Ledger platform. Now, let's proceed to the review of the Ledger Nano X.
End-to-End Encrypted Bluetooth.
It's worth highlighting that when it comes to hardware wallets, there are two distinct camps of thought. One team contends that Bluetooth is unnecessary for hardware wallets due to potential vulnerabilities, while the other team is confident in their ability to ensure the security and advantages of incorporating Bluetooth into hardware wallets.
Within the Ledger Nano X, Bluetooth connections are end-to-end encrypted. Additionally, your private key remains confined within your Ledger device, with Bluetooth employed solely for transmitting confirmations. Moreover, you retain the option to disable Bluetooth entirely and instead utilize the USB port for your transactions.
Mobility.
The Ledger Nano X offers the convenience of portability without the requirement for cables or a computer. By connecting the Ledger Nano X to your phone through Bluetooth, you gain the ability to conduct transactions from any location.
Furthermore, the Ledger Nano X boasts an impressive battery life of up to 8 hours of continuous usage or 3 months in idle mode. This means you can go for weeks without the need to fret about charging the Ledger Nano X, all while retaining the capability to use it whenever you desire.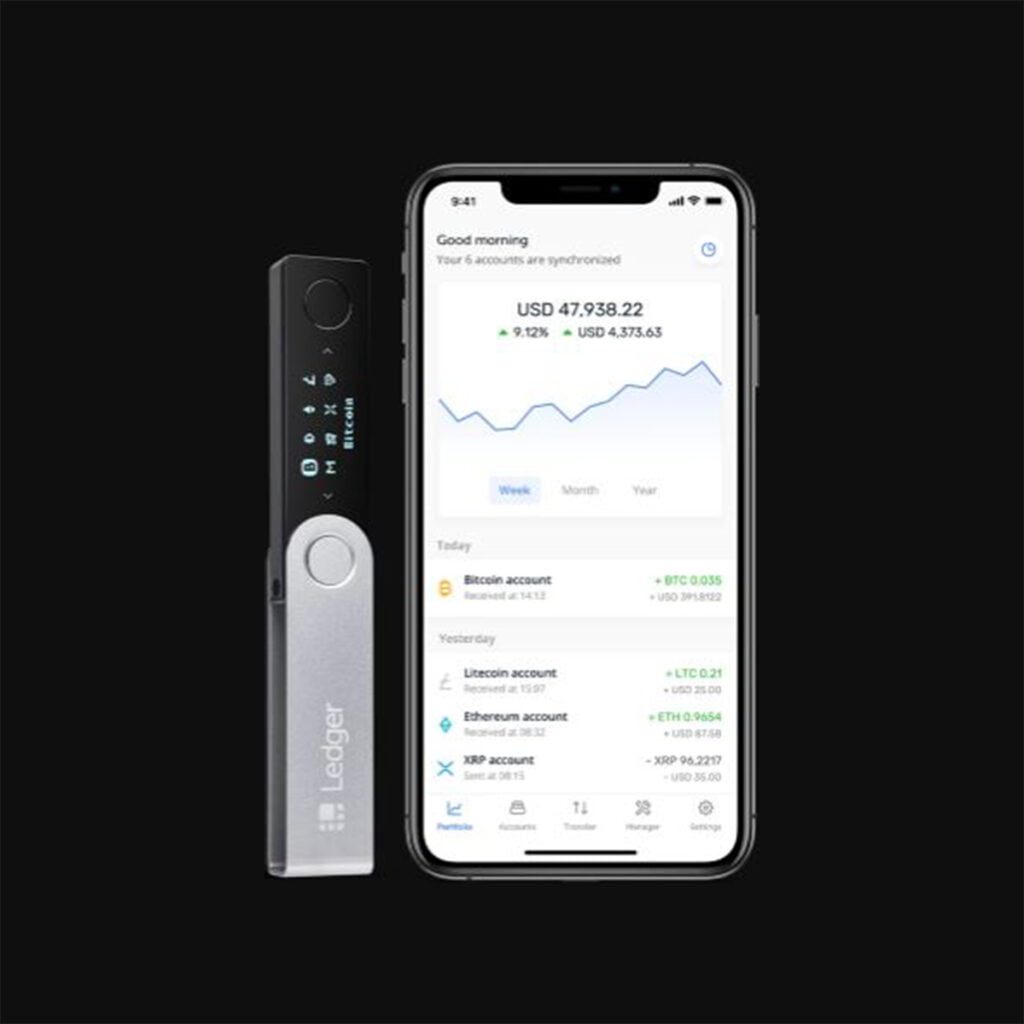 Capacity.
In comparison to its predecessor, the Ledger Nano S, the newer Ledger Nano X boasts a significantly larger capacity, being five times more spacious. This expanded capacity translates to the ability to install a greater number of apps on the Ledger Nano X.
Control Center.
The Ledger Nano X Control Center empowers you to lock the device at your discretion. Additionally, it provides the functionality to monitor the battery status and make adjustments to various settings.
Multiple Account Support.
The Ledger Nano X enables the creation of multiple accounts for a single coin—a feature that proves highly useful when necessitating transfers or receipts through both SegWit and Native SegWit protocols.
Supported Cryptocurrencies.
Both the Ledger Nano S and X support a vast array of over 1000 coins and tokens, including notable names like Bitcoin, Ethereum, XRP, Tether, and many others. You can refer to the comprehensive list available Here.
Nevertheless, it's important to note that certain coins might necessitate the installation of alternative software on your Ledger device to enable sending and receiving functionality, as is the case with ERC-20 tokens.
FAQ.
What Happens if I Lose My Ledger?
Similar to other wallets, Ledger also generates a seed phrase—a sequence of words containing all the necessary information to restore your wallet. Therefore, we strongly advise you to back up your seed phrase diligently. This precaution ensures that you can recover your wallet in the event of loss or damage.
Is Ledger Nano X Safe?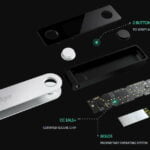 Through the use of Ledger Nano X, your private keys remain securely stored offline, rendering them inaccessible to attackers on the internet. However, a question might arise regarding the Bluetooth connection's security. As stated earlier in the article, this connection is protected by end-to-end encryption. Moreover, it's important to note that only public data is transmitted via Bluetooth, adding an additional layer of security.
Is It Easy to Use Ledger Nano X?
Setting up the Ledger for the first time can be a bit challenging, mainly because of the buttons and the process of confirming your seed phrase. However, once the initial setup is completed, using the Ledger becomes very straightforward and user-friendly.
How Does Ledger Work?
By employing Ledger Live on your computer or mobile phone, you can easily input the recipient's address along with the transaction amount. Subsequently, through either a Bluetooth connection (available on mobile devices only) or USB, Ledger will verify and confirm your transaction. The process is mirrored when withdrawing or sending funds; you request Ledger via Ledger Live to permit transactions from your wallet.
What's Ledger Nano X Pricing?
The Ledger Nano X begins at a price of $119, and you can acquire it Here.
Furthermore, Ledger provides various bundles, such as the Ledger Family Pack, offering an assortment of options. It's advisable to explore these bundles to identify the deal that suits your needs most effectively.
What's Inside Ledger Nano X Box?
Ledger Nano X device
USB cable
Getting started leaflet
3 recovery sheets
Keychain strap
What are Nano Ledger X Hardware Specs?
Brushed stainless steel and plastic.
Contains a lithium-ion 100mAh battery (0.37Wh = 1 cell)
Size 72mm x 18.6mm x 11.75mm
Weight 34g
Getting Started With Ledger Nano X.
The process of setting up your Ledger Nano X is simple and easy. Also, in this Ledger review, we'll take you through the process of creating your account along with making transactions.
You need to know that the buttons are used for navigation, and tapping both buttons simultaneously allows you to select.
Set up Your Account.
The process of setting up your Ledger Nano X is straightforward and user-friendly. Additionally, within this Ledger review, we will guide you step-by-step through the account creation process and the execution of transactions.
It's important to note that the device's buttons are utilized for navigation. Pressing both buttons simultaneously serves as the selection action.
Install Ledger Live.
Visit Ledger's official website to install the Ledger Live app on your computer or mobile phone. Importantly, Ledger is compatible with all major operating systems.
Once the installation is complete, the Ledger Live app will prompt you to connect the Ledger device. This connection request will also require confirmation on the Ledger device itself.
Proceeding Transactions.
Through the Ledger Live app, you can easily conduct coin transactions. Upon configuring your account, you can access the 'Receive' option, which will present your public address on the Ledger Live app interface. However, it's essential to verify this address on your Ledger device before proceeding.
When initiating a transaction, you can opt to send the funds and subsequently confirm the action on your Ledger device. Once confirmed, you can proceed to input the recipient's address to execute the transaction.
Conclusion.
In this Ledger review, we have covered all the key aspects of the Ledger Nano X. It's crucial to emphasize the significance of safeguarding your assets, which underscores the importance of selecting the optimal hardware wallet for your needs.
To summarize, here's a concise overview of the Ledger Nano X.
Pros.
You can set it up using your computer or phone.
Very efficient built-in battery.
Supports major blockchains and tokens
Cons.
The Bluetooth may be worrying for some users.
Hard to navigate using its buttons.
Alternatives.
But what if you don't like Ledger Nano X? No problem, there is a lot of options out there that you can compare and choose between to fulfill your need.
View the best alternatives for Ledger Nano X below.
Finally, we'd love to hear from you, so tell us in the comments section. What do you think about this Ledger Nano X review? And what would you like to see in the next generation of Ledger hardware wallets?