In this article, Bitbox02 review, we'll tell you about one of the most popular and secure hardware wallets that assure you the safety of your assets.
On the one hand, we witness a massive leap in information security daily. Then, it's only a couple of months until we hear about a hack that compromised a device, tool, or even software we trusted.
On the other hand, hardware wallets are safe and secure for saving private keys.
Experts design cold wallets to be in isolation from the outside world. That way, they can avoid any malicious software.
Table of Contents
About BitBox02
Bitbox02 is a cold wallet for your private keys. Also, you can send and receive coins seamlessly. In addition to an OLED display to verify and confirm transactions.
Also Read: Ledger Nano X Review and Best Alternatives, Is It The Best?
BitBox02 Features.
With various major security features, you'll find that BitBox02 is one of the best options for a hardware wallet. Moreover, in this BitBox02 review, we'll highlight all the features of BitBox02.
Invisible Touch Sensors.
For navigation, the BitBox02 has capacitive touch sensors to interact with the device. Furthermore, the touch sensors worked seamlessly and were efficient and easy to use.

Easy Backup and Restore.
For peace of mind, backups are instantly saved on a microSD card and can be managed from the BitBox App. Also, you can still display your seed phrase. Additionally, all data on the microSD card is encrypted to protect your private keys.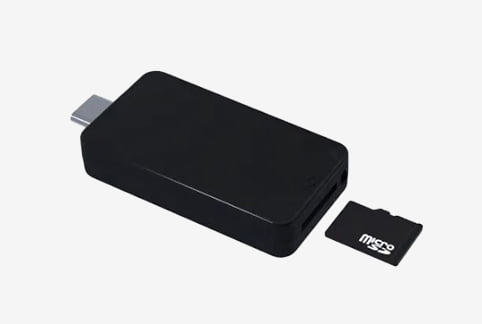 OLED Display.
A large 128x64px OLED display will ask you to verify directly on the BitBox02 what you are about to do, whether sending, receiving, or connecting to the BitBox App. Furthermore, you'll see the transaction address to verify it before signing.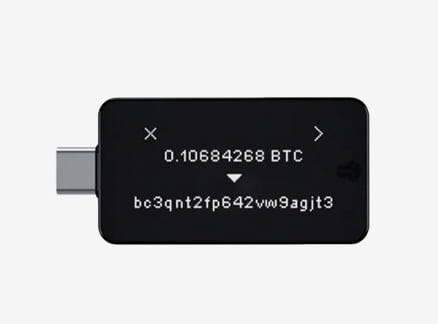 Works with Computers and Mobile Phones.
You can plug BitBox directly into your phone or computer with USB-C. Also, BitBox02 comes with a USB-C to USB-A adapter.
Secure Chip.
To avoid brute force attacks if a thief somehow bypasses the 10-attempt limit imposed by the microcontroller, a monotonic counter in the secure chip limits the total attempts of device-password entries. Besides, password stretching increases the time needed to test each possible password, making such attacks infeasibly difficult.
Supported Cryptocurrencies.
The BitBox02 supports 1500+ coins and tokens. Also, it's good to mention that BitBox02 has two editions. First is BitBox02 multi, which supports all cryptocurrencies listed on their website.
There's also the Bitcoin-only edition, which supports Bitcoin exclusively.
FAQ.
What Happens if I Lose My BitBox02 Device?
It's okay if your device is lost or damaged because you can always recover your wallet into a new BitBox02 device or any other cold wallet.
BitBox02 presents more than one way to recover your old wallet: use the microSD card or the seed phrase.
Is BitBox02 Safe?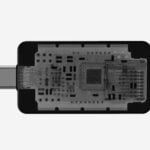 The BitBox02 features a dual-chip design with a secure chip. Furthermore, the source code has been independently audited by security researchers.
Moreover, the USB channel is encrypted, and data between the BitBox02 app is never stored on servers.
Is Using BitBox02 Easy?
We find using BitBox02 very easy to use. Thanks to the touch sensor and the simple BitBox02 app, transactions will be clear and smooth.
How Does BitBox02 Work?
Seamlessly, connect BitBox02 to your computer or mobile phone. Then, you need to enter the address you want to transact to verify it on your BitBox02 screen for signing out transactions. Also, for receiving transactions, request your address and then confirm.
What's BitBox02 Pricing?
You can purchase BitBox02 for both multi and Bitcoin-only editions. Also, they offer different products like connectivity packs and microSD backup cards. So make sure to check their website.
What's Inside BitBox02 Box?
BitBox02 box comes with the following products:
BitBox02 device
microSD card
USB-C extension cable
USB A to C adaptor
Rubber pulls
Stickers
Where Are BitBox02 Hardware Specs?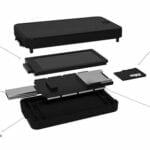 Connectivity: USB-C
Input: Capacitive touch sensors
Microcontroller: ATSAMD51J20A; 120 Mhz 32-bit Cortex-M4F; True random number generator
Secure chip: ATECC608A; True random number generator (NIST SP 800-90A/B/C)
Display: 128 x 64 px white OLED
Material: Polycarbonate
Size: 54.5 x 25.4 x 9.6 mm including USB-C plug
Weight: Device 12g; with packaging and accessories 160g
Getting Started with BitBox02.
In this BitBox02 review, we'll take you through setting up your BitBox02 for the first time. Furthermore, we'll demonstrate how to transact from and to your new hardware wallet.
Download BitBox02 App.
On their website, click 'Download' in the top bar, choose your device, and download and install the BitBox02 app.
Set up Your Account.
After downloading the BitBox02 app, you can start it and then connect your BitBox02 device. Now, the BitBox02 app will take you through creating your account and protecting your BitBox02 device with a password.
Proceeding Transactions.
Now, you can start sending/receiving coins after setting up your account. On the BitBox02 app, choose the account you want to proceed with, then choose whether you wish to send or receive.
For sending, you'll be asked to enter the recipient's address or scan their QR code; then, you need to confirm the transaction on your BitBox02 screen.
And for receiving, you can display both your wallet's QR code and address. Also, you'll need to confirm that on your BitBox02 screen.
Conclusion.
Securing your assets used to be a significant issue. However, hardware wallets ensure cryptocurrency owners and stop any possible attacks on your wallet.
BitBox02 was an excellent and unique experience due to the significant safety features that it provides. With that being said, here's what we liked and what we disliked about this BitBox02 review.
Pros.
Apparent display screen
Multiple security features to protect your private keys
Excellent price
Cons.
Limited support for altcoins.
BitBox02 Comparison and Alternatives Options.
If somehow you don't like BitBox02, no problem. In this BitBox02 review, we have in mind the best possible alternatives for BitBox02.
Description:

100% Air-gapped QR code communication hardware wallet for Bitcoin, Ethereum, EOS, Tron, and 1000+ crypto.

Description:

Secure crypto assets such as Bitcoin, Ethereum, XRP, Monero, etc. Give yourself peace of mind by knowing that your cryptocurrencies are safe.

Description:

SafePal securely stores your crypto assets in the most simple and easy way. Truly mobile-friendly, supporting major cryptocurrencies like Bitcoin, BNB, Ethereum, and more.

Description:

The GridPlus Lattice1 and SafeCards use uncompromising security to enable the most secure cryptocurrency storage ever created.

Description:

Trezor is the world's first and most secure cryptocurrency hardware wallet. Your information is kept safe and never stored on servers.
Finally, we'd love to hear from you in the comments. What do you think of BitBox02? Are you going to try it, or you're looking for an alternative?