The internet has proved to be one of the worst places for safety and security; with that in mind, you don't want to keep private keys for your wallet online. That's why in this article, Trezor review, we'll talk about one of the best hardware wallets.
Most crypto owners and traders consider cold wallets the best place to keep their assets. Because of the security features of cold wallets, it's almost impossible to hack or compromise.
Software wallets did their part and provided users with high-quality services. However, hot wallets can't handle the advances of hackers and theft in the present and future. In this case, cold wallets are the best shelter for your private keys.
Table of Contents
About Trezor.
Trezor is the world's first and most secure cryptocurrency hardware wallet. You can make safe and secure transactions and payments because your information is kept safe with no exposure to compromised computers.
Also Read: Hardware Wallets That Are Made to Keep Your Assets Secured.
Trezor Features.
By all means, Trezor's features are an influential reason to consider Trezor. And for illustration, in this Trezor review, we'll discuss Trezor features in detail.
Password Manager.
Trezor is a cold wallet for your crypto; however, you can still use the Trezor password management app, as all your passwords are encrypted separately and synced to your private cloud.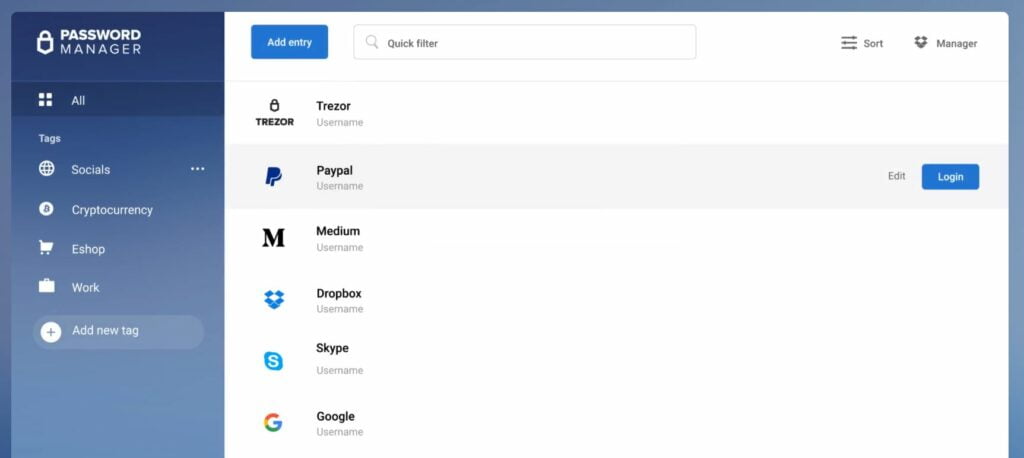 Sign and encrypt with GPG.
You can encrypt emails or documents using GPG, then save your passphrase on Trezor to unlock it.
You can use GPG and SSH to operate with various hardware security devices. Your keys and passphrases are generated and stored on your hardware security device instead of your computer, which might be compromised.
2-Factor Authentication.
Trezor will play as your security token because, with FIDO/U2F, you can safeguard your accounts and identities.
Explore Integrations.
Also, Trezor integrates with other software wallets. That way, you can safely use many functions that hot wallets may provide, like Electrum, Etherwall, MetaMask, and more.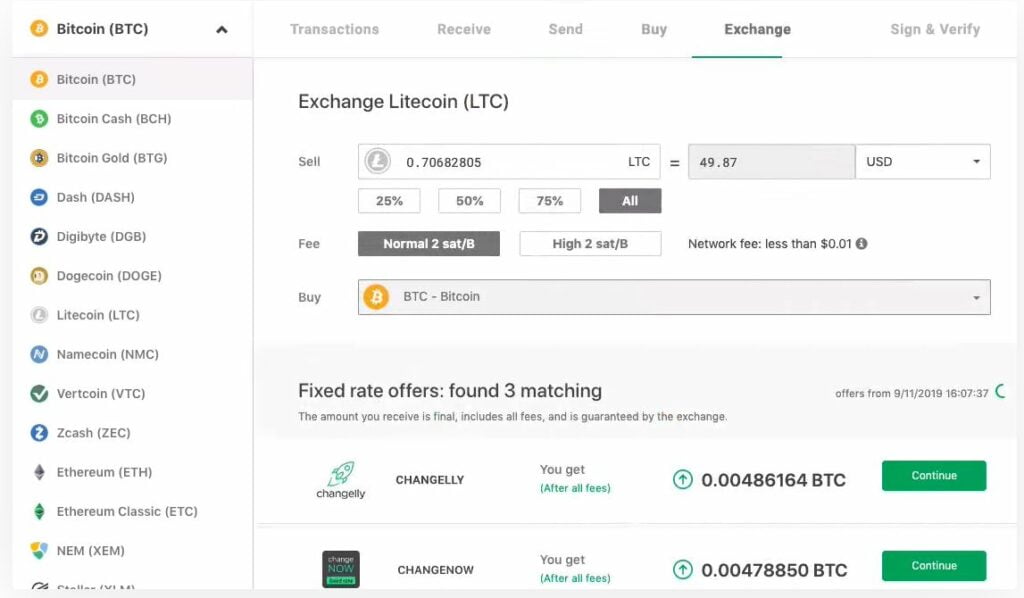 Open-Source Software.
Trezor has open-source software; anyone can look at Trezor's software on GitHub. That feature assures you that there are no backdoors, as developers worldwide took a look at Trezor for sure. Also, open-source software is more likely to get updates faster than closed ones.
Supported Cryptocurrencies.
Trezor supports over 1,400 coins, including the most popular coins like Bitcoin, Ethereum, Tether, and Ripple. However, some popular coins like Ripple are not supported on Trezor One. But, they're kept on Trezor T.
FAQ.
What Happens If I Lost My Trezor Device?
First of all, don't panic; your assets will remain safe. No one can access your assets without the PIN code, and you can always recover your wallet into another Trezor wallet using the seed phrase generated during the setup process. Also, notice that you can recover it into any other compatible wallet.
Is Trezor Safe for My Holdings?
Yes, Trezor has a limited USB connection, which makes it safe to connect to your computer. Also, the Trezor team continuously releases firmware updates to protect the Trezor device against any possible threats.
Is Trezor Easy to Use?
Yes, you can control your assets with Trezor's integration on your computer. All you need is your Trezor device, computer, and PIN code.
How Does Trezor Work?
Connect Trezor to your computer via a USB cable, and then, after unlocking the Trezor device with your PIN, you can make transactions using Trezor integration.
What's Trezor Pricing?
Trezor has two models: Trezor One is 48.76 EUR, and Trezor T is 149 EUR. Also, you can compare both models and shop for them here.
What Comes Inside Trezor Box?
Trezor device
USB cable (type C)
Getting started card Magnetic dock
2x Recovery seed card
4x Sticker
What Are Trezor Hardware Specs?
Size 60x30x6mm
Weight 12g
Processor ARM Cortex-M3 processor @ 120 MHz embedded on STM32 F2 microcontroller
Screen 128×64 px OLED display (UG-2864HSWEG01)
Connectivity Micro USB connector (type B)
Compatibility: Windows 10+, Linux, macOS 10.11+, Android.
Certifications CE, RoHS
Operating temperature From -20°C to +60°C
Getting Started with Trezor.
Indeed, starting your Trezor device is easy and takes you only around 7 minutes. However, in this Trezor review, we're taking you through setting up your Trezor device and proceeding with transactions.
Startup Your Device.
After getting your Trezor device, start your device and connect it to your computer to proceed with creating your wallet.
Connect Your Device.
Now, use Trezor's website, choose your device model,, and update your firmware for extra protection. Than.
Create Your Wallet.
After connecting your device to Trezor's web integration, you can create a new wallet and see your recovery phrase. Or, you can recover an old wallet using its recovery phrase.
If you create a new wallet, back up your recovery phrase, as it'll be the only way to recover your wallet.
Proceeding with Transactions.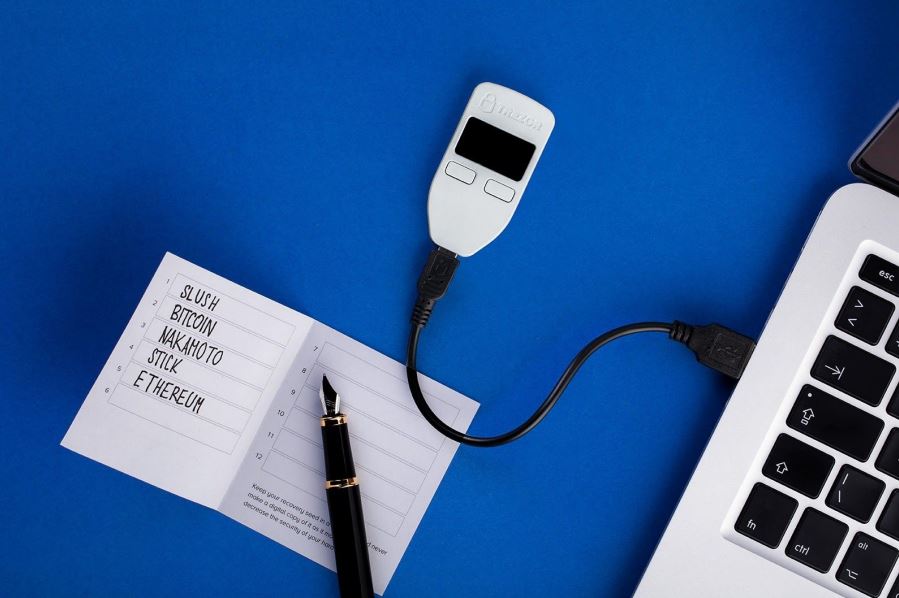 After updating your device firmware, while the device is connected to your computer, you can start creating your wallet on your Trezor device. Also, don't forget to back up your seed phrase somewhere safe, as it'll be the only way to recover your wallet in case of loss or damage.
For receiving transactions, on your Trezor web integration, click on 'receive,' and then you'll see your address. Make sure that both the addresses on your Trezor device and computer match.
For sending transactions, click 'send' on Trezor's web integration, then confirm it on your Trezor device.
Conclusion.
This Trezor review made us believe that Trezor features everything it needs to make it almost a perfect hardware wallet.
Before getting a Trezor hardware wallet,, check the following pros and cons list.
Pros.
Top security features
Supports many popular cryptocurrencies.
Cons.
Trezor T is pricey
Some coins need extra wallets.
Trezor Comparison and Alternatives Options.
If you don't like Trezor for any reason, no problem. Many other hardware wallets can give you the same impression as the Trezor. Check the most popular hardware devices in the boxes below.
Description:

100% Air-gapped QR code communication hardware wallet for Bitcoin, Ethereum, EOS, Tron, and 1000+ crypto.

Description:

Secure crypto assets such as Bitcoin, Ethereum, XRP, Monero, etc. Give yourself peace of mind by knowing that your cryptocurrencies are safe.

Description:

SafePal securely stores your crypto assets in the most simple and easy way. Truly mobile-friendly, supporting major cryptocurrencies like Bitcoin, BNB, Ethereum, and more.

Description:

The GridPlus Lattice1 and SafeCards use uncompromising security to enable the most secure cryptocurrency storage ever created.

Description:

Trezor is the world's first and most secure cryptocurrency hardware wallet. Your information is kept safe and never stored on servers.
Finally, we'd love to hear from you. Don't hesitate to communicate with us in the comments section below and tell us what do you really think of Trezor.