During this article, we will take a deep look at the Keystone hardware wallet explaining all of its features.
Keystone is an air-gapped hardware wallet. What does that mean? First, you need to know that there are two main types of cryptocurrency wallets: software wallets and hardware wallets. The first one is much less secure, software wallets store your wallet's private keys on servers connected to the internet, and hackers could hack it.
On the other hand, hardware wallets store your private keys in cold storage inside a device between your hands. However, there are different kinds of hardware wallets with different working mechanisms. The most secure hardware wallets are called air-gapped hardware wallets; such cold wallets are in complete isolation from the external world and none can access your keys but you.
Also Read: Keystone Tablet (Formerly Cobo Tablet) Review and Best Alternatives.
Table of Contents
About Keystone
Keystone Hardware Wallet (Formely known as Cobo Vault) is a 100% Air-gapped QR code hardware wallet for Bitcoin, Ethereum, tokens such as USDT, BCH, XRP, Tron, LTC, Dash, Polkadot, Kusama, and 1000+ more cryptocurrencies.
It offers a suitable cold storage and blind signing solution with open-source firmware, a 4-inch touchscreen, and PSBT Bitcoin multi-sig support. Protect your cryptocurrency with the perfect balance between a secure and convenient hardware wallet with mobile phone support.
Keystone Features.
We will highlight the device's top features in the following part of our Keystone review.
Completely Air-Gapped.
90% of hardware wallets are not as air-gapped as Keystone. Unlike most of its competitors, Keystone limits the surface of attack to the most by using QR code connections which are safer and more secure than USB, NFC, and Bluetooth. As result, QR codes are the perfect way to transmit such important data. Also, Keystone has developed microSD card capability as a requirement for compatibility with desktop wallets.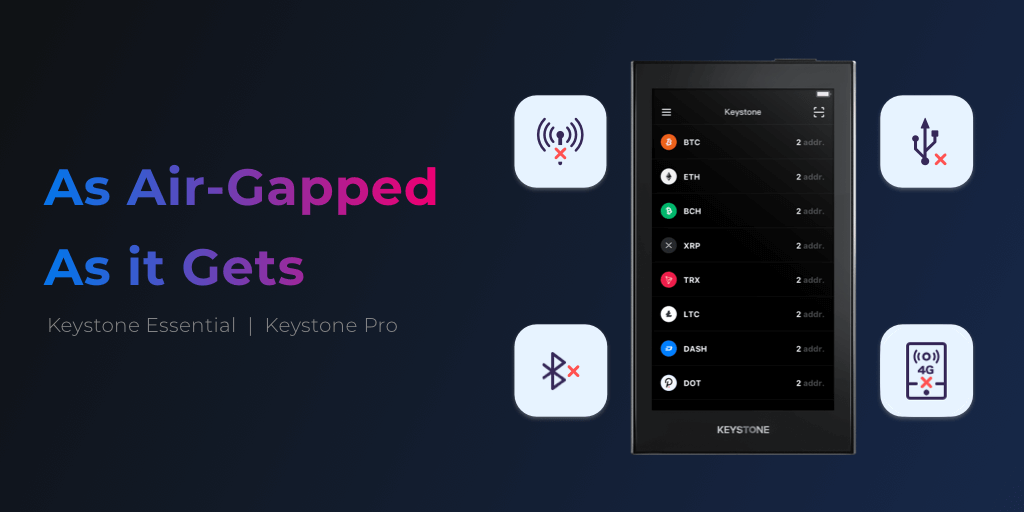 Open-Source Firmware.
Keystone Hardware Wallet is the first hardware wallet to have open-source Secure Element firmware code, which allows you to verify all core cryptographic operations, such as how private keys are generated and contained entirely within the Secure Element. You can compile the open-source Secure Element firmware and hardware wallet application layer code available on our GitHub page if you want to verify the genuineness of firmware upgrade packages for Keystone Essential and Pro.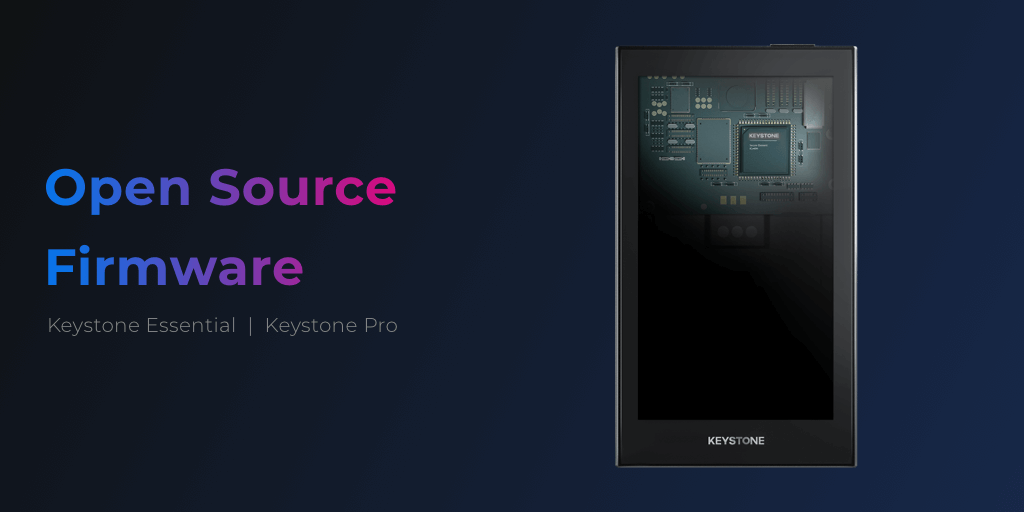 Blind Signing Solution.
In simple words, Blind singing means that you trust the software wallet and any other third-party software to be genuine to feed non-malicious commands and messages for the hardware wallet to sign. If you completely trust the software wallet, it makes no sense to use a hardware wallet.
How did Keystone find a solution for Blind Signing?
4 Inch Big Screen.
The big screen that Keystone decided to use on their device makes a clear difference. Most importantly, you can view all the data related to your transactions without any complications or additional swipes. You can notice that in the screenshot taken from the Keystone screen below.

Smart Contract Address Verification.
The first thing to verify is that you are calling the right Smart Contract.
If an attacker creates a phishing website of Uniswap, he can copy Uniswap's current UI and call his malicious Smart Contract, which will transfer the user's funds to the hacker's address.
So Keystone preloaded the most famous Smart Contract's address like Uniswap and labeled it, so it is now much easier for the user to confirm it. If the address is not pre-loaded (maybe a new contract or a malicious contract), Keystone will highlight it as an unknown address with red to alert the user.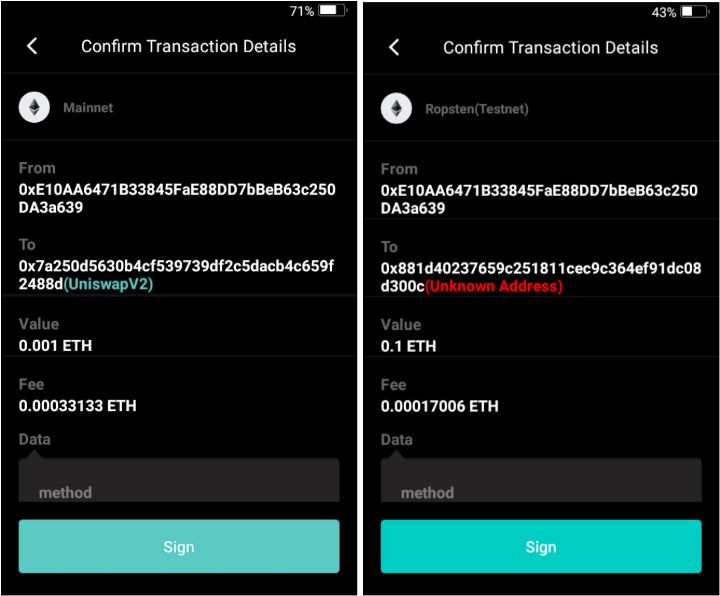 Self Destruct Mechanism.
If you've decided to take your device around with you, and it got stolen, Keystone has developed a multilayered self-destruct mechanism for Keystone Pro. Once the device detects a disassembly attempt, the self-destruct mechanism will wipe all the private keys and any sensitive information.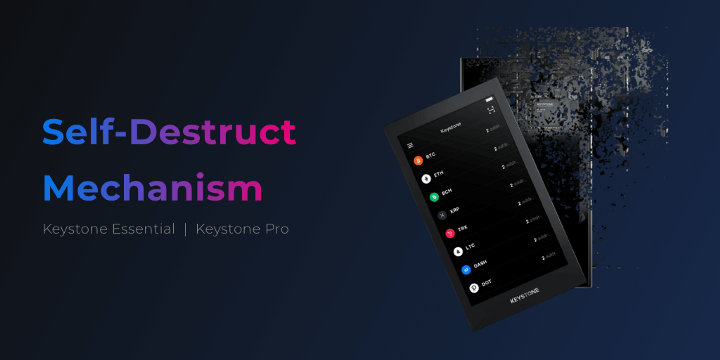 NFT Display
As the popularization of Web3.0 increases, more and more people would like to understand the blockchain gradually. Followed by the explosive growth of NFT projects, the Keystone hardware wallet also received several user requests. So Keystone hardware wallet developed interaction with NFTs. If you already have your own NFT, you can display your profile picture on your Keystone hardware wallet.
Shamir Backups For Recovery Phrase.
Shamir Backups allow you to split your backup seed in such a way that it allows you to specify how many Backups you need to restore your wallet. The smallest is 2 out of 2 or a maximum of 16 out of 16 Shamir Backups.
This, although more complex than a multisig allows you to sign right away because this process needs individual importing if a wallet restoration is required. But safety-wise, it is equally almost as good, or better, because if you have a 3 out of 5 Shamir Backup and you lose 2 of it, you can still restore, with the remaining 3 backups, your wallet.
Create Recovery Phrase with Rolling Dice.
hardware wallets like the ColdCard and the Keystone allow users to generate their true random number (entropy) by rolling dice. This way, you should be sure that your seed phrase is 100% genuine and randomly created.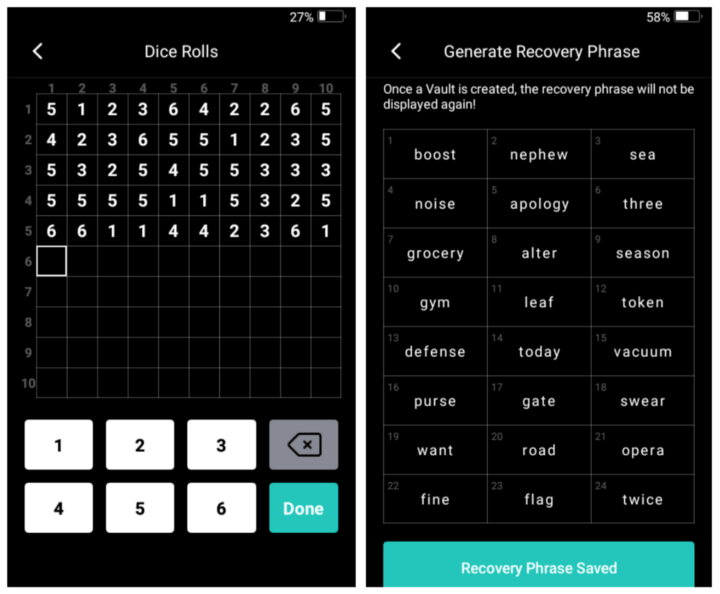 Keystone and MetaMask Partnership.
"Our product philosophy highly emphasizes on maximizing interoperability so our devices would be compatible with the best software wallets currently available. We believe Web3 has an extremely bright future and see MetaMask as the primary gateway for Web3, the metaverse, and beyond. This integration marks our team's first big milestone and we will continue to work towards Web3 and more contributions are to come so stay tuned!"

Lixin Liu, CEO of Keystone
QR code interoperability allows the Keystone hardware wallet to have fewer connectivity issues between the device and MetaMask and faster transactions.
Of course, it's not going to be only MetaMast, you should expect more partnerships from Keystone and major companies in crypto to make your experience more secure and smooth.
More Integrations, Less Hassle.
Keystone integrates and works perfectly with the following software wallets.
Almost all Bitcoin wallets.
Solflare
Gnosis Safe
Polkadot.js
Fewcha
Rabby
Sub Wallet
What Else to Expect From Keystone?
You should expect a lot from Keystone, and here's a list of what's coming next:
Cosmos Ecosystem
Polkadot Ecosystem
Aptos Ecosystem
SUI Ecosystem
BitKeep Wallet
Cardano Ecosystem
Get Your Keystone Hardware Wallet!
Keystone Essential is designed for long-term hodlers and it comes with AAA battery support for only 119 USD. On the other hand, Keystone Pro is designed for more portable access to funds and comes with a rechargeable battery, fingerprint sensor, and self-destruct mechanism for 169 USD.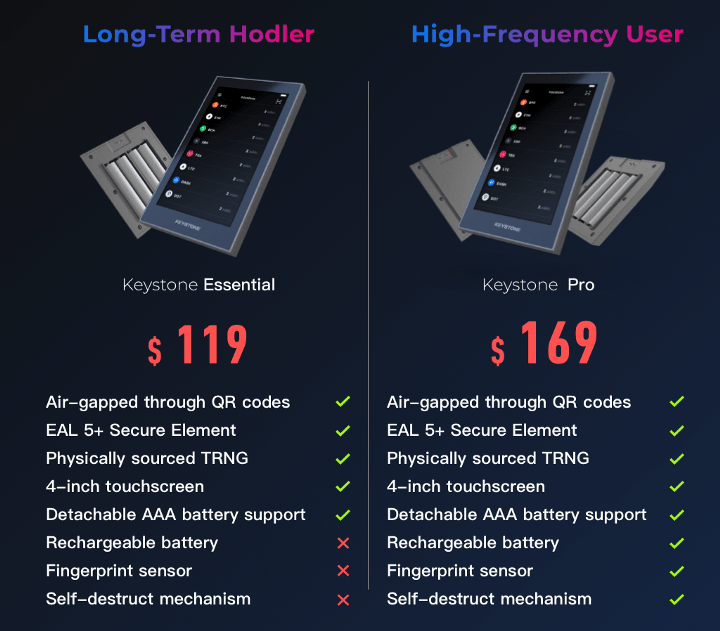 Get a Free Keystone Pro Hardware Wallet!
We are pleased to announce that we are giving a Keystone Pro device to one of our followers. If you want to win a free Keystone Pro hardware wallet, here are the rules to participate in the giveaway:
Follow @cryptoListy on Twitter
Follow @KeystoneWallet on Twitter
Like and retweet the tweet below
Winners will be announced on 12/7/2022 at 8.00 GMT on our Twitter account.
35% Discount on Keystone Devices.
Use our promo code "CRYPTOLISTY" on Keystone Store, and you will get a 35% discount on Keystone devices. starting on 25 November to 7 December.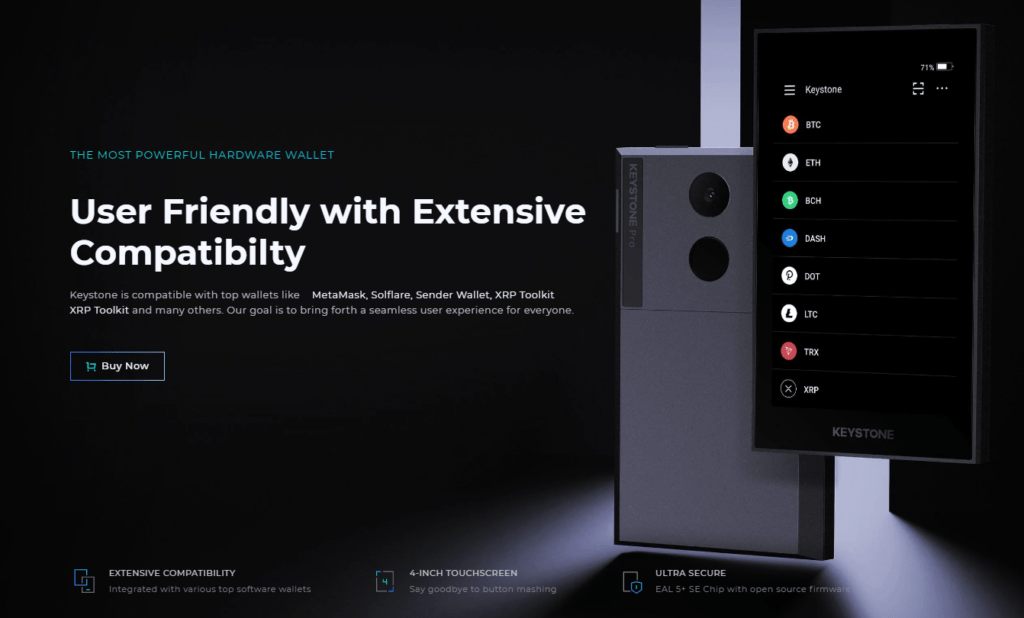 Finally, If you want to read more about Keystone hardware wallet, we have compared it to one of its top competitors, SafePal. You can read the full comparison article.