SafePal hardware wallet has gained many good impressions, which motivated us to write this SafePal review.
Due to the increase in crypto popularity and price, keeping your private keys on a device connected to the internet is no longer safe. You might lose all your coins because of malicious software that passes your information online.
Cold wallets have been gaining popularity lately, which comes with hardware wallets' tremendous progress in security, safety, and privacy.
SafePal is one of the most popular cold wallets to keep your assets safe and your private keys from theft in an air-gapped device.
Table of Contents
About SafePal.
SafePal is a hardware wallet that provides a secure and user-friendly crypto management platform for the masses. Safely and conveniently secure, plus growing their crypto assets. Furthermore, It is invested and backed by Binance.
SafePal Features.
We found many features with SafePal that motivated us to write about. We'll speak in detail about SafePal's features in the following.
Modern Design.
SafePal has a modern, sleek design and a 1.3″ colored screen. Furthermore, it looks like an MP3 player with a D-pad for control.
Works with a Mobile App.
SafePal pairs with a mobile app designed specifically for using your SafePal device. Also, all your private keys never leave the cold storage.
Overview and Monitor Your Portfolio.
Using SafePal's mobile app, you can monitor and manage your portfolio. For instance, you can view your transaction history and swap coins.
Anti-Physical Attacks.
In case of any physical attacks, embedded sensors inside SafePal can detect any light, voltage, and frequency changes. If SafePal sees physical attacks, it'll trigger a self-destruct mechanism and wipe clean all your data from the SafePal device, making it impossible to extract any private data from SafePal.
Air-Gapped.
Many hardware wallets come with ways to connect to the world, like Bluetooth or USB ports -other than charging. However, SafePal is air-gapped; it has no Wi-Fi, Bluetooth, or USB ports connecting to computers. That makes SafePassolates SafePalrld impossible for hackers to reach your private keys.
Integrated Exchange.
Because Binance is one of SafePal's partners, SafePal's mobile app features BinanceDEX, enabling SafePal users to trade and exchange directly using SafePal devices.
Supported Cryptocurrencies.
SafePal supports 20 blockchains and more than 10,000 tokens. Also, you can view the complete list here.
FAQ.
What Happens If I Lose My SafePal Device?
Firstly, don't worry. You can restore your wallet to another wallet, whether cold or hot, as long as it is compatible. However, you can only recover it using the seed phrase generated during the installation of the wallet.
Is SafePal Safe for My Assets?
Yes, Hardware wallets are much safer than software wallets, which come with SafePal being air-gapped and anti-physical attacks.
Is SafePal Easy to Use?
Yes, Install SafePal's mobile app on your mobile phone, and then you'll find it easy to make transactions using only QR codes, making a great choice if you're looking for simplicity and safety in one place.
How Does SafePal Work?
Pair your wallet with the SafePal mobile app to make transactions by scanning QR codes seamlessly.
What's SafePal's Pricing?
SafePal S1 is at $39, which we find a great deal. Also, you can shop for SafePal here.
What Comes with SafePal's Box?
SafePal S1
USB-A to Micro-USB cable
Three recovery sheets
Stickers
Quick start guide
Cleaning cloth
What Are SafePal's Hardware Specs?
Dimensions (cm): 8.6 x 5.4 x 0.6
Screen: 1.3″ IPS screen
Input: D-pad and camera
Connection: N/A
Battery-powered
Compatibility: Android, iOS
Getting Started with SafePal.
Before reviewing a product, it's a stipulation that it's easy to use. SafePal is one of the products that fulfill that.
In the following part of the article, we will explain how to start your SafePal device and proceed with transactions.
Download SafePal's Mobile App.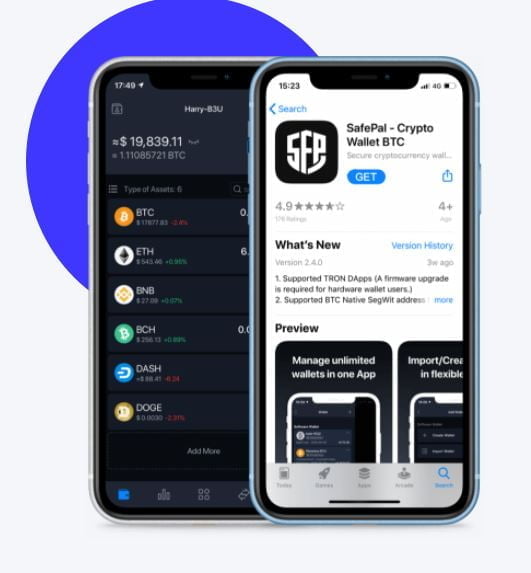 Firstly, head to SafePal's website, and then on the top bar, click on 'App,' choose your OS, and download SafePal's mobile app.
Initialize Your Device.
Secondly, power up your device and pair it with SafePal's mobile app, which will take you through the process.
Back up Your Seed Phrase.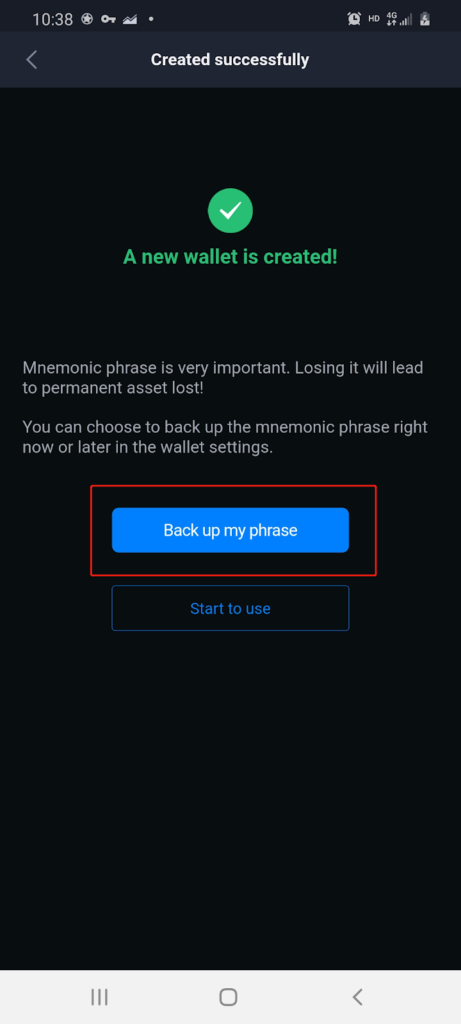 During the process of setting up your account, SafePal will generate your recovery keys. Make sure to back up your recovery phrase somewhere safe because it's the only way to recover your wallet in case of loss or damage.
Proceed with Transactions.
Firstly, to receive coins from another wallet, on SafePal's mobile app, click 'Receive,' then SafePal's app will display your public keys; you can also scan it via QR codes.
You are, secondly, sending coins from your wallet. Choose the currency you want to proceed with sending and the amount you wish to send on SafePal's mobile app. You need to scan the QR code displayed on your phone's screen with your SafePal camera and then scan the QR code on your SafePal device with your phone.
Conclusion.
SafePal review was a fantastic experience, and we're willing to talk more about it in the future. However, here's what we liked and what we disliked about the SafePal review.
Pros.
Integrates with Binance.
Easy and straightforward to use.
Air-gapped.
Easy to carry.
Cons.
Small screen.
Unremovable battery
SafePal Comparison and Alternatives Options.
SafePal is safe and secure for your private keys. However, If you're apprehensive about SafePal, no problem; check the best possible alternatives for SafePal in the boxes below.
Description:

100% Air-gapped QR code communication hardware wallet for Bitcoin, Ethereum, EOS, Tron, and 1000+ crypto.

Description:

Secure crypto assets such as Bitcoin, Ethereum, XRP, Monero, etc. Give yourself peace of mind by knowing that your cryptocurrencies are safe.

Description:

SafePal securely stores your crypto assets in the most simple and easy way. Truly mobile-friendly, supporting major cryptocurrencies like Bitcoin, BNB, Ethereum, and more.

Description:

The GridPlus Lattice1 and SafeCards use uncompromising security to enable the most secure cryptocurrency storage ever created.

Description:

Trezor is the world's first and most secure cryptocurrency hardware wallet. Your information is kept safe and never stored on servers.
Ultimately, we'd love to hear from you. Tell us in the comments below what your thoughts are about this SafePal review. And what would you love to see in SafePal's future generations?