There's no doubt that hardware wallets, also known as cold wallets, provide a secure solution for software wallets. And because securing your crypto matters the most, this is a review of the Prokey hardware wallet.
There are many threats that hot wallets can't face, and due to the fluctuating prices of cryptocurrencies, usage, and popularity, those threats increase as well. Those threats include viruses that can infect your computer and mobile phones, leaving hot wallets like software wallets in danger. Also, threats don't have to be on your machines only; they can be on servers as well; hackers may compromise software wallets services. Consequently, they may access your assets, which makes hardware wallets the solution.
The Prokey Optimum is a secure hardware wallet that protects your assets from any external malicious software (malware). In fact, the device comes with many functions to ease and secure your crypto transactions. by storing your seed phrase and private key behind a secure firmware, you will keep your assets away from anyone trying to access them. In this review, we will share everything we know about the Prokey Optimum to get you started.
Table of Contents
About Prokey.
Founded in Malaysia back in 2019 by a highly experienced ground of IT professionals, Prokey combines the latest hardware and software technologies to build one of the most secure and simplest hardware wallets for cryptocurrencies.
Also Read: Bitbox02 Review and Best Alternatives.
Prokey Features.
In the following part of Prokey review, we'll highlight and demonstrate all of the device's features that really impressed us.
Secure Firmware.
Supply-chain attacks are both cyber and physical attacks that damage an organization by targeting the less-secure parts of certain supply chains. And, of course, those attacks have been the most concerning threats against hardware wallets. However, Prokey managed to find a solution.
When you purchase a Prokey device, you will receive it without any firmware installed. This security measure ensures that the only party to handle the device is you, and the only source of the firmware is Prokey. This way, you can be assured that the firmware you install is genuine and untampered.
USDT Support.
Tether or USDT is the most stable cryptocurrency because it's backed up with the U.S Dollar. Also, its price is almost the same as the U.S dollar, and the differences are negatable.
Prokey comes with full, native support of USDT on the Ethereum and OMNI protocol blockchains, meaning you can store your USD as USDT, and swap whenever you want using external exchanges.
All-in-One Wallet.
When reviewing hardware wallets, exposure to third-party hands always concerns us. But, the Prokey device is never exposed to any third-party software. Using the wallet's interface, you can switch between all supported coins and tokens in one single interface.
Supported Cryptocurrencies.
Prokey supports over 1200 coins and tokens. Of course, main coins like BTC, ETH, BNB, and LTC are supported. For further information, you can check supported coins by Prokey.
FAQ.
What Happens If I Lose My Prokey Device?
Firstly, don't worry; you can always recover your wallet in case of loss or damage as long as you have your wallet's seed phrase. It's important to keep your recovery phrase somewhere safe because it's the only way to recover your lost wallet.
Is Prokey Safe for My Assets?
Yes, Prokey has developed a safe firmware that has protection against any attacks. Also, the USB connection is used to send only the confirmation messages, meaning your seed phrase never leaves your Prokey device. Furthermore, all transactions are done when you only confirm it on your Prokey device after viewing the amount transacted and the receiving address.
Is Prokey Easy to Use?
Indeed, Setting up your Prokey device takes you only a couple of minutes, and making transactions is much easier. All you need to do is connect it to Prokey wallet, a WebUSB-enabled browser interface, and then you can make transactions easily.
What's Prokey Pricing?
Prokey has very attractive pricing. At only $59.00, you can get your Prokey hardware wallet and secure your assets. Shop for Prokey here.
What Comes with Prokey's Box?
1 USB hardware wallet
2 USB cable
3 Recovery sheets
What Are Prokey Hardware Specs?
Size: 50mm x 41mm x 9.4mm.

Weight: 16.7g.
Connector: USB Type Micro-B.
Chips: STM32F205VG with True random number generator (RNG).
Compatible with Windows (7+), Mac (10.8+), Linux, Android.
ABS Plastic
No battery required
Getting Started with Prokey.
In the following part of the review, we'll demonstrate how to get started with Prokey and make your first transactions.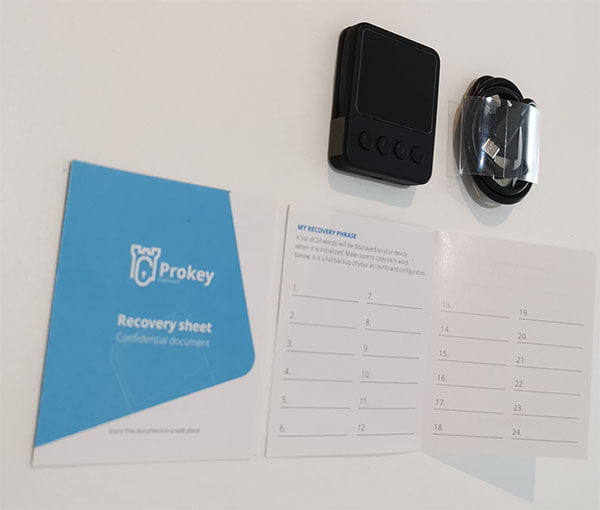 Connect Your Device.
The first thing to do is visit the Prokey wallet interface; your Prokey device's software focuses mainly on Chromium-based browsers like Google Chrome and Microsoft Edge thanks to the utilization of the WebUSB feature. After that, connect your Prokey device and Prokey's smart interface will recognize it immediately.
Install the Latest Firmware.
As we mentioned, Prokey comes without any firmware installed. Now, installing your firmware takes only 15 seconds.
Once this is done, disconnect the device and then reconnect it. Go to wallet.prokey.io to rectify that the device has been successfully installed with the latest firmware.
Create a New Wallet.
After that, to create your first wallet, Click on the "Wallet" button on the top-right of the interface, and it will take you to the wallet's page. Click on 'Create A New Wallet', and a message will appear on your Prokey device to confirm a new wallet creation.
Backup Your Seed Phrase.
Earlier, we mentioned that the only way to recover your wallet in case of loss or damage is your seed phrase; that's why this is the most important step.
You will be prompted to backup your 24-word seed phrase; consider using the recovery sheets that come with the device. Keep it somewhere safe and accessible by you only. Always avoid keeping softcopies of your recovery phrase.. isn't that the whole point?
Proceed with Transactions.
In order to receive coins, on the Prokey wallet interface, click on the Receive button..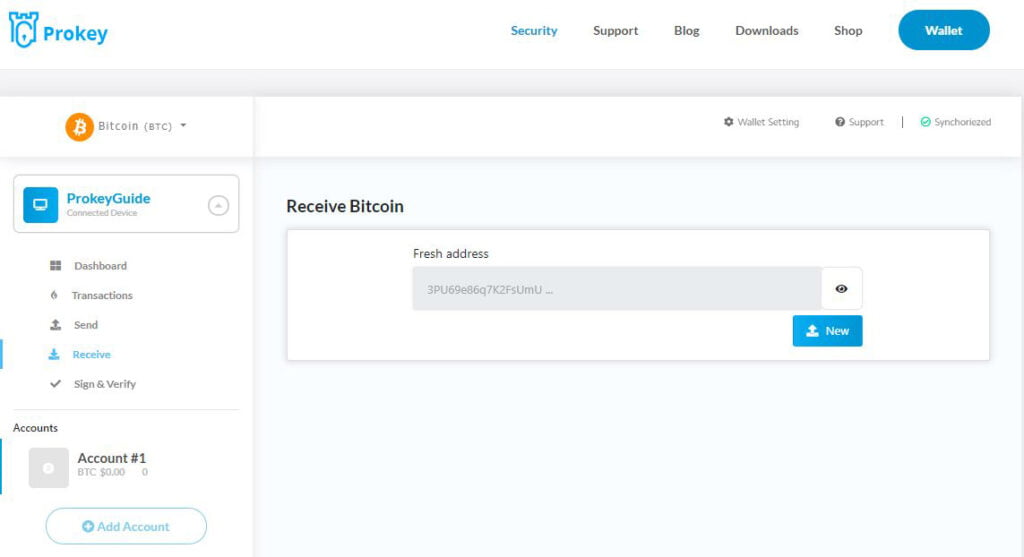 At this point, Prokey will ask you to check and confirm the address on your Prokey device screen. Make sure that the receiving address displayed on the screen matches the ones displayed on the Prokey interface.
Now, How to make payments with Prokey?
To start the process, click on the "Send" button on the left side of the interface to open up the Sending page; after that, enter the recipient's address that you are sending your coins to. Also, enter the amount of coins that you're willing to send. And after pressing send, confirm the transaction on your Prokey device after checking both the amount and the recipient's address.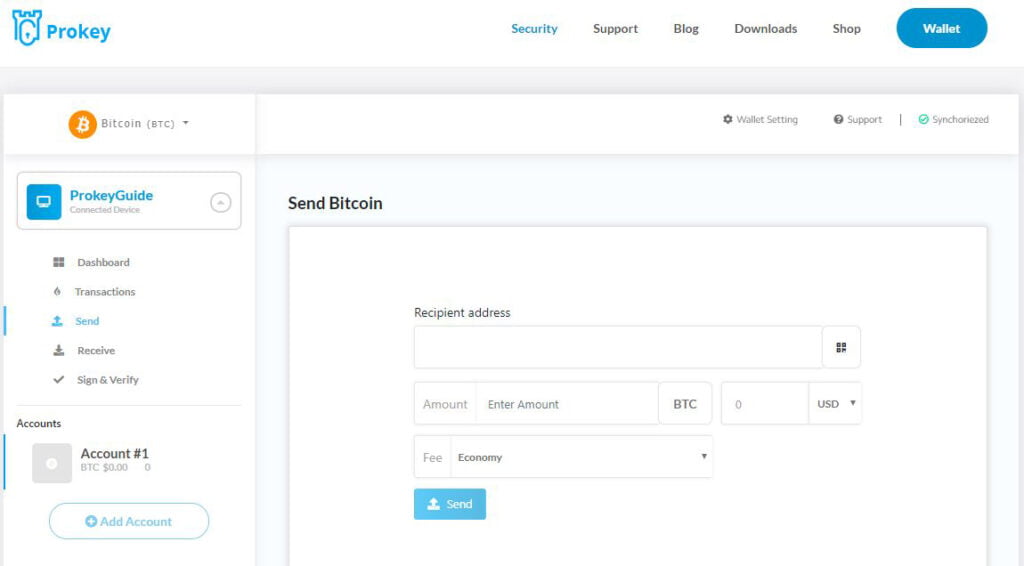 Conclusion.
After this long detailed Prokey review, the device impressed us due to its security measurements. And of course, if you're looking for a safe, secure, and definitely easy hardware wallet, we highly recommend Prokey. Here are our Prokey pros and cons list:
Pros.
Comes without firmware installed.
Sleek design and premium feel.
Clear screen.
Safe USB connection.
Cons.
Needs the web interface to make transactions
Alternatives.
If you're still hesitating, don't.. we have collected and reviewed the best of the best hardware wallets; here are Prokey alternatives: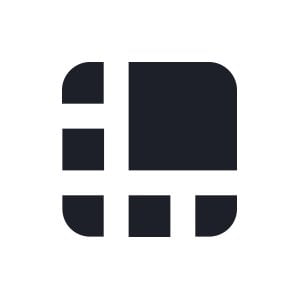 Ledger
Secure your crypto assets such as Bitcoin, Ethereum, XRP, Monero and more. Give yourself peace of mind by knowing that your cryptocurrencies are safe.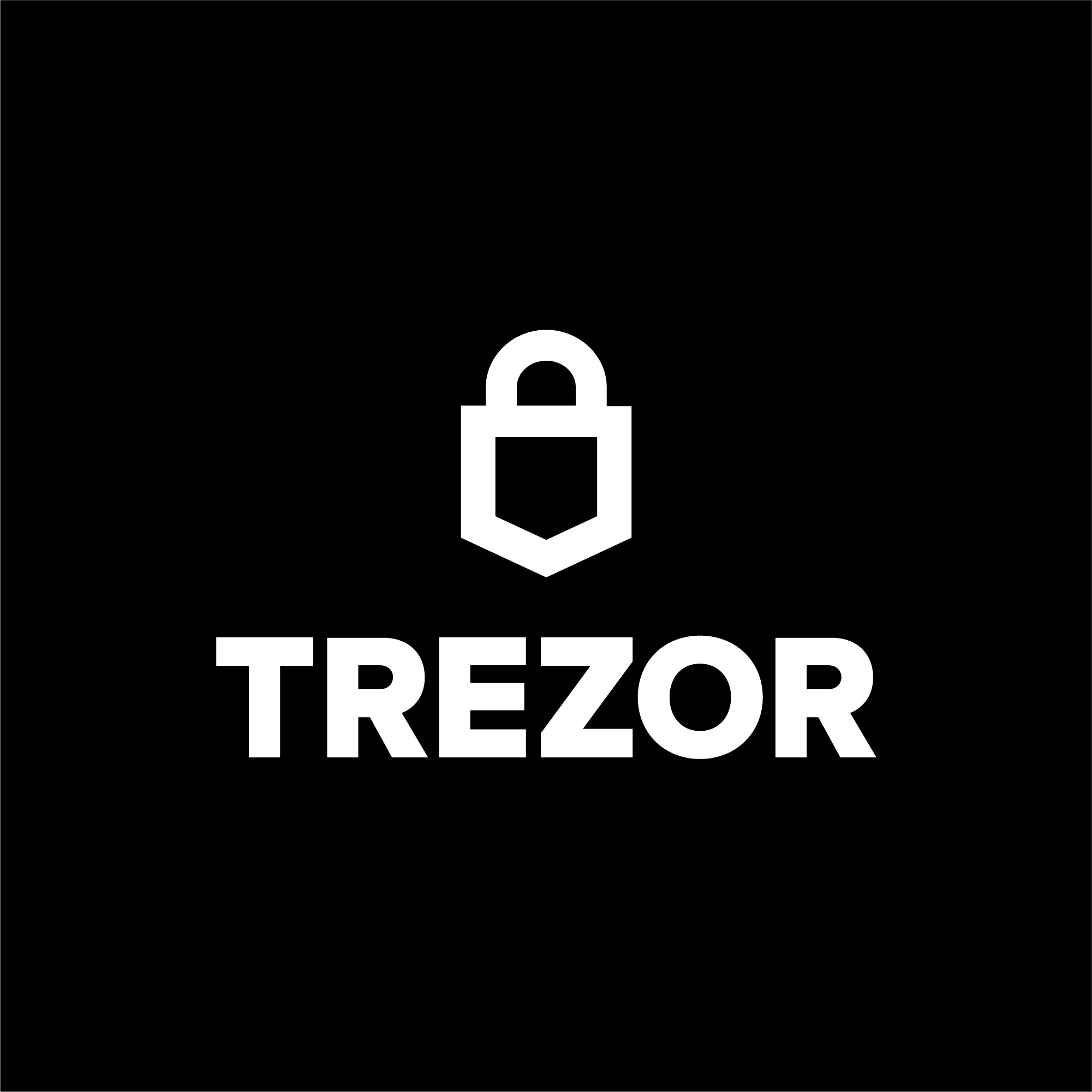 Trezor.
Trezor is the world's first and most secure cryptocurrency hardware wallet. Your information is kept safe and never stored on servers.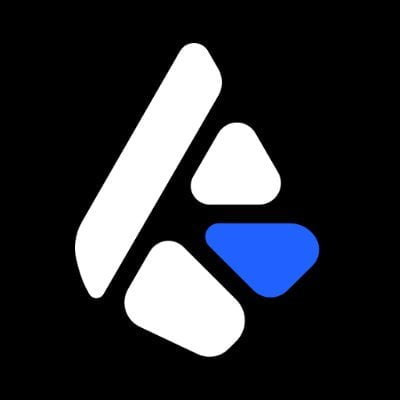 Keystone
100% Air-gapped QR code communication hardware wallet for Bitcoin, Ethereum, EOS, Tron, and 1000+ crypto.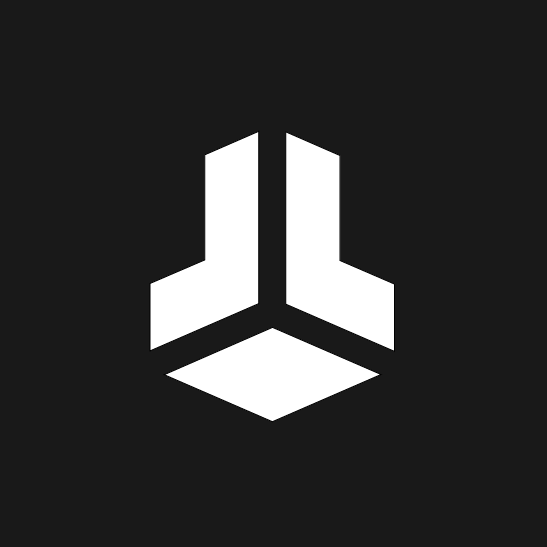 Bitbox02
The BitBox02 features a dual-chip design with a secure chip. The source code has been independently audited by security researchers and is fully open source.
Finally, we'd love to hear your thoughts on this Prokey review, so feel free to connect with us in the comments section below.