In This article, Safepal and Keystone comparison, we will take a deep look at two of the best hardware wallets in the market.
In the beginning, is it really that important to get a hardware wallet? What are the different types of hardware wallets? How do hardware wallets protect my Crypto assets? We have answered all those essential questions in our article: Best Hardware Wallets and How They Work. We highly recommend reading the previously mentioned article if you don't have a background in hardware wallets.
Table of Contents
Hardware Wallets.
Briefly, Hardware wallets are devices designed to store private keys to your cryptocurrency wallets. Instead of keeping it on servers connected to hot wallets (online wallets), cold wallets remove any third-party software from the equation to ensure privacy and safety for your transactions.
Air-gapped Hardware Wallets.
One of the foremost common aspects of this comparison, both Safepal and Keystone are air-gapped hardware wallets. What does that mean? The air-gapped signing mechanism allows you to make cryptocurrency transactions without radio frequencies or physical connection, and it's usually done by scanning methods such as QR codes. Such devices come with extra features discussed during this SafePal and Keystone comparison.
1. Features.
We will discuss and highlight Safepal and Keystone features in the following part.
SafePal.
SafePal is a hardware wallet that provides a secure and user-friendly crypto management platform for the masses. Safely and conveniently secure, plus growing their crypto assets. Furthermore, It is invested in and backed by Binance.
Modern Design: SafePal has a modern design; you can control the device using buttons.
Works with a Mobile App: You will be able to connect your SafePal hardware wallet to a mobile app to monitor your crypto assets. Don't worry; your private keys never leave SafePal's cold storage.
Overview and Monitor Your Portfolio: By using SafePal's mobile app, you can overview and manage your portfolio. For instance, you can view your transaction history and swap coins.
Anti-Physical Attacks: SafePal has built-in sensors that detect any light (in case of attempting to open the device) or voltage change, which will trigger self-destruct mechanism inside the device and wipe all the data making it impossible to attack SafePal physically.
Air-Gapped: SafePal has no Bluetooth or wifi, which means it doesn't connect to the outside world, making it impossible for hackers to attack your device.
Integrated Exchange: Because Binance is one of SafePal's partners, SafePal's mobile app features BinanceDEX, enabling SafePal users to trade and exchange directly using the SafePal devices.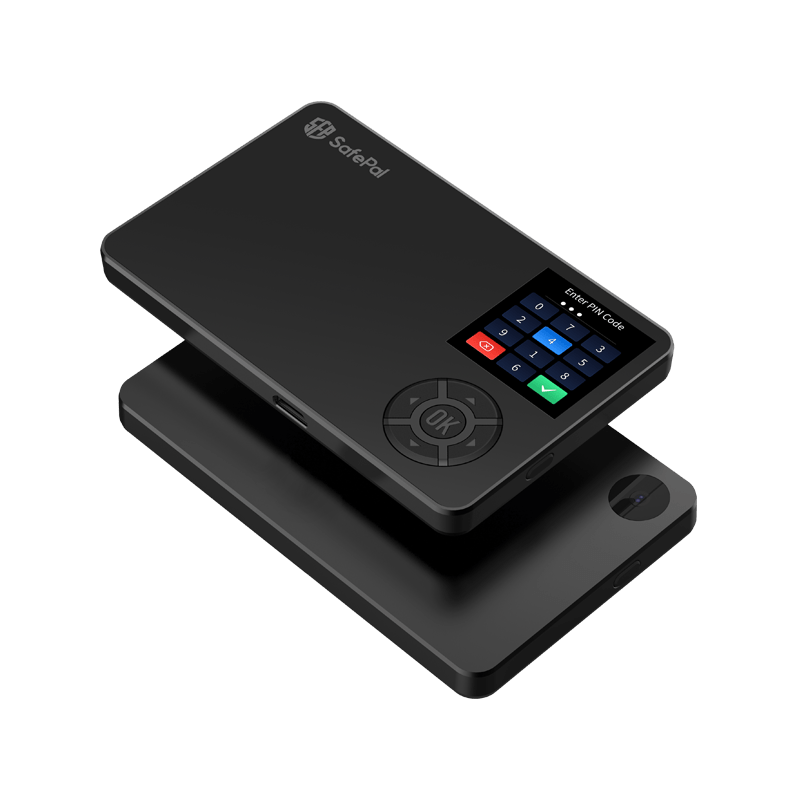 Keystone.
Keystone has pioneered the hardware wallet industry. Also, it has the first open-source Secure Element firmware. Furthermore, It allows you to see how private keys are derived from physically generated entropy (TRNG) and stay entirely confident.
Large Screen: Keystone has a large screen 4″ touchscreen allowing you to view addresses and make transactions seamlessly.
Completely Air-Gapped: Just like SafePal, Keystone is entirely an air-gapped device. You can sign out transactions by scanning QR codes and receive transactions through their application.
Water Resistant: Keystone is water-resistant and reaches IP68 standards. As a result, it can survive a depth of 1.5m under the water for 30 minutes.
Impact Resistant: The complete device can resist up to 20 joules of impact, which is equal to the force of a 5 kg mass dropped from 400 mm above the impacted surface.
Open-Source Firmware: Keystone has an open-source firmware that allows developers worldwide to contribute to making upgrades and fixing bugs.
Fingerprint: With the Keystone device, you will have a fingerprint sensor to unlock your device.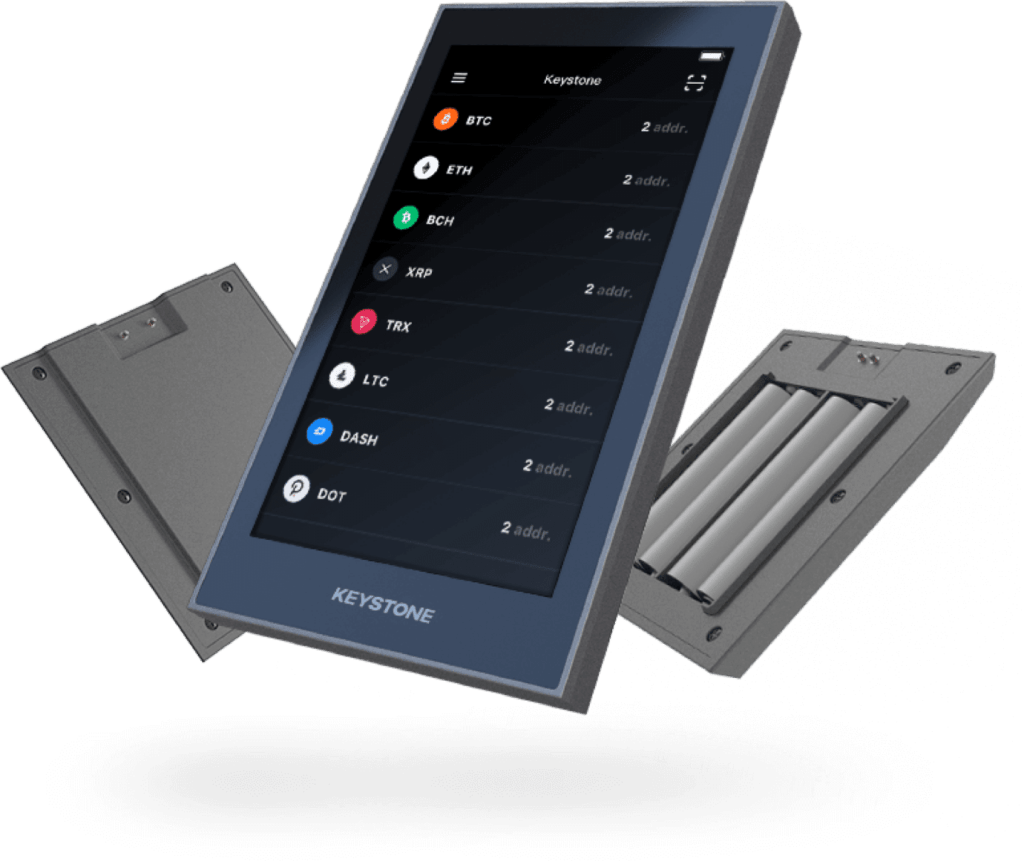 2. Hardware Specs.
| | | |
| --- | --- | --- |
| | SafePal | Keystone |
| Dimensions(cm) | 8.6 x 5.4 x 0.6 | 11.2 x 6.5 x 1.8 |
| Weight | 126g | 115 g (without batteries) |
| Screen | 1.3″ IPS Screen | 4″ Fibreglass Touchscreen |
| Battery | Battery-powered | Removable Battery |
| Fingerprint | N/A | Yes |
SafePal and Keystone hardware specs comparison.
3. Pros and Cons.
SafePal
Keystone
Pros
1. Integrates with Binance.
2. Easy and straightforward to use.
3. Air-gapped.
4. Easy to carry
1. Water and Impact Resistant.
2. Large screen for viewing and signing out transactions
3. Fingerprint sensor
4. A lot of coins support
5. Open-source firmware
Cons
1. Small screen.
2. Unremovable battery
1. It Doesn't support coin swapping as we've seen in many other hardware wallets.
SafePal and Keystone pros and cons comparison.
4. Pricing.
| | | |
| --- | --- | --- |
| | SafePal | Keystone |
| Pricing | SafePal will cost you only $49.99, which we find a fair price considering the features you will get. And if you bought more than two devices, you will get free global shipping! In addition to a 1-year warranty. You can shop for SafePal Hardware wallets here | You can get Keystone Essential for $119, the Pro version for $169, and the Ultimate version for $479. You can shop for Keystone here. |
Safepal and Keystone pricing comparison.
Keystone is more than 2 times Safepal's price. However, Keystone comes with features you don't find at SafePal, such as the larger screen and fingerprint sensor.
There is no doubt that SafePal and Keystone are both two of the safest and most secure hardware wallets. And during this article, we compared both devices side to side in order to give you a complete overview of both products. However, we highly recommend you to read both of the products' detailed articles to get a comprehensive idea. You can read more about SafePal and Keystone.
Finally, in the comments section below, we would love to know your thoughts. Make sure to comment, and we will reply to you as soon as possible.