Most of the time, novice traders struggle trying to learn about crypto trading. In fact, crypto trading is hard and complicated; it takes much time to learn it. However, new traders still can make profits by using trading bots or copying an expert trader.
Social trading is the best option for new traders; once you connect your exchange, an expert trader will trade for you automatically. also, you'll get the same results as them. Coinmatics is one of the best social trading platforms due to the number of functions and features the platform provides.
In this article: Coinmatics review, we'll cover the platform and talk in-depth about Coinmatics features, pros, cons, and alternatives.
Table of Contents
About Coinmatics.
Coinmatics is a fintech company providing cryptocurrency traders with a service for copying deals. Thanks to the instrument, experienced traders can increase their income from trade operations, while the beginning traders can profit without profound knowledge and skills.
Coinmatics Features.
In the following part of our Coinmatics review, we'll highlight the platform's features that got our attention.
Copy Trading.
Copy-trading on Coinmatics is known to be very profitable, and we can see that in the numbers. By subscribing to expert traders' signals, their trades will be automatically copied to your account; therefore, you'll get the same results as them. Furthermore, experts will make revenue from investors who choose to subscribe to them.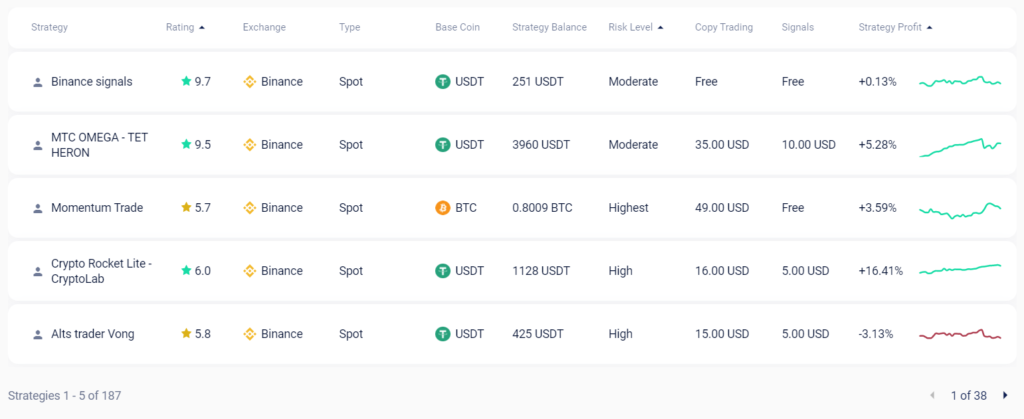 At the moment of writing, there are more than 180 strategies available for copying, and numbers are still growing day after another.
In fact, you don't even have to subscribe, there are plenty of free strategies that you can copy, and we have noticed that Binance signals is one of the most popular strategies as well as it's profitable and free.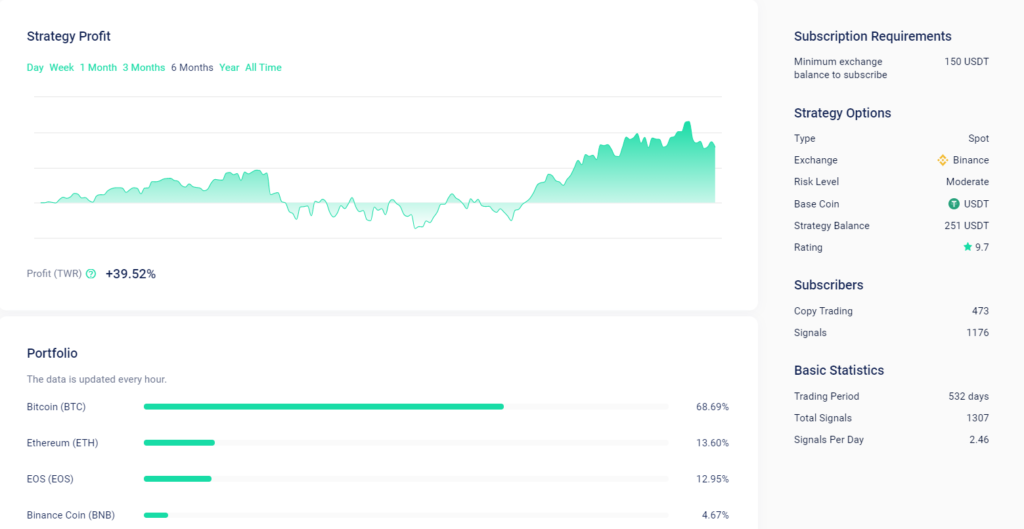 As you can see in the previous image, once you click on a strategy, you can see further details like profits, ratings, and much more.
Crypto Arbitrage.
Arbitrage trading opens new doors for making a profit, and Coinmatics has that. Coinmatics finds the best deals for you across exchanges with the highest spread. You can also use it in manual mode or Telegram mode to stay up-to-date.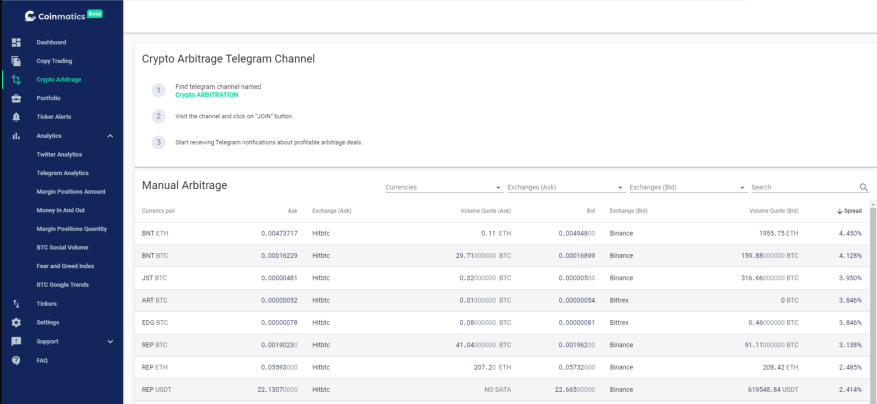 Ticker Alerts.
You can set up ticker alerts to keep up with the market price for a specific coin. Coinmatics will follow your conditions and send you a Telegram notification when they're happening.

Analytics.
You can analyze the market from different aspects. Coinmatics provides you with the following analysis and charts.
Twitter analysis
Telegram analysis
Money in and out
BTC social volume
Fear and greed index
BTC Google trends
And by using Coinmatics analytics, you can get an idea of what's going on in the crypto market and how prices are moving.

Referral Program.
Finally, Coinmatics has a unique referral program that's available for all users, not only affiliates. Therefore, you can make more profits by inviting your friends to the platform; more information is in the image below.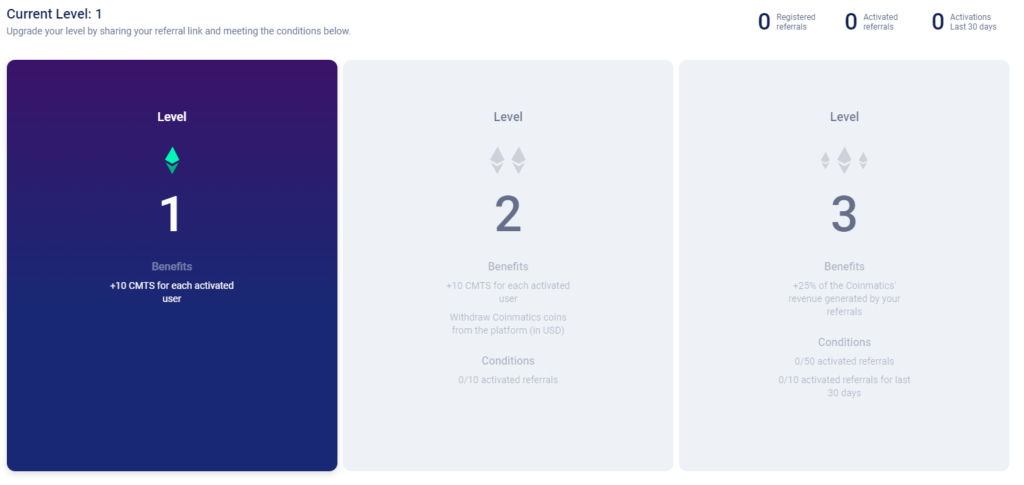 Supported Exchanges.
Coinmatics supports 3 exchanges at the moment, and they're:
And there are more exchanges to be added very soon.
FAQ.
Is Coinmatics Easy to Use?
In fact, yes, after we started on Coinmatics, everything was clear and simple. You can get used to the platform and learn it in a couple of minutes.
Is Coinmatics Safe?
Yes. Coinmatics connects to your exchange through an API key that doesn't allow withdrawals, and you can always stop and control permissions given with it.
What are Coinmatics Plans?
For investors, Coinmatics has the following plans:
and to get a Premium ref plan, you need to create an account on any Coinmatics partner exchanges with their referral link.
For traders, Coinmatics keeps 5% of their profit from their Coinmatics subscribers. 
Learn more about Coinmatics plans here.
Getting Started with Coinmatics.
In the following part, we'll explain how to start with Coinmatics, connect your exchange account, and copy signals from traders.
Sign-up on Coinmatics.
Firstly, visit Coinmatics homepage, click on "Get Started" in the top right corner. After that, enter your information. Also, make sure to use a strong, unique password.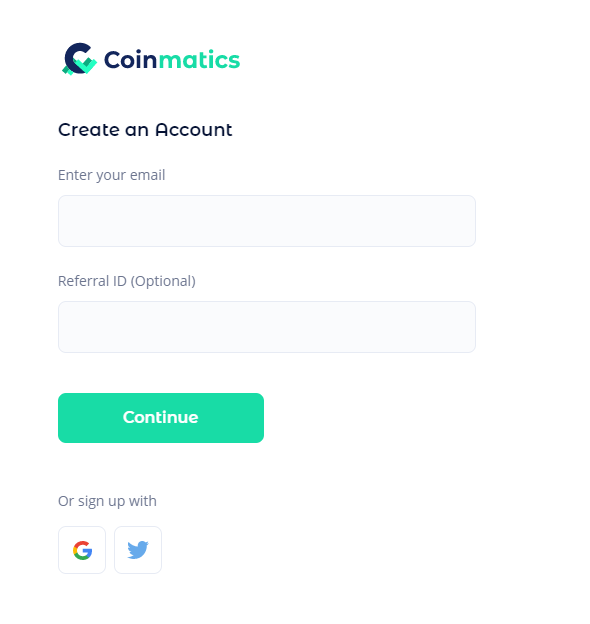 Verify Your Account.
After creating your account, visit your email address and look for a verification email from Coinmatics' team in order to complete your account verification.
Generate an API Key on Your Exchange.
Coinmatics connects to your exchange account with API keys. If you're looking to generate an API key on Binance, we have a complete tutorial for Binance and how to generate API keys; check it here.
Connect Your Exchange.
Firstly, go to your Coinmatics account and click on "Accounts" on the left menu.
Secondly, select the exchange you're willing to connect with and follow the instructions until you enter your API and Secret Key.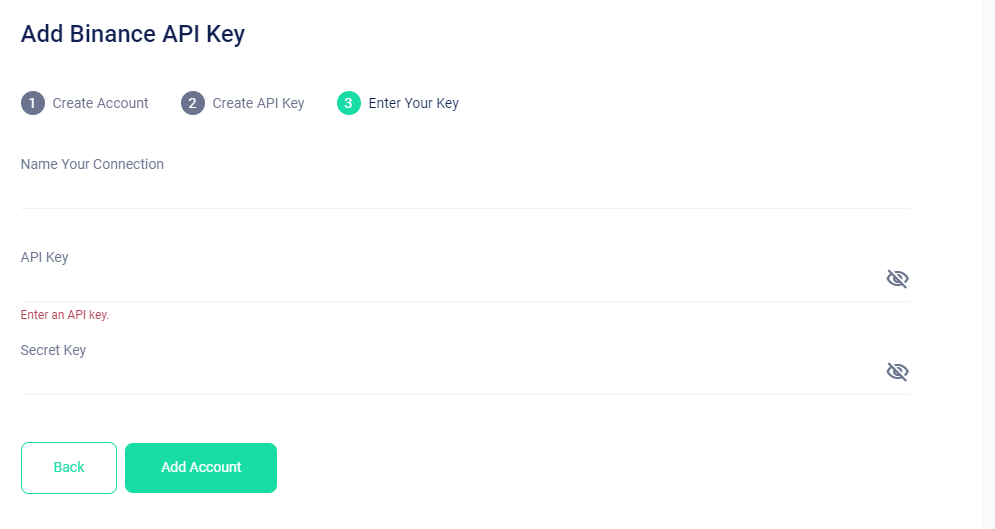 Copy Signals.
Finally, to copy signals, click on "Copy-trading" in the left menu. After that, you can choose from tens of strategies to copy. Make sure to click on the strategy to view further information.
Conclusion.
To make a long story short, Coinmatics is absolutely amazing platform for newbie traders because of its simple navigation and functions. And after our long Coinmatics review, make sure to check our pros and cons list for Coinmatics.
Pros.
Free strategies available
Simple and easy-to-use platform
Affordable prices for billing plans
Cons.
Only 3 exchanges supported
Alternatives.
We have collected the best alternatives for Coinmatics and did a detailed review for each one of them too. Make sure to check the reviews out to get a comprehensive idea.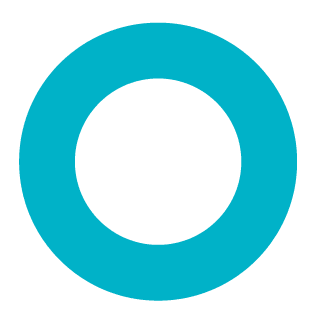 CryptoHopper
Starting at $19 with a free plan. Manage all your exchange accounts, use market-making and exchange/market arbitrage and simulate or backtest your trading.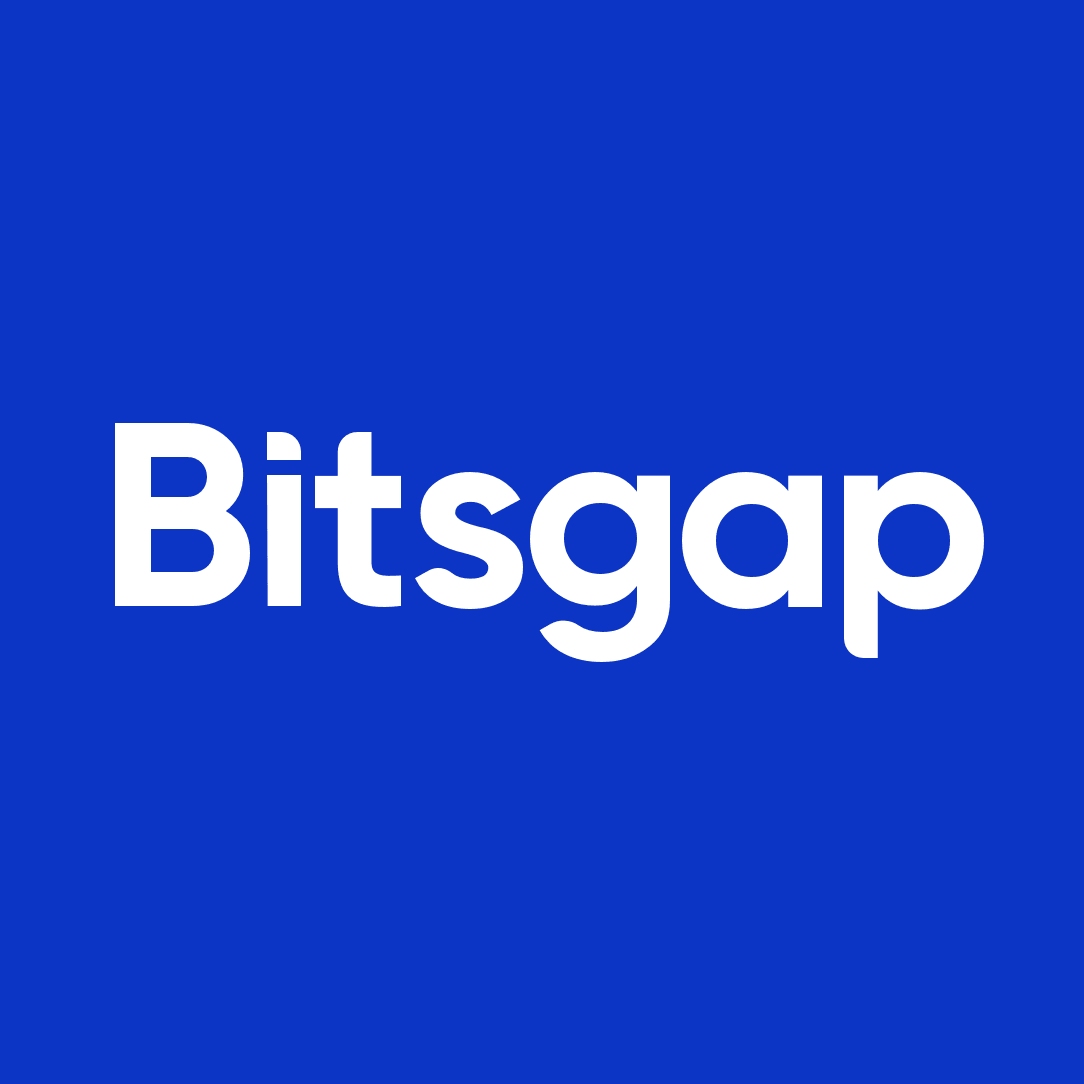 Bitsgap
Starting at 19$ with a free plan. All-in-one trading platform for your Bitcoins and other Cryptocurrency. Trading, Portfolio, Arbitrage, Signals, Demo, and Bots.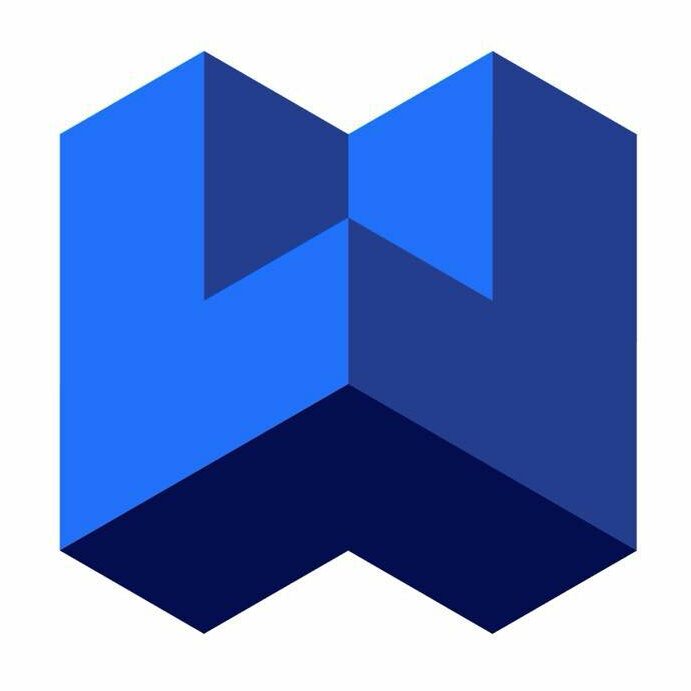 WunderTrading
WunderTrading allows you to start trading and investing in crypto seamlessly. Copy traders, trade using the advanced trading terminal, or create a fully automated trading bot using TradingView.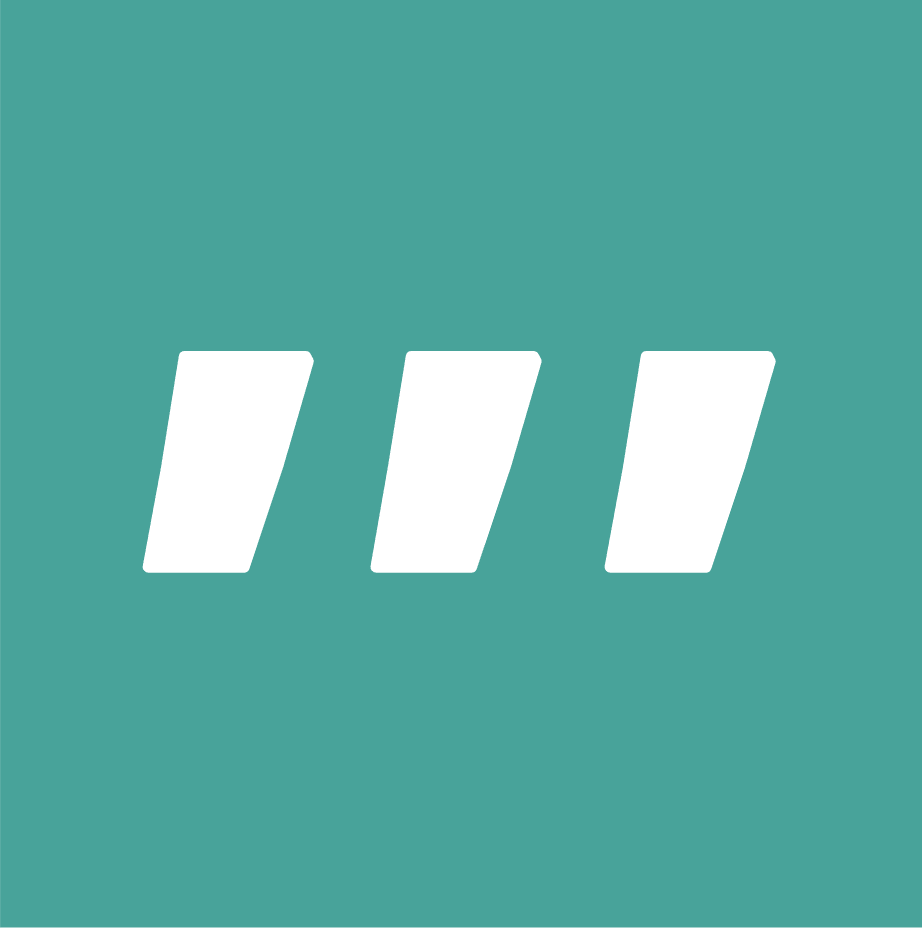 3Commas
Starting at 14.5$ with a free plan. Smart tools for cryptocurrency investors to minimize risks, limit losses and grow profit across multiple exchanges.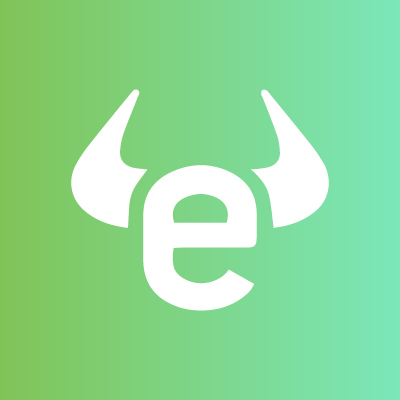 eToro
Use the CopyTrader system to replicate everything they do in real-time. Get the same results as experts and maximize your profit.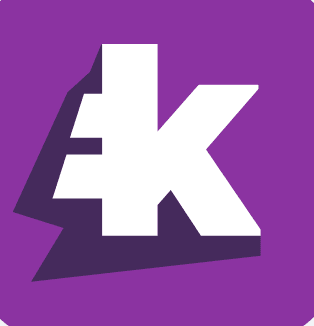 Kryll
Kryll has a different pricing methodology; the user has to pay a percentage out of his total trade. It is a different way of using crypto trading bots and is trouble-free from coding.
Ultimately, we'd love to hear your thoughts on this Coinmatics review in the comments section below, so make sure to share with us.