At first glance, Trading and pushing funds online can cause worry, Especially if you're not a pro. But fortunately, it's much easier today. Thanks to trading bots and AIO platforms. You can easily run more than one, two, or even three exchange accounts. In addition, you'll gain access to very useful tools to help your trades and your business grow. That's what we will explain in this 3Commas review by Crypto Listy.
Table of Contents
About 3Commas
3Commas is one of the most highly regarded services among cryptocurrency traders.
By means of a smart trading terminal and automated bots, crypto traders can increase their profits while minimizing their risks, thanks to the platform's capabilities.
3Commas possesses a generous package of features, and we will demonstrate each in this 3Commas review to help you make profitable trades, and your business flourish.
Features
Portfolio Tracking
Available for all types of subscriptions. You'll be able to monitor your current and past trades and analyze them.
Trading Terminal 'SmartTrade'.
You'll be able to manage multiple exchange accounts and place orders through one interface. With the help of Stop Loss and Trailing Stop Loss, you can secure your trades and save them from unexpected market drawdowns. And you'll gain more profit using other tools like Take Profit, multiple Take Profit Target, and trailing Take Profit.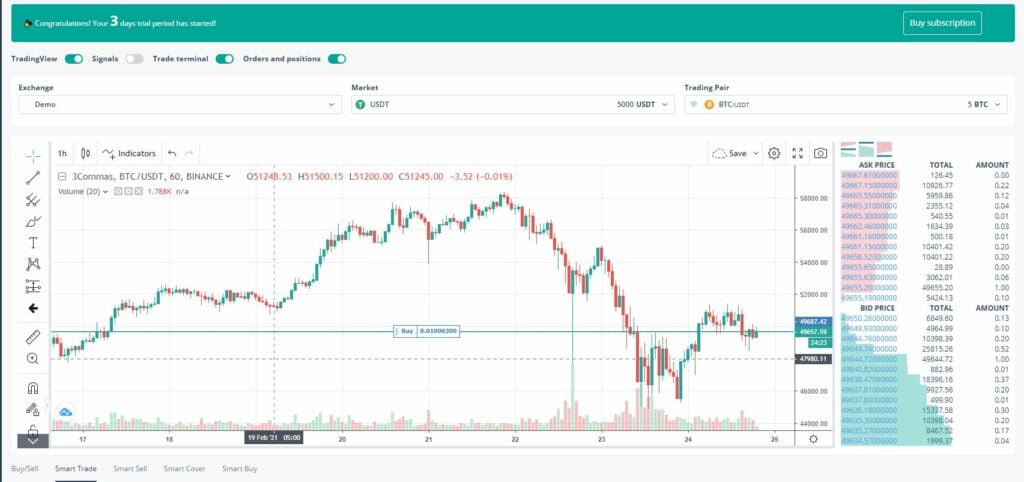 Variety of bots.
What makes 3Commas really unique is the various bots they have, like GRID bot, DCA bots, and Options Bot.
Trading School.
Being new to trading can make someone really apprehensive. The 3Commas team is aware of that. That's why they have this and the next two features.
In their trading School, you can take courses to grow from beginner to advanced trader and learn all about the market. And also, you'll learn how to do trades on the 3Commas platform so you get familiar with their UI.
Paper Trading
Continuing their care for beginners, Knowing that pushing actual funds into a platform they never used before can be draconic at first.
That's why they have the paper trading feature. You'll be able to perform trades in an environment that simulates the current market and its changes with unreal funds that don't exist; that way, you can get used to their UI without risking any real funds.
Copy Trading (Social Trading).
You don't need to be discombobulated about what to do anymore. Using social trading, you can just copy someone else depending on the signals they send to you.
Ease of Use.
With a very responsive and simple interface, You'll find 3Commas very simple and easy to use.
Supported Exchanges.
Above all, What really matters the most is the supported exchanges. I mean .. if you can't find your exchanges, what's the point?
3Commas supports more than 20 major exchanges like Binance, BitMEX, Bitstamp, and ByBit.
How Secure is 3Commas?
3Commas connects to your exchange account using API keys which have proven a high level of security over the years. In addition, you're the one who decides what permission to give.
Also, we recommend using a strong, unique password. And for furthermore security, you can use their two-factor authentication system.
Pricing and Fees.
3Commas has 3 different plans: Starter, Advanced, Pro, and Free. Starting at 14.5$, 24.5$ and 49.5$. With an annual payment option for each plan.
Get Started on 3Commas
Create an Account.
In order to create an account on 3Commas.
After submitting your information, you will receive a verification link in your email to verify your account.
Connect Your Exchange.
After creating your account on 3Commas, the first thing that comes to mind is linking your exchange to 3Commas.
Refer to their main page, Go to your dashboard, then click on connect an exchange and use the API key you generated on your exchange.
Select a Bot

That's an automated trading platform you want to try and use bots.
On the left bar of the dashboard page, you'll see bots that you can add to your trades. Select the one you want then you can manipulate and adjust its settings.
Social Trading.
As we mentioned in 3Commas features, Social trading is useful. And to get started with social trading, receive signals from experts, and apply it to your trades. Click on 'Marketplace' in the left bar of your dashboard and select a signal provider to receive from.
Conclusion
Frankly, 3Commas is great. And to sum up, here's what we gathered in this 3Commas review.
Pros.
Has a mobile app.
Lots of features.
Copy trading.
Variety in bots
Responsive interface.
Cons.
Unfortunately, you have to pay a subscription in order to receive signals.
3commas Comparison and Alternative Options.
Starts at $23.00 per month

Description:

All-in-one trading platform for your Bitcoins and other Cryptocurrencies. Trading, Portfolio, Arbitrage, Signals, Demo, and Bots.

Starts at $19.00 per month with a free plan

Description:

Manage all your exchange accounts, use market-making and exchange/market arbitrage, and simulate or backtest your trading.

Starts at $22.00 per month with a free plan

Description:

Smart tools for cryptocurrency investors to minimize risks, limit losses and grow profit across multiple exchanges.

Description:

Dealerify serves as a multi-functional tool for Trading, Copy Trading, and Auto Trading, specifically designed to foster the growth of the social trading industry within the cryptocurrency realm. Their primary objective is to support traders operating in the captivating world of digital currencies by offering a wide range of diverse and appealing services.

Description:

Pionex is one of the world's 1st exchange platforms with 18 Free trading bots. Users can automate their trading 24/7 without always checking the markets.
Ultimately, That was all we had to say in this 3Commas review. And we would like to suggest you our article on Cryptohopper Review and Best Alternatives.