In the past, trading used to require a lot of skills, time, and effort. Nowadays, there's automated trading.
Starting with automated trading only requires basic knowledge of trading and a reliable automated trading platform. In this TradeSanta review, we'll introduce to you one of the best automated-trading platforms to get started with.
Table of Contents
About TradeSanta.
TradeSanta is a cloud cryptocurrency trading software. Also, it allows you to take advantage of crypto market fluctuations. Connect TradeSanta to your exchange and trade 24/7 without making it a full-time job.
TradeSanta Features.
Over 90,000 traders are active on TradeSanta, that's because of its vast features. And we'll explain each one of TradeSanta's features.
Long and Short Strategies.
With TradeSanta bots, you can take long positions in stocks expected to appreciate and take short positions in stocks expected to decline.
Take Profit Targets.
You can specify a price to close an open price at that exact price and get the deal you wanted. Also, let TradeSanta bot track the market for you to close the deal at the right moment.
Technical Indicators.
Besides the precision of TradeSanta's bots, you can set your bot to use any of many indicators Bollinger, Day, or Volume. That way, your bot can open the trade at the right time.
Large Volume Trading.
Also, you can sell or buy huge amounts of crypto without causing the price to drop or spike.
Bot Templates.
You can launch a bot in less than 5 minutes. As TradeSanta offers you various pre-built bot templates. Or you can build your own adjusted strategy from scratch.
Real-time Tracking.
Keep an eye on your business always. As on TradeSanta, you can track your bot's performance. See from anywhere with transparent analytics or turn on Telegram notifications.
Supported Exchanges.
TradeSanta supports most of the major exchanges. Also, more exchanges are expected to be added soon.
And here's a the exchanges that TradeSanta supports currently.

FAQ.
Is TradeSanta Safe?
Yes. Connecting an exchange to TradeSanta means granting access to trading rights only. So, that means TradeSanta can't access or possess your coins.
Is TradeSanta Easy?
During our TradeSanta review, we found TradeSanta very simple and user-friendly. If you have basic knowledge of trading, you will find no difficulty using TradeSanta.
How Is TradeSanta Pricing?
Unluckily, TradeSanta doesn't have a free plan. But, We think TradeSanta's prices are affordable and very competitive comparing to other similar platforms.
Starting at $14/month up to $30/month. And you can view the plans and features of each one in the photo below.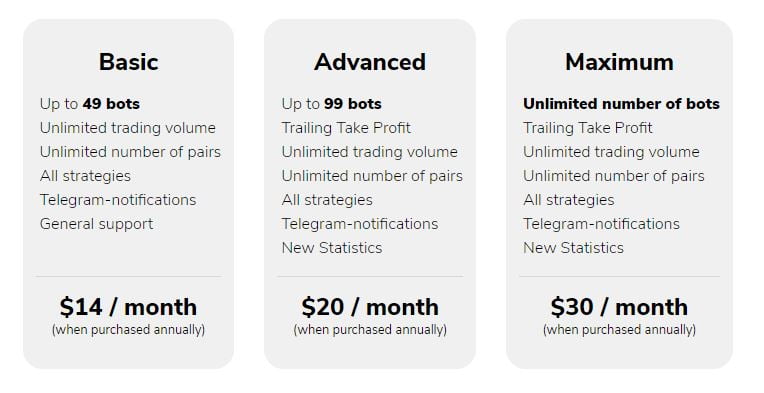 Get Started on TradeSanta.
The process of creating an account, connecting your exchange, and creating a bot is simple. Also, we'll take you through the whole process, which will take you about 5 minutes only.
Create an Account.
To create an account, Visit TradeSanta's main page and click on 'Sign up', submit your information, and you are good to go.
And you can also sign up using Google or Facebook.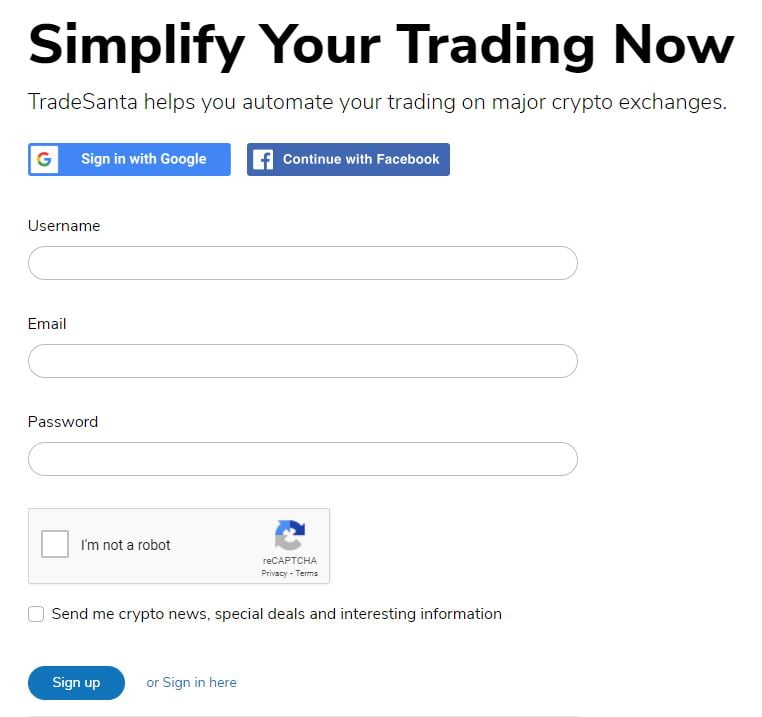 Verify You Account.
After submitting your information, check your email for a verification link from TradeSanta to confirm your account.
Connect Your Exchange.
To connect an exchange, on TradeSanta's left menu, click on 'Access points' then 'Add access,' and then you can enter the API key that you generated on the selected exchange,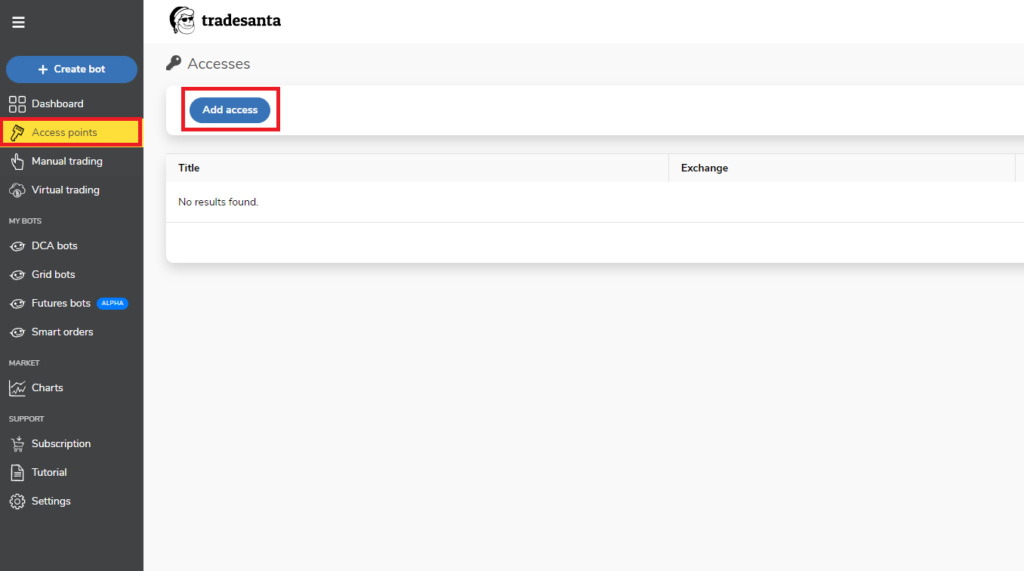 Create Your First Bot.
On the top left, click on 'Create Bot' then TradeSanta will take you through the whole process of creating a bot and adjusting its parameters

Conclusion.
TradeSanta was really impressive. And in this review, we were excited to talk about and explain TradeSanta. We liked a lot and disliked a few, so we'll put TradeSanta as pros & cons.
Pros.
Supports manual trading.
Huge bots customizations.
Has a mobile app.
Simple and responsive interface.
Cons.
No demo trading.
No social trading.
Alternatives.
However, if you think the mentioned cons are a disability or think TradeSanta is missing essential features for you. We'll be happy to offer you many other TradeSanta alternatives.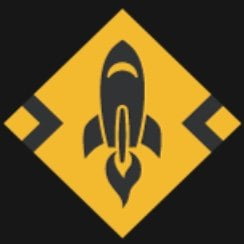 Jet-Bot
A matching platform where you can copy best traders on Binance 24/7 automatically. Demo accounts with a $100,000 virtual portfolio are available.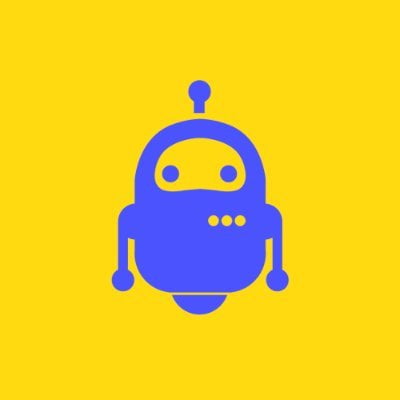 Coinrule
A beginner-friendly and safe platform to send automated trading instructions to your favorite exchanges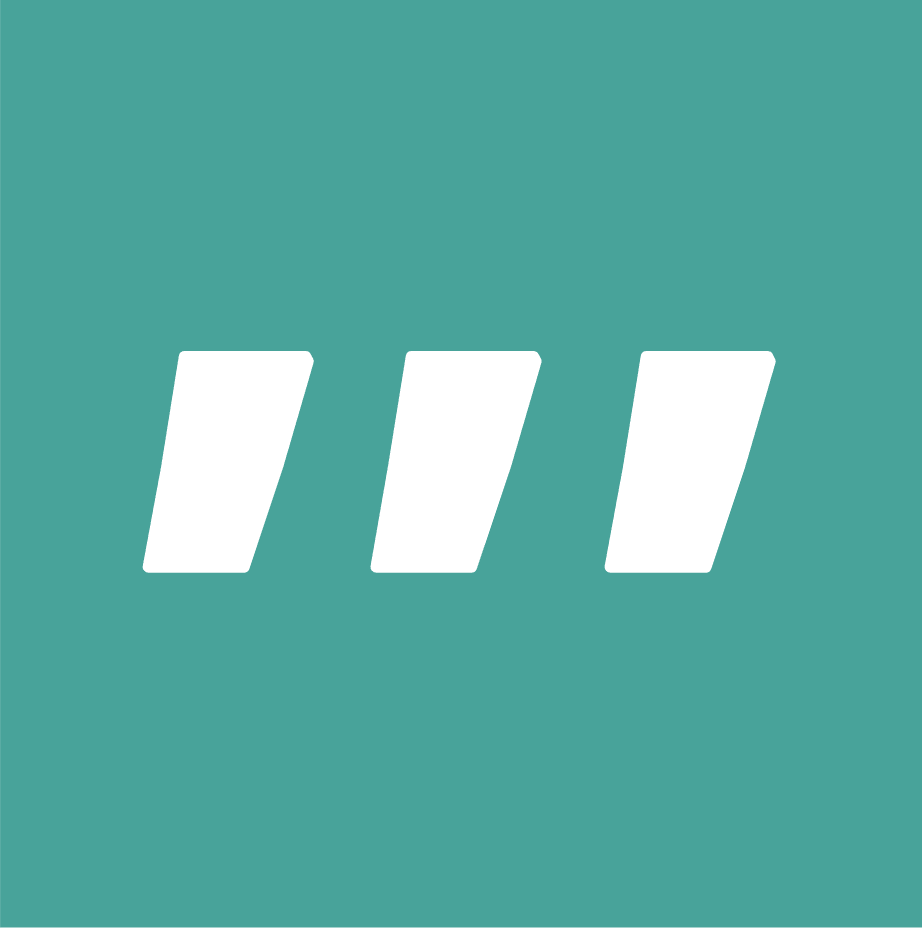 3Commas
Starting at 14.5$ with a free plan. Smart tools for cryptocurrency investors to minimize risks, limit losses and grow profit across multiple exchanges.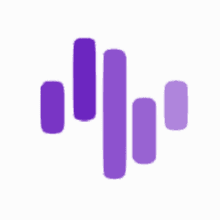 Zignaly
Free To Use, 100% Delegated and Performance-Based, by copying expert traders under the profit-sharing model.
At the very end, we would like to recommend to you one of our recent articles that will be very helpful for you if you want to calculate your trading taxes, BearTax review and best alternatives.
Also, we are waiting to hear from you in the comments section, what do you think about TradeSanta? Is TradeSanta really a complete package?