In this post, we will review the Bitsgap trading platform and the various trading bots it provides to users. The platform has much to offer, and automated trading solutions continue to be in high demand.
Imagine having more than one job, two? Maybe three, Even four! That's exactly what it feels like to have more than one exchange, some here, some there, and some more there. No more of that! This is what we will illustrate in this review of CryptoListy for Bitsgap.
Table of Contents
About Bitsgap.
Many people within the cryptocurrency understand the Bitsgap brand today. Ever since its inception in 2017, the trading platform has elevated its approach to crypto trading, portfolio administration, and arbitrage opportunities.
More importantly, the platform has evolved to become a powerhouse in the crypto industry, accommodating over 18 million visitors. Its website traffic has grown by nearly 13% in the past month, and notes a strong influx of visitors from Colombia and Belgium. Furthermore, Bitsgap is chosen by over 500,000 traders worldwide, who have created over 3,7 million trading bots, helping the company surpassing $300 billion in total trading volume.
Bitsgap Features.
Arbitrage.
You can maximize your profit from exchanges using arbitrage on Bitsgap.
The Bitsgap Trading Terminal & Order Types.
By using Bitsgap's trading terminal, you can still trade across multiple exchanges with access to many powerful tools, removing the need for opening several tabs for different platforms. The terminal also supports one's trade history, open positions, and balances across all linked exchanges. Moreover, the trading platform enables users to analyze and evaluate the performance of popular trading pairs.
It is important to note users have multiple order types at their disposal to exert more control over their market approach:
Market orders: Immediately taking a position at the best available market price
Take-profit & stop-loss: Automatically taking profit or limiting losses on a position if market sentiment sours.
Stop-Limit: Automatically sell the traded asset when a specific price is achieved
Shadow orders: Trading away from the exchange's order book by only executing an order at your specified price
Signals.
Instantly, you will get updated if there are any anomalies in the market to take the chance and make trades if you want.
Portfolio Tracking.
Bitsgap will keep a record of your portfolio so that you can view your trading history and learn from your previous trades across all exchanges.
Automated Trading With Bots
The bread and butter of the Bitsgap platform is its provision of automated crypto trading access. Platform users have various trading bots at their disposal to take a more passive approach to cryptocurrency trading. Different types of bots will follow distinctive patterns and approaches, enabling users to tap into a trading revenue stream.
The DCA Bot
Bitsgap recently introduced a DCA bot to help users during bullish, bearish, and sideways market conditions. The trading tool offers multiple features, including more accurate entry and exit options, risk management options, and more. Users can expect fast and regular results for those who maintain an active trading approach, although long-term holders can accumulate profit while waiting for better price momentum.
Grid Bot
The purpose of the Grid Bot is to help users generate profit from small price changes in either direction. It is an excellent tool for markets in sideways momentum, enabling users to automatically deploy a grid to follow the overarching trend. The Bitsgap Grid Bot allows users to profit steadily and requires very little oversight. It has built-in strategies for beginners and experts, although users are free to deploy their own strategies as they see fit.
High security.
All your orders are secured using 2048-bit, which will take 300 trillion years to break, your exchange accounts are connected to Bitsgap using an API key, and you can check our guide for Binance, where you can learn how to generate an API key on Binance.
Demo Exchange.
Learn Bitsgap and get familiar with it using demo exchange. You can make a demo exchange to improve trading and Bitsgap!
FAQ.
How Easy Is It to Use Bitsgap?
Bitsgap is easy with a simple, responsive interface. You'll get used to it once you finish our review for Bitsgap.
How Is Bitsgap Pricing?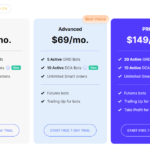 The basic plan costs $29 per month and provides access to different exchanges, a cross-exchange portfolio, and setting up trading signals. Users can deploy two active trading bots.
The advanced plan costs $69 per month and has a monthly trading limit of $100,000. The extra benefit is access to arbitrage trading and five active trading bots.
The Pro plan costs $149 monthly, and no monthly trading limit exists. Users can deploy up to 20 active trading bots at the same time as trailing bots. Further, there is access to priority customer support, should that be required.
Is It Safe to Use Bitsgap?
Yes, Bitsgap is connected to your wallets using APIs, which are safe and secure. And you can easily manage the permissions granted.
Get Started on Bitsgap.
We'll take you through the whole process of creating an account and introduce you to all Bitsgap features.
Create an Account.
Firstly, in the Bitsgap guide. You can start by creating your account on Bitsgap.
Go to Bitsgap and choose your plan. Also, you can sign up using Facebook, Google, or your email.
Verify Your Account.
Once you've signed up, make sure to check your email for the activation link if you've signed up using email. Bitsgap will refer you to the Bitsgap main page. At first glance, it doesn't look straightforward. But we will explain every function in this Bitsgap guide to make things easier.
Bitsgap Trading Terminal.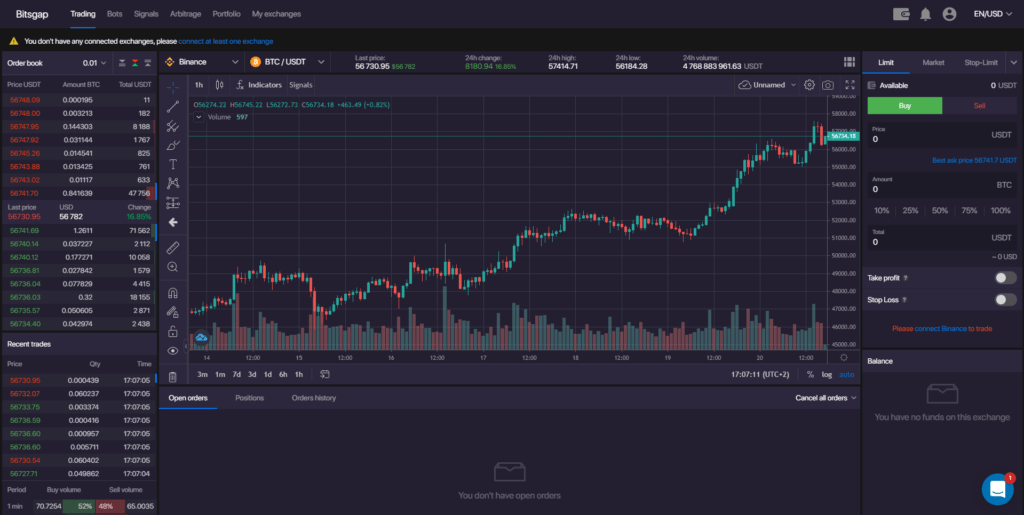 Trading terminal focuses the most on giving you the best and most satisfying experience and offers you handy tools like take profit, shadow orders, limit market, and stop-loss, which will come in very handy and help you make better decisions while making orders and exchanges.
Bitsgap Trading Bot.
The Bitsgap trading bot is running on the GRID algorithm, which has received a lot of attention lately. It will allow you to make the best of your exchanges by defining the range and limit for investment. Then it distributes those investments proportionally. Whenever the system does a limit order, GRID places another sell order for a slightly higher price than the market value.
But every time the previous order is done, Bitsgap makes another buying order for a price slightly lower than the market value. You can watch the video below for more details.
Backtesting.
Backtesting in Bitsgap makes it possible to optimize automation so traders and the portfolio manager will maximize their returns in an uptrend and secure investments in a falling market. It uses historical data to analyze probability, and the data generated is used by analysts and programmers to develop the best trading solutions.
That's what makes Backtesting one of the best Bitsgap features: it is a source of trading ideas, Used by traders and portfolio managers to find optimal cryptocurrency pairs based on their risk and return preferences.
Bitsgap Arbitrage.
Bitsgap arbitrage enables you to buy at one crypto exchange and sell it on another, which gives profit due to price differences.
Also, by machine learning and analysis of historical data, Bitsgap will maximize profitability and reduce risk.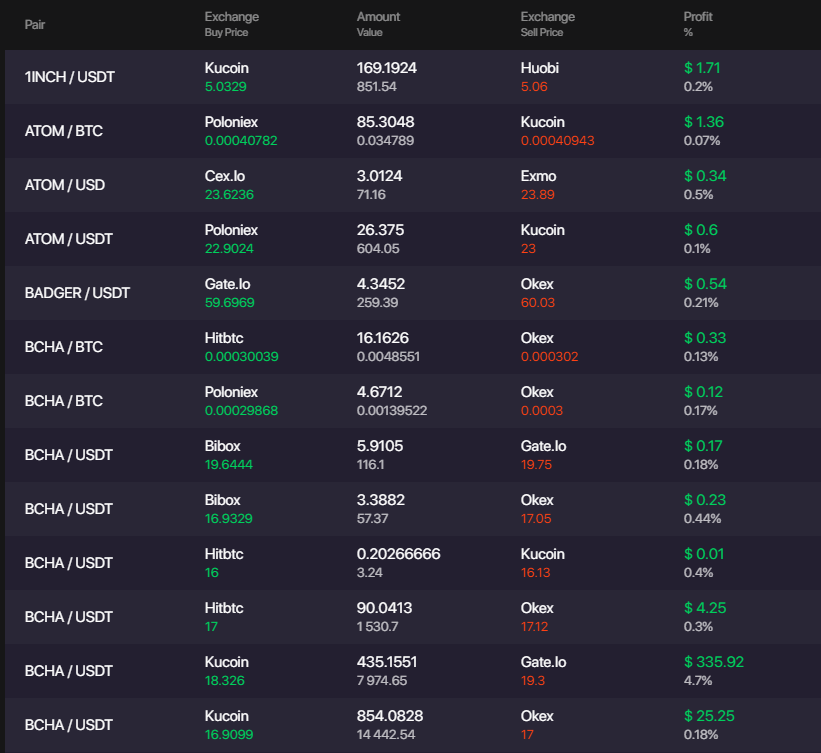 Market Signals.
A market anomaly is a temporary price action that negates the crypto market's expected behavior or trend. Most anomalies appear only once, while others can be noticed consistently.
Bitsgap will show you market signals. It will show you an anomaly in the price in a market when there's a sharp movement in the price of a specific cryptocurrency. This will help you to expect price movements early and benefit from that.
All anomalies will be marked on the charts as well. So you always know where was the starting point of unusual price action.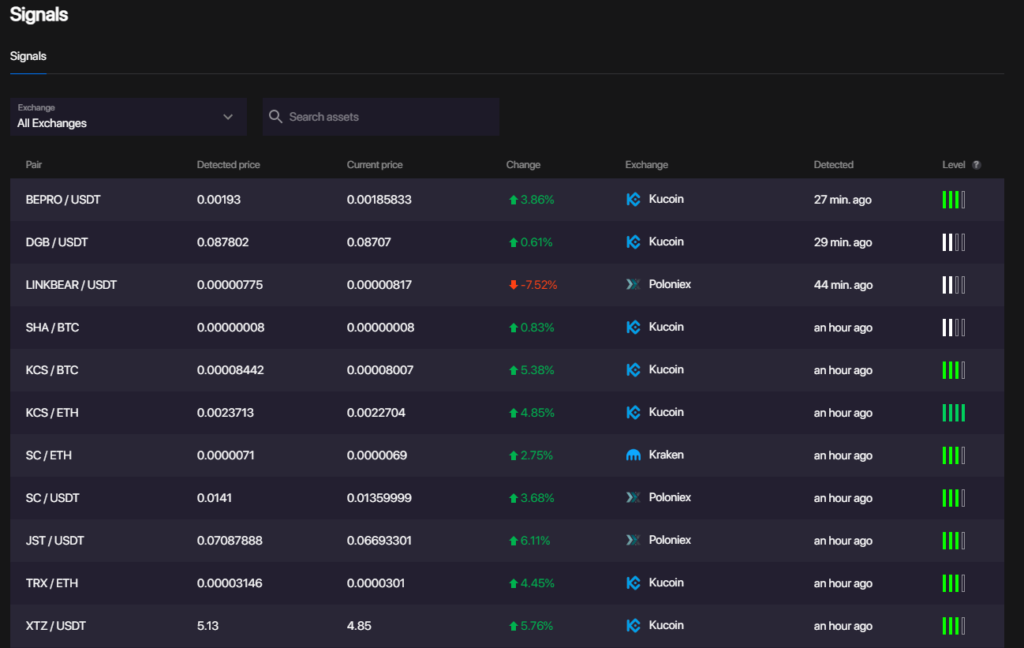 Crypto Portfolio Tracking.
You can always analyze how you did in the past by using the portfolio tracker on Bitsgap. Your portfolio is a collection of all holdings and transactions you have executed in the past combined. They show how great your trading performance and results have grown over time.
Bitsgap Pros & Cons.
Yes, Bitsgap is amazing; it works! as it is.
Pros.
Simple and easy.
A lot of functions, all in one place.
Trading bots are easy and efficient.
2 weeks free trial to help you make up your mind.
Free plan if you are on a budget.
Arbitrage and market signals.
Cons.
Few Trading bots to choose from.
No mobile app.
Bitsgap Comparison and Alternatives.
Starts at $23.00 per month

Description:

All-in-one trading platform for your Bitcoins and other Cryptocurrencies. Trading, Portfolio, Arbitrage, Signals, Demo, and Bots.

Starts at $19.00 per month with a free plan

Description:

Manage all your exchange accounts, use market-making and exchange/market arbitrage, and simulate or backtest your trading.

Starts at $22.00 per month with a free plan

Description:

Smart tools for cryptocurrency investors to minimize risks, limit losses and grow profit across multiple exchanges.

Description:

Dealerify serves as a multi-functional tool for Trading, Copy Trading, and Auto Trading, specifically designed to foster the growth of the social trading industry within the cryptocurrency realm. Their primary objective is to support traders operating in the captivating world of digital currencies by offering a wide range of diverse and appealing services.

Description:

Pionex is one of the world's 1st exchange platforms with 18 Free trading bots. Users can automate their trading 24/7 without always checking the markets.
That was all for the Bitsgap guide. Make sure to check our guide Best crypto trading Bots ready to use without coding.
Also, we'd like to hear from you in the comments. How's Bitsgap? Would you like to use it instead of your current platform?