In this article, CLEO.one review, we'll be looking at one of the newest automated trading platforms and highlighting all of the platform's features.
There's no doubt that traders, especially crypto traders, would love to be present in the market 24/7 so that they can quickly react to market moves, notice trends as quickly as possible, etc. However, humans are not capable of that.
Automated trading platforms have solved such an issue by allowing customizable bots to run your strategies and execute your orders. Whatsoever the strategy that you want to execute, trading bots will always be able to do it.
Table of Contents
About CLEO.one
CLEO.one brings powerful, well-informed trading automation to independent traders that don't want to spend time on coding but need to be present in the markets 24/7, with perfect execution. You can create strategies through simple typing. You can also test them for crypto, forex and stocks, deployed on live trading as crypto bots or paper trading and demoed on real-time market conditions.
Also Read: Best Crypto Trading Bots available
Features.
In the upcoming part of the CLEO.one review, let's further understand the platform; therefore, we can realize CLEO.one amazing capabilities.
Comprehensive Dashboard.
Of course, traders would want everything in their sight; that's why CLEO.one has a comprehensive, clean, and sleek dashboard that allows you to move between different sections seamlessly.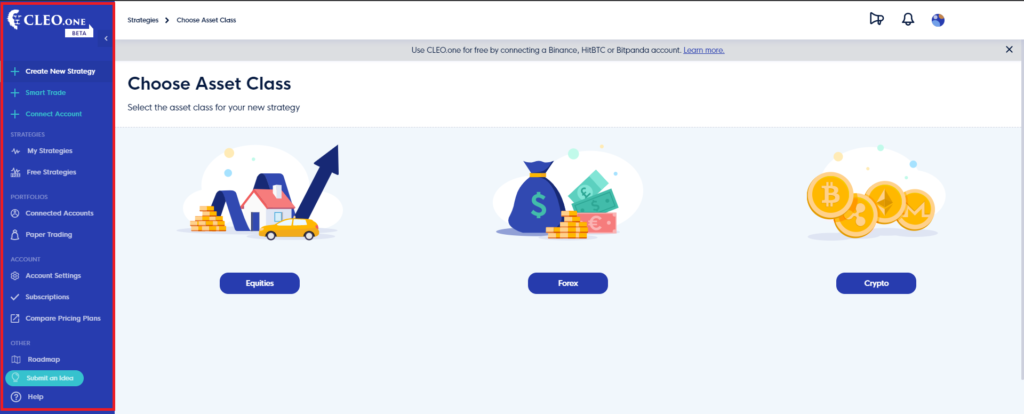 No Coding Required.
Once you start on the platform -more on that later- the first thing you think about is creating your first strategies. In fact, that can be somehow hard on other platforms. However, CLEO.one made creating strategies much easier in a way that suits novice and expert users.
You can choose between over 100,000 rules for your strategy, which allows you to create specific and accurate ones.
Backtest Your Strategies.
After creating a strategy, the first thing you'd want to know is how efficient your strategy is.
CLEO.one lets you test your trading strategies, no matter if they are simple or complex, in minutes. Historical data runs back for as many years as an asset has.

Paper Trading.
In case you're new and worried about pushing real funds into trading, or if you want to test your strategies in the current market conditions, you can always go on with paper trading.
Paper trading simulates the current market conditions and applies your trading strategies. Therefore you can see results and get an insight into how your strategy would perform.

Free Strategies.
In case you are still trading without a trading strategy, you might find it hard to improve your actions or improve your trading results. CLEO.one features free strategies, all profitable when historically tested that you can modify or straight-up trade.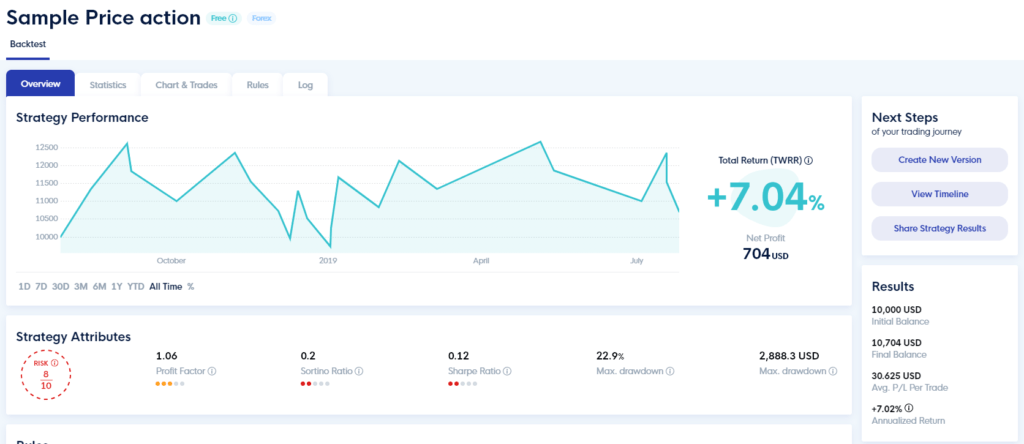 Supported Exchanges.
As a relatively new platform, CLEO.one supports the top 5 exchanges, which are Binance, Binance US, Bitfinex, Coinbase Pro, HitBTC. Also, they're planning to support more exchanges in the near future.
FAQ.
Is CLEO.one Safe?
CLEO.one uses state-of-the-art encryption. You never transfer any funds to them; they always stay on the exchange.
Also, your exchange is connected to CLEO.one through API keys which only allows trades, and they don't allow withdrawals. Furthermore, you can edit permissions granted within the API key.
Is CLEO.one Easy to Use?
During our CLEO.one review, we found that the platform is easy, and everything is straightforward. Due to the comprehensive dashboard, sleek design, and simple commands, you can get used to the platform within 15 minutes or less.
What Are CLEO.one Plans?
CLEO.one has 4 different plans for different types of users. Starting at 69€ up to 349€ per month with a free plan, you can check CLEO.one plans here or in the image below.
Get Started on CLEO.one
After talking about CLEO.one features, in the following part of the CLEO.one review, we'll demonstrate how to get started on CLEO.one.
Create An Account.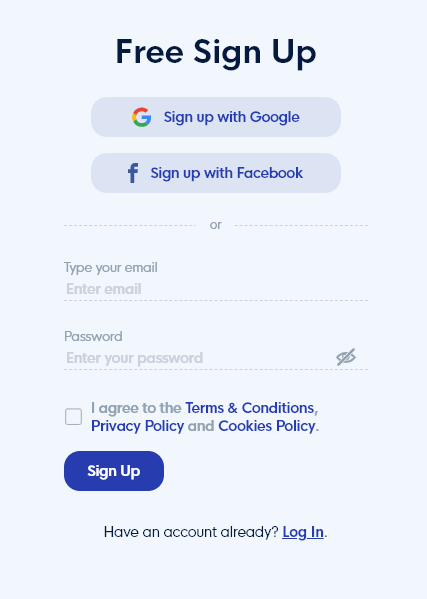 Firstly, head to CLEO.one plans page and choose the plan that suits you the most.
After that, you can proceed with the sign-up process, enter your email, password, and check your email for a verification message, simple as that.
Connect Your Exchange Account.
As we mentioned, CLEO.one works by connected your exchange through API keys to the platform. The first thing you need to do is heading to your exchange, generate an API key.
After that, choose your desired exchange, enter your API key and API secret, simple as that.
Create A Strategy.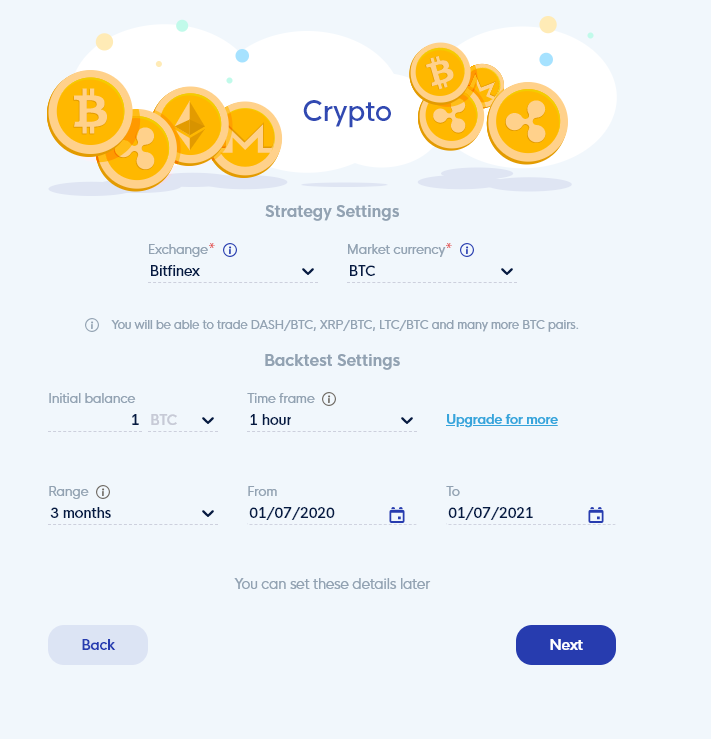 To start creating your first strategy, on the left menu of the dashboard, click on "Create New Strategy", choose your asset class, enter some settings like timeframe, currency, exchange etc.
After that, continue by choosing rules and conditions for your trades. You can also have close conditions or stop-loss.
Choose A Free Strategy.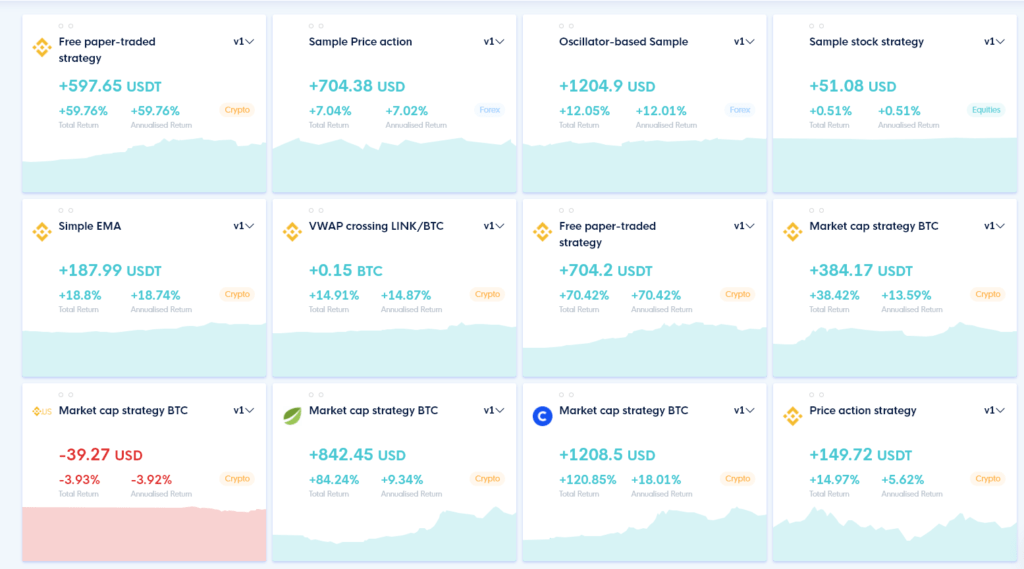 To choose between different premade strategies, click on "Free Strategies" on the left menu; now, you can view tens of available free strategies.
On click on a strategy, you can view its previous trades, profits and losses.
Conclusion.
After a mouthful CLEO.one review, we think that the platform is worth the shot. However, there are few things that we didn't like, CLOE.one pros and cons:
Pros.
over 100,000 rules
Tens of free strategies
backtest and demo trading available
simple UI
responsive support
Cons.
Some functions are still under development
Lacks support of some major exchanges
CLEO.one Comparison and Alternatives Options.
Automated trading platforms are countless; you have many options to choose between. Therefore, we provide you with the best and most efficient alternatives for CLEO.one.
Starts at $23.00 per month

Description:

All-in-one trading platform for your Bitcoins and other Cryptocurrencies. Trading, Portfolio, Arbitrage, Signals, Demo, and Bots.

Starts at $19.00 per month with a free plan

Description:

Manage all your exchange accounts, use market-making and exchange/market arbitrage, and simulate or backtest your trading.

Starts at $22.00 per month with a free plan

Description:

Smart tools for cryptocurrency investors to minimize risks, limit losses and grow profit across multiple exchanges.

Description:

Dealerify serves as a multi-functional tool for Trading, Copy Trading, and Auto Trading, specifically designed to foster the growth of the social trading industry within the cryptocurrency realm. Their primary objective is to support traders operating in the captivating world of digital currencies by offering a wide range of diverse and appealing services.

Description:

Pionex is one of the world's 1st exchange platforms with 18 Free trading bots. Users can automate their trading 24/7 without always checking the markets.
Ultimately, we hope that was a beneficial CLEO.one review and we would love to know your thoughts in the comment section below.