In this article: Dealerify review, we will take a look at one of the most unique cryptocurrency platforms that offer copy-trading, spot trading, and signals.
Copy trading is undoubtedly one of the most advantageous choices for novice traders. By opting for copy trading, the burden of research and staying updated with the latest news is lifted off your shoulders. All that's required is to fund your trading platform, and that's precisely what Dealerify facilitates. Through Dealerify, you gain the ability to track seasoned traders and replicate their trading signals, enabling you to achieve identical profits to theirs. Isn't that incredible?
Table of Contents
About Dealerify.
Dealerify serves as a multi-functional tool for Trading, Copy Trading, and Auto Trading, specifically designed to foster the growth of the social trading industry within the cryptocurrency realm. Their primary objective is to support traders operating in the captivating world of digital currencies by offering a wide range of diverse and appealing services. Leveraging modern technologies and providing enticing and intriguing facilities, They aim to empower traders with the means to achieve greater success in their trades.
Also Read: Best Automated Crypto Trading Bots to Make Profits.
Dealerify Features.
In the following section of our Dealerify review, we will talk in-depth about the platform's features before getting you started with it.
Easy-To-Use Platform.
Discover a comprehensive suite of trading tools at your disposal in Dealerify, designed to enhance your trading experience. With Dealerify platform, you can effortlessly utilize the auto-trading and copy-trading features, seamlessly manage all your positions, and access a range of tools for technical trading and beyond.
Forest At A Glance.
What sets Dealerify apart is its remarkable ability to transcend the chaotic realm of numerical data in trading, converting it into an elegant and cohesive space. With a glance, you can perceive the bigger picture of your portfolio on a dynamic interface, allowing you to grasp the forest's essence amidst the details. Witness all your positions neatly displayed on a single page, enabling swift decision-making for each one with utmost efficiency.
Auto Trading.
For newcomers in the world of cryptocurrency and trading, auto-trading stands as a highly valuable tool. By utilizing this feature, you can effortlessly connect with vendors and adopt their strategies and signals, streamlining your trading journey.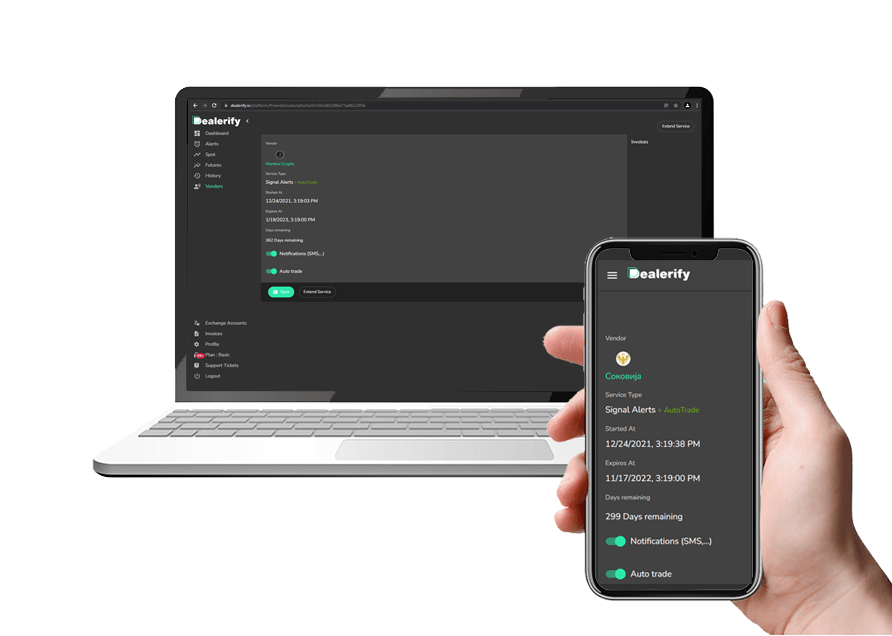 Copy Trading.
Among the outstanding services provided by Dealerify, professional traders benefit from the remarkable capability to trade and oversee up to 20 accounts concurrently, all accessible through a single user-friendly and streamlined interface. With this functionality, managing positions across 20 accounts becomes exceptionally efficient. As a result, this proves to be an invaluable and noteworthy opportunity for individuals seeking to perform portfolio management services and effectively handle multiple accounts. This feature is aptly referred to as "Copy-Trading" within Dealerify.
Paper Trading.
Dealerify provides a fantastic opportunity for individuals who lack sufficient trading experience yet aspire to enter the real trading space. Through paper trading in the live and actual market, they can thoroughly examine their trading capabilities before diving into real trading. This entails trading in the real market with unlimited virtual capital, allowing them to master various trading techniques and strategies until they feel confident and prepared to venture into the market with their real capital.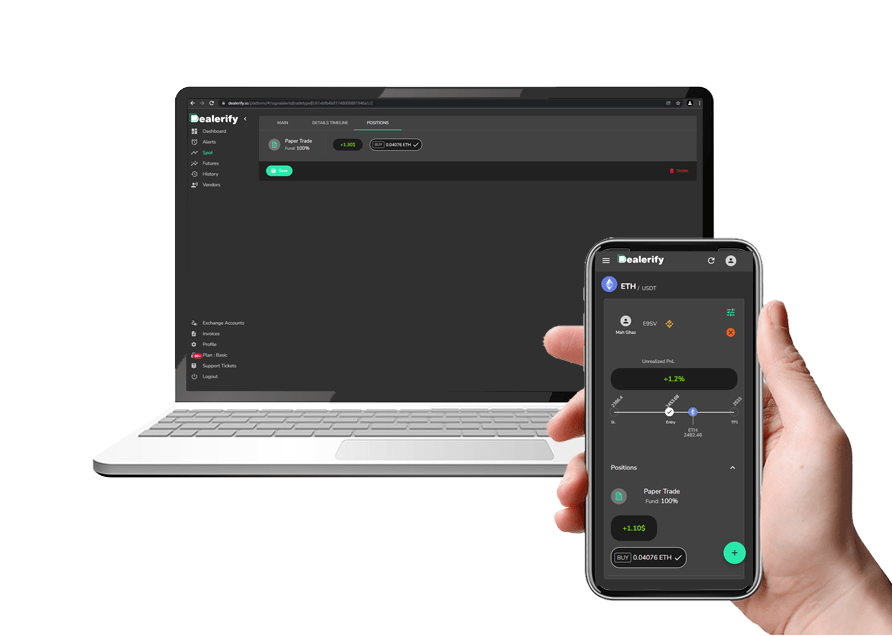 Connect Multiple Exchanges.
Based on your chosen plan in Dealerify, you can seamlessly link a specific number of exchanges to your account. The Basic Plan allows you to connect up to 2 accounts. But, the Pro Plan allows you to add up to 10 accounts, and the Portfolio Plan grants you the flexibility to connect as many as 20 accounts.
Join Multiple Vendors.
Dealerify hosts a diverse array of vendors, each offering unique trading strategies. Analyzing these strategies is made easy, and you have the freedom to join as many vendors as you desire.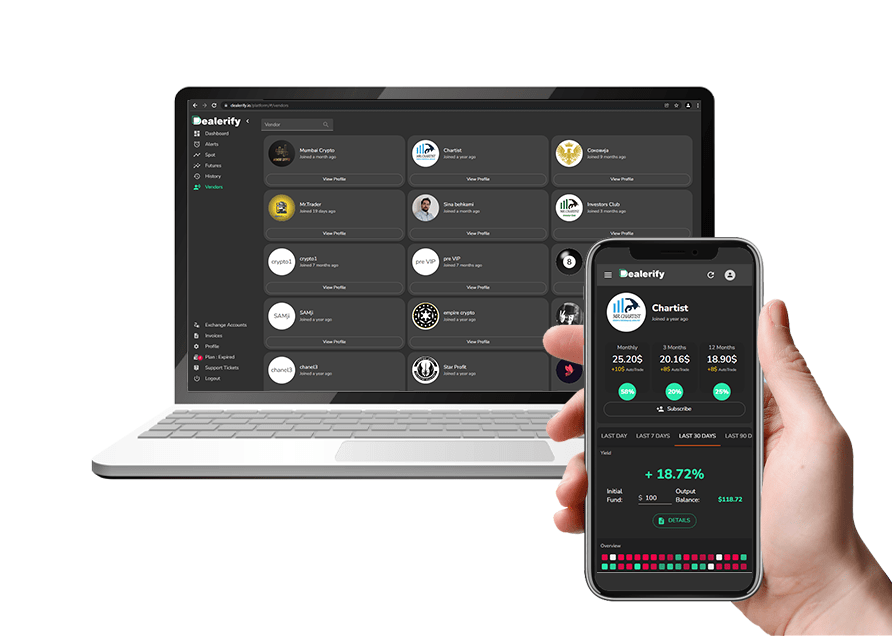 Be A Vendor and Earn Money.
Within this platform, there's an opportunity to boost your earnings by not only utilizing your trading method but also by publishing your signals. To achieve this, simply share valuable signals through your Vendor panel. This way, you can maximize your potential for increased profits.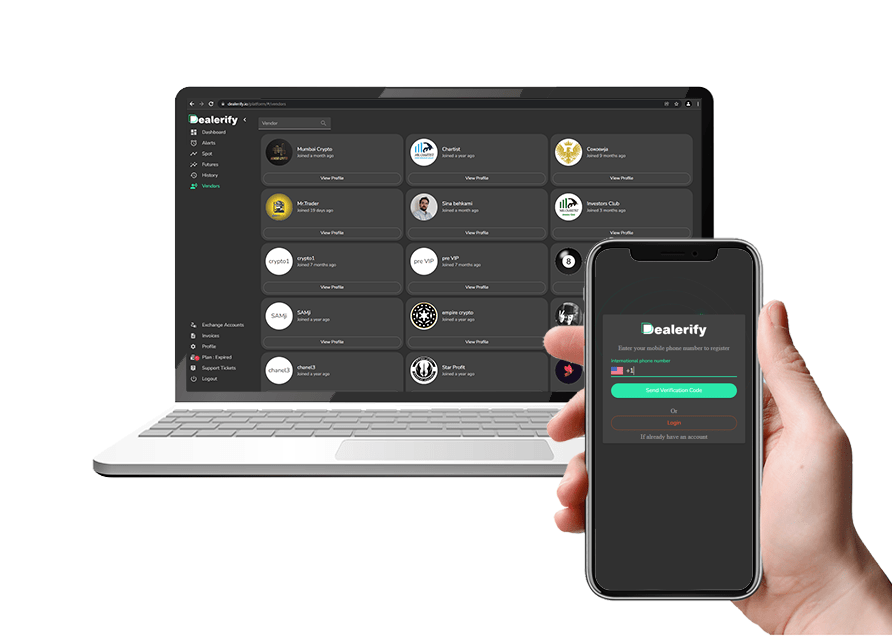 FAQ.
Who is a vendor?
Vendors are experienced and trustworthy traders who generously share their trading strategies, and offer guidance to others. Also, they provide profitable trading signals and effectively manage investment risks. If you're a trader with limited experience, you can easily join one of the vendors and benefit from their expertise.
Which exchanges does Dealerify support?
Currently, Dealerify can support three exchanges, Binance, KuCoin, and Bybit. But they will add more popular exchanges soon.
Can Dealerify withdraw my money?
At Dealerify, the policy prioritizes the security and convenience of users. Dealerify does not require access to your exchange account or wallet; instead, you simply connect your exchange API to the platform. This approach ensures a safe and secure trading experience, granting you peace of mind that your capital remains protected within your exchange.
Dealerify Plans and Pricing.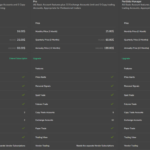 Dealerify presents its users with three distinct plans: Basic, Pro, and Portfolio Manager. The Basic plan is priced at $16.00 per month. The Pro plan at $25.00 per month. And the Portfolio Manager plan at $50.00 per month.
Upon signing up, you are eligible for a 7-day free trial of the Basic plan, allowing you to explore and experience the platform firsthand. For further detailed information on Dealerify's plans, we strongly encourage you to visit the Dealerify Plans section.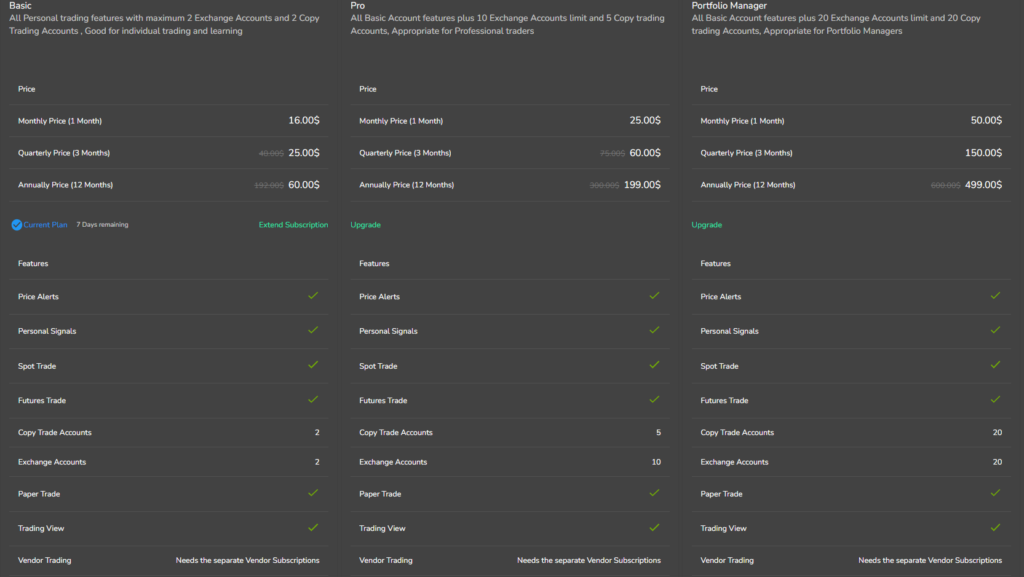 Getting Started with Dealerify.
In the following section of our Dealerify review, we are going to introduce you to Dealerify. Also, guide you step-by-step through the process of signing up on the platform and setting up your account for the first time.
Sign up on Dealerify.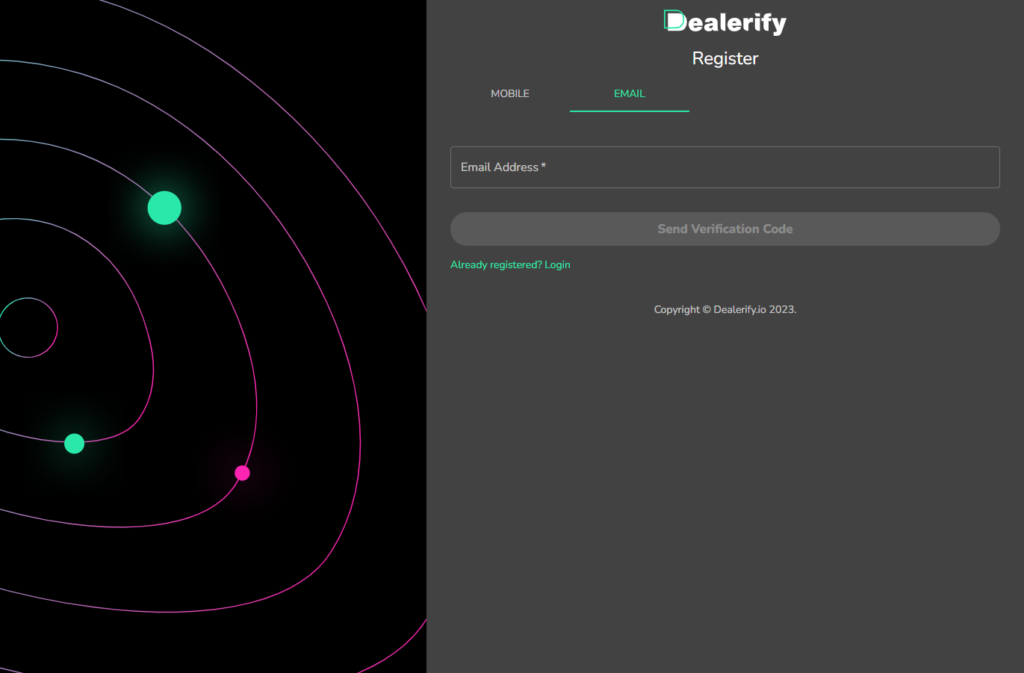 The first thing you need to do is to head to Dealerify registration page and sign up for an account. The process takes only a few seconds.
Once completed, you can move to the next step.
Connect Your Exchange to Dealerify.
First thing after completing the sign-up process, head to your Dealerify dashboard, where you can control everything. Now, we need to connect your exchange.
On the bottom left, click on "Exchange Accounts"
Choose which exchange you are going to connect to and generate an API key on that platform. For instance, if you're going to connect your Binance Exchange, head to Binance and generate an API key first, then add it to your Dealerify account.
Start Following Vendors on Dealerify.
On the left navigation bar, click on "Vendors," and you can see all the alliable vendors on Dealerify.
By clicking on any of the vendors, you can view their history on Dealerify and their profits. Choose a vendor that you believe in and start following.
Dealerify Review in A Nutshell.
Dealerify undoubtedly stands as an excellent platform for newcomers and novice traders. It provides you with the advantage of transparently viewing the trading history of various vendors, helping you make informed decisions on which one to follow. It's worth noting that while Dealerify offers numerous active vendors, some may no longer be actively trading. Hence, we recommend exploring and checking out as many vendors as possible to find the best fit for you.
For beginners starting on their trading journey, Dealerify is a highly recommended starting point. While we anticipate the support of more exchanges in the near future, the three currently supported exchanges are immensely popular and should adequately meet your trading needs.
Pros.
Paper trading
Multiple accounts connect
a variety of vendors
Cons.
No Vendors filtration
lots of inactive vendors
Require a subscription to vendors.
Dealerify Comparison and Alternative Options.
After this Dealerify Review, If you are still looking for more options, we have made a list of the best alternatives for Dealerify. Make sure to check each one of them for a comprehensive view.
Starts at $23.00 per month

Description:

All-in-one trading platform for your Bitcoins and other Cryptocurrencies. Trading, Portfolio, Arbitrage, Signals, Demo, and Bots.

Starts at $19.00 per month with a free plan

Description:

Manage all your exchange accounts, use market-making and exchange/market arbitrage, and simulate or backtest your trading.

Starts at $22.00 per month with a free plan

Description:

Smart tools for cryptocurrency investors to minimize risks, limit losses and grow profit across multiple exchanges.

Description:

Dealerify serves as a multi-functional tool for Trading, Copy Trading, and Auto Trading, specifically designed to foster the growth of the social trading industry within the cryptocurrency realm. Their primary objective is to support traders operating in the captivating world of digital currencies by offering a wide range of diverse and appealing services.

Description:

Pionex is one of the world's 1st exchange platforms with 18 Free trading bots. Users can automate their trading 24/7 without always checking the markets.
Finally, we would love to know your thoughts on this Dealerify review. Make sure to comment in the comments section, and we will reply to you as soon as we can.