Text-Based Trading Analysis & Automation
Capitalise is the innovative way that lets you use natural language to make your investment ideas come to life. Also, it offers a seamless trading experience, removing technical barriers and opening new trading opportunities and channels for traders.
Capitalise Review And Best Alternatives
In this article: Capitalise review, we will speak in detail about Capitalise and explain the platform's extraordinary features.
Over the past years, automated trading proved to be much more efficient than manual trading, especially for novice traders; therefore, many platforms were developed and implemented new automation ideas and new strategies for automated trading.
Capitalise is a unique automated trading platform, which enables traders to adjust and automate their trading strategies. Not only can you create your strategy, but also can you choose from premade strategies that have proven to be profitable; we'll take a deeper look during this Capitalise review.
Also Read: Get Started with The Best Crypto Trading Bot: A Comperhensive List.
About Capitalise.
Capitalise is an innovative way to use natural language to make your investment ideas come to life. Also, it offers a seamless trading experience, removing technical barriers and opening new trading opportunities and channels for non-technical traders.
Capitalise Features.
In the following part of our Capitalise review, we'll dive into the platform's features.
Code-Free Trading Automation.
Choose from many pre-made trading strategies with no need to write any code lines.
Research & Analysis.
Quickly analyze with backtesting and simulated trading strategies using freestyle text to improve their performance and make informed trading decisions.
Smart Notifications.
Create scenarios that fire real-time notifications to your mobile device to always stay informed. Capitalise.ai monitors market data, technical indicators & macroeconomics 24/7, so you don't have to.
Strategies Library.
Are you struggling to find ideas? Don't worry; Capitalise got you covered with a wide variety of live strategy examples to get you started smoothly & in no time.
Loop Strategies For Continuous Trading
With Capitalise trading bot, traders can choose to run strategies in a loop, trading continuously, over time, increasing their engagement and trading capacity.
Supported Exchanges.
Capitalise supports FTX and Binance for crypto.
FAQ.
Is Capitalise easy to use?
In fact, yes. Capitalise is very straightforward as you can create strategies using your language instead of code lines, as Capitalise is smart enough to understand it. It might be confusing the first time, but once you get familiar with it, it's going to be very simple.
Is Capitalise safe to use?
Yes, Capitalise is safe. First of all, you connect your exchange account to Capitalise through an API key, and the good thing about API keys is that you can control permissions given with each key. Also, API keys are only used to place orders; therefore, your funds remain on your exchange.
And for additional security, Capitalise encrypts your API once you enter it to ensure that none else can access it.
What's Capitalise Pricing?
Currently, anyone can sign up for a free Capitalise account, connect it to trading accounts, and start automating strategies entirely for free.
Getting Started on Capitalise.
In this part of Capitalise review, we will explain how to start with Capitalise from start to finish step by step.
Sign up on Capitalise.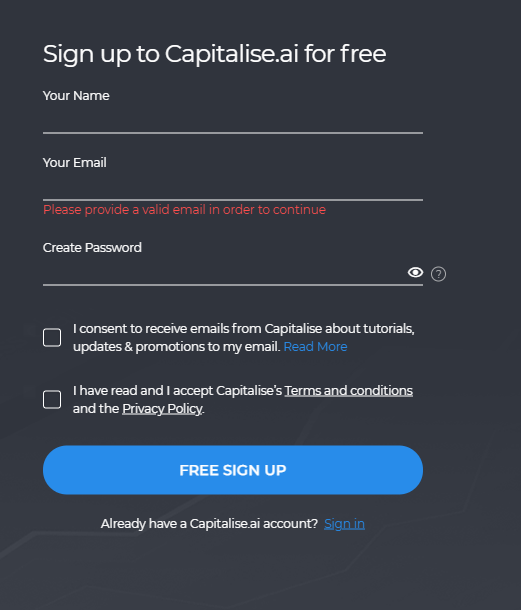 Firstly, visit Capitalise website, click on "Get Started," then enter the required information.
Verify Your Account.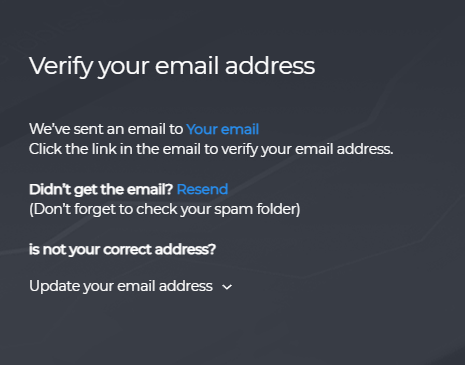 Now, check your email for a verification link sent by Capitalise's team.
Connect Your Exchange Account.

After activating your account, you can click on "Connect Trading Account" and enter your exchange's API keys.
Create A Strategy.
Finally, click on "My Strategies," and then you can proceed with creating your strategy. Also, if you click on "Browse Examples," you can choose from premade strategies and get started.
Conclusion.
In conclusion, Capitalise is a rich platform with many features. In general, automated trading is the best option for novice traders. Capitalise is one of the best options due to its simplicity and the usage of simple language to create strategies.
After our long Capitalise review, here's our pros and cons list:
Pros:
Cons