Research, data, and analytics tools
Messari is a data analysis platform for the global crypto asset community. They believe data is knowledge, and with knowledge, you can invest with confidence.
Messari Review And Best Alternatives
In this article, Messari review, we're putting Messari under the spot and reviewing its features and functions.
Market data is the backbone of trading. As every company or individual trader seeks to get the most accurate data to make the best trading decisions, it remains hard to collect data about thousands of cryptocurrencies for over ten years.
Platforms specializing in gathering data, charts, and producing information started to arise. Such platforms can display a gigantic amount of information based on different sources of enormous data. Moreover, you get the leverage of analyzing charts, too.
During that leap in the crypto finance field, Messari started taking its spot as one of the best data providers. Messari has over ten years of accurate data, charts, and metrics. Furthermore, you'll get to create your chart and edit it, add coins to your watchlist, and more that we'll get to during our Messari review.
About Messari.
Messari is a fast-growing startup in New York that builds the next-generation data layer for the global crypto asset community. In addition to providing data about all crypto assets, Messari offers helpful tools to analyze charts and make better trading decisions.
Also Read: Santiment Review and Best Alternatives.
Messari Features.
Messari provides many features and functions, and in our Messari review, we're explaining all of Messari's features that prove it to be one of the best.
Charts.
In Messari charts, you'll get accurate and various information about each of the assets.
Also, you can view different on-chain data like realized market cap, Bitcoin hash rate, BTC & ETH active addresses, miner fees, and more.
Furthermore, you can draw on charts using technical analysis tools like Pitchfork, Gann Fan, and speed resistance arc, which will be useful when analyzing a chart.
You can also choose between various indicators like Alligator, Aroon, Donchain Width, and more. You can also change the candles and choose the one you prefer, like Line, bar, mountain, or volume candle.
You can also change the time frame to get a broader or more detailed view of your chart. Five minutes up to 2 weeks are available.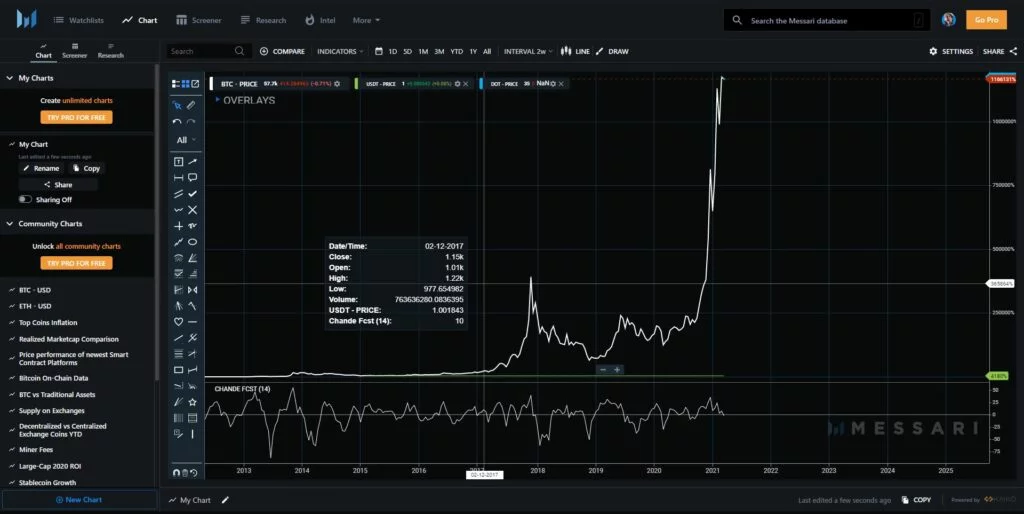 Watchlists.
Track the assets that matter to you! Using the Messari watchlist, you can track your favorite coins and view their metrics, such as market cap, price, volume, and more.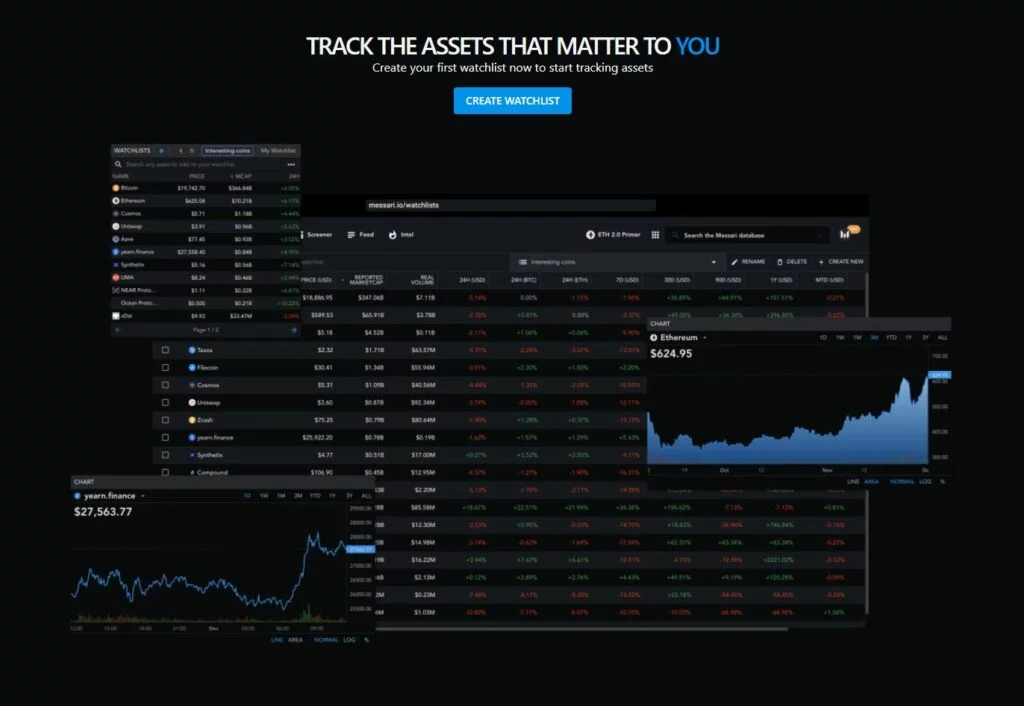 Click 'Create watchlist' and add your favorite coins to stay updated with the latest changes.

Screener.
You can have your market screener to view all metrics in one window. Moreover, on Messari, you'll get different categories to choose between, like:
Classification (DeFi, Stablecoins, Exchange assets, etc.)
Return on investment (Daily Gainers, Weekly Losers, etc.)
Stats (Volume, Liquidity, On-Chain, Staking, Supply & Marketcap, etc.)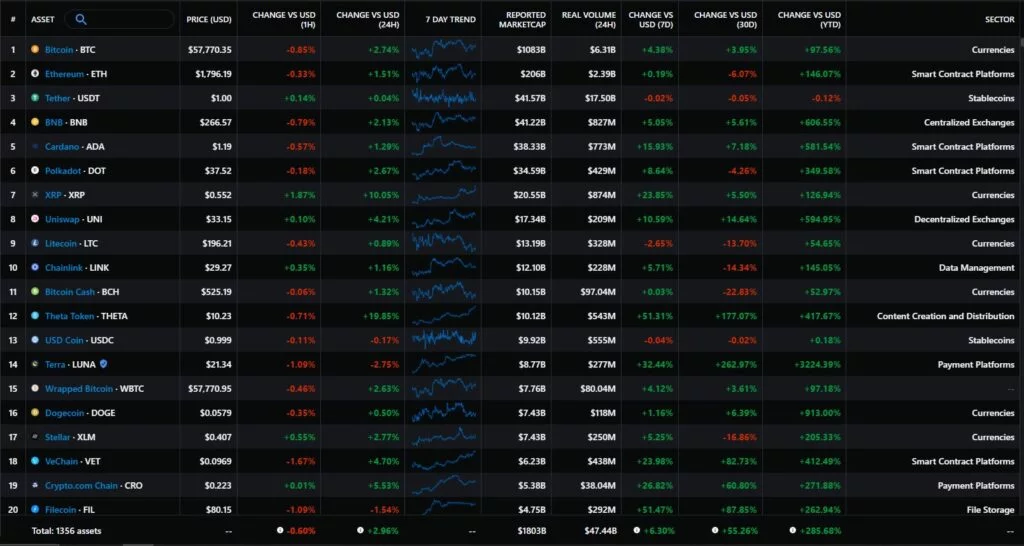 Reports.
Besides the detailed data from Messari, you'll savor their reports if you're new or expert. Messari team writes different reports and research in the crypto finance field. Also, they're categorized for ease of access.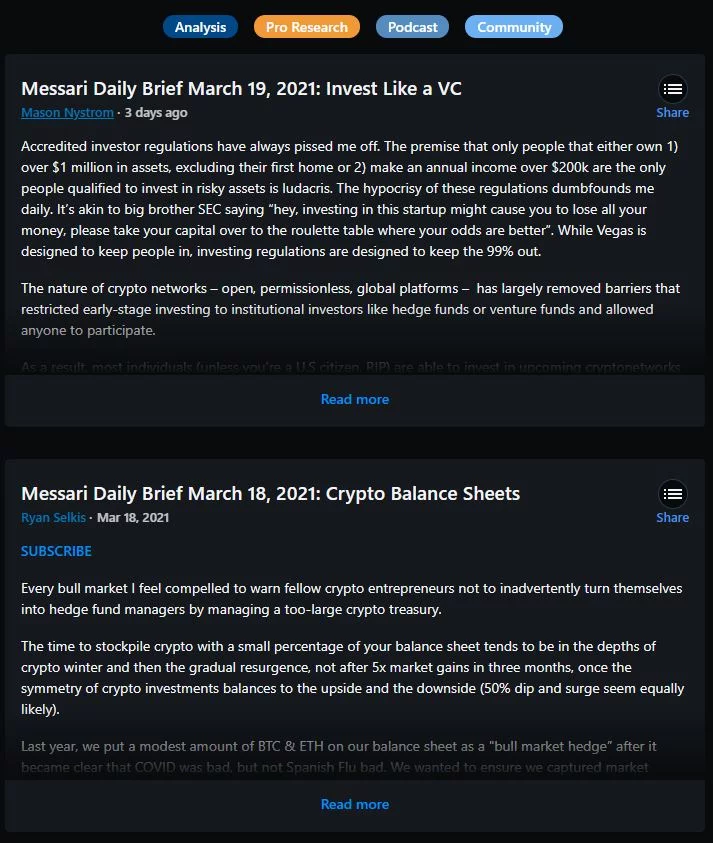 Pricing.
Messari has different plans, which we find very competitive. They also have a free plan starting at $24.99/mo ~ $625/mo. You can choose your plan here.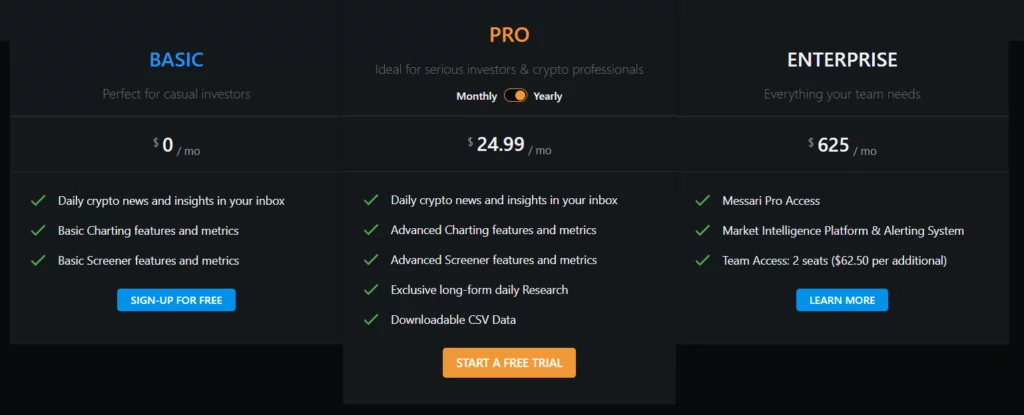 Conclusion.
Messari is one of the best data and chart providers for traders and companies, too. We would recommend Messari to you. However, we recommend reading the following Messari pros and cons too.
Pros.
has advanced data charting and analysis.
Different metrics for all coins.
Accurate on-chain data.
Cons.
Hard to use at first glance.