Cryptocurrency market analyses
DYOR analyses the cryptocurrency market for you. Save your time, and find the best trading opportunities on Binance, KuCoin and Gate.io (BTC & USDT pairs). DYOR.net provides a lot of tools that will make your cryptocurrency trading more efficient
DYOR Review And Best Alternatives
In this article, DYOR review, we'll take a look at one of the most powerful analysis tools that make crypto trading much easier and, therefore, much more profitable.
Traders' investments and trades are meticulously thought out. However, trading is a hard job to learn as one mistake can lead to a very bad situation. Fortunately, there are analysis tools and platforms for crypto that make that job much easier for you. Such tools can scan the whole market in the blink of an eye and give you access to hundreds of indicators that help you with analyzing the market. Also, there are many scenarios where traders can fully count on analysis tools.
About DYOR
DYOR is a tool that analyzes Binance and KuCoin spot markets on BTC and USDT pairs by analyzing each symbol every 15 minutes. Coins are ranked based on their current trend strength and their reversal potential, from the highest to the lowest. In addition, DYOR provides a search engine to find coins by 150+ technical indicators.
Also Read: Predict market prices by social analsis on Saintiment.
DYOR Features.
In the following part, we'll share with you the best features of DYOR.net that make it really worth the shot.
Straightforward Dashboard.
DYOR.net's team has developed a simple dashboard where you can keep everything organized at its right and reachable place.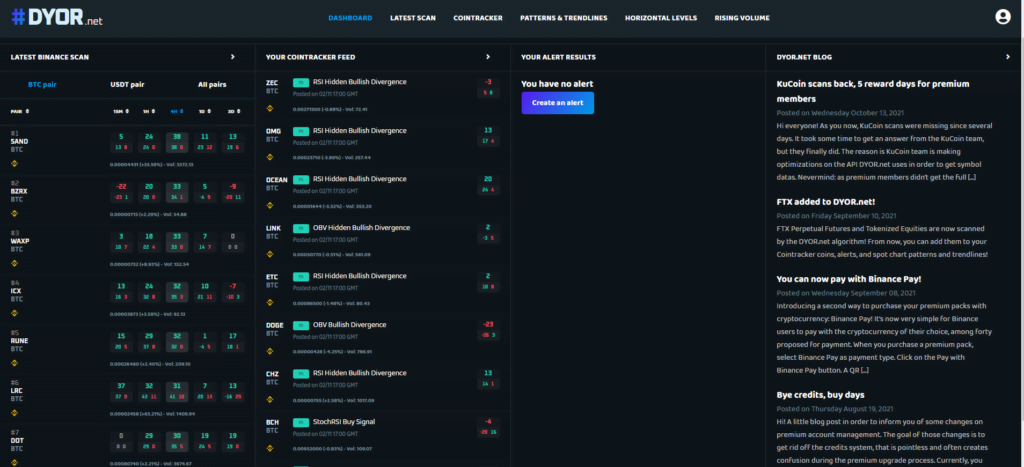 Check your favorite currency charts.
DYOR.net has neat real-time charts with different timeframes and pre-built indicators to save you some time. Also, you can edit charts, add indicators, and much more.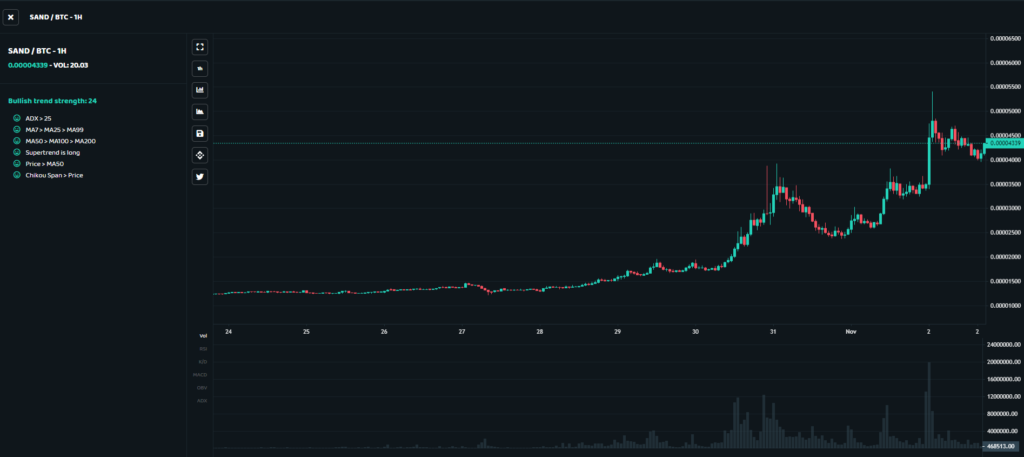 Keep track of your favorite coins.
With "Coin Tracker" you can keep up with the latest moves of your favorite assets.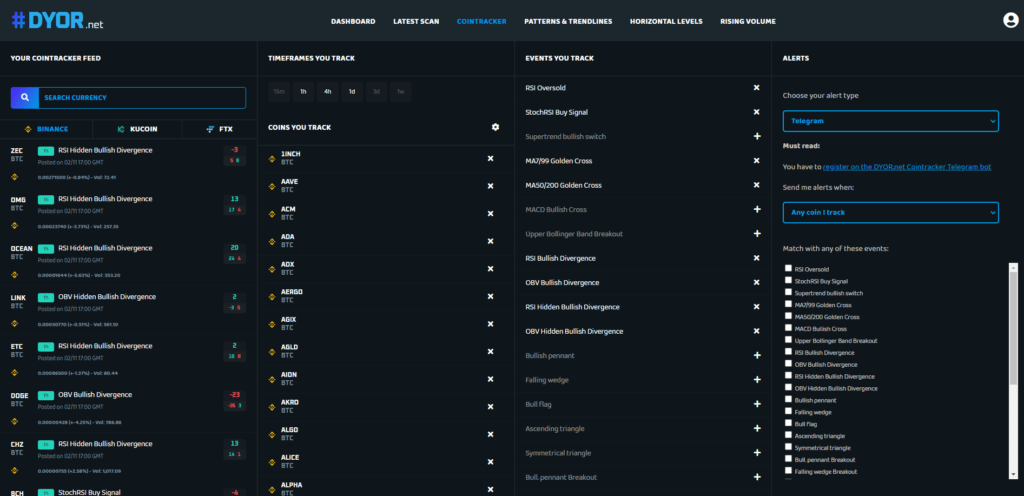 Alerts.
You'll never miss anything with DYOR.net alerts. Set up an alert and get notified instantly with a push notification and a Telegram message.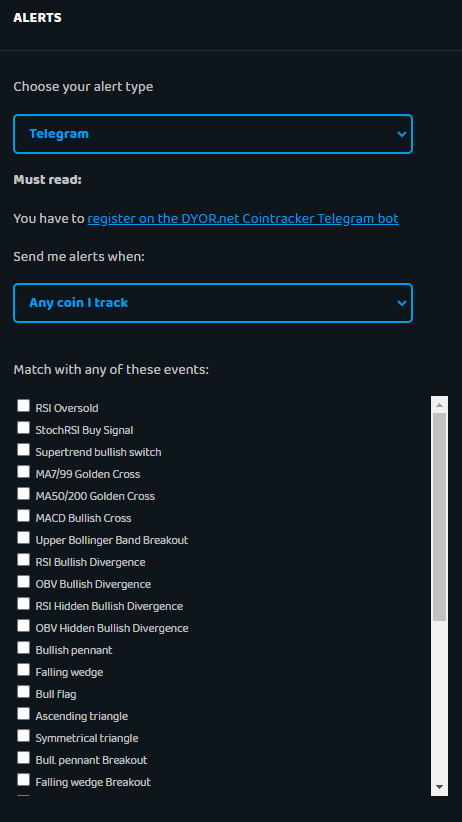 Patterns and trendlines.
DYOR.net constantly scans the market, looking for repeated patterns or trendlines that can keep you ahead of the market.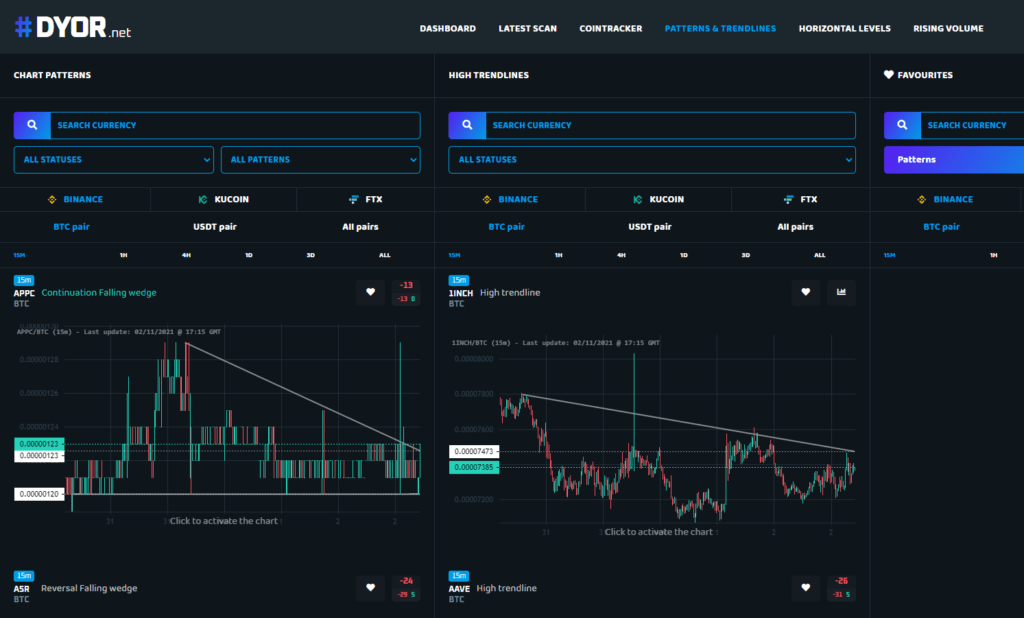 Horizontal levels.
Horizontal levels are levels of support and resistance that help traders determine when a trend is likely to change. By analyzing these levels and getting a better sense of when a trend will change. DYOR.net did that for you!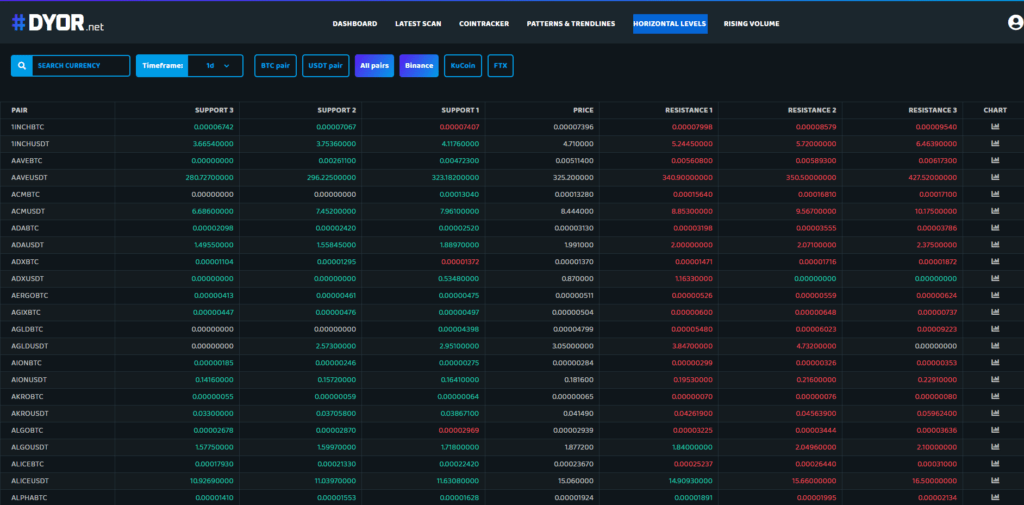 Rising volume.
You can identify strong moves by taking a look at DYOR.net's rising volume.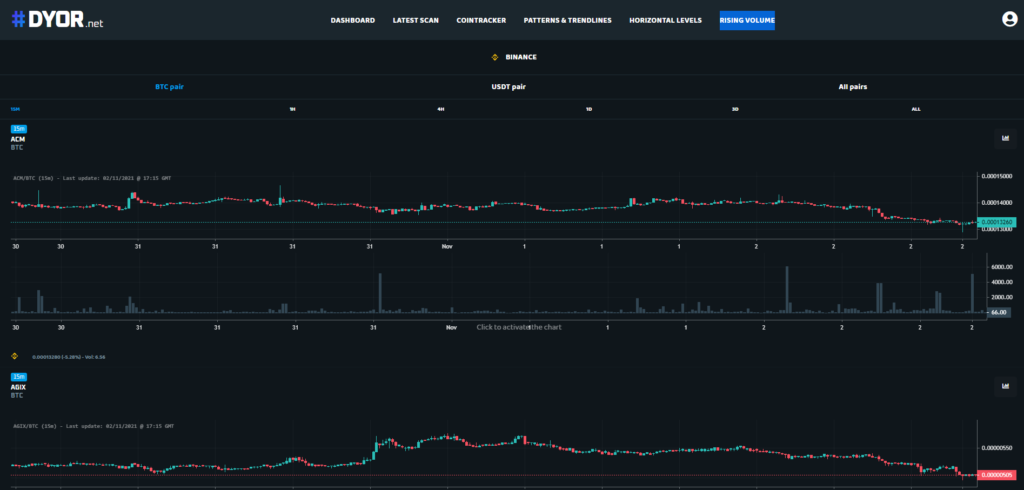 Supported Coins.
DYOR.net supports almost every Binance and KuCoin spot market symbol on BTC and USDT pairs.
DYOR Pricing.
There are three different premium plans that you can subscribe to. Starting at $15 per month, you can get a DYOR.net premium. Also, make sure to try out DYOR.net through their demo account program to get a comprehensive idea of the platform.

Starting with DYOR
in the upcoming part of our DYOR review, we'll explain step-by-step how to sign up on the platform and how to get started with DYOR.net features.
Sign up on DYOR
Visit DYOR and sign up for your account. Also, make sure to use a strong, unique password.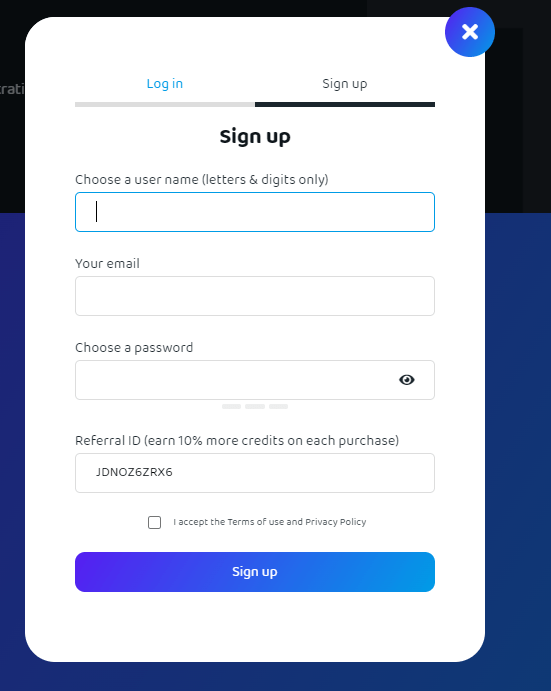 Verify Your Account.
After signing up, head to your email and look for a verification link for DYOR's team in order to activate your account and start using it.
Edit A Chart.
In order to view a coin's chart, you can click on "Latest Scan" on the top bar. After that, select the exchange that you'd like DYOR.net to analyze. Search for the coin that you'd like to view, ETH in this case. Now, you can view a real-time chart with editing tools on your left and a save option for when you're done editing.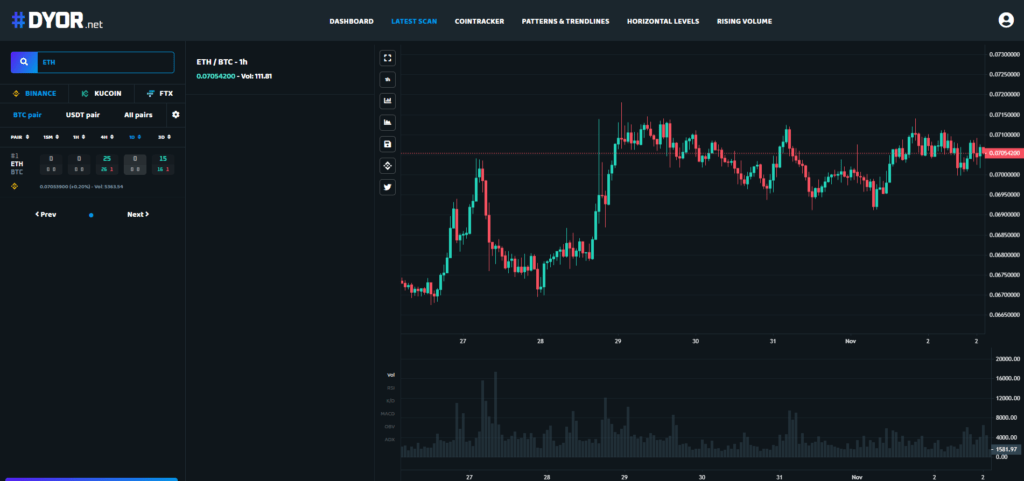 Create Alert.
To create an alarm, click on "Coin Tracker" and then click on "Advanced Search" on the bottom left. Then, select the indicators that you'd like to get notified with then, click on "Apply Filters," then "Save this search".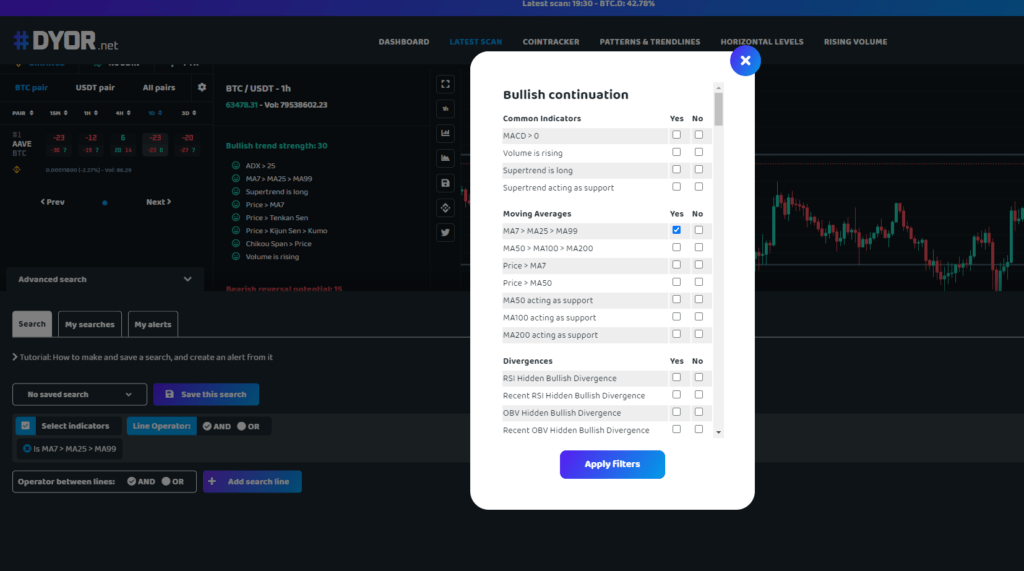 Now, click on "My Alerts" and adjust your alert.
Conclusion.
There's no doubt that DYOR.net can be an essential tool in your daily trading and investment decisions. Due to the features and market analysis that can't be found elsewhere, we highly recommend you to get started with DYOR.net, but also make sure to check the following pros and cons.
Pros.
Demo account for 6 hours
Hundreds of indicators
Cons.
Many limitations on free accounts
The lowest time frame is 15m