Traders use analysis tools to gain insights and ideas about future market movements. Of course, that comes with analysis tools' outstanding performance and efficiency, leading to more profits and fewer losses. During the past year, IntoTheBlock started gaining popularity as one of the best crypto analysis tools, and in this post, we'll review IntoTheBlock.
On-chain data is accessible globally; however, it's difficult for most traders to turn it into metrics, graphs, and charts. Platforms like IntoTheBlock gather on-chain data and analyze it to produce it in the shape of charts and graphs. Besides, further features help traders, like price predictions, chart editing, indicators, etc.
Table of Contents
About IntoTheBlock.
IntoTheBlock is a data science company that applies cutting-edge research in AI to deliver actionable intelligence for the crypto market. Their holistic approach covers crypto-assets from four significant perspectives that we'll cover in this article.
Also Read: Best Automated Crypto Trading Bots.
IntoTheBlock Features.
There are plenty of features that we found during our IntoTheBlock review, and we're going to highlight the platform's features and get you started.
Analytics.
The first thing that draws attention in IntoTheBlock is asset analytics. On that table, you can overview over 900+ assets' metrics like market cap, price, change, and more.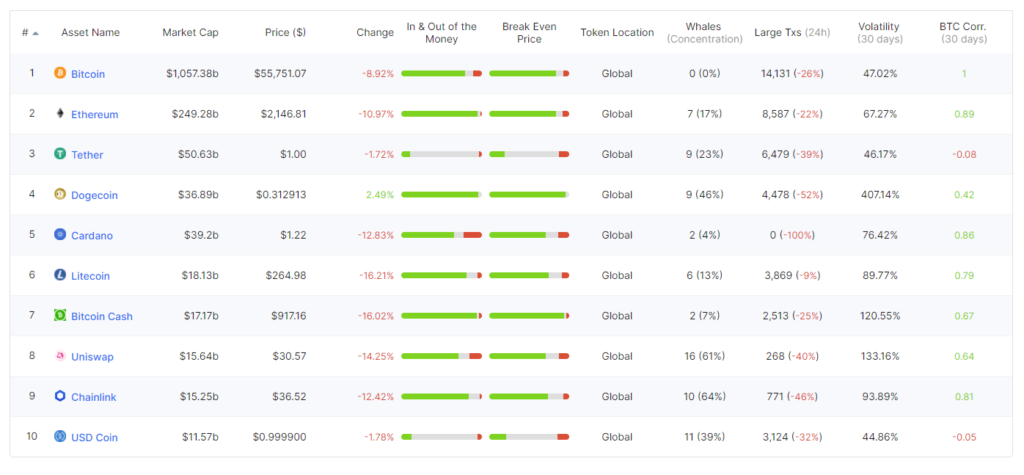 You can also click on any asset to explore different indicators and signals.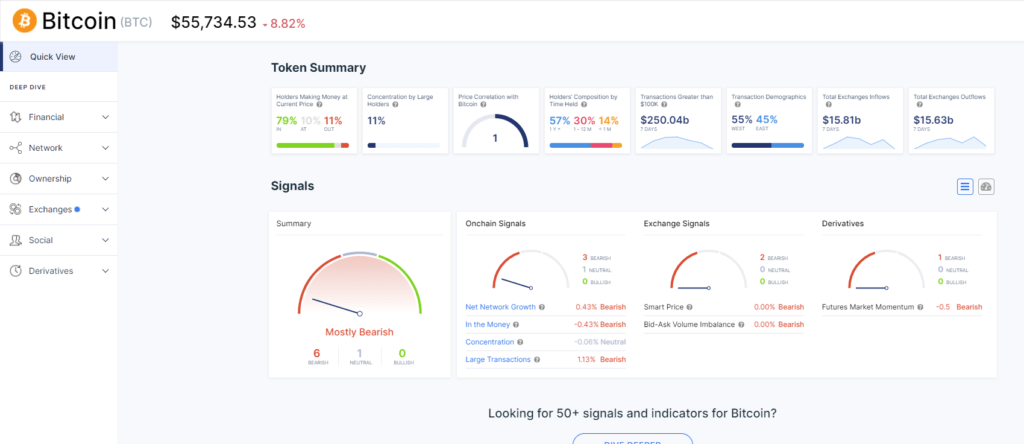 Price Predictions.
IntoTheBlock predictions provide forecasts of the direction price is expected to move over the next hour. At the moment, IntoTheBlock has forecasts for Bitcoin, Ethereum, Litecoin, and Bitcoin Cash, though they are working on adding support for more crypto assets. These simple-looking indicators result from deep-learning models built by IntoTheBlock's data science team over many months.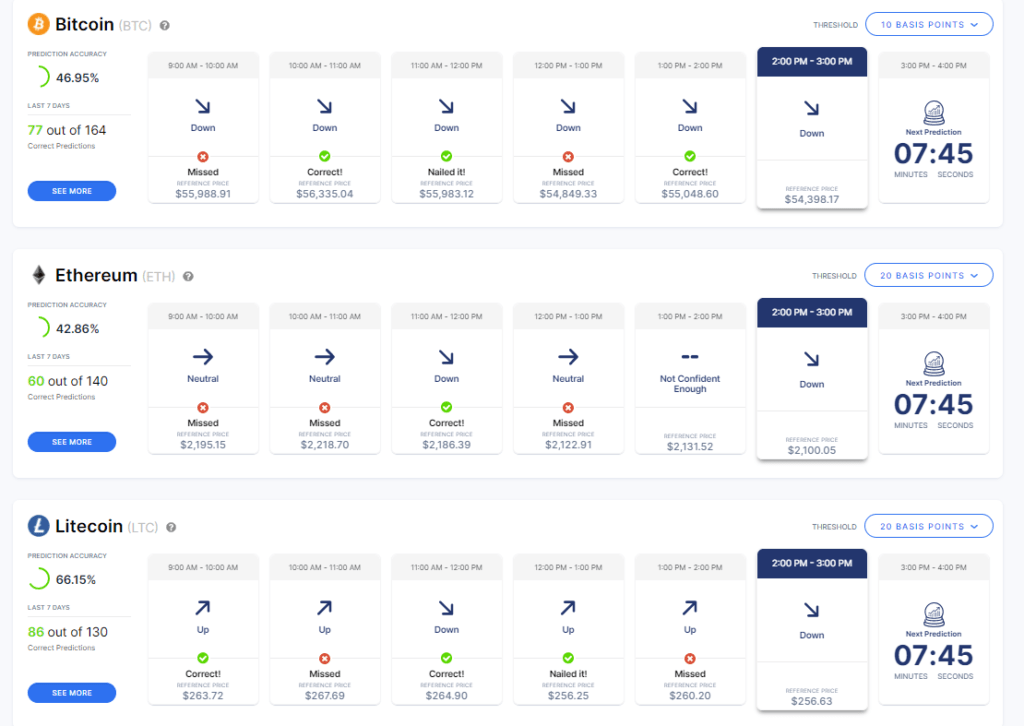 DeFi Insights.
On this page, you can view indicators and metrics for DeFi coins and tokens. There are many valuable analytics like DeFi tokens market cap, gas costs heatmap, and more. You can also explore by protocols to explore its indicators like Uniswap, SushiSwap, and more.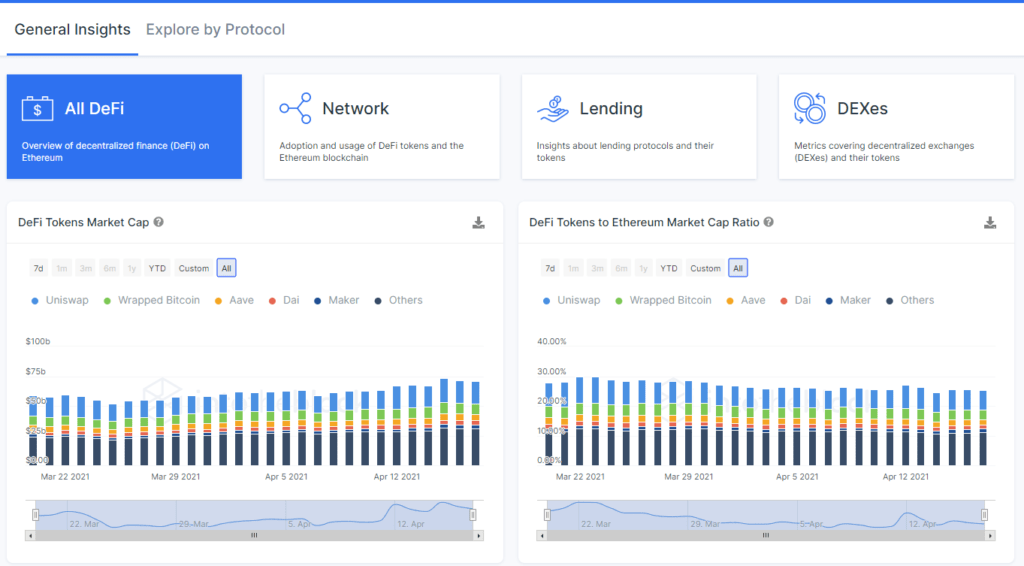 Capital Markets Insights.
IntoTheBlock Capital Market Insights provides over 80 analytics that compare Bitcoin and Ethereum against the traditional capital market. You can filter calls as follows:
Indices: eastern, western, or crypto-related.
Stocks: tech, finance, energy, crypto-related.
ETFs: tech, finance, energy.
Commodities: precious metals, industrial metals, energy.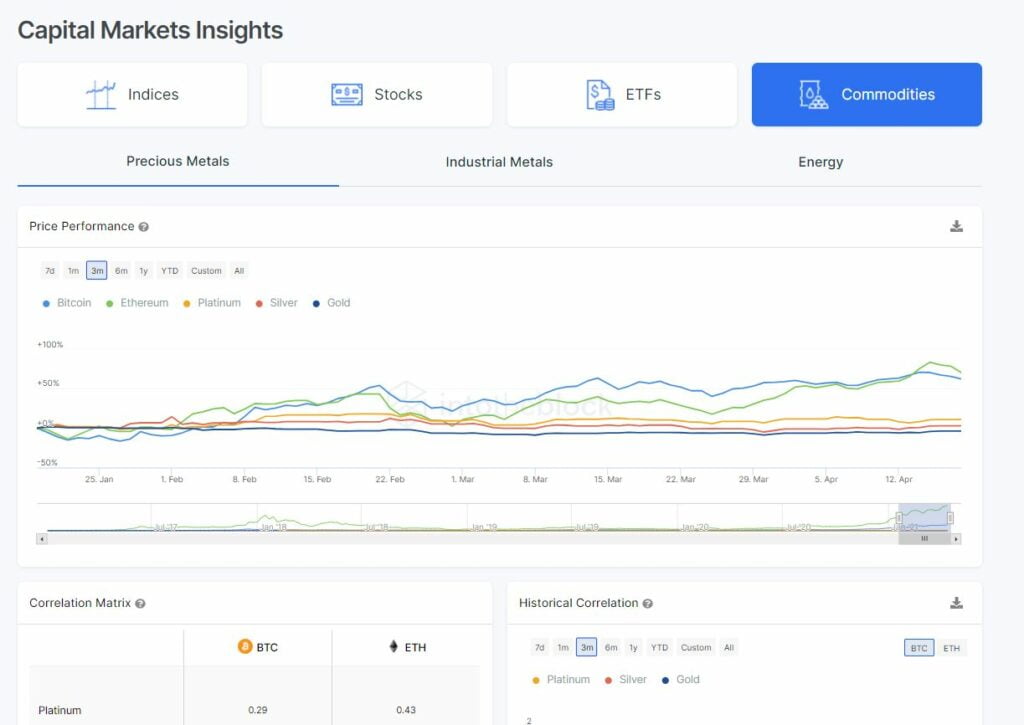 There are also 7 indicators available for comparing assets, which are:
Price Performance: This indicator compares the price fluctuations between Bitcoin, Ethereum, and the selected capital markets assets.
Correlation Matrix: The correlation matrix provides a quick glimpse into the statistical relationship between crypto prices and traditional assets at the current moment.
Historical Correlation: The historical correlation indicator tracks the correlation coefficient of the price of crypto and traditional assets over time.
Sharpe Ratio: The Sharpe ratio is one of the most used metrics in traditional finance to assess risk-return performance.
Sortino Ratio: The Sortino ratio is another highly used metric in traditional finance to assess risk-return performance.
Volatility: This indicator measures the rolling 30-day volatility of crypto and traditional assets over time
Average Intra-Day Move: The average intra-day move metric shows volatility from a different perspective. By displaying the average move for both crypto and traditional assets, users can observe how the returns of these have varied throughout the selected time frame.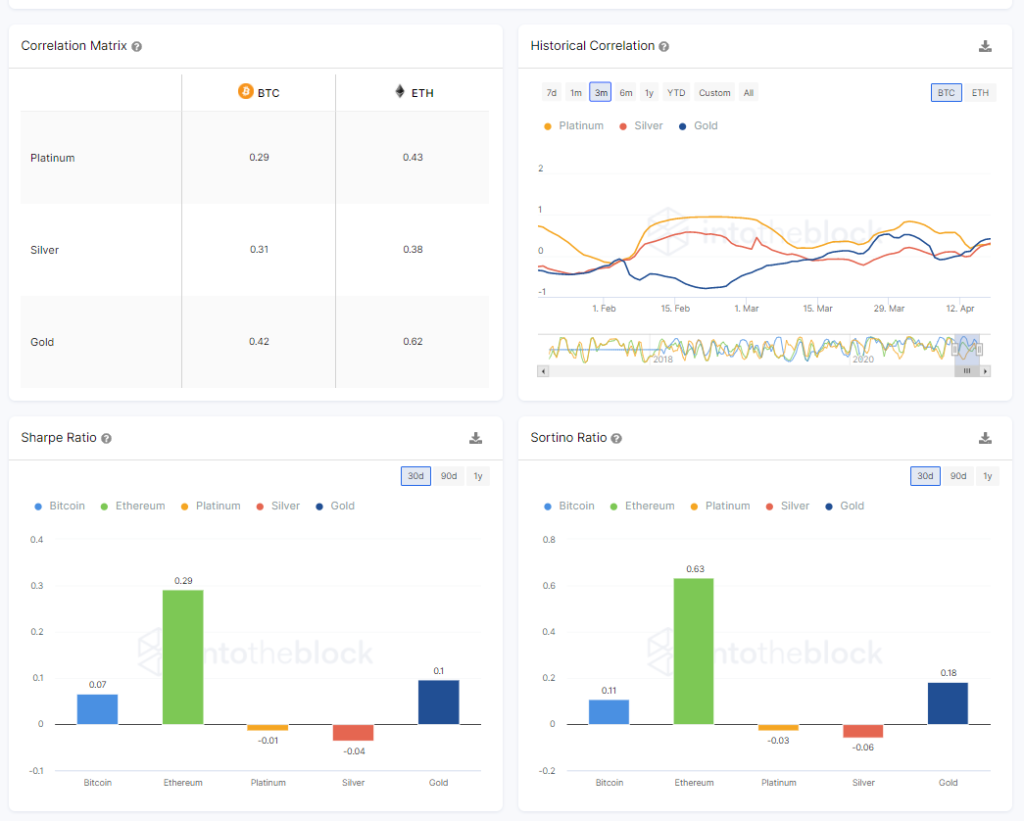 IntoTheBlock Pricing.
IntoTheBlock has only one plan, and frankly, we believe it's very reasonable. Hence, you can access all the features for only $10 per month or $100 per year, which means 17% off. Subscribe to IntoTheBlock here.
Subscription available in fiat or crypto
Unique insights to make better investment decisions.
50+ signals and indicators for more than 800 crypto assets
A constantly growing intelligence ecosystem with a machine-learning first
approach to on-chain and exchange data
Conclusion.
In brief, after our IntoTheBlock review, we found that the platform made on-chain data available and used by novice and expert traders. Firstly, comparing crypto assets to traditional assets is a great feature and shows how crypto coins can be an excellent store for value. However, there are a few drawbacks, like the accuracy of predictions—more in IntoTheBlock pros and cons.
Pros.
Low-cost subscription.
900+ supported coins and tokens.
Comparing crypto assets to traditional assets.
Live prices.
Cons.
IntoTheBlock Comparison and Alternatives Options.
There's no doubt that some traders might not like IntoTheBlock; for that reason, we're keen on providing you with more options to choose between. Also, make sure to check our reviews for each one of them to get a full overview.
Description:

Sanbase is a comprehensive market intelligence platform for cryptocurrencies, focusing on clean and reliable data feeds, low-latency signals, and custom market analysis and leveraging on-chain, social, development, and other data sources.

Description:

CryptoQuant delivers market and on-chain data via API or directly into Python, R, Excel, and many other tools. Save time and money by getting the data you need in your desired format.

Starts at $14.95 per month

Description:

A social media, a charts analysis platform, and a mobile app. The company was founded in 2011, and now, every trader or investor needs to get started with TrandingView.

Starts at $39 per month with a free plan

Description:

Glassnode brings data intelligence to the blockchain and cryptocurrency space. Glassnode builds applications that provide new ways of delivering insights into blockchains and cryptocurrencies.

Description:

Coinfeeds is a social aggregator for DeFi projects. Twitter, Reddit, Github, and Discord data are used to analyze sentiment and connections with AI technology. This provides valuable insights into the cryptocurrency landscape and improves user understanding.
Finally, we'd love to hear about your thoughts on this IntoTheBlock review. So, communicate with us in the comments sections below.