See what other crypto traders are missing
A comprehensive market intelligence platform for cryptocurrencies, focusing on clean and reliable data feeds, low-latency signals, and custom market analysis and leveraging on-chain, social, development, and other data sources.
Santiment Review And Best Alternatives
In this article, Santiment review, we're going through one of the most powerful data analysis tools available for traders and explaining its features.
Of course, an indispensable part of expert traders is evaluating patterns in trading data. As technical analysis techniques remove emotions from trading decisions, the trader's chances of making the right decision improve. That's why many charts analyzing platforms offer tools and data for users.
With over 10 years of data, online analysis platforms also guide novice traders toward a fundamental understanding of trading. Besides, you can apply the core concepts of trading to your analysis on such platforms.
Uniquely, we found Santiment as one of the very few platforms that offer such an amazing experience. Furthermore, with Sentiments coin's social volume analysis, you can choose the best enter and exit positions for your trades.
About Santiment.
Sanbase is a comprehensive market intelligence platform for cryptocurrencies concentrating on accurate and reliable data feeds, low-latency signals, and custom market analysis. Leveraging on-chain, social, development, and other data sources, Sanbase has developed dozens of specialized tools, indicators, and strategies that help users recognize, contextualize, and respond to market events and anomalies.
Also Read: TradingView Review and Best Alternatives.
Santiment Features.
Benefits of using Sanbase summarise in both the accurate data that it provides, and the most important one is Sanbase's features.
Santiment's features aim at a singular purpose, which is getting you to make the best trading decision possible. Moreover, in the following part of our Santiment review, we're illustrating all of Santiment's various features.
Sanbase Studio.
Every genius has his own lab, and so does Sanbase. In Sanbase studio, you can view charts of almost all coins. Also, you can overlay social charts and more.
Adding Alerts.
You can also add customizable alerts for major network anomalies and get notified upon occurrence.
You can customize alerts according to different conditions and they're prices, santrends (social media trending), daily active addresses, or historical balance.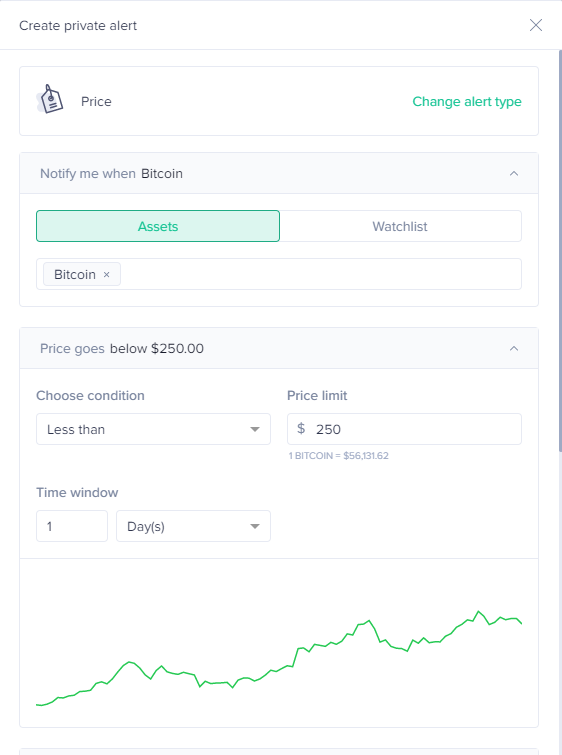 Watchlist.
In the light of your watchlist, you will stay up-to-date for your favorite coins changes. Your personalized watchlist will give you weekly updates on your favorite coin too.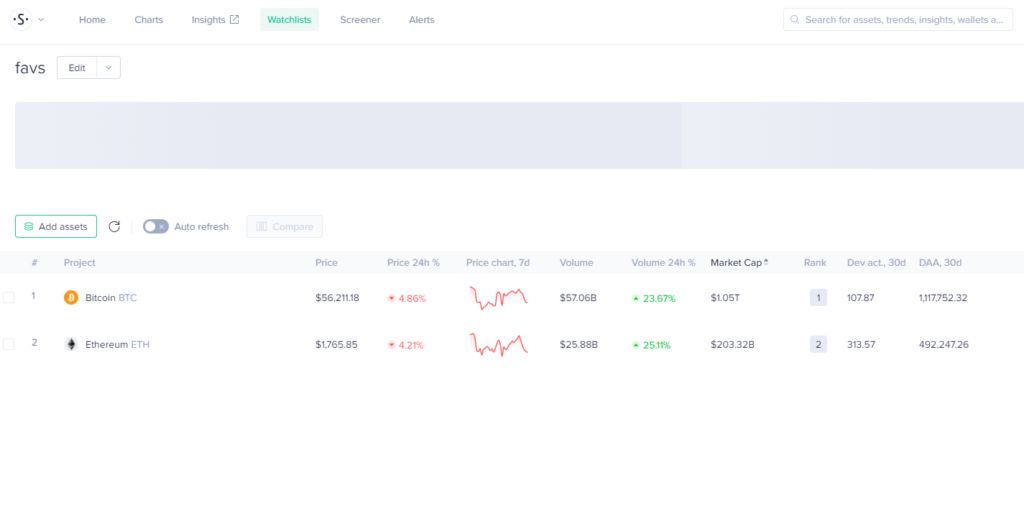 Social Trends.
Considering that Social trends play an influential role in the crypto market and they're somehow related to its price. If you view the social trends, you can better see the coin's future price. You can view social trends as charts and keywords on Sanbase.
You can also search by keywords, and you still going to get a detailed chart.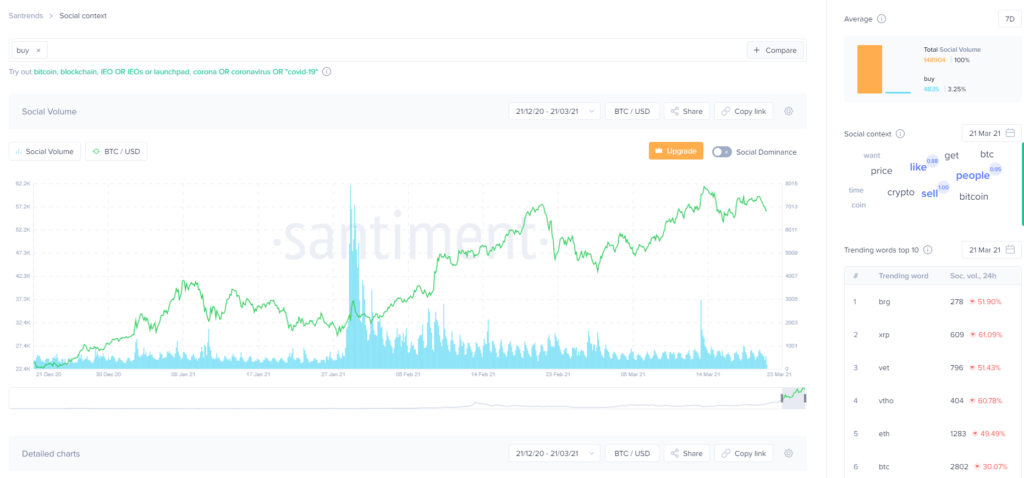 Unique Market Metrics & Indicators.
Santiment has different unique metrics and indicators, and you can view overlayed the way you like and compare different metrics for different coins.
There are numerous charts like price, market cap, volume, social volume, and even Twitter followers. You can add any of them using the left sidebar. Moreover, they're categorized for ease of access.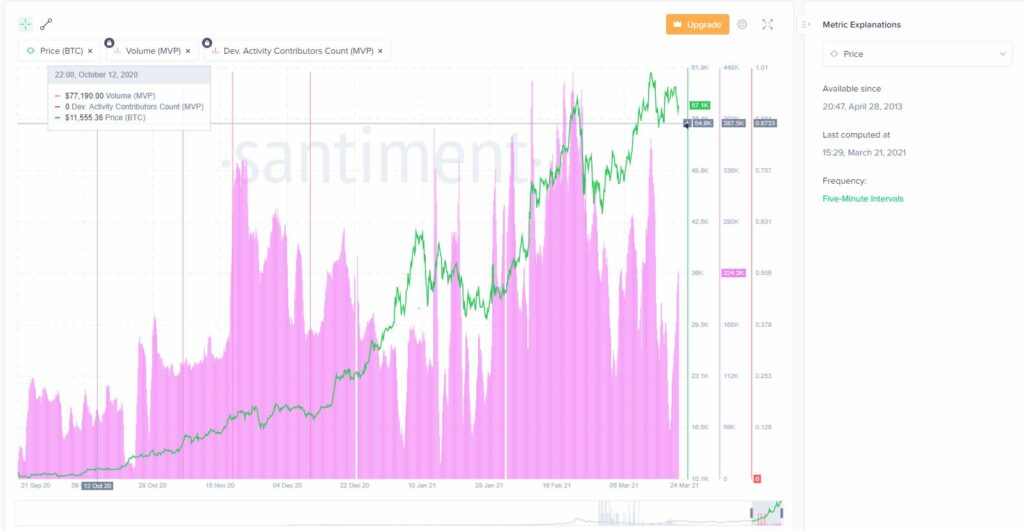 Emerging Social Trends.
Crowds control the market; that's what Sanbase believes, too. So, they made you a list of the top 10 trending words on social media about crypto. You can also view them as charts, volume, and even view related words.
Besides, If you clicked on any of the displayed words, you would see a chart for the word's volume. That helps to predict the price. For example, a high volume of 'buy' leads to a prediction of price fall, etc.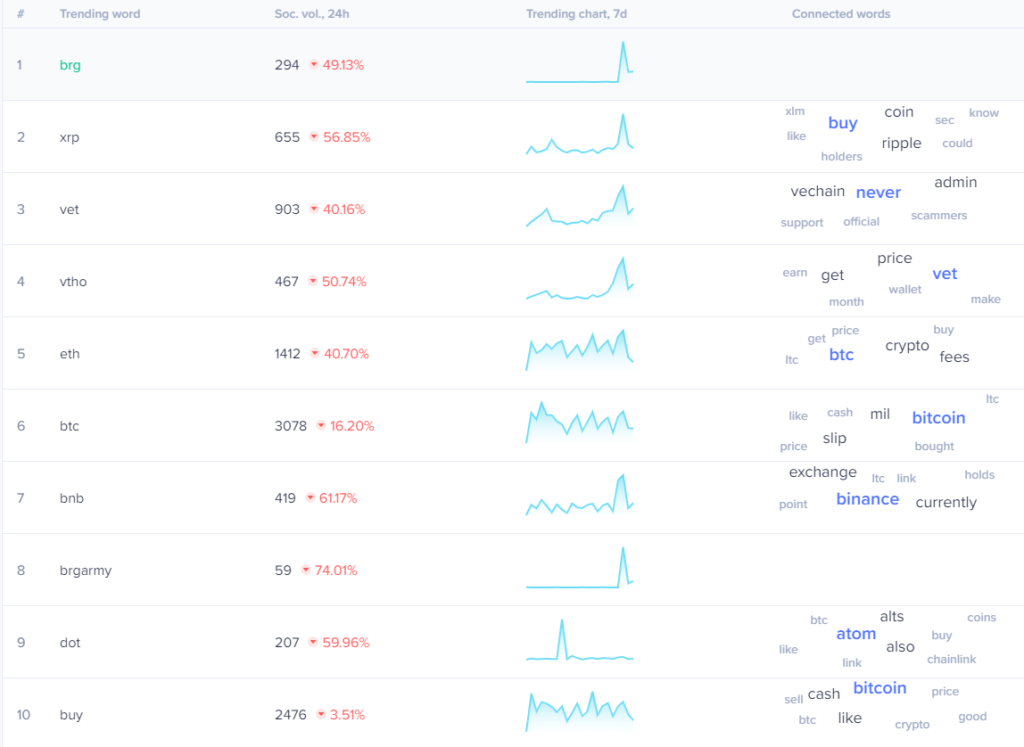 Insights & Behavioral Reports About the Markets.
It will help if you stay aware of developments, especially in the crypto community. Behavioral reports are how the Santiment team is planning to keep you ahead of the changes. Also, you'll have access to reports written by the Santiment team.
Pricing
In addition to a free plan, you can choose between Sanbase's PRO and PRO+ plans for $44 and $225. You can choose your preferred plan here.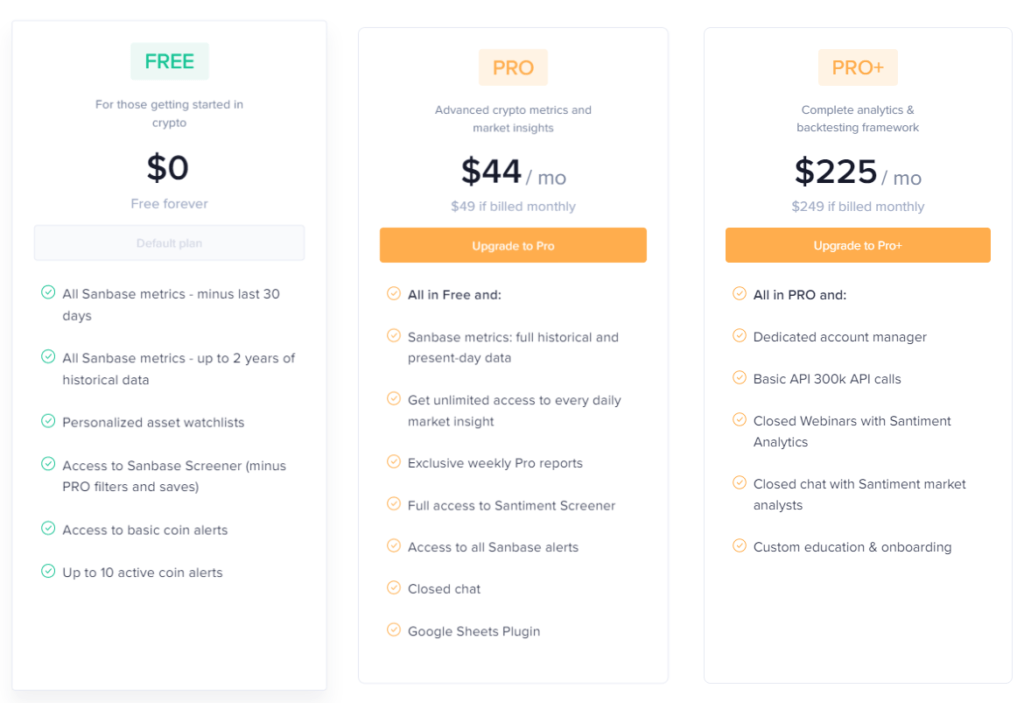 Create Your Account.
Are you amazed by the enormous benefits of Santiment's features yet? Visit Santiment's website, Sign-up and get 14 days of a free trial.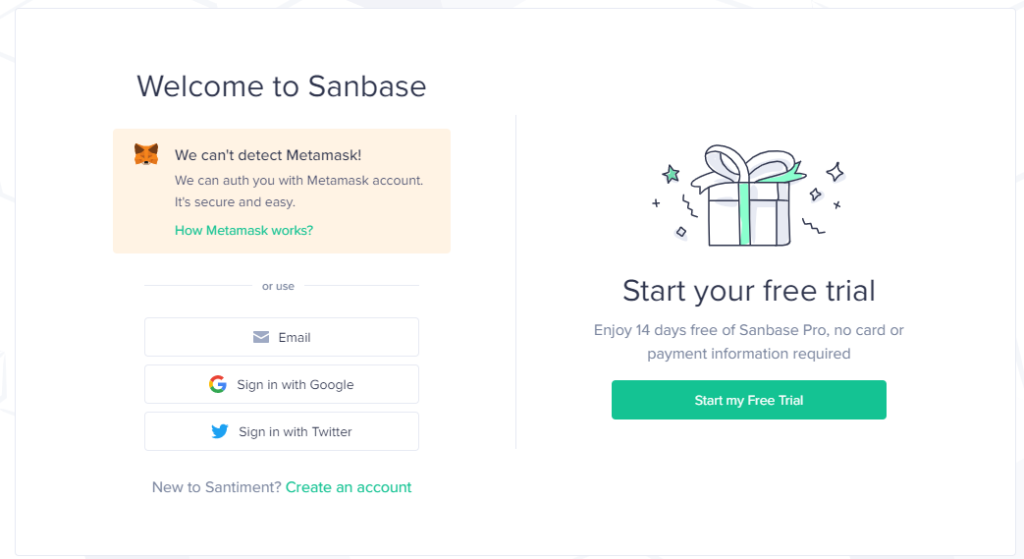 Conclusion.
Over the years, social trends proved to be a huge factor in crypto prices. Sanbase managed to analyze social trends, chart, and use them for predicting prices.
Our Santiment review made us believe that every expert trader needs to use Santiment due to its comprehensive features. However, here's what we liked and disliked about Santiment review:
Pros.
Reliable, accurate data.
Various charts.
Competitive Pricing
Cons.