In general, automation saves humans lots of time to focus on what matters the most, like improving quality and performance. So does crypto tax calculators, not to mention the different supported reports that you can fill within few moments; you can also track your portfolio and learn more about your trades as well. In this post, we'll review CoinTracker as one of the best crypto tax calculators.
Just like all crypto tax calculators, CoinTracker connects to your exchange or wallet; then, the system retrieves data about all your trades and transactions. Therefore it calculates capital gains, losses, etc. The platform also tracks your portfolio and analyses your performance; hence, you get a comprehensive overview of your performance.
Table of Contents
About CoinTracker.
CoinTracker enables seamless cryptocurrency portfolio tracking and tax compliance. As the adoption of cryptocurrency continues to pick up and more exchanges, wallets, and DeFi products are built.
Also Read: TokenTax Review and Best Alternatives.
CoinTracker Features
In the following part of our CoinTracker review, we're looking into CoinTracker features to give you a full idea of how your experience on the platform will be and how to seize all of its powerful features.
Connect All Exchanges.
While using CoinTracker, you can bring all your exchanges together. By linking all your exchanges, you can generate taxes regarding all transactions made on them and continuously synchronise your crypto balances and transactions.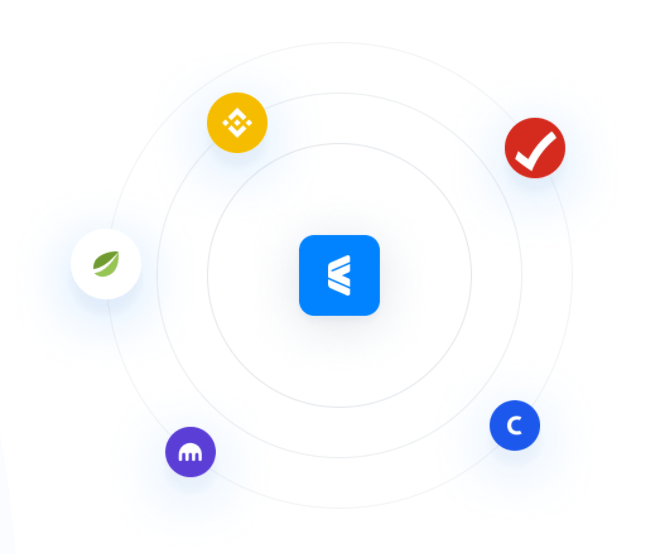 Track Your Entire Crypto Portfolio.
CoinTracker isn't just a crypto tax calculator; because it enables you to track your assets on different exchanges, wallets, or any other crypto platform. Their technology supports fee tracking and the most integrations.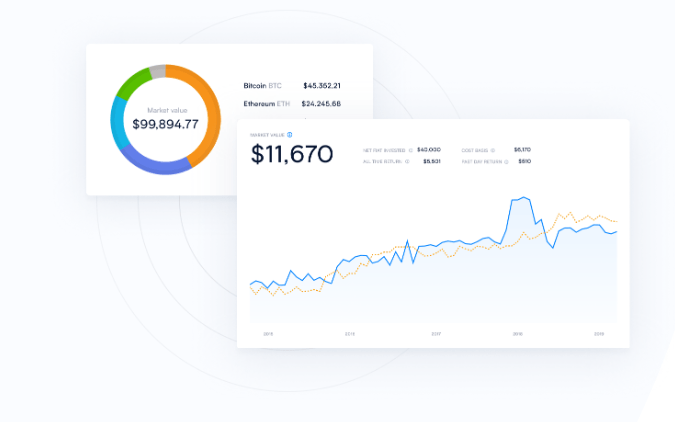 Instantly Generate Tax Reports
Easily review your tax summary, and download the reports you need to file your taxes. Furthermore, CoinTracker reports integrate with TurboTax and your accountant's software.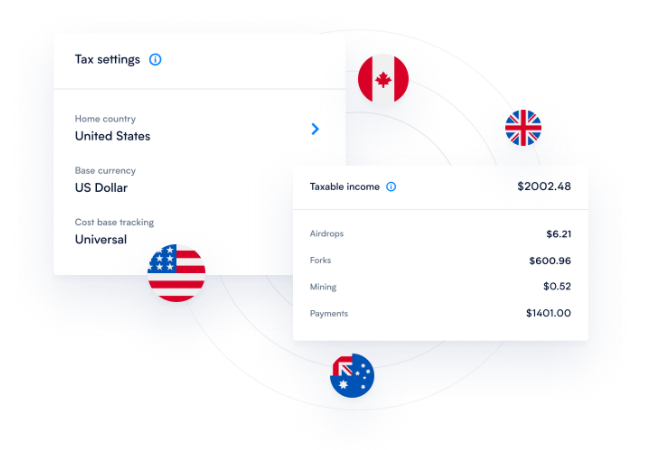 Supported Exchanges.
CoinTracker supports a gigantic list of wallets and exchanges. Because there are over 300 supported wallets and exchanges, you'll find your platform there. Take a look at supported exchanges here.
FAQ.
Is CoinTracker Easy to Use?
Yes, as during our CoinTracker review, we found no difficulty using the platform. Because of the simple, interactive, and clear UI, everything worked seamlessly.
Is CoinTracker Safe?
Yes, because all your exchanges are connected through API keys which are completely safe. Also, all your data is encrypted. Their website traffic runs entirely over encrypted SSL and they use SQL injection filters and verify the authenticity of POST, PUT, and DELETE requests to prevent CSRF attacks.
What Reports Are Supported on CoinTracker.
CoinTracker has full support for the US, UK, Canada, Australia, and partial support for every other country. And here are the supported reports.
IRS Form 8949
Condensed IRS Form 8949
IRS Schedule D (Form 1040)
IRS Schedule 1 (Form 1040 or 1040-SR)
Transaction History
IRS Form 1040
Capital Gains
And here are the supported accounting methods that CoinTracker supports.
First in, first out (FIFO)
Last in, first out (LIFO)
Highest in, first out (HIFO)
Adjusted cost base (ACB) – Canada
Share pool – United Kingdom
What Are CoinTracker Plans.
CoinTracker has a free plan, and paid plans start at $59~$199. And at the time of writing there's currently a huge discount, so make sure to seize it. More about CoinTracker plans here.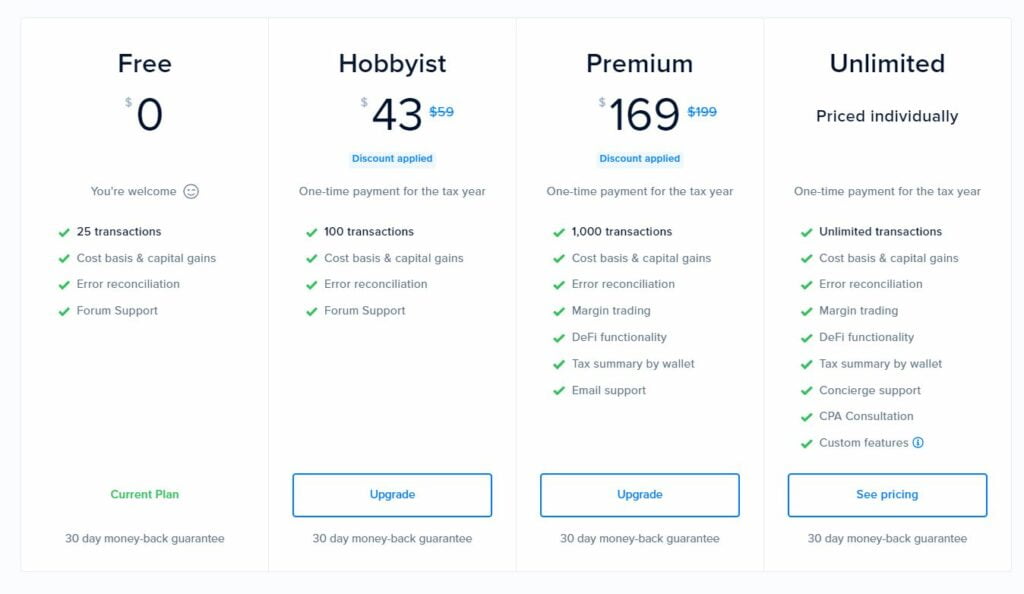 Starting on CoinTracker.
Starting on CoinTracker is simple and takes only a couple of moments. However, we're going to illustrate how you can start your account on CoinTracker and generate your first report.
Create An Account.
Firstly, visit CoinTracker's main page. Then, click on 'Get Started' and you can sign-up via Coinbase, Google, or email.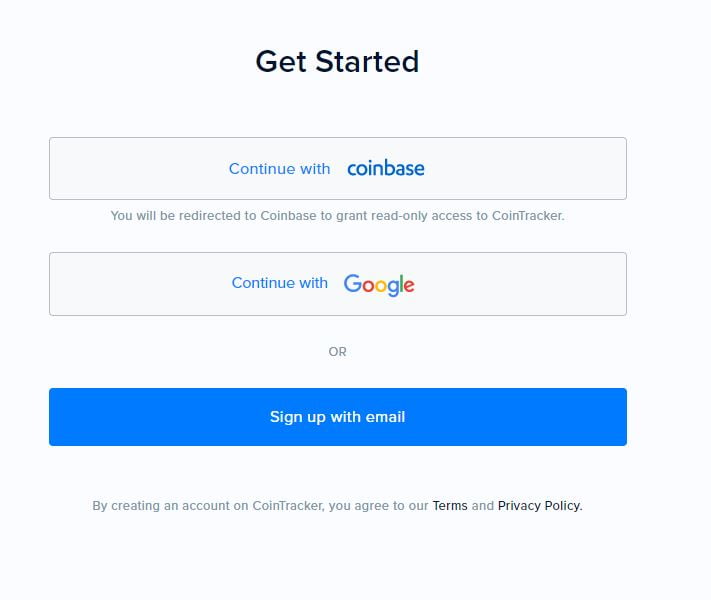 Connect Your Exchange.
Secondly, visit your exchange and generate an API key, or if you're intending to connect a wallet, all you need is a public address.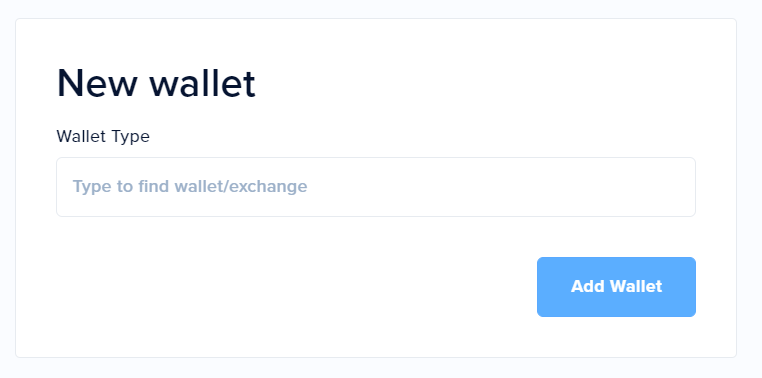 Generate A Tax Report on CoinTracker.
Finally, to generate your first tax report; on the top bar click on 'Taxes' then 'Tax Center', Now on the bottom right you can see available reports. Find the one you need and click on 'Download'.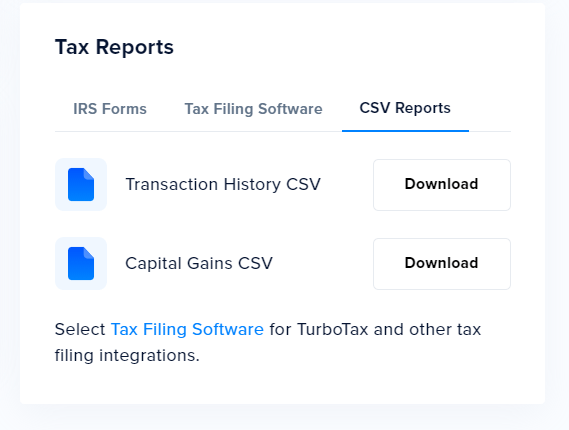 Conclusion.
In our opinion, CoinTracker has lots to offer and more is coming in the future as well. However, there is still one thing that we didn't like about CoinTracker, more in CoinTracker pros and cons.
Pros.
Many reports supported
Works with TurboTax
different accounting methods.
Cons.
Plans offer less than other alternatives do.
Alternatives.
Although CoinTracker is one of the most complete crypto tax calculators in the market, there are many different options that you can choose between. Here are the best alternatives for CoinTracker. Make sure to check our reviews for them too.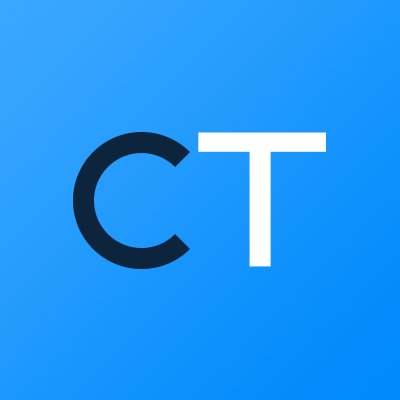 CoinTracking
CoinTracking is the first cryptocurrency tax reporting tool and portfolio manager. CoinTracking started with the goal of making cryptocurrency traders' lives easier – not only during tax season.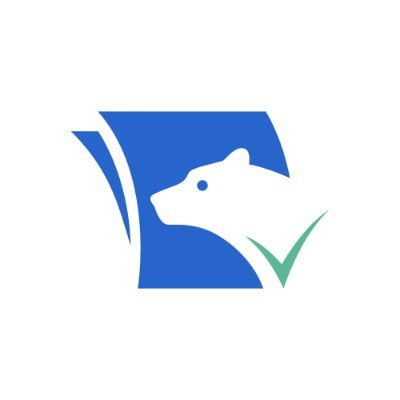 BearTax
Software for traders & accountants to pull trades from every exchange and generate tax documents within minutes. Free income statement & free gain-loss preview.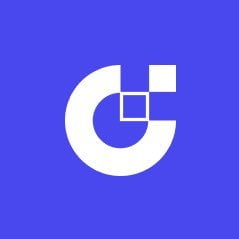 TokenTax
Connect major exchanges like Coinbase, Binance, and BitMEX with automatic API import, or upload a trade history CSV from any exchange.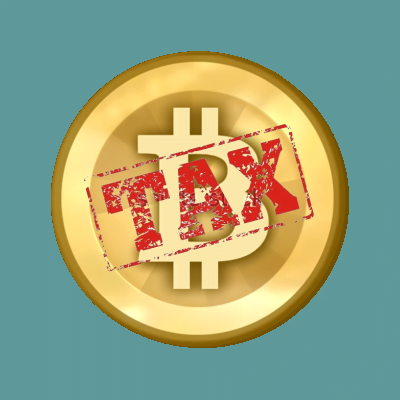 BitcoinTax
Bitcoin.tax is the leading capital gains and income tax calculator for Bitcoin, Ethereum, Ripple, and other digital currencies. Bitcoin Taxes has provided services to consumers and tax professionals since its launch in 2014.
Ultimately, we'd love to hear from you in the comments. So make sure to tell us your opinions of this CoinTracker review.