In today's article, we will review Speed — one of the best crypto payment processors that's secure, reliable, and easy to use.
Imagine a game-changing solution that revolutionizes the way businesses handle transactions. Cryptocurrency payment gateways are here to do just that! These gateways make it easy for businesses to embrace cryptocurrencies, offering secure, fast, and affordable transactions. They act as a reliable bridge, seamlessly connecting decentralized assets with everyday commerce. By leveling the playing field for businesses of all sizes, these gateways drive innovation and pave the way for a brighter economic future. Get ready to experience a new era of financial possibilities!
Table of Contents
About Speed.
Speed is a robust and reliable Bitcoin payment processor designed to revolutionize the way you get paid. Whether you're a business owner or an individual, Speed's lightning-fast platform allows you to accept and send Bitcoin payments anytime, anywhere, and globally.
Cryptocurrencies are the future of payments, and Speed is committed to providing a secure and reliable platform that facilitates seamless Bitcoin transactions.  With Speed's full suite of payment solutions, you can collect Bitcoins in real time from your online and offline touchpoints.
Speed Features.
Today, we will thoroughly review Speed, explore its features, and learn how the platform works. Let's look at a few prominent Speed features.
Simplify checkout with a pre-built checkout page
Speed offers a seamless shopping experience with its customizable checkout page that allows fast and fraud-proof Bitcoin payments in real-time.
It supports multiple languages and currencies, allowing businesses to cater to a global audience. With Scan and Pay, customers can easily complete transactions by scanning a QR code. Speed also provides fast and secure payouts to Bitcoin wallets. You can request the payout manually or automate it based on your preferences. Experience the full potential of Speed and enhance your online business today.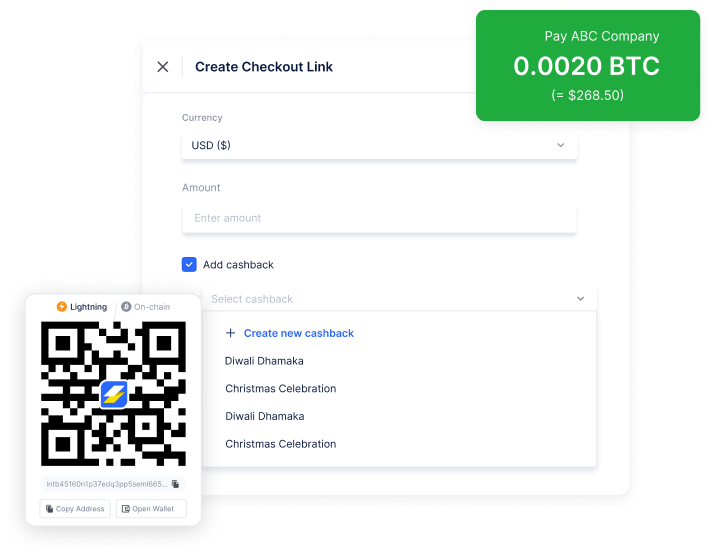 Collect Payments in 3 Easy Steps
Effortlessly collect payments with Speed in just a few taps. Simply create a payment link and share it with your customers to get paid. You can generate the payment link through Speed's web application and embed it on your website or share it directly with your customers through social media. The payments received against your active links will be reflected in your account in real time.
Customers can easily pay you in Bitcoin using a lightning wallet by scanning the QR code on the Speed-hosted payment page. Start collecting payments with Speed and experience fast and secure Bitcoin payments in real time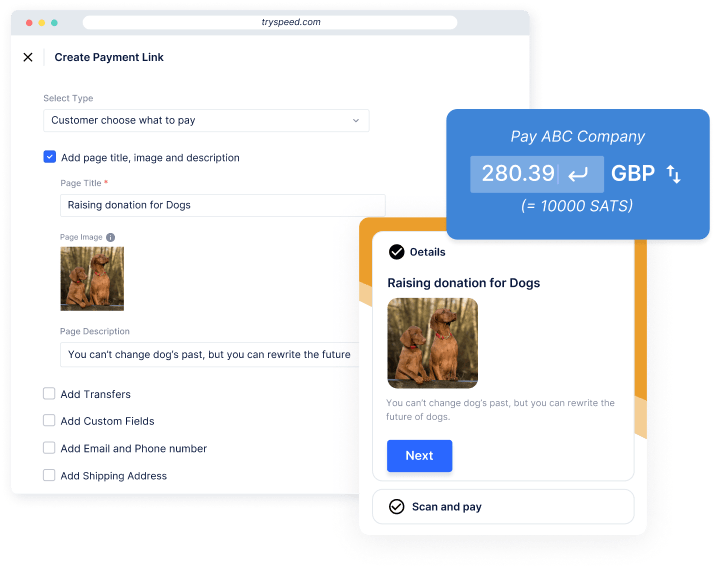 Accept Crypto Payments in Your stores, at Events, or Home Delivery Orders.
1. One QR.
With Speed's One QR, you can generate a static payment QR for accepting Bitcoin payments across your offline/online channels. Your customers can pay through a lightning or on-chain network – based on their preferences. Once generated, you can print the QR for using it offline or send it to your customers via social media apps. You can also set a personalized success message that will be displayed upon a successful transaction.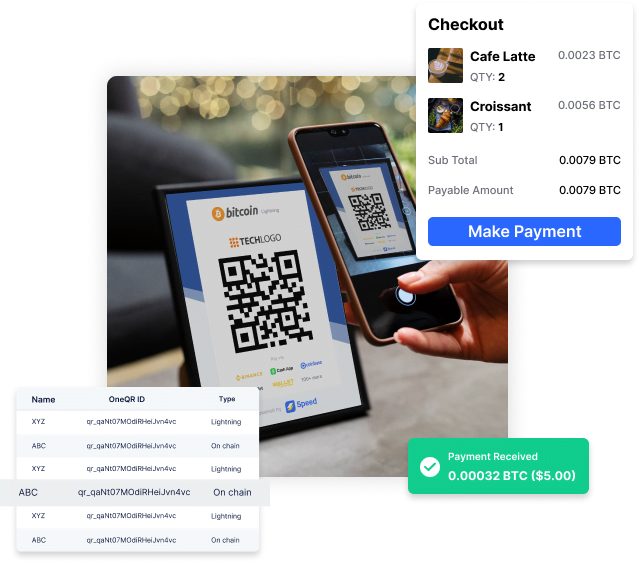 2. Dynamic QR.
With Dynamic QR, you can effortlessly generate pre-defined amount QR codes to accept Bitcoin payments in a variety of scenarios. Whether you need to collect payments in person, on invoices, or integrate with a point-of-sale (POS) terminal, Dynamic QR has you covered. Simply set the desired payment amount to generate the QR code. Your customers can scan the payment QR to complete their payments. You will be able to verify the transactions in real-time through the Speed web app.
3. Point-of-Sale.
With Speed's innovative POS app, you can effortlessly convert your smartphone into a powerful point-of-sale (POS) solution for collecting real-time Bitcoin payments. To start collecting the payments, simply enter the amount, generate the QR, and share it with your customers. They will be able to complete their payments by scanning the QR through any of their preferred Bitcoin wallets.
Speed Wallet
With Speed Wallet, you can spend Bitcoins seamlessly in just a few taps. The app allows you to send and receive Bitcoins at the speed of light. There are no transaction charges. The app is available for Android and iOS. You can download it for free to start transacting in Bitcoins.
Speed.js
Speed.js is a user-friendly JavaScript checkout library designed for frontend frameworks like Vue.js, React.js, and more. With just a few lines of code, you can seamlessly integrate Speed.js into your website or application and start accepting Bitcoin payments from your customers. Say goodbye to complex integration processes and hello to a streamlined checkout experience. Whether you're a developer or a business owner, Speed.js empowers you to embrace the power of cryptocurrency payments with ease. Simplify your checkout process and open up new possibilities with Speed.js.
Supported Cryptocurrency.
Speed is proud to support Bitcoin as its primary cryptocurrency for payment transactions. By focusing on Bitcoin, they provide a streamlined and optimized experience for businesses and individuals looking to accept and send payments. However, we hope for more cryptocurrency support in the future.
FAQ.
How much is Speed fees?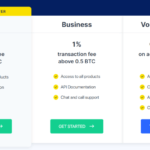 It depends on how much BTC you receive. If your total lifetime transactions are below 0.5 BTC, then you will enjoy Speed with no fees with access to all products. But, if your lifetime transactions exceed 0.5 BTC, you will pay 1% of your transactions as a fee for Speed. And if you are accepting more than 10 BTC/month, you should contact Speed's sales for a custom plan.
Is it safe to use Speed?
When it comes to the security of your digital assets and personal privacy, Speed leaves no stone unturned. Speed has implemented a comprehensive set of security measures to ensure that your valuable assets and sensitive information are safeguarded at all times. Speed's team is constantly staying up to date with the latest advancements in security, adopting cutting-edge technologies and protocols to protect you from potential threats.
With Speed, you can trust that your assets are in safe hands, giving you the confidence and peace of mind you need to transact securely. Rest assured that they are committed to maintaining the highest standards of security to prioritize your privacy and protect your digital assets every step of the way.
Getting Started on Speed.

In the following section, let's dive into how you can easily get started with Speed and start accepting your first Bitcoin payment. The process is simple and hassle-free.
Sign up on Speed.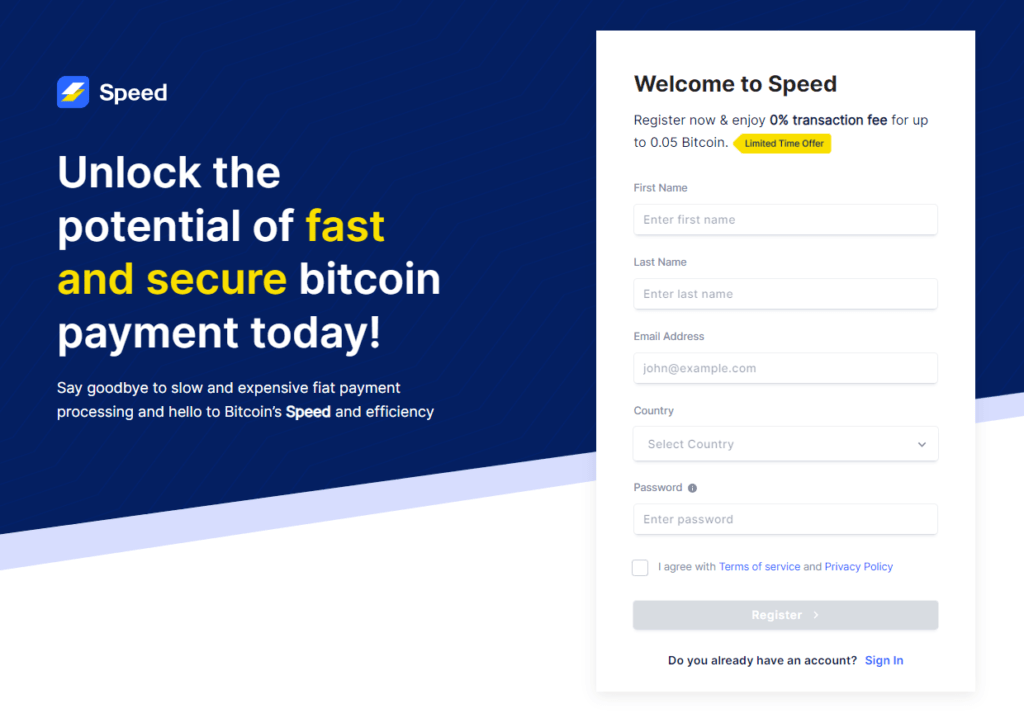 To get started, sign up for a Speed merchant account by heading over to their website. 
Verify Your Account.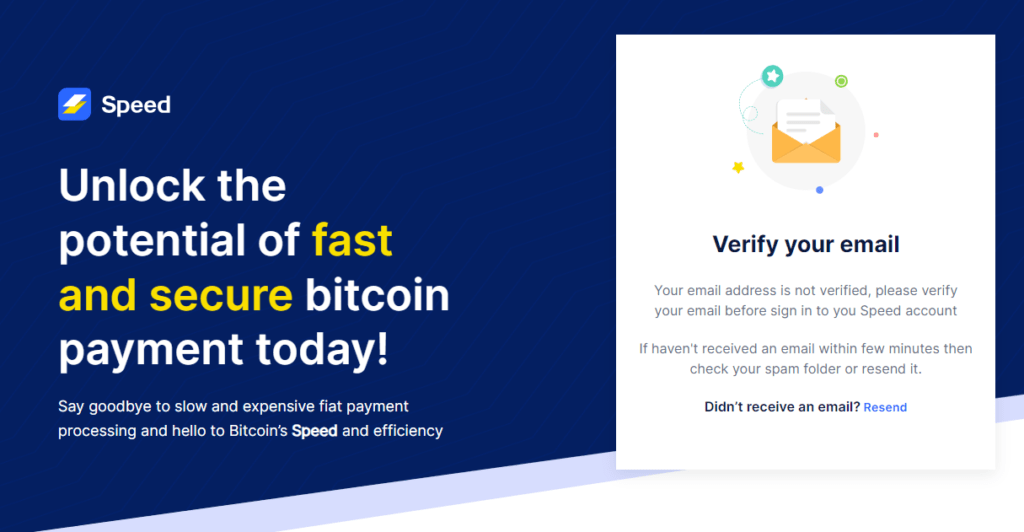 You will be required to verify your account to start accepting payments. It's simple. Just click on the verification link sent to your email. Follow the instructions provided in the email to complete the verification process.
Control Everything on Your Dashboard.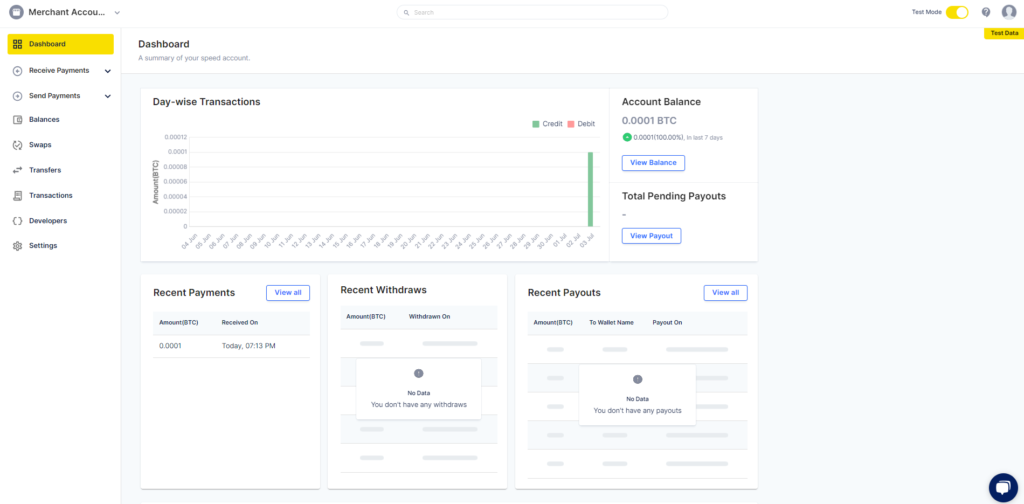 Now that you've completed the necessary steps, it's time to access your dashboard and unleash the full potential of Speed. The dashboard will give you a bird's eye view of your account. You will be able to see all the payments you have received in your account. From tracking insightful statistics to having complete control over your settings, this dashboard is your gateway to manage everything in one place.
Check Out Speed API Documentation.
Finally, to kickstart the implementation of Speed's API into your account, we highly recommend exploring Speed's comprehensive API documentation. This valuable resource serves as your guide, providing detailed insights into integrating Speed's API seamlessly. In order to view Speed's API documentation, click here.

Conclusion.
Speed offers a wide range of payment features and capabilities to help you accept Bitcoins anywhere, anytime.
Whether you're a business owner looking to expand your payment options or an individual interested in embracing the future of cryptocurrency, Speed provides a seamless and secure platform to facilitate Bitcoin transactions.
From its customizable checkout page to its support for multiple languages and currencies, Speed ensures a consistent and personalized shopping experience for customers worldwide. With features like QR code payments, in-depth security measures, and easy integration options, Speed empowers users to navigate the world of cryptocurrency payments effortlessly.
By choosing Speed, you're embracing innovation and joining a community that is shaping the future of digital commerce. So, take the leap and experience fast and fraud-proof Bitcoin payments.
Pros.
Simple and easy.
Comprehensive API documentation.
No fees for less than 0.5 BTC.
Cons.
Speed Comparison and Alternatives Options.
Having delved into the details of Speed, we understand that you may be interested in exploring other options as well. Therefore, we have curated a list of the best alternatives to Speed that you should definitely check out.
Description:

Integrate NOWPayments and start receiving online payments in crypto. Accept Bitcoin, Ethereum, and 100+ cryptos globally on your website, store, and social media accounts.

Description:

Take advantage of our global crypto payment gateway made easy and accessible for everyone — whether you're a business owner, crypto user, or even from another planet.

Description:

CoinRemitter is a payment processor that facilitates accepting cryptocurrency for merchants and opens more doors for businesses.

Description:

CoinGate is a payment gateway for blockchain payments. Their goal is to grow the adoption of cryptocurrencies on a global scale by laying out a reliable payment infrastructure that caters to the needs of both merchants and their customers: accessible, convenient, and customer-oriented.

Description:

Introducing Speed, your go-to Bitcoin and Stablecoin payment processor, designed to revolutionize the way you get paid. Whether a business owner or an individual, Speed's lightning-fast platform allows you to accept and send Bitcoin payments anytime, anywhere, and globally.
Finally, we would love to know your thoughts on this Speed review. Please make sure to comment in the comments section below, and we will reply to you as soon as we can.