Payid19 is a payment gateway that allows merchants to accept payments in crypto easily without any need to code.
Payid19 Review And Best Alternatives
In today's article, Payid19 review, we will take you through the process of setting up a crypto payment gateway for your website.
Cryptocurrency payments are becoming so popular due to many reasons. Firstly, paying with crypto provides absolute privacy for both the seller and the buyer. Also, It is much faster than fiat payments. That's why there is a significant amount of customers looking for crypto payments all the time. So, if you are a business owner, how do you accept cryptocurrency payments?
Crypto payment processors are similar to fiat payment processors. In fact, you can set up a crypto payment processor and connect it to your website in a few minutes. Payid19 is an intelligent payment gateway that we will talk about in this article.
Also Read: Plisio Review and Best Alternatives.
About Payid19.
The world is moving towards crypto, and so are payment processors. Payid19 is a smart payment gateway that aims at making cryptocurrency payments innovative and secure. With Payid19, you can connect your website and create crypto payment buttons or create an invoice hosted on Payid19.
Payid19 Features.
In the following part of Payid19, we will put the platform's features under the spotlight and talk more in-depth about Payid19.
Full responsive.
You can accept cryptocurrency payments anywhere on the planet with the same experience. Furthermore, Payid19 is compatible with all devices and browsers.
Ready Plugin.
After setting up your Payid19 account, you can start using the WordPress plugin right away and connect it within only 5 minutes.
Easy Refund Management.
You can easily refund your returns with one click. Over and underpayments are managed on your behalf.
Mail Notifications.
You can set your Payid19 to email you all the information you need in real time.
Supported Cryptocurrencies.
Currently, Payid19 supports only Bitcoin and USD Tether on Binance(BEP20), Tron(TRC20), and Ethereum(ERC20) chains. It might be frustrating, but we are hoping for more coins to be supported, especially popular coins such as DOGE and LTE.
Supported Fiat.
Payid19 supports over 100 different fiat currencies, including USD, EUR, JPY, GBP, CAD, and AUD. For more information, make sure to check their website here or in the image below.

FAQ.
How much is Payid19 fees?
Fortunately, Payid19 has one of the lowest fees among all crypto payment gateway. Payid19 will charge only 1%, and there are no withdrawal fees or any hidden fees. Such low fees make Payid19 a good choice, especially for new businesses.
Is Payid19 safe to use?
Of course, Payid19 is safe to use. All your funds are stored in your wallet on Payid19, and you can withdraw your crypto whenever you want. Also, your API is encrypted; therefore, you are the only one who can access it.
Getting Started with Payid19.
In this part of Payid19 review, we will guide you through the process of setting up your account on the platform. And we will also explain how to generate your API key.
Sign up on Payid19.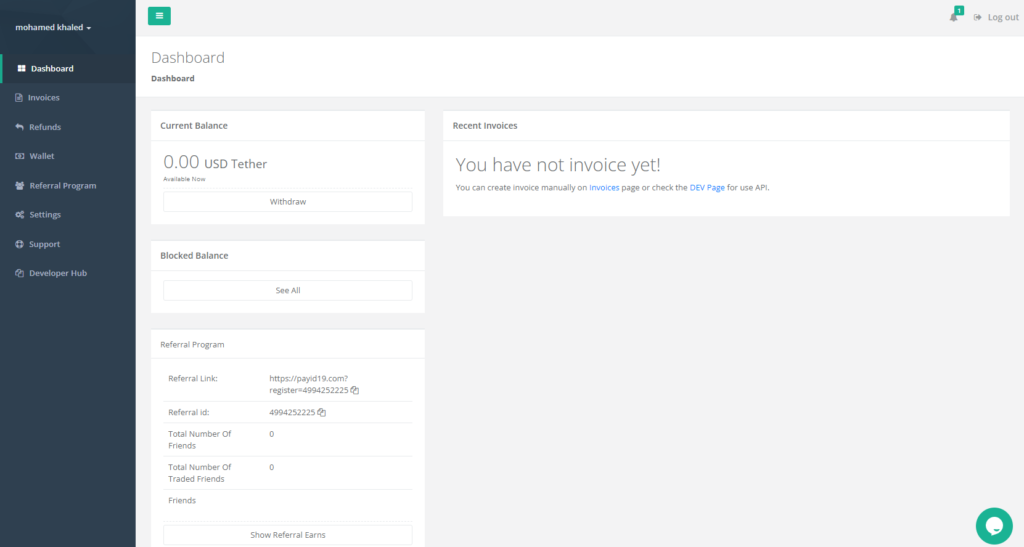 Firstly, head to Payid19.com and click on "register now!". After that, enter your information, such as your name, email, and password.
Once you log in to your new Payid19 account, this is what your dashboard will look like. Very simple and makes everything accessible at the same time.
Generate API Keys.
API keys are used to connect your website with your Payid19 wallet in order to receive payments. All request APIs need to carry the parameter API Key, and requests without API Keys will not be responded to.
Firstly, click on "Settings" on the left menu of your dashboard. After that, you will see your Public and Private API keys. You can also regenerate them by clicking on "regenerate public and private keys."
Create Invoices.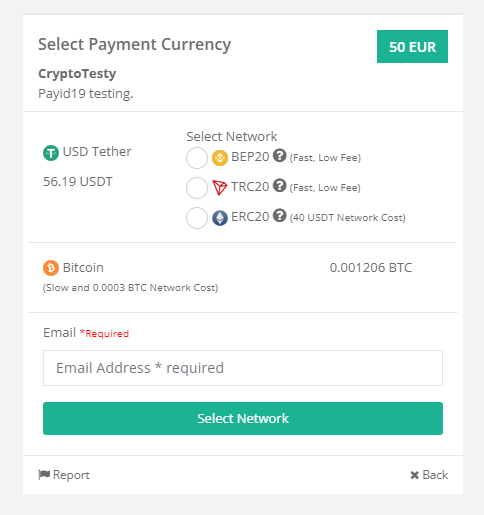 We were impressed by how simple, easy, and responsive. Creating your Invoices will allow you to receive direct payments into your Payid19 wallet without having to host it on another website.
Firstly, on the left menu, click on "Invoices". After that, tap on "Create manual invoice".
Now, you can edit different parameters of your new invoice. In the price parameter, you can choose between tens of fiat currencies. Also, you can edit the Url's of your Invoice, or you can leave it blank, and Payid19 will autofill it.
Once you are done with editing, click on Create.
Conclusion.
In conclusion, during this Payid19 review, we have seen how easy accepting crypto payments is. If you are a business owner or planning to start a business, you should make crypto a payment option for sure. Payid19 is a great option for you due to its simplicity and its user-friendly interface. However, there are still a few cons, more in Payid19 pros and cons.
Pros.
Easy to use
Simple interface
Works on all devices and browsers
Easy to connect and create invoices.
Cons.
No mobile app.
Few coins supported.