During this article, CoinRemitter review, we will take a deep look at CoinRemitter cryptocurrency payment gateway and talk in-depth about the platform's features, pros, cons, and alternatives.
In the past few years, there has been considerable adoption of Bitcoin and Ethereum in particular and cryptocurrency in general. Therefore, accepting crypto payments will open new markets and chances for your business and attract more customers.
Accepting cryptocurrency as payment would surely benefit your business, but that is not straightforward or secure for everyone. Thankfully, crypto payment processors are available that facilitate accepting cryptocurrency for merchants and individual users.
With over 10M crypto payments, CoinRemitter has been supporting more than 25,000 merchants worldwide since 2018. Such figures indicate how popular and trustful the platform is and how popular crypto payments are received; therefore, accepting crypto payments is crucial for you.
Also Read: Plisio Payment Gateway Review and Best Alternatives.
Table of Contents
About CoinRemitter.
CoinRemitter is a worldwide user-accessible payment gateway and wallet provider for cryptocurrency that supports 8 leading cryptocurrencies and also has easy-to-use plugins and APIs for key platforms. Many online companies are now finally taking cryptocurrency as payment via their payment processor.
CoinRemitter Features.
In the following part of our CoinRemitter review, we'll highlight the platform's features that make a huge difference and advantage.
Supports 8 Cryptocurrencies.
Of course, you need a variety of coins supported in order to satisfy your customers, and CoinRemitter helps you with that as it supports the following coins:
Bitcoin
Litecoin
Binance Coin
Ethereum
Dash
DogeCoin
Tether USDT ERC20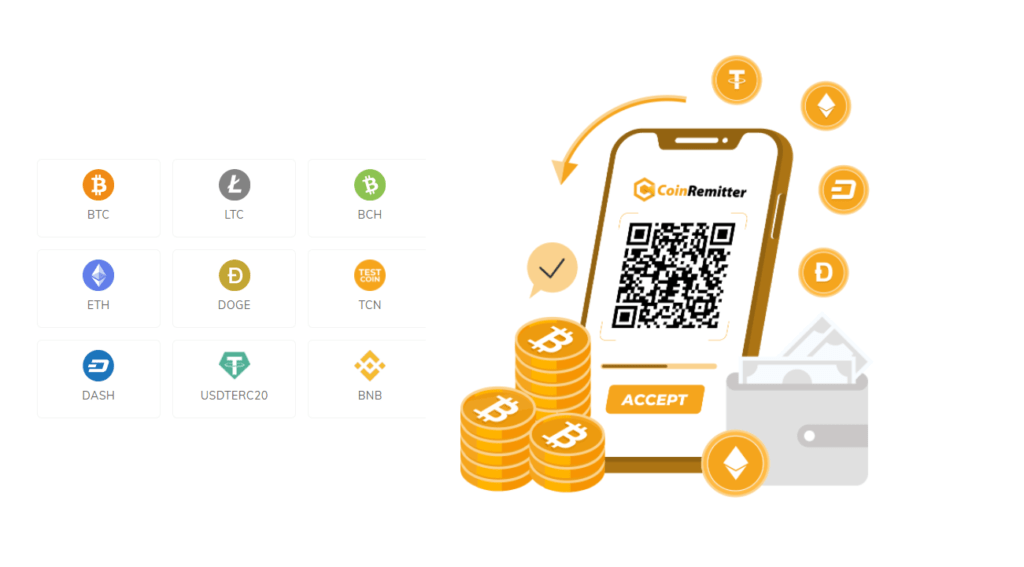 Plugins & APIs For 6 Platforms.
With the simple integration of CoinRemitter open-source plugins for almost all major platforms like:
Magneto 1 – 2
WordPress
Opencart
Prestashop
Laravel
PHP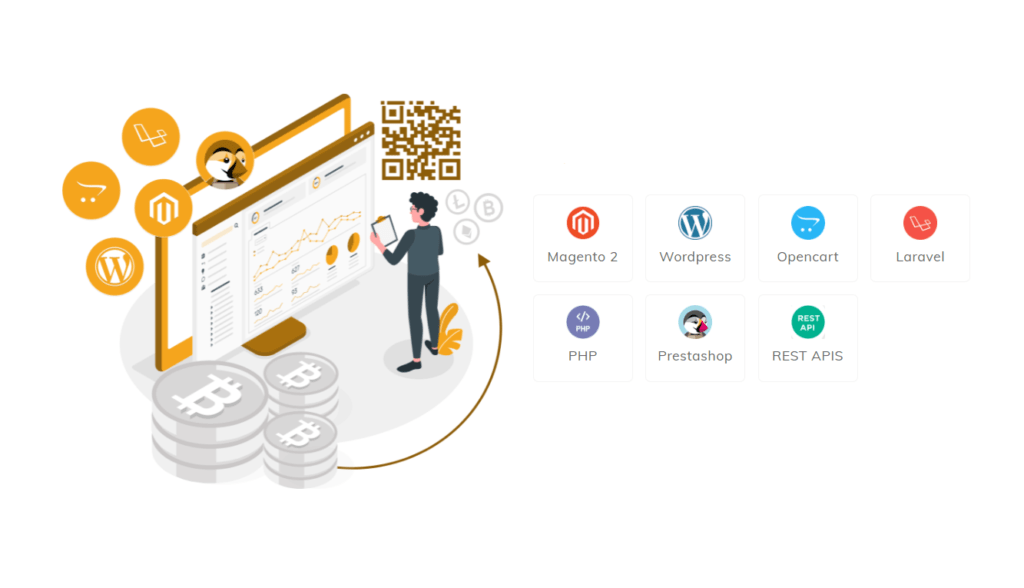 Auto & Manual Withdrawal Function.
To provide their users with a unique and time-saving option, CoinRemitter has an Auto withdrawal function and also a manual in case users want to do it manually.
Digital Wallet.
You can put your received payments directly on CoinRemitter wallet and make safe transactions on the blockchain with no third-party software involved.
FAQ.
Do I need any ID and KYC to verify my account?
No, you don't have to submit your ID and KYC while making an account on CoinRemitter. It only requires your email ID and phone number(optional); that's it. 
What Is the fee for CoinRemitter services?
In fact, their transaction fees are the lowest in this cryptocurrency payment process industry, and It's 0.23% on withdrawal of the currencies.
What are CoinRemitter plans?
CoinRemitter has a free and premium plan that gives you extra features that you can check out in the image below or on their main page here. Also, you can pay in BTC.
Getting Started with CoinRemitter.
Sign up on CoinRemitter.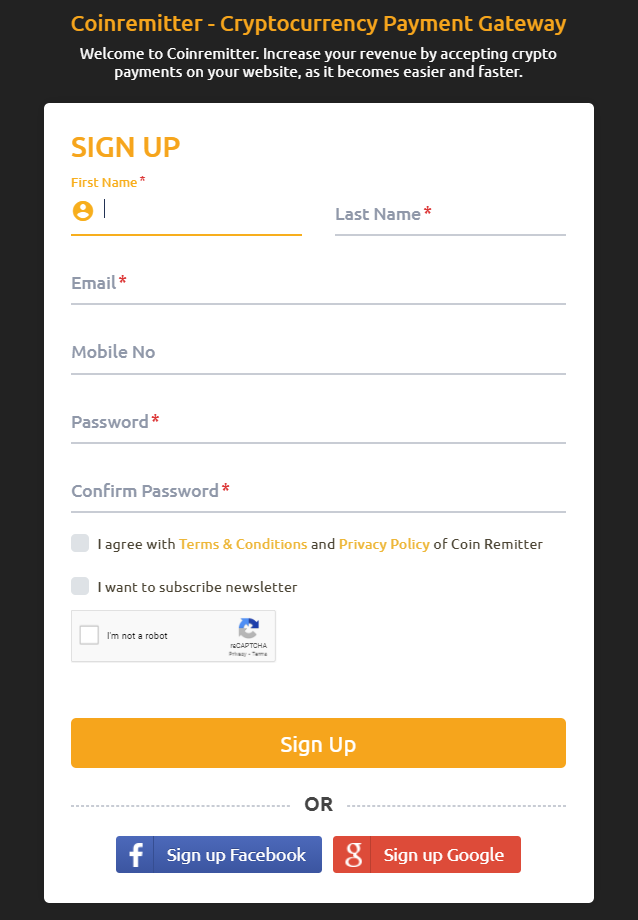 Firstly, head to CoinRemitter main page and click on "Sign-up" in the top right corner. Then, enter your information and make sure to use a strong password. You can also continue with your Google or Facebook account.
Verify Your Account.
Secondly, visit your email address and check for a message from CoinRemitter's team in order to complete your account verification.
Begin Using CoinRemitter.
Finally, you can start using CoinRemitter in your website store; make sure to check their docs to get further instructions.
Conclusion.
Finding a payment gateway for cryptocurrencies isn't complicated, given that the crypto world is growing. However, payment gateways like CoinRemitterare quite rare and let merchants operate efficiently and securely with their excellent functionality.
Pros:
Supports major coins
Works as a wallet, too
Simple and easy to use
Low fees
Cons:
You need a premium plan in order to accept ETH.
CoinRemitter Comparison and Alternatives Options.
There is no doubt that CoinRemitter is one of the best options available. We would highly recommend CoinRemitter to get started with. However, there are many alternatives that you can choose between. We have made a complete list of CoinRemitter alternatives that you can check out for further information.
Description:

Integrate NOWPayments and start receiving online payments in crypto. Accept Bitcoin, Ethereum, and 100+ cryptos globally on your website, store, and social media accounts.

Description:

Take advantage of our global crypto payment gateway made easy and accessible for everyone — whether you're a business owner, crypto user, or even from another planet.

Description:

CoinRemitter is a payment processor that facilitates accepting cryptocurrency for merchants and opens more doors for businesses.

Description:

CoinGate is a payment gateway for blockchain payments. Their goal is to grow the adoption of cryptocurrencies on a global scale by laying out a reliable payment infrastructure that caters to the needs of both merchants and their customers: accessible, convenient, and customer-oriented.

Description:

Introducing Speed, your go-to Bitcoin and Stablecoin payment processor, designed to revolutionize the way you get paid. Whether a business owner or an individual, Speed's lightning-fast platform allows you to accept and send Bitcoin payments anytime, anywhere, and globally.
Finally, after this CoinRemitter review, we'd love to hear from you in the comments below.