If you're looking for one of the best crypto payment gateways, you've come to the right place. In this article: CryptAPI review, we'll talk in-depth about the platform and how to get started with it.
The never-ending popularity of crypto should show you how important it is to accept payments in crypto. In fact, it might seem not easy at first glance; but it's not at all. Crypto payment gateways allow merchant traders to automate crypto payments as well as providing a host of other tools.
One of the main features of crypto payment gateways is ensuring quick and secure processing of transactions, instant crypto-to-fiat exchange, providing the most efficient and advanced technology, and much more. CryptAPI is absolutely one of the best payment gateways with many features and functions that we'll check out through this article.
Table of Contents
About CryptAPI
With CryptAPI you can give more choices to your customers, by accepting payments in multiple cryptocurrencies, including Bitcoin, Bitcoin Cash, Litecoin, Ethereum, Monero, USDT, and IOTA (more coming soon), hassle-free.
Also Read: CoinPayments review and best alternatives, how good can a payment gateway be?
CryptAPI Features.
In the following part of the CryptAPI review, we'll highlight the platform's most wanted features that deserve your attention.
Multi-currency Integration.
Of course, not all customers would want to pay in the same coin; that's why CryptAPI supports many coins that give your customers more options to choose from.
Safe and Secure.
CryptAPI has secure SSL/TLS requests as well as cold wallets to keep your funds secure. That way, you'll never need to worry about anything going wrong.
Fast Payment Confirmation.
They've designed a system that provides the fastest payment confirmations.
No Registrations.
You don't need to register on CryptAPI. Simply download their code and start working.
Easy Integration.
Generate a new payment address with literally 1 line of code.
Privacy Oriented.
There are no personal details required in order to start using CryptAPI.
Supported Coins.
Currently, CryptAPI supports Bitcoin, Bitcoin Cash, Litecoin, Ethereum, Monero, USDT, and IOTA; also, more coins are coming soon.
FAQ.
How Much is Trasnaction Fees?
Their base fee for all cryptocurrencies is 1%, which can go down to 0.25% based on volumes transacted in the last 30 days. They also have a minimum fee and a minimum transaction value that vary depending on the cryptocurrency selected. Learn more about CryptAPI fees here.
Is CryptAPI Safe?
Definitely yes for the following reasons:
Transactions data kept are the only ones that you can access via logs endpoints
You don't need an API key in order to use CryptAPI
No registration of any kind is necessary to use their service and get paid
What Libraries and Plugins Does CryptAPI Support?
CryptAPI has noticeable support for libraries and plugins view them in the following list:
Django
PHP
WooCommerce
Magento
Open Cart (soon)
Node.js Wrapper by Tacyarg
C# Wrapper by Biitez
Starting with CryptAPI
As we mentioned, there is no registration needed in order to get started with CryptAPI. In the following section of CryptAPI review, we'll show you how to download CryptAPI.
Visit CryptAPI Website.
Firstly, visit CryptAPI official website here, then click on resources on the top bar.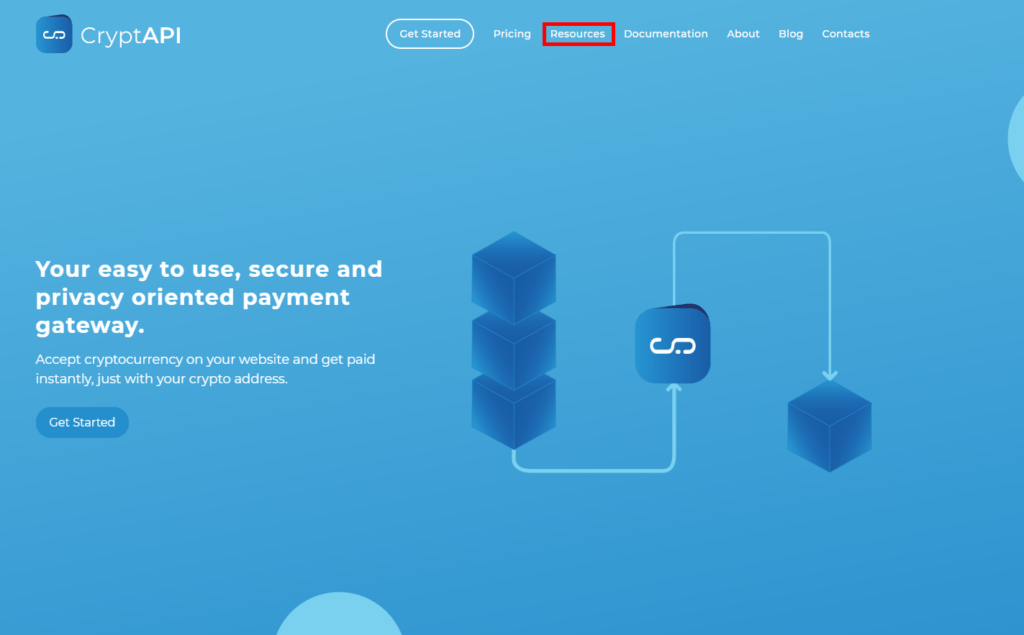 Download CryptAPI Library.
After that, you can simply download the CryptAPI library or plugin and start implementing it into your website.
Check out How it Works.
On the CryptAPI website, click on "Get Started" in the top bar. There you can see how CryptAPI works with some information.
Conclusion.
There's no question that CryptAPI is one of the most unique crypto payment gateways. Due to many reasons, most importantly is low fees, security, and plugins support, the platform has placed itself among the best. However, during our review, there are few things that we didn't like, more on our CryptAPI pros and cons list:
Pros.
More coins coming soon
High security
Wide plugins support
No registration required
Cons.
Doesn't support PoS
Slow-to-reply customer support
CryptAPI Alternatives.
In order to fulfill your needs, we looked up the best crypt payment gateways and reviewed them as well. Here's our alternatives list for CryptAPI:
Ultimately, we'd love to know your thoughts in the comments section below, so make sure to share your opinions with us.