In this article, StealthEX review, we'll highlight the platform's features and demonstrate how to use it.
In the first years after the creation of cryptocurrency, swapping coins wasn't easy because it required lots of verifications and time, and it wasn't even secure! But thankfully, now you can swap coins in just a few minutes on platforms that support tens and hundreds of coins.
StealthEX is a fast exchange platform where you can swap coins and buy crypto using your credit card. Furthermore, throughout this article, we'll discuss the platform's security and privacy.
Also Read: Best Social Copy-Trading Platforms
Table of Contents
About StealthEX.
StealthEX is an instant cryptocurrency exchange that provides secure, limitless, fast, and cross-chain swaps without registration.
StealthEX Features.
In the following part, we'll look deeply at StealthEX features that caught our attention.
Registration-free.
You don't need registration to use StealthEX. Head to stealthex.io and start swapping cryptocurrency or buying crypto using your credit card.
Private.
StealthEX is a service providing non-custodial cryptocurrency exchanges. You do not have to create an account or disclose personal information to use the platform. Moreover, users do not store the funds on StealthEX – the exchanges are performed wallet-to-wallet.
Limitless.
Frankly, it's not easy to find a platform that doesn't require a KYC and, at the same time, has no upper limits. But, with StealthEX, you can perform as many exchanges as you want with no limits. As for the minimum amounts, you will only need enough to cover the network fees.
Friendly.
It's definitely one of the most user-friendly exchange platforms that you'll come across. You can complete your exchange within only four steps, nothing more. Also, their support team is 247/7, and you can always contact them whenever you have trouble.
Mobile Application.
StealthEX has an excellent mobile app available on Android and IOS. You can use their mobile application to make seamless transactions and exchanges.
Supported Coins.
StealthEX has an enormous list of supported coins, more than you can find anywhere else; they support over 600 currencies, including Bitcoin, Ethereum, Dogecoin, and more. Take a look at the supported coins here.
FAQ.
Is It Safe to Use StealthEX?
Yes, their exchanges are free from sign-ups, private, and, most importantly, instant. Instant exchanges do not require storing funds on the platform – all the swaps are conducted wallet-to-wallet.
How Much Is StealthEX Fees?
For every exchange, users pay the transaction fees, which are required to push the transaction into the blockchain. Also, there might be fees on the liquidity provider's side. In general, the prices vary depending on your chosen currency and the amount to swap or buy.
Starting with StealthEX.
In the next part of this StealthEX review, we'll show you how to swap or buy coins from StealthEX.
Swap Cryptocurrency.
Choose pairs and enter amounts.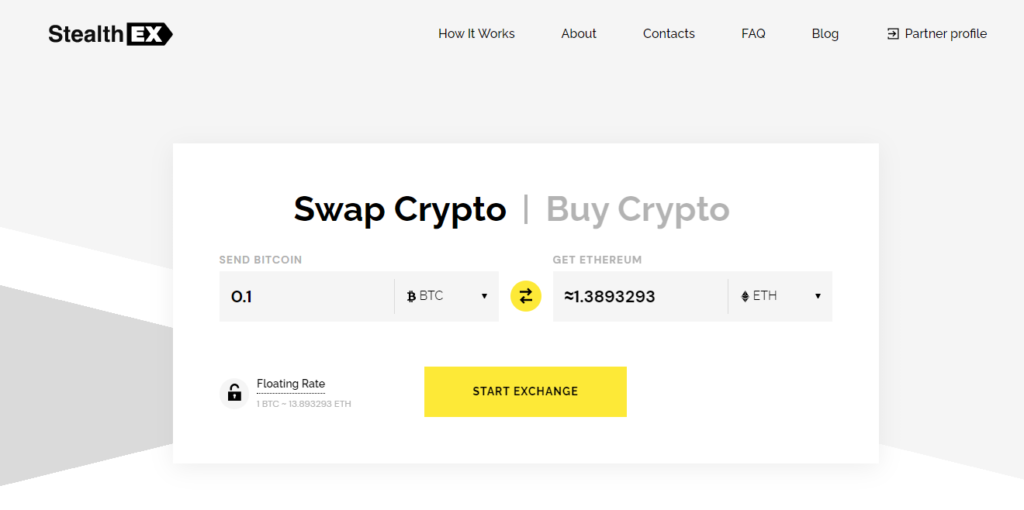 Firstly, head to stealthex.io, and on the main page, you can choose your trading pairs. Let's select BTC and ETH, for example.
Enter the recipient's address.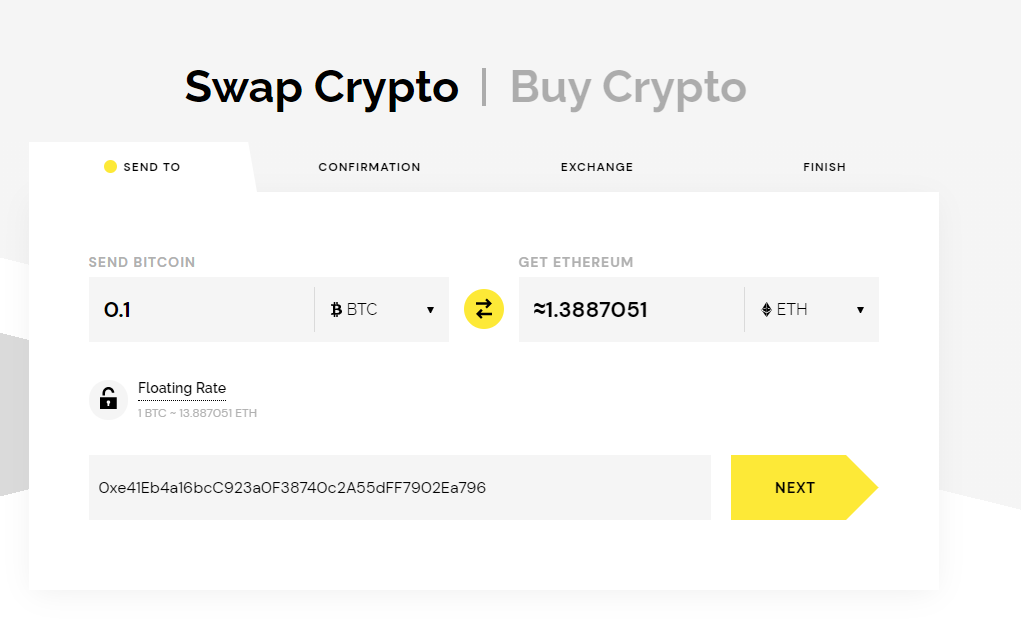 Now, enter the recipient's address; that's where you'll receive your coins.
Confirm amounts.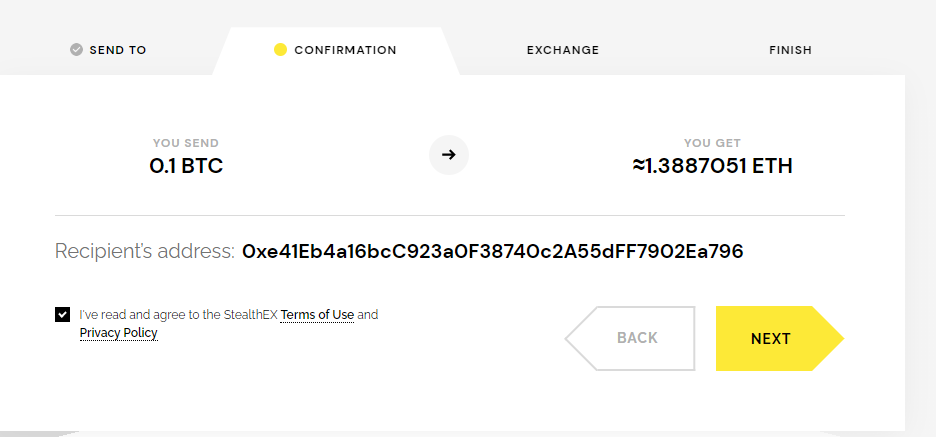 After that, double-check the trading pairs, amounts, and, more importantly, the recipient address.
Make the deposit.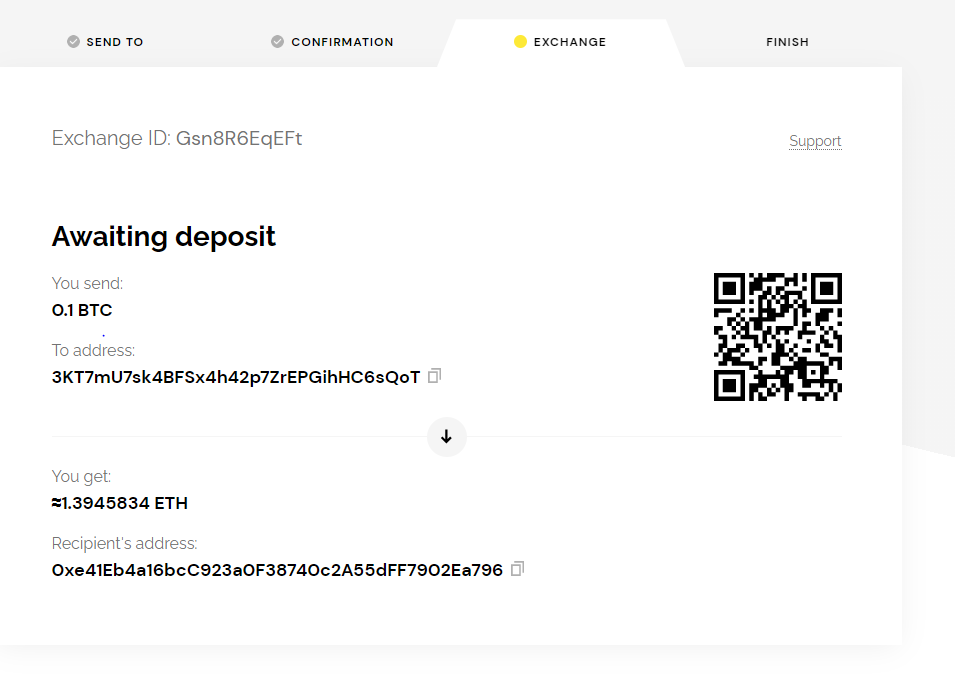 Finally, deposit your side of the exchange to the displayed address on the StealthEX website. After that, you'll receive your coins in a few minutes. Worst case scenario, it'll take 30 minutes, but it takes 5-10 minutes regularly.
Buying Cryptocurrency.
Firstly, after heading to stealthex.io, click on "Buy Crypto." now choose your pairs and the amount of fiat or crypto.
Enter the recipient's address.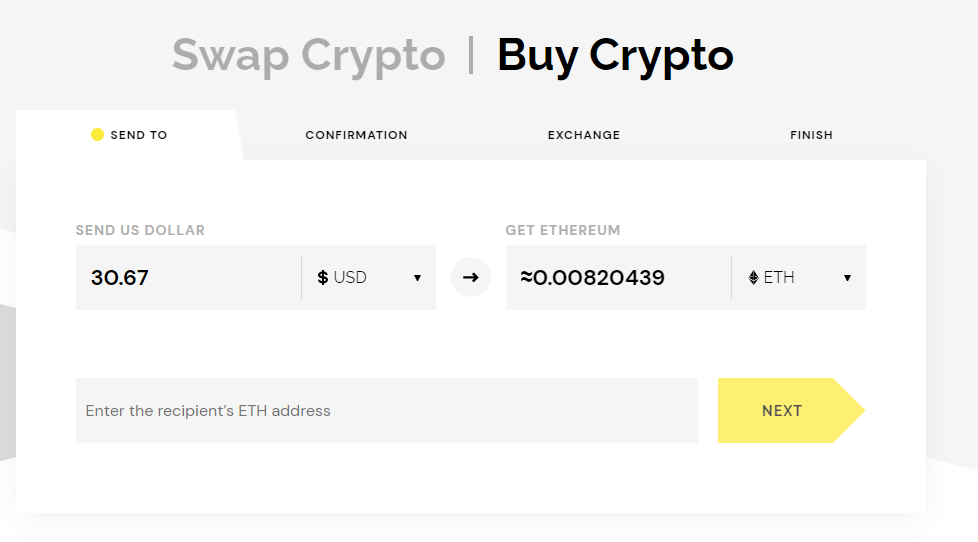 Now, enter the address that you want to receive your coins on.
Confirm amounts.
After that, confirm the transaction amounts and the recipient's address.
Proceed with the payment.
Finally, proceed with the payment with your credit card.
Conclusion.
Long story short, StealthEX is an excellent option if you're looking for fast and secure exchanges. The platform finds the best rate across big exchange platforms. And one of the main advantages of using StealthEX is that there's no upper limit.
Pros:
No upper limit
No KYC required
Easy and straightforward to use
Cons:
StealthEX Comparison and Alternatives Options.
There are more exchange platforms than you can imagine! Fortunately, we have made a list of the best alternative platforms for StealthEX. Also, we have made a detailed review for each one of them, so make sure to check them out.
Description:

A non-custodial service created for simple and fast cryptocurrency exchanges. ChangeNow strives for maximum safety, simplicity, and convenience.




Description:

SimpleSwap is an instant cryptocurrency exchange. The service is free from sign-up and has a user-friendly interface that provides an easy exchange process. SimpleSwap offers more than 300 cryptocurrencies to swap and two exchange types: floating and fixed rate.

Description:

An instant cryptocurrency exchange that provides secure, limitless, fast, and cross-chain swaps with no registration required.

Description:

Bitop Exchange is a leading digital financial service platform that provides a secure, comfortable, and equitable digital asset investment environment for users worldwide.

Description:

BYDFi, formerly BitYard, is a leading crypto contracts exchange based in Singapore. It provides secure and user-friendly trading services across 150+ countries, emphasizing a streamlined approach for traders.
Ultimately, we'd love to hear your thoughts on this StealthEX review, so make sure to comment in the comments section.