In today's article: ChangeHero review, we will take a deep look at one of the best exchange platforms. And we will demonstrate how to start exchanging cryptocurrency on ChangeHero.
The cryptocurrency market is volatile, and you might need to exchange your coins with other coins quickly without transferring to another platform or looking for a buyer. That's where exchange platforms play a very vital role in trader's life.
With exchange platforms like ChangeHero, you can swap coins in a few minutes without having to use a middle wallet for the exchange. Also, ChangeHero offers a wide range of supported coins; therefore, you will never worry about not finding the coin you want.
Table of Contents
About ChangeHero.
ChangeHero is one of the best crypto exchange platforms in the market. You can convert Bitcoin, Ethereum, Litecoin, and over 100 crypto assets fast and securely. On ChangeHero, you can buy crypto with a credit card or debit card and also sell for fiat. The platform provides the best rates in the market for your crypto exchange at a very low fee.
Also Read: 10 Best Hardware Wallets in 2022.
ChangeHero Features.
During the following part of this ChangeHero review, we will highlight the platform's top features to expand your view of ChangeHero.
No limits on exchanges: Unlike other exchange platforms, on ChangeHero you can exchange as much as you want of your Bitcoins, Ethereum, and over other 100 cryptocurrencies.
Extra fast transactions: In order to not slow down your traders, ChangeHero converts Bitcoin, Ethereum, and all the popular cryptocurrencies at a lightning speed without any delays!
Safe transactions: ChangeHero is a non-custodial service and will never hold your cryptocurrency. Your cryptocurrency will be safely sent to the wallet right after the exchange.
Buy and sell crypto: On ChangeHero, you can buy cryptocurrency with your Credit Card and also sell your cryptocurrency and receive fiat on your card.
No registration required: You will not need to registrate on ChangeHero. Also, you don't need to go through a KYC verification. However, ChangeHero have a risk-based KYC system and they ask the users to go through the KYC procedure if the transaction is flagged by the system.
Best rates: At the moment of the transaction, ChangeHero searches all the trading platforms and finds the best rate for your exchange.
24/7 Support: ChangeHero support team is available round the clock to assist you in resolving any issues you face when you convert Bitcoin or any other cryptocurrency.
F.A.Q.
How much is ChangeHero fees?
ChangeHero charges a low fee of 0.5% for the Best Rate transactions and 0.7% for the Fixed Rate exchanges.
What is the minimal/maximal amount for exchange?
There are no restrictions on the amounts of the transactions; however, in some cases, there is a minimum amount for the transaction in order to cover the network fees to process the transaction on the blockchain. You will see a pop-up to set the minimum amount on our widget if the exchange amount is too low.
How long does an exchange on ChangeHero take?
Transactions take an average time of 15 minutes. The delay is not on ChangeHero's side; it depends on the blockchain. Some blockchains have the capability of processing the transactions quicker whereas others need a bit of time to create the blocks. In any case, your cryptocurrency will be safe when you exchange with ChangeHero
What is Best Rate?
Due to the volatility of the cryptocurrency market and also the change in network fees, every transaction has a unique exchange rate.
In the Best Rate transaction, ChangeHero scours through the market and finds the most profitable rate. However, the final amount you receive may slightly vary due to the fluctuation in the value of cryptocurrencies.
What is Fixed Rate?
Cryptocurrency value changes often due to market conditions. Fixed-rate enables you to avoid fluctuations in the market. ChangeHero finds a good exchange rate for the selected pair and freezes the rate for 15 minutes. The final amount you receive will be the same as the estimated amount.
Starting with ChangeHero.
In the following part of this ChangeHero review, we will explain in detail how to start exchanging on ChangeHero and also how to buy and sell cryptocurrency with your Credit Card.
Exchange Crypto.
Select trading pairs and amounts.
In order to exchange cryptocurrency on ChangeHero; firstly, head to ChangeHero's main page where you will ChangeHero's exchange box.
Now, you need to specify if you are going with the Best Rate exchange or Fixed Rate. After that, select your trading pairs and specify the amount you are willing to exchange then click on "Exchange".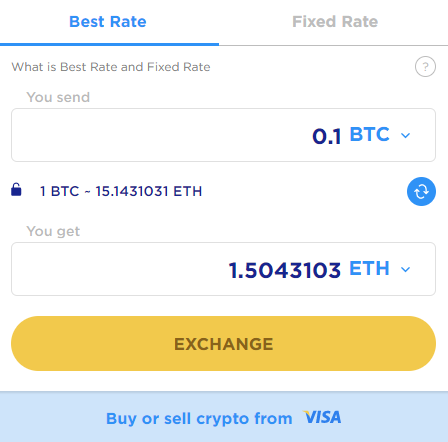 Confirm transaction.
Now, ChangeHero will load a page where you can see more details about the transactions and also enter your recipient wallet.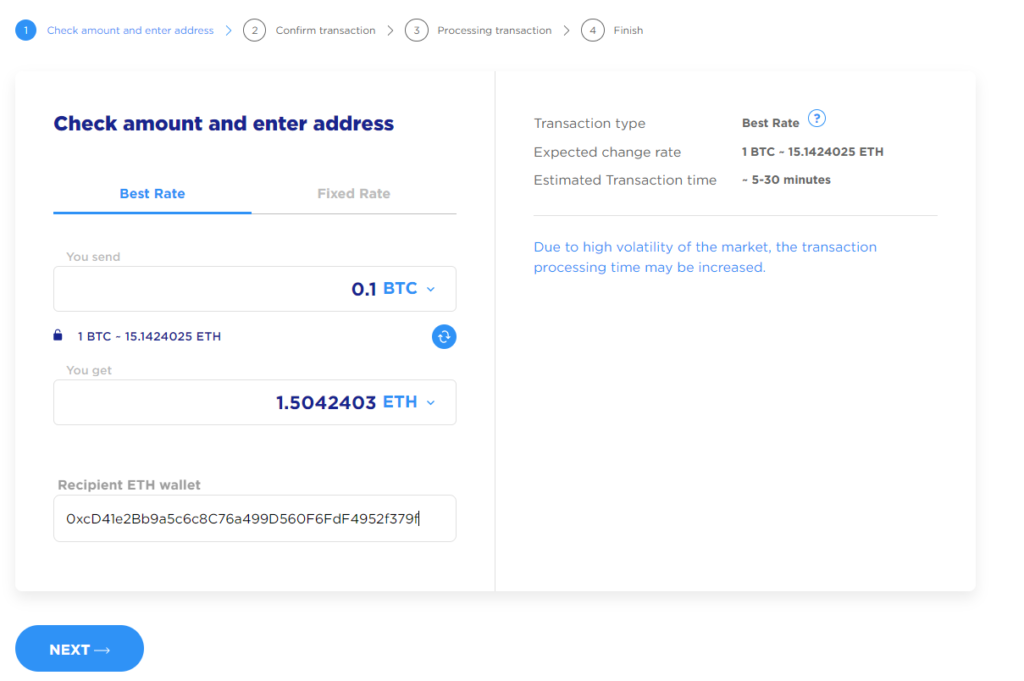 After that, you will see a brief of the transaction and also you need to agree to ChangeHero terms of use.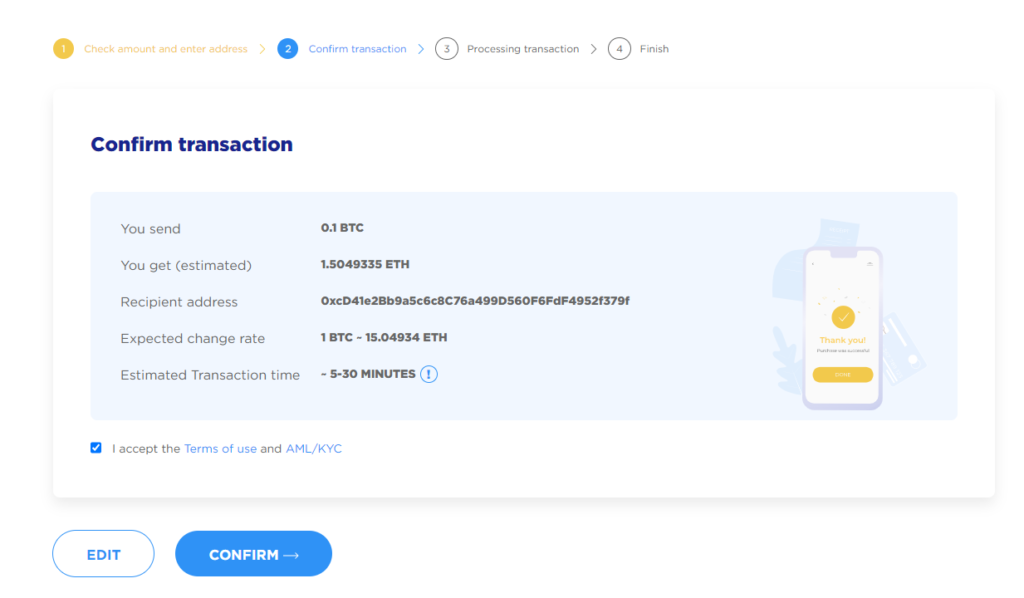 Make the exchange.
Finally, all you need to do is send your coins to the displayed wallet address and your exchange will be complete in an average of 15 minutes.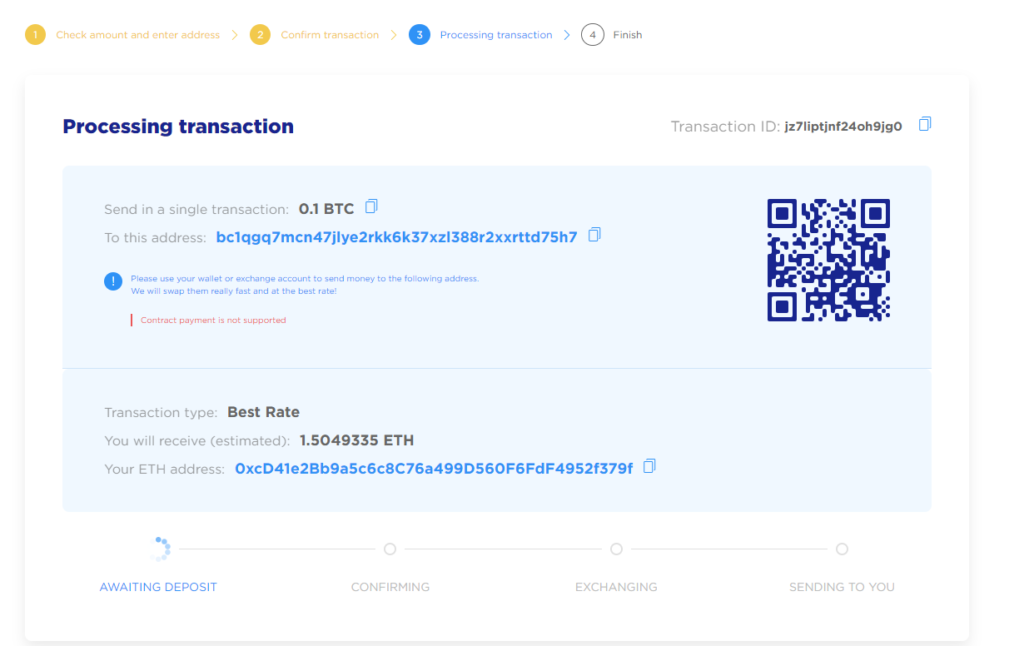 Buying Crypto with Visa.
Currently, ChangeHero supports buying crypto with Visa cards only. Firstly, on ChangeHero's main page click on "Buy or sell crypto from Visa".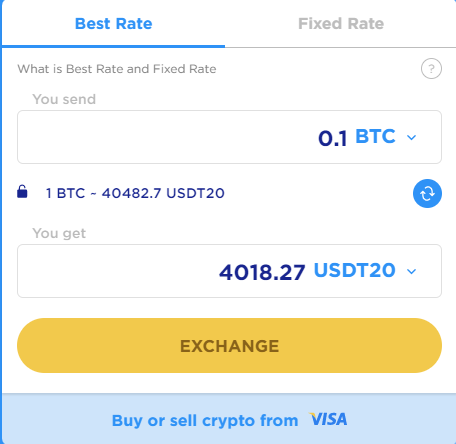 After that, specify the country of residence and also the amount you are willing to buy.
After clicking on "Buy", you will go to a page where you can enter your wallet's address and also complete your payment.
Sell Cryptocurrency.
On the same page of "Buy or sell crypto from Visa", choose to sell crypto then click on "Sell". Then, you will be directed to a page where you can choose currencies and complete the transaction. After that, cash will be deposited into your bank card.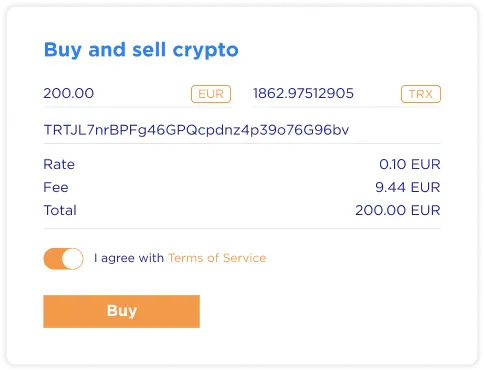 Conclusion.
In brief words, ChangeHero is a leading exchange platform with over 1500 transactions made per day. The platform offers a unique experience where you can easily exchange your coins with no need to sign up or go through a KYC verification. Also, providing Best Rate and Fixed Rate exchanges is a great option to have to ensure getting the amount you expect.
Pros.
Very fast exchange platform;
support available 24/7;
supports a wide range of coins.
Cons.
Higher fees for Fixed Rate exchanges.
ChangeHero Alternatives.
There are lots of exchange platforms that are offering different features and tools. Check the best alternatives for ChangeHero below and also make sure to check our detailed review for each one of them to know everything about the platform.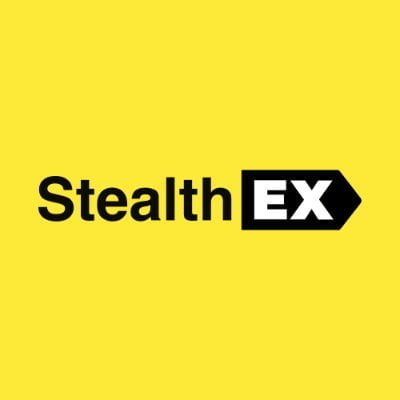 StealthEX
StealthEX is an instant cryptocurrency exchange that provides secure, limitless, fast, and cross-chain swaps with no registration required.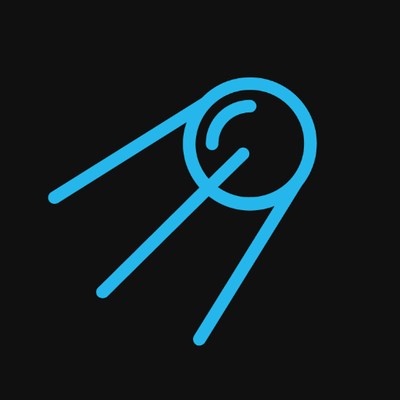 Swapzone
Swapzone is an instant cryptocurrency exсhange aggregator, which does not require users to deposit their crypto assets in order to make use of its services. Explore over 15 supported exchanges on only one page.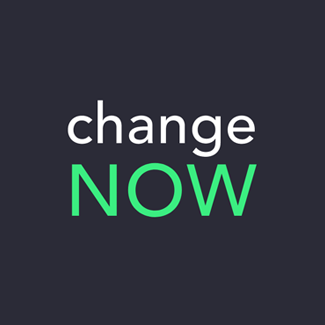 ChangeNow
ChangeNOW is a non-custodial service created for simple and fast cryptocurrency exchanges. ChangeNow strives for maximum safety, simplicity, and convenience.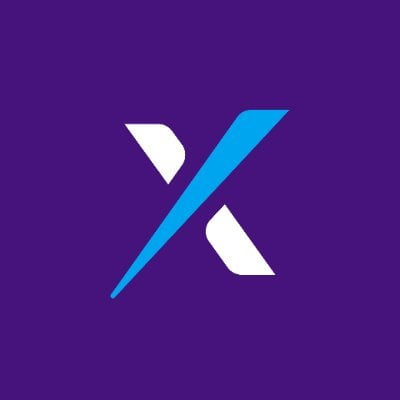 Paxful
Buy and sell digital currencies in an easy way. Once you get your Paxful account, you can start accepting payments and earning money.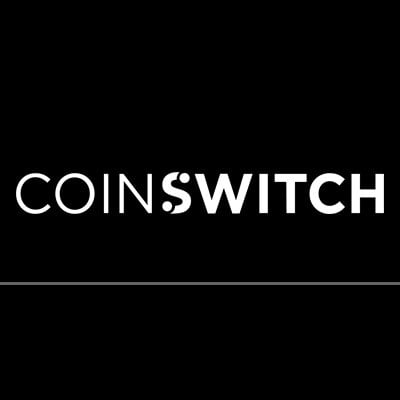 CoinSwitch
Trade 300+ coins at best rates without creating an account on any exchange. Exchanges include Binance, Huobi, KuCoin, HitBTC, IDEX and more
Ultimately, we would love to know your thoughts on this ChangeHero review in the comments section below. Make sure to comment and we will reply to you as fast as we can.