In this article, Changelly review, we're viewing Changelly in-depth, illustrating its features and how to start with the platform.
Following the creation of Bitcoin, many platforms specialized in trading and exchanging decentralized cryptocurrencies. Further, such platforms were considered a massive leap in the crypto community. Not only does it enable traders to sell or buy crypto, but also traders can swap crypto for crypto.
Changelly is one of the most accessible trading platforms available for use in different countries around the globe. The platform has also gained popularity as it provides many payment solutions. We're getting to explain all about Changelly and more in this article.
Table of Contents
About Changelly.
Changelly acts as an intermediary between crypto exchanges and users. It offers access to 160+ cryptocurrencies that can be effortlessly swapped within 10 minutes on desktop and on-the-go via the Changelly mobile app.
Also Read: Coinmama Review and Best Alternatives.
Changelly Features.
Changelly has many features that we're going through and demonstrating. But you must know that Changelly's main feature is the platform's comfort of use and integrity.
Flat Fees.
One of the main attraction factors to Changelly is that it charges you a flat fee of 0.5% per trade. Also, that's considered one of the lowest fees among all exchanges.
Easy to Use.
Once you've signed up for Changelly, you can start exchanging with no limitations for a smoother experience. Simple as that. And Changelly's interface makes it more efficient as Changelly has a responsive and interactive interface.
No Personal Information.
Unlike other exchanges that require identity verification, Changelly won't ask for your verification. However, in some rare cases, Changelly might require identity verification.
Supported Cryptocurrencies.
Changelly supports over 150 cryptocurrencies you can buy, sell, or exchange. Supported coins include major crypto, like BTC, ETH, and more. Also, you can check more on their main page.
FAQ.
Is Changelly Easy to Use?
Yes, Changelly's team understands how ease of use concerns all traders, and that's what they're implementing into their system. With only a simple sign-up and a few steps, you will complete your first exchange on Changelly.
Is Changelly Safe?
Yes, Changelly is safe for your trades as it doesn't store your information. Also, your assets will be transferred to a wallet of your choosing.
How Much Is Changelly Fees?
Surprisingly, Changelly has a flat fee of 0.5% of the total amount of the trade.
Starting on Changelly.
As we mentioned before, Starting on Changelly is simple and easy. It would take you only a couple of minutes. In the following part of our Changelly review, we will illustrate how to start your account on Changelly and make your first trade.
Create an Account.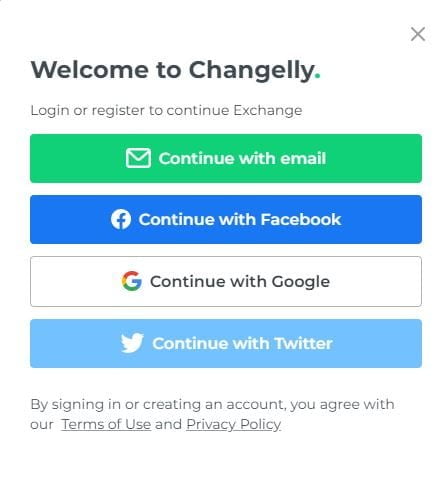 Firstly, visit Changelly's main website. Then, click sign-up to sign on Changelly, Email, Facebook, Google, or Twitter.
Verify Your Account.
If you've chosen to sign up via Email, visit your Email and Check for a verification link from Changelly's team to verify your account. Plus, your account will be automatically confirmed if you sign up with anything other than Email.
Exchange Crypto.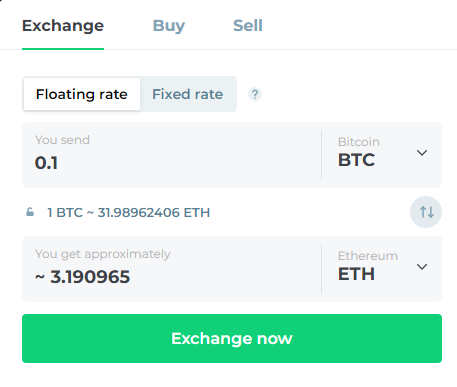 To exchange crypto on Changelly, choose the pairs you'd like to exchange from/to. After that, Changelly will ask you for the wallet address on which you'd like to receive your assets. Then, they'll display a wallet address that you need to send the amount you've chosen to transact.
Selling Crypto.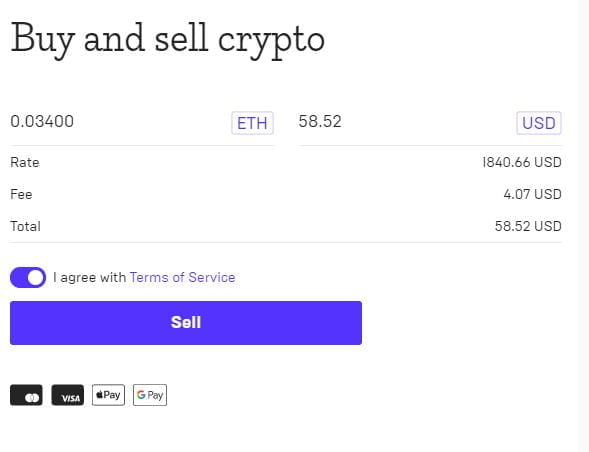 To sell crypto to Changelly, select the crypto of sale and enter the amount you want to sell on their main page. Notice that you can receive your fiat on your credit card. Also, you can see the rate, fees, and total amount.
After that, they'll ask you for a phone number verification, which is very simple. Once completed, send the amount you've chosen to sell to an address they'll display, and then they'll pay you how you choose.
Conclusion.
Undoubtedly, Changelly established itself as one of the most trustworthy, easy, simple, and secure exchange platforms. We like Changelly for many reasons, and it's one of our top exchange platforms. However, there is something that we didn't like—more in Changelly's pros and cons.
Pros.
Mobile App
24/7 Live support
Easy to use
Low fees
Cons.
Transactions can be slow.
Changelly Comparison and Alternatives Options.
During our Changelly review, we're keen to provide you with the best alternatives for Changelly that offer you different features, fees, and functions.
Description:

A non-custodial service created for simple and fast cryptocurrency exchanges. ChangeNow strives for maximum safety, simplicity, and convenience.




Description:

SimpleSwap is an instant cryptocurrency exchange. The service is free from sign-up and has a user-friendly interface that provides an easy exchange process. SimpleSwap offers more than 300 cryptocurrencies to swap and two exchange types: floating and fixed rate.

Description:

An instant cryptocurrency exchange that provides secure, limitless, fast, and cross-chain swaps with no registration required.

Description:

Bitop Exchange is a leading digital financial service platform that provides a secure, comfortable, and equitable digital asset investment environment for users worldwide.

Description:

BYDFi, formerly BitYard, is a leading crypto contracts exchange based in Singapore. It provides secure and user-friendly trading services across 150+ countries, emphasizing a streamlined approach for traders.
Finally, we'd love to hear from you in the comments, so share your comments below and tell us your thoughts on Changelly.