During this article: Keystone Tablet Plus review, we will explain how can you protect your crypto private keys, forever!
A seed phrase is a list of 12, 18, or 24 words in order. Each of these words has a unique 4-letters start. Such a combination is impossible to guess or to randomly type.
As a crypto user, your seed phrase is between you and your funds, just like your credit card PIN. It allows you to access your funds in order to receive and send coins. Furthermore, anyone with your private keys will have access to your wallet, from any device or any place in the world. That's why your recovery phrase must be the most secured factor when it comes to cryptocurrency.
By Using a steel case or capsule you can protect your private keys forever as they have many features that make them indestructible. In the following article, we will provide you with one of the best options available in the market, which is Keystone Tablet Plus.
Also Read: Cryptosteel Capsule Solo by Ledger Review.
Table of Contents
About Keystone Tablet Plus.
Keystone Tablet Plus is a solution created by Keystone which is known for the famous hardware wallet Keystone (formally Cobo Vault). This steel Tablet can protect your seed phrase against fire, water, and much more that we will discuss during this article.
Keystone Tablet Plus Features.
During our Keystone Tablet Plus, many features impressed us. In the following part, we will highlight all the features of this product.
Fireproof.
Designed to be indestructible with a fireproof threshold of 1399 to 1455°C / 2550 to 2651°F (house fires get up to 649℃ / 1200°F).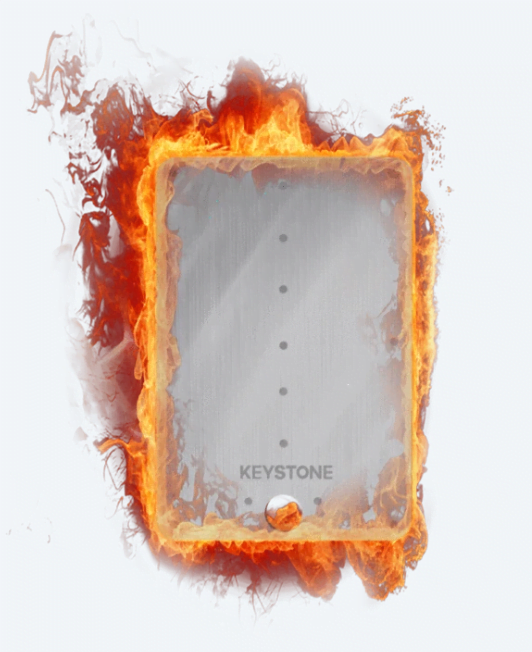 Waterproof and Corrosion Resistant.
Composed entirely of 304-grade stainless steel. Keystone Tablet is waterproof and resistant to various types of corrosion.
Seed Support.
Double-sided storage supports 12, 18, and 24-word recovery phrases (BIP39 specifies only the first 4 letters are needed to identify each word).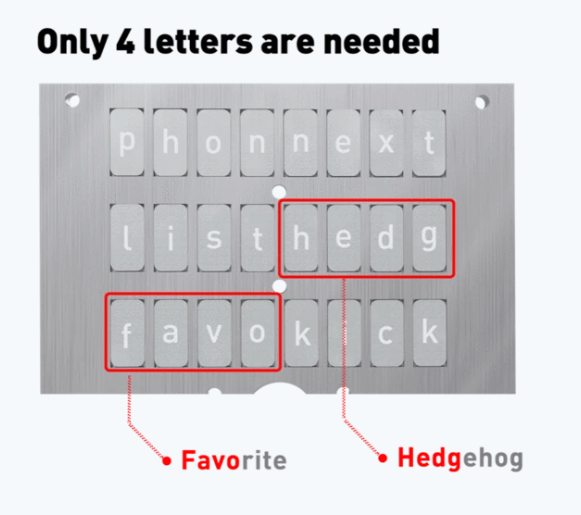 Etched in Steel.
An intense industrial etching process ensures your phrase words are permanently preserved.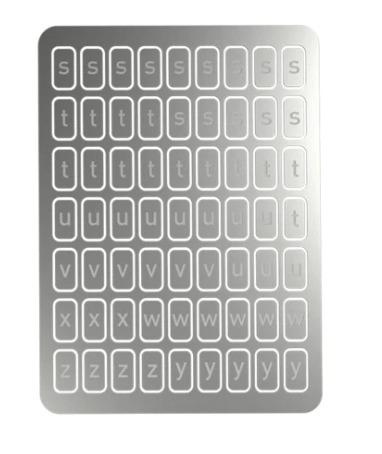 How to Use Keystone Tablet Plus.
In the following part of our Keystone Tablet review, we will demonstrate how to use the product to protect your private keys.
1. Firstly, Unscrew the plate and then you can slide it open.
2. Now, start finding and inserting the letters tiles you need. Remember that you only need the first 4 letters of each word.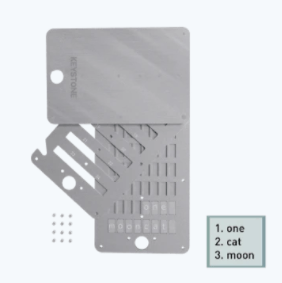 3. Finally, close the cover and screw it back tightly. Also, you can add a lock for extra security.
FAQ.
What comes inside Keystone Tablet Plus box?
In the box you will find the following items:
Keystone Tablet Plus
4 Sheets of metal letters
2 Tamper-Proof stickers
Extra screws
Screwdriver
Quick Guide
How do I recover my seed phrase?
While setting up your Keystone Tablet Plus or most of the other metal cases or capsules, you are required to insert only the first 4 letters of your seed phrase. That is because your wallet is encrypted by the BIP39 system; therefore, each word has a unique 4-letters start. By searching the BIP39 word list with the first 4 letters, you will find the entire word.
How much does Keystone Tablet Plus cost?
Keystone Tablet Plus costs only $49.00 which we believe is a good deal considering other products' prices and the features that Keystone provides.
What are Keystone Tablet Plus Dimenssions?
In case you're planning to store your Tablet in a special place with specific dimensions, Keystone Tablet Plus dimensions are 70 X 105 X 6 mm and its weight is 450g.
Keystone Tablet Plus Alternatives.
There are many products that specialize in protecting your seed phrase, and of course Keystone Tablet Plus is one of the best players. However, if you are looking for something else for whatever reason, we have made the complete list of Keystone Tablet Plus alternatives with a review for each product.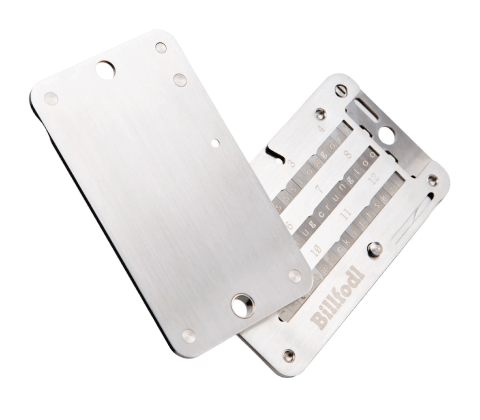 Billfodl
Billfodl is one of the most secure ways to store your crypto wallet backup offline and also keep it safe from hackers. Using a randomized set of character tiles, you recreate your recovery phrase in the steel unit, creating an almost indestructible backup.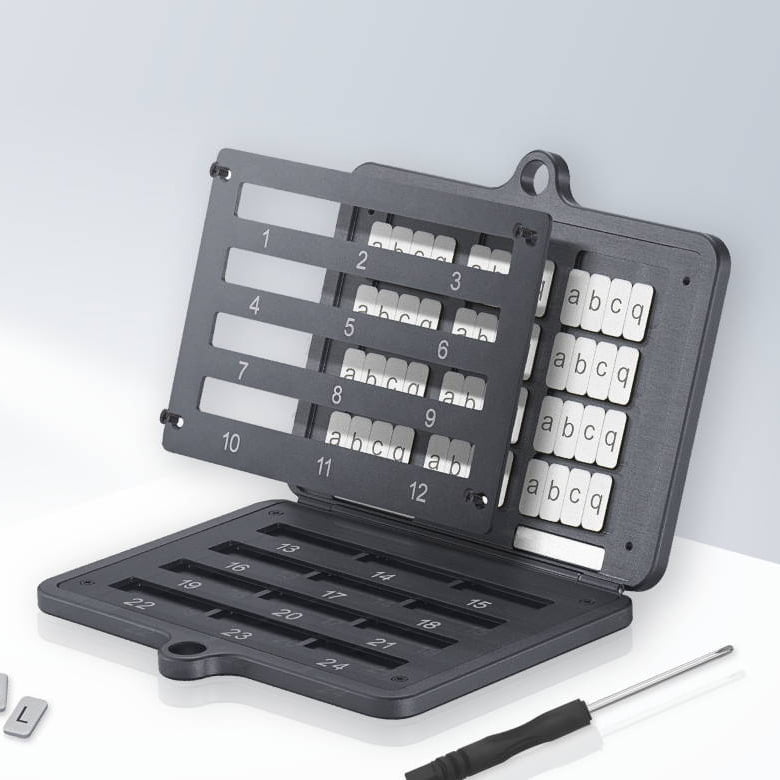 ELLIPAL Mnemonic Metal
ELLIPAL Mnemonic Metal is a solid and strong metal device used to store the important 12/15/18/21/24-word mnemonic phrase and make sure your wallet's backup lasts forever.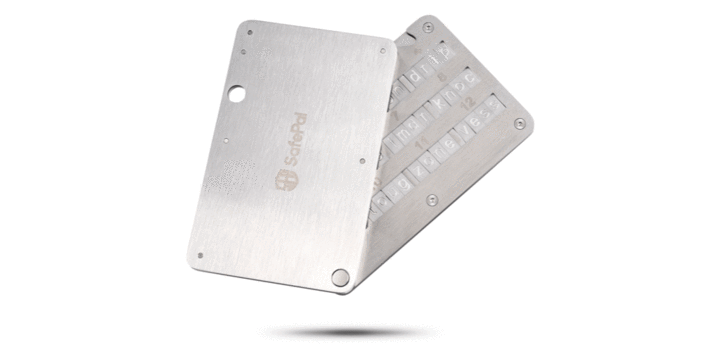 SafePal CypherSeed Board
Protect your private keys forever by using SafePal CypherSeed Board which makes it impossible to endanger your seed phrase, therefore, your wallet.
Review Soon | Visit Website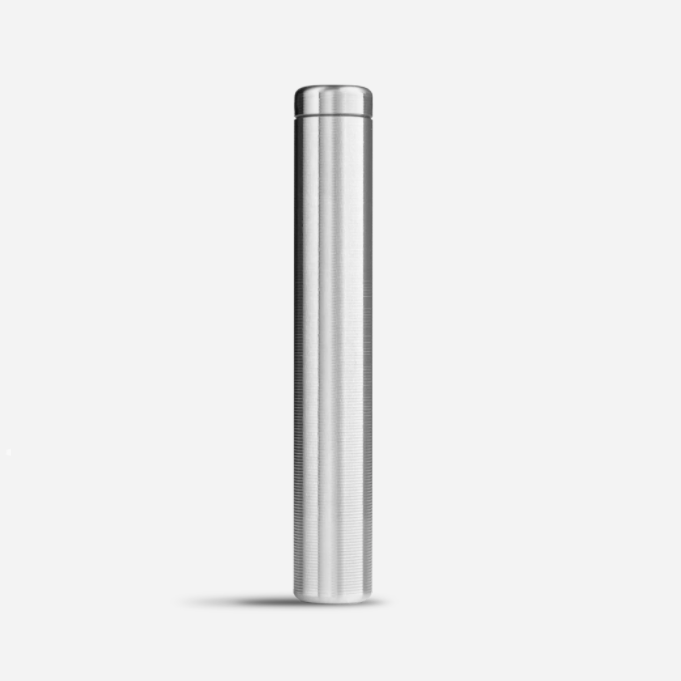 Cryptosteel Capsule Solo
A solid steel capsule to protect your 24-word Recovery Phrase. Designed to resist extreme conditions. Your Recovery Phrase is the only backup of your crypto assets. You can now keep it safe with the Cryptosteel Capsule.
Finally, we would love to hear your thoughts on this Keystone Tablet Plus review. Comments your thoughts below and we will be replying to you.