In this article: Coinplate Alpha review, we will look at one of the most secure metal plates that will help you secure your seed phrase the most.
Firstly, what's a seed phrase? Your seed phrase or private keys work as the key to your crypto wallet. The lock is visible to everyone on the blockchain; however, it can be unlocked only using private keys. As a result, your private keys are the most precious thing when it comes to cryptocurrency.
Of course, you might be saving your private keys on a piece of paper on your disk or keeping it as a note on your mobile phone, which is the worst thing you can do. We heard of many incidents of people losing their private keys and, therefore, their assets forever.
Now, what should you do to save your private keys? We highly recommend using metal plates as they provide maximum safety and security; CoinPlate is one of the most excellent options discussed in this article.
Also Read: Best Crypto Metal Plates for Recovery Seed Key and Wallet Backups.
Table of Contents
About Coinplate Alpha
Coinplates are a range of metal backup tools for secure seed phrase storage. With Coinplate, you can sleep well at night knowing that your crypto holdings are safe, regardless of the future. You shouldn't trust paper with your valuable seed phrase; use stainless steel instead.
Mark your seed phrase in metal at home and safe from hackers. Make it super easy with Coinplate Alpha and its innovative easy-to-read layout and automatic marking tool.
Coinplate Alpha Features.
In the following part of our Coinplate Alpha review, we will highlight the product's top features to give you a comprehensive idea.
They are designed to survive the worst​.
All Coinplates are 100% made of superior-grade German Stainless Steel (AISI 304 | DIN1.4301 ), guaranteeing water and corrosion resistance. This type of stainless steel is known for its excellent resistance.

It is also fireproof up to a temperature around 1.400°C/2.500°F, while house fires reach up to 850°C/1.500°F. You can be safe with Coinplate.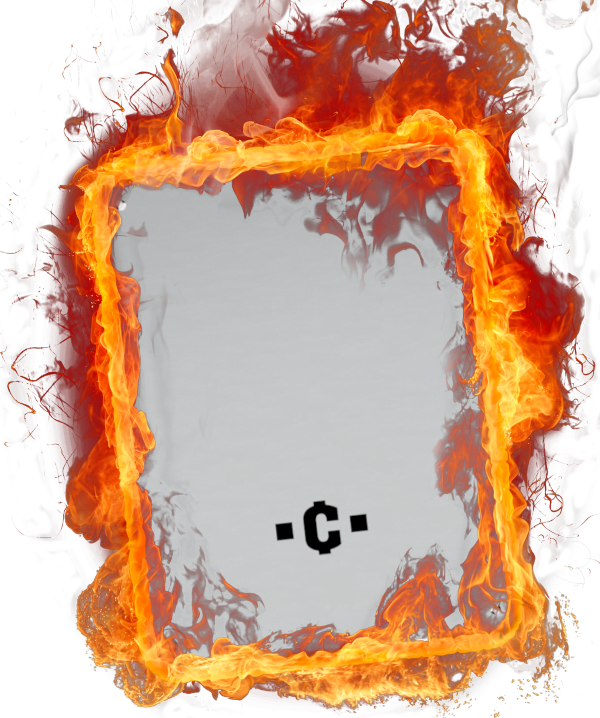 It is built like a tank​.
All Coinplates are made of ultra-thick stainless steel plates joined with stainless bolts. Each steel plate is 5mm | 3/16″ thick, forming together a steel sandwich to protect your seed phrase. Coinplate weighs 1.3kg | 2.8lb.

The layout and lettering are deeply engraved in steel. This will guarantee seed phrase visibility even after the worst accidents or disasters.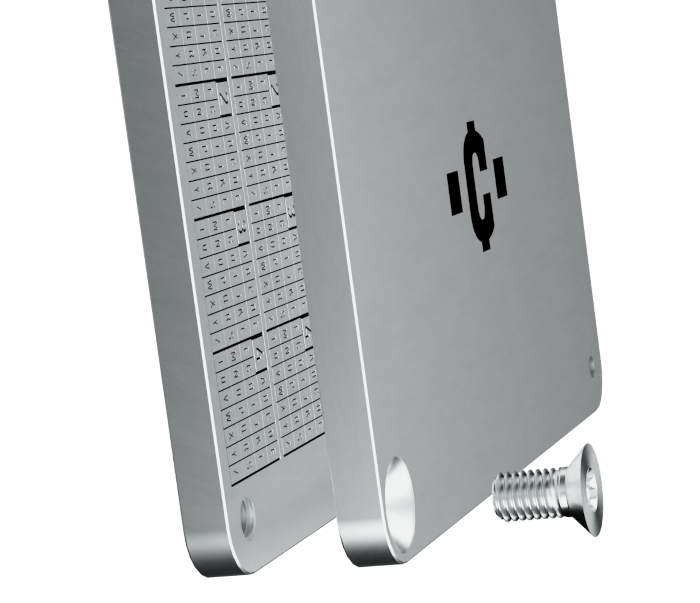 BIP39 Compatible​.
Coinplates are compatible with all BIP39 wallets and work well with SLIP39
Store up to 24 seed words to secure your recovery phrase

Compatible with hardware wallets like Ledger Nano, Ledger X, Trezor, Keepkey, Keystone and more.
Also compatible with software wallets like Metamask, MyEtherWallet and others.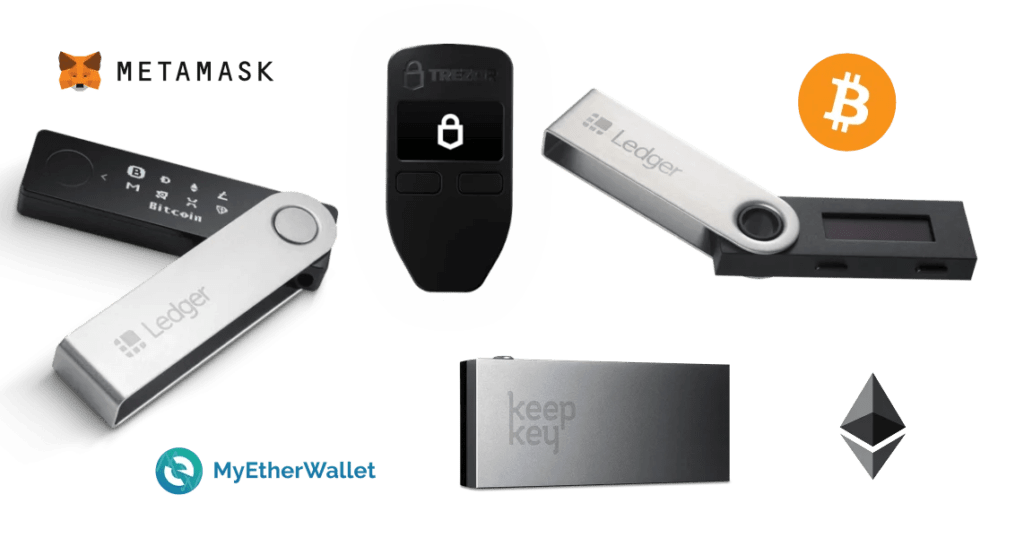 The Most Secure Metal Plate.
Extra security.
Your data stays hidden inside a steel sandwich, not visible at first glance.
Easy to hide.
A simple look makes it easy to hide in plain sight.
The logo on the front is just a sticker you can remove easily.
Tamper evident.
Use tamper-evident seals to be sure no one has seen your precious data when you weren't looking.
Ultra-durable.
Thick stainless steel sandwich for extreme durability.
Fireproof up to 1.400°C/2.500°F. Waterproof, EMP & X-ray proof.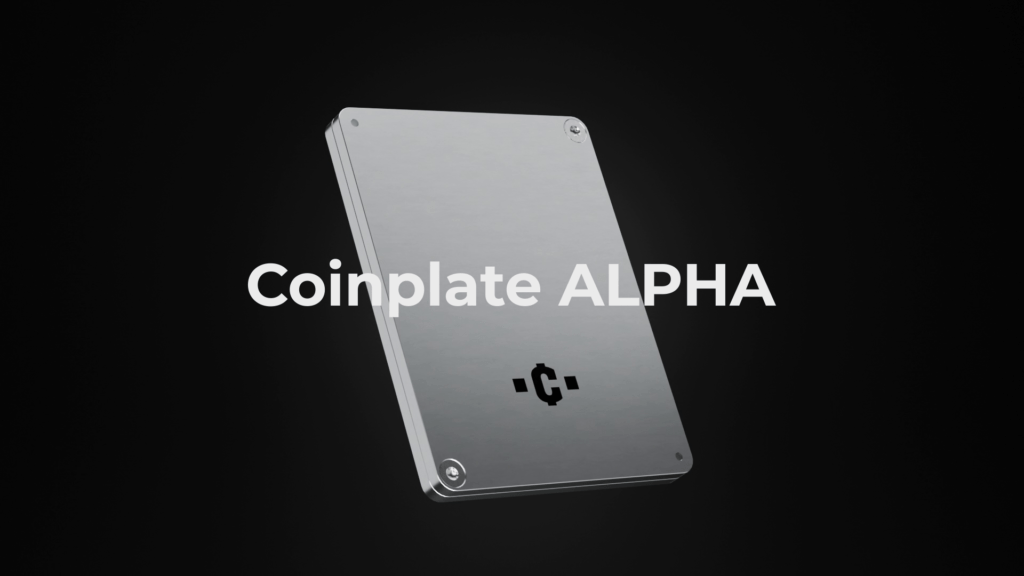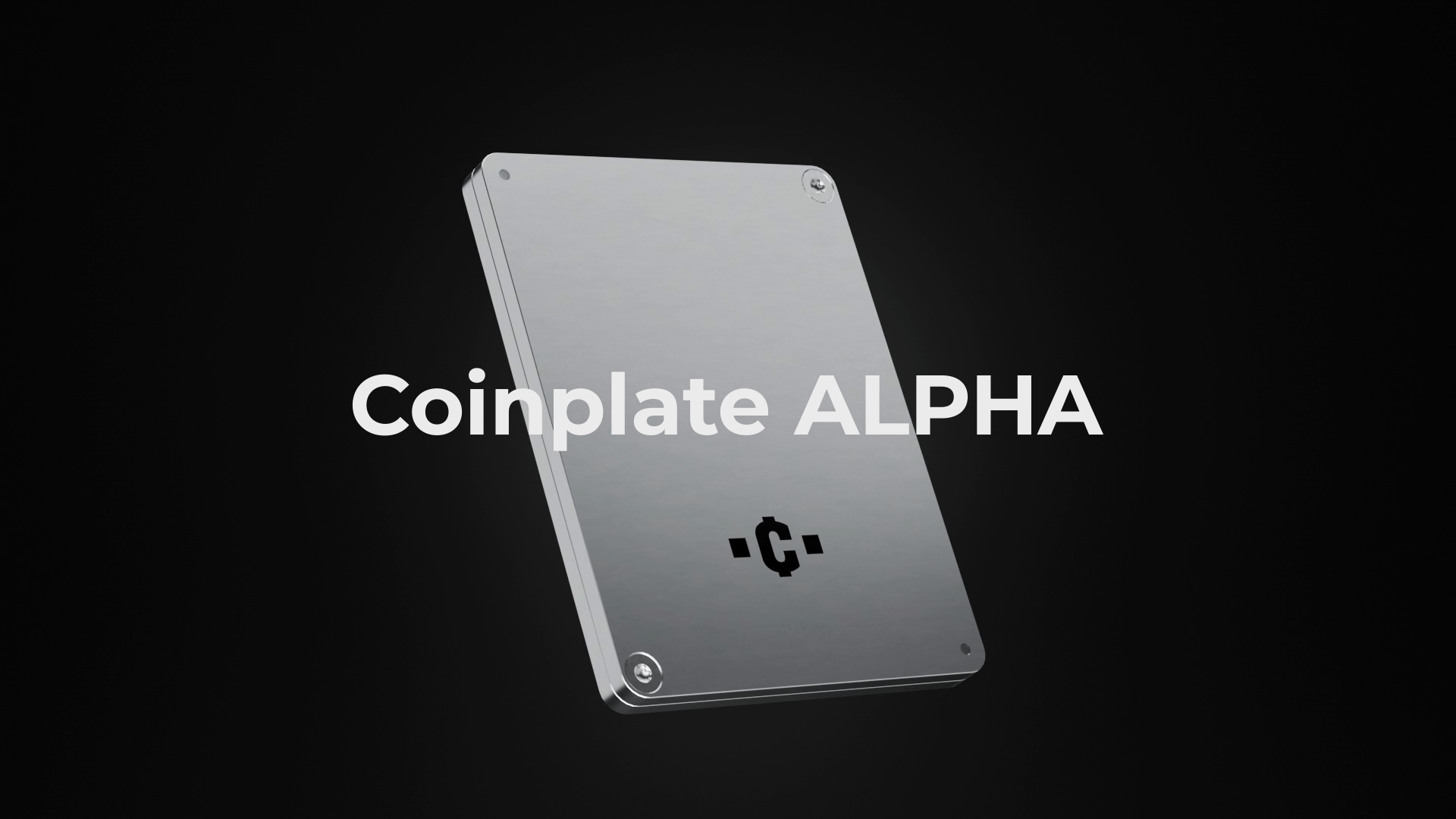 How to Use Coinplate Alpha to Save Your Seed Phrase.
Each side of Coinplate Alpha has dedicated letter and word spaces deeply engraved in metal. This innovative layout makes it easy to read and use.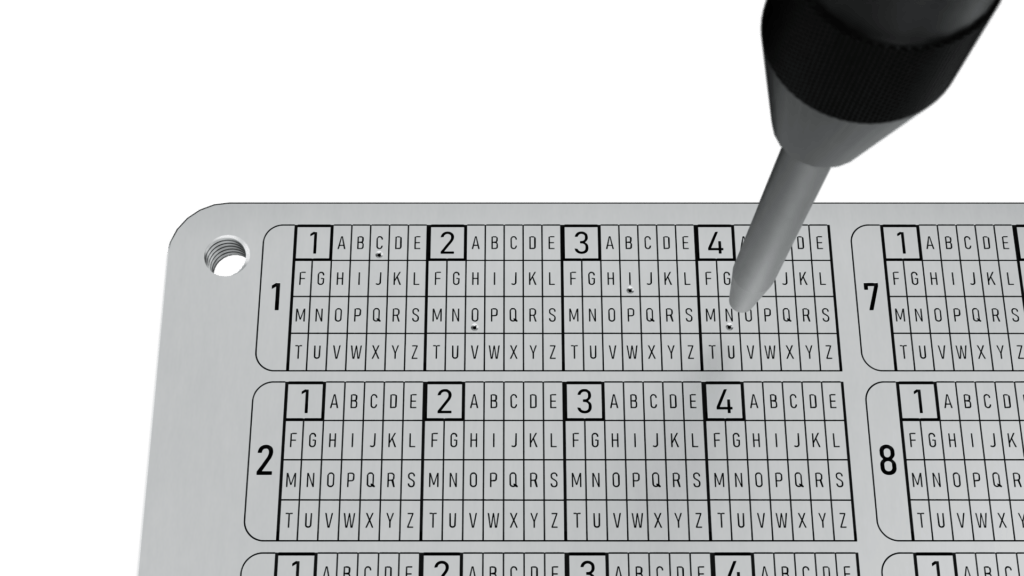 Using an included automatic marking tool, mark your seed words letter by letter. Firstly, in the first row, grid number 1 mark the first letter of the first word, and grid number 2 mark the second letter of the first word. Rows represent words, and grids represent letters.
You only need to press it down on the right spaces – the tool will spring back and make a deep dent in the metal. Thanks to the BIP39 seed phrase design, you only need to mark down the first four letters of each word.
FAQ.
Why do I only need the first four letters of each word?
BIP39 protocol is made of 2048 carefully chosen words. The way the BIP39 protocol is designed guarantees that you can identify your seed words with just four first letters of each word on the list.
How do I restore my seed phrase?
It's straightforward; since each word in the BIP39 protocol has a unique first four letters, you can search the BIP39 word list here by the first four letters marked on your Coinplate Alpha and get the entire word.
How much does Coinplate Alpha cost?
Coinplate Alpha will cost you $79.00, including taxes. We find that fair pricing compared to other alternatives. You can also get up to a 30% discount if you order more than one item. You can order Coinplate Alpha on their shopping page.
Coinplate Alpha Comparison and Alternatives Options.
During this Coinplate Alpha review, we highlighted the top features and pros of the product. We will suggest the best alternatives for Coinplate Alpha in the following part.
Description:

Your recovery phrase is the ultimate key to your digital assets. There is never too much protection for what it HODLs. Keystone Tablet is a fire and waterproof solution for storing your recovery phrase made entirely of 304-grade stainless steel, down to every letter tile and screw.

Description:

The Cryptosteel Capsule is the premier backup tool for autonomous offline storage of valuable data without any third-party involvement. The solid metal device, designed to survive extreme conditions, works under nearly all circumstances.

Description:

A solid steel capsule to protect your 24-word Recovery Phrase. Designed to resist extreme conditions. Your Recovery Phrase is the only backup of your crypto assets. You can now keep it safe with the Cryptosteel Capsule.

Description:

Billfodl is one of the most secure ways to store your crypto wallet backup offline and also keep it safe from hackers. Using a randomized set of character tiles, you recreate your recovery phrase in the steel unit, creating an almost indestructible backup.

Description:

ELLIPAL Mnemonic Metal is a solid and strong metal device used to store the important 12/15/18/21/24-word mnemonic phrase and make sure your wallet's backup lasts forever.
Ultimately, after this Coinplate Alpha review, we would love to hear from you in the comments below. Make sure to comment your thoughts, and we will reply to you as soon as possible.