Today's article will compare two of the best-automated trading platforms. Both platforms offer a great set of trading bots and also an outstanding social trading experience.
In the beginning, If you haven't read our article about social about the best social trading platforms, we highly recommend checking it out for a comprehensive idea. You can read the article here, and also, you can check our section on the best automated trading platforms.
Table of Contents
What Is Social Trading (Copy-trading)
Briefly, social trading is a way of investing that allows you to observe the trading behaviour of expert traders and copy their trades. The main goal is to follow their strategies to make the same profits or losses. Social trading does not require excellent trading knowledge; you could make profits without knowing anything about trading.
There are different types of copy trading, such as Copy Bots(Strategies), Copy Signals, Social Trading, and Copy Indexes. Refer to the previously mentioned article for further information.
1. Features.
In the following part, we will discuss both platforms' features.
CryptoHopper.
Mirror Trading (Social Trading): Copy expert traders and view their previous trades and profits.
Arbitrage: Arbitrage will make you profit from market price differences by simultaneous purchasing and selling an asset. Exploiting the price differences of exchanges or market inefficiencies can make you a lot of profit.
Algorithm Intelligence: You'll feed your A. I with all possible strategies and it will analyze all of them for you and tell which one works the best in the current market.
Strategy Designer: Instead of using indicators that look at the trends, volume, momentum, and volatility. The strategy Designer will indicate how the market is moving. All you have to do is choose indicator and candlestick patterns which will be used to scan the market; then Cryptohopper will tell if it's time to buy or sell.
Backtesting: Test your strategies in previous market conditions and see how your strategy would have done. Know that Backtesting does not reflect the strategy's efficiency 100% correct.
Paper Trading: If you are new to trading or testing out new strategies, paper trading is the best feature for you. With paper trading, you will not be trading with real money, but you will still be able to trade in the current market conditions.
Portfolio Management: View your previous trades and profits across all connected exchanges.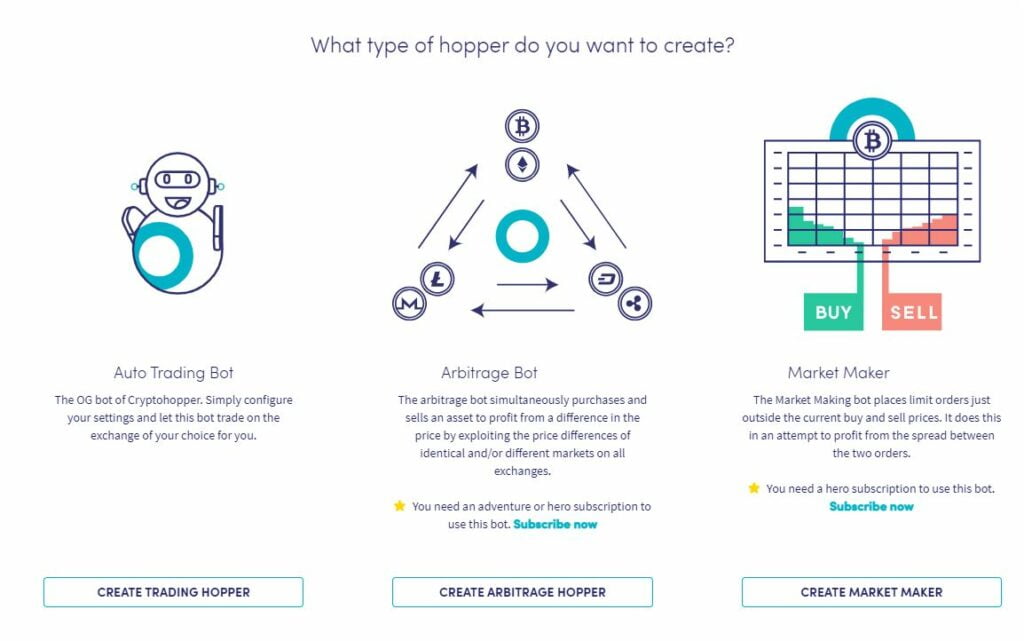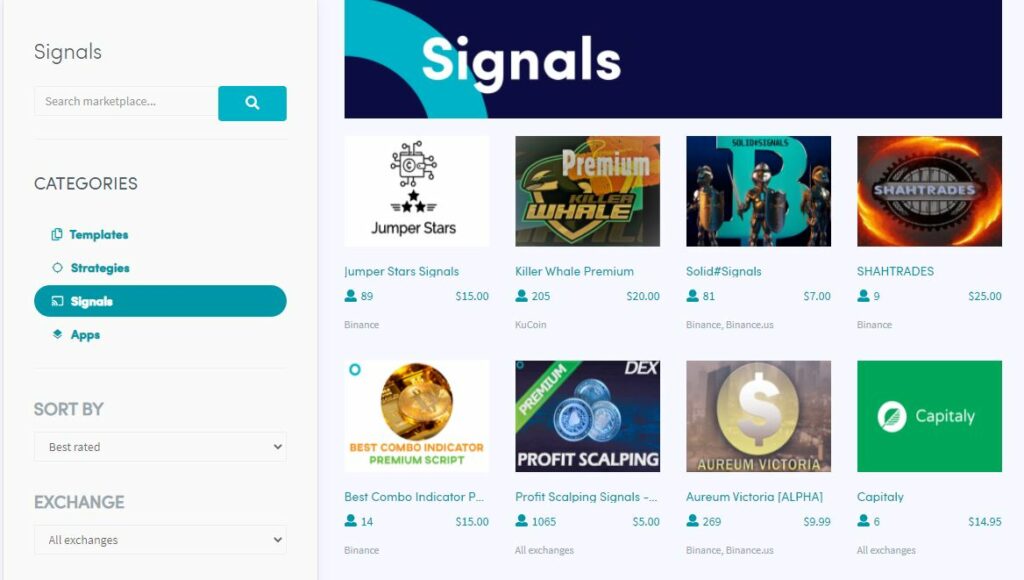 3Commas.
Copy Trading: Copy the experts and don't worry about not making the best decision.
Paper Trading: You'll be able to perform trades in an environment that simulates the current market and its changes with unreal funds that don't exist, that way, you can get used to their UI without risking any real funds.
Trading School: Being new to trading can make someone apprehensive. 3Commas team is aware of that.
Variety of bots: 3Commas' marketplace has a variety of trading bots that you can apply to your account, and you will be able to view each bot's previous performance.
Trading Terminal 'SmartTrade': You can trade across all connected exchanges simultaneously through one intelligent terminal. On the 3Commas trading terminal, you will also find advanced tools and indicators to analyze the market.
Portfolio Tracking: Available for all types of subscriptions. You'll be able to monitor your current and past trades and analyze them.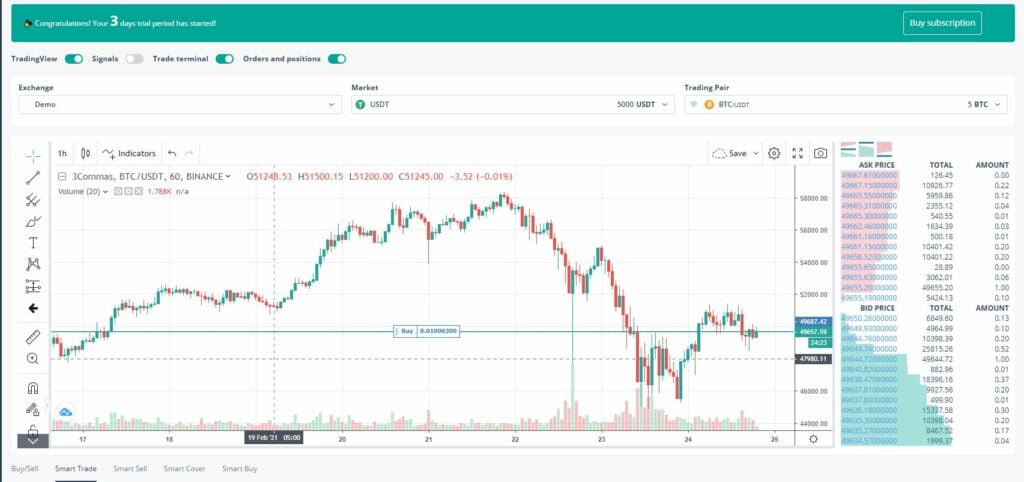 2. Supported Exchanges.
CryptoHopper
3Commas
Supported Exchanges
CryptoHopper supports 16 top exchanges at the time of writing this article. The list includes Binance, ByBit, and more.
Check the full list.
3Commas supports more than 20 major exchanges like Binance, BitMEX, Bitstamp and ByBit.
Check the complete list here.
CryproHopper and 3Commas Supported Exchanges.
3. Pros and Cons.
CryptoHopper
3Commas
Pros
1. Supported on most major exchanges.
2. Easy to set up and use.
3. mobile app includes advanced security features.
4. Social-trading
1. Has a mobile app.
2. Lots of features.
3. Copy-trading.
4. Variety of bots
5. Responsive interface.
Cons
1. Pay for extra signals.
2. Must purchase a monthly plan to access the most valuable features.
1. Unfortunately, you must pay a subscription to receive signals.
CryptoHopper and 3Commas pros and cons list.
4. Pricing.
CryptoHopper
3Commas
Pricing
CryptoHopper plans start at $19 for the Explorer plan, $49 for the Adventurer plan, and $99 for the Hero plan. Also, Cryptohopper offers a free plan.
Learn more about CryptoHopper pricing.
3Commas has four plans available. The free plan, the starter plan for $29, the Advanced plan for $49, and the Pro plan for $99.
Learn more about 3Comams pricing.
Cryptohopper and 3Commas plans.
Both platforms offer almost the exact pricing, making it difficult for users to decide. However, you can make up your mind by viewing our detailed reviews on CryptoHopper and 3Commas.
There's no doubt that both platforms offer unique features that will assist you in making more profits. Automated trading, in general, is becoming very popular, and it is controlling a massive amount of the market. On the other hand, social trading, in particular, is the best solution for novice traders.
Luckily, both platforms offer social trading and automated trading bots that you can fully customize and set up. So if you have the knowledge, you could make profits and even sell your trading signals on the platforms for new traders.
Finally, at the end of this CryptoHopper and 3Commas comparison, we are pleased to review and compare platforms for you. Your comment cheers us, make sure to comment your thoughts in the comments section below, and we will reply as soon as possible.