Regardless of how you interacted with crypto during the past year, you must complete a tax return report at the end of every tax year. There are different reports across different authorities. Also, various events might have separate reports. But, during this post, Lukka review, you'll learn how to automate crypto tax calculations once and for all.
Lukka is a crypto tax calculator; how do they work? In brief, tax calculators connect to your exchange through an API key or to your wallets through a public key. After that, your transactions' data is passed through to Lukka, and then the system starts calculating and filling reports within a few moments. Of course, you'll learn the whole process from A to Z in this article.
Table of Contents
About Lukka.
Lukka is a team of top-performing data experts transforming post-trade blockchain data into easy-to-use information for business operations. Lukka is the first back-office crypto-focused technology company to receive AICPA SOC 1 Type 2 and SOC 2 Type 2 certifications.
Their product, Lukka Essentials, aims at easing traders' lives by automating crypto tax filling at one simple UI. And for further functionality, Lukka has a sleek crypto portfolio tracker where you can link all your exchanges together.
Also Read: Best Crypto Tax Softwares & Calculators.
Lukka Features.
In the following part of Lukka's review, we're looking at Lukka's features that really dragged our attention to the platform.
Raw Transactions.
On the raw transactions feature, you can see your raw trade data. That includes your bought or sold assets, their amount, and any relevant information.

Sub Ledger.
That feature lets you review and adjust your transactions by applying gain/loss processing treatments and taxable implications. Furthermore, filter boxes can filter your transactions and potential errors.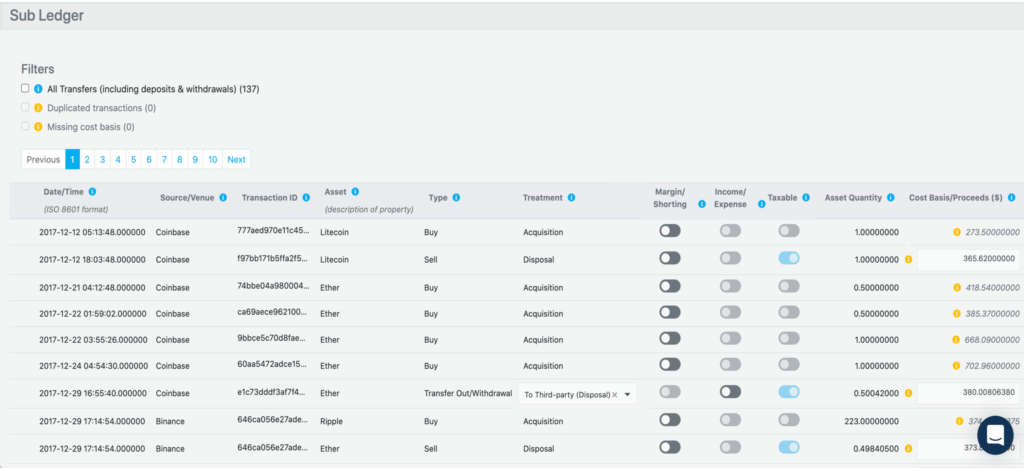 Balances.
This feature lets you view snapshots of your balances across your connected exchanges. Moreover, data is pulled directly from your exchange through API connectivity.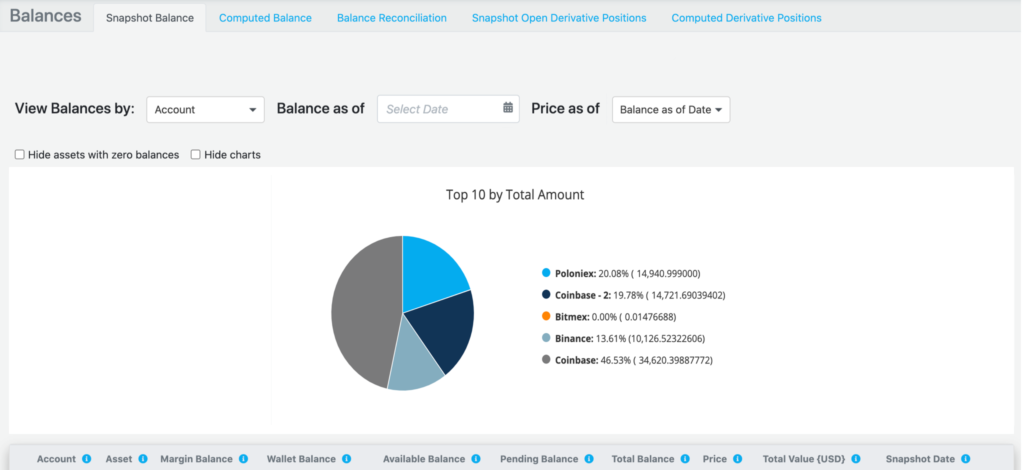 Supported Exchanges.
Lukka can accept data from any exchange or wallet provider; thus, you'll find no problem transferring your data to Lukka. Also, here's a list of the major supported exchanges by Lukka:
Binance
Bitfinex
KuCoin
Coinbase
Kraken
Exodus
HitBTC
FAQ.
Is Lukka Easy to Use?
Yes, Lukka holds a clear interface. Novice users won't find problems interacting and using Lukka for the first time. Also, everything is well-categorized and easy to access.
Is Lukka Safe?
Of course, Lukka's website has an SSL certificate. And your exchange account is connected through an API key, which means extra security for your account. You can always change the API key's permissions.
What Tax Reports Does Lukka Support?
You can fill any of the following crypto tax reports on Lukka:
Ordinary Income
Capital Gains
Unmatched Disposals
Unrealized Holdings
All Tax Forms
Form 8949
Schedule 1
Ordinary Income
What Are Lukka Plans?
Fortunately, Lukka is completely free to use with no limitations.
Starting with Lukka.
In the following part, we'll demonstrate how to start with Lukka, create your account, connect your exchange, and fill out your first report.
Create Your Account.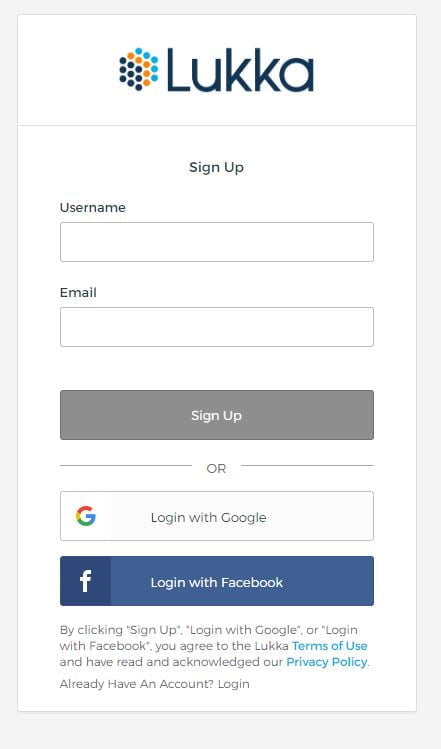 Firstly, visit Lukka's website, click on 'Sign-up.' Then, submit your email, and choose a strong password. You can also proceed with Google or Facebook.
Verify Your Account.
After signing up, visit your email and check for a verification link from Lukka's team to confirm your account.
Connect Your Exchange.

During sign-up, Lukka will ask which exchange you want to connect with in the next step.
After completing your sign-up process, click 'Accounts' on the top menu; then, click 'Add API keys' next to your previously selected exchange. Visit your exchange and generate API keys. Then, click on 'Run API.'
Generate A Tax Report.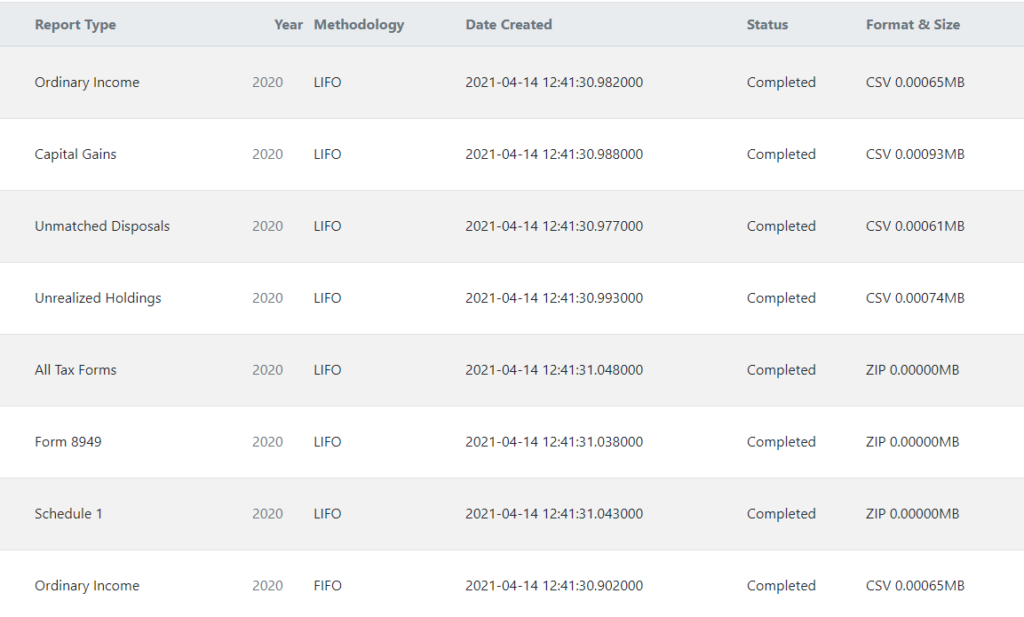 Finally, to generate a tax report on Lukka, click on 'Tax reporting' on the top menu; after that, it'll take a few minutes to calculate your taxes. Eventually, you'll see a list of generated reports that you can download.
Conclusion.
In a word, Lukka is really an amazing free crypto tax calculator. It's completely free to use without any limitations at all. However, there might be a few things that we didn't like about Lukka; know more about Lukka's pros and cons.
Pros.
Free to use
Easy and simple
No transactions limit
Supports a wide range of exchanges.
Cons.
It doesn't integrate with TurboTax
No mobile app
Lukka Comparison and Alternative Options
Of course, Lukka would be great and enough for some traders. But, if you're more expert, you probably need a more advanced crypto tax calculator than Lukka. After Lukka's review, we'll provide you with the best alternatives for Lukka that we've reviewed as well.
Product Image / Product Name

Price / Description

Supported Reports / Primary Button

Starts at $49.00 with a free plan.

Automatically imports your transactions, finds all the market prices at the time of your trades, calculates your crypto gains/losses and generates your tax reports!

Starts at $49.00 with a free plan.

The world's most reliable and easy-to-use tax solution for cryptocurrencies. File your tax return in under 20 minutes.

Available in 65+ countries

Complete Tax Report
Transaction History
Capital Gains
IRS Form 8949 and Schedule D (USA)
Skatteverket K4 (Sweden)
Skatteetaten RF-1159B (Norway)

Connect major exchanges like Coinbase, Binance, and BitMEX with automatic API import, or upload a trade history CSV from any exchange.

FIFO support
LIFO support
IRS Form 8949
Audit Trail Report
Cryptocurrency Mining & Income Tax Report
International Gain / Loss Report
TurboTax Cryptocurrency Import.

Accointing is the accounting, tracking, and tax optimization tool for Bitcoin and other cryptocurrencies. They are a team of passionate blockchain investors and believers that have come together to create the most comprehensive and simple-to-use taxes and tracking tool in the blockchain space.

At Recap, they have created a powerful portfolio manager for Bitcoin and all cryptocurrencies that automatically calculates your crypto tax position.

FIFO support
LIFO support
IRS Form 8949
Finally, we'd love to hear from you in the comments. Communicate with us and say your opinions on this Lukka review.