The world is moving towards crypto, and so is your business. Due to the simplicity of crypto payments, many customers started looking for offline and online stores that accept crypto payments and prefer them over others. It turns out that developing your store to accept crypto isn't difficult at, as many people thought.
In this article, NOWPayments review, we'll take a look at one of the most powerful cryptocurrency payment gateways.
Also Read: ChangeNow Review and Best Alternatives.
Table of Contents
About NOWPayments.
NOWPayments is a crypto payment gateway that allows merchants to easily accept online payments in crypto without developing a payment processor.
Integrate NOWPayments and start receiving online payments in crypto. Accept Bitcoin, Ethereum, and 100+ cryptos on your website, store, and social media accounts globally.
NOWPayments Features.
In the following part of NOWPayments review, we'll highlight the platform's main features and what really makes it unique.
Simple Dashboard.
NOWPayments has developed a convenient and straightforward dashboard with essential information such as statistics and a list of your current transactions.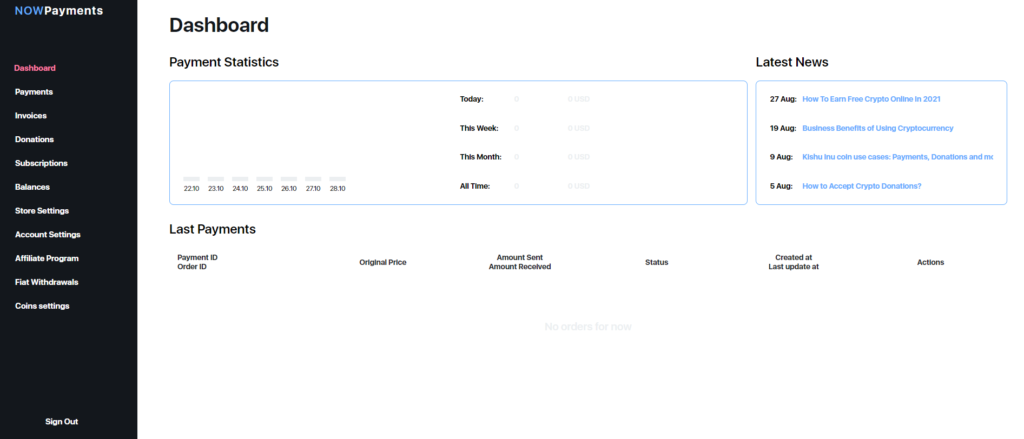 Instant Payouts.
When a customer pays you, the money goes from their crypto wallet right into your wallet. Automatically. Therefore, you will experience the fastest payments possible with NOWPayments.

Creating PoS and Donations Pages.
On NOWPayments you can create PoS pages that support different devices. Also, you can create donation pages where you can accept donations and require extra information.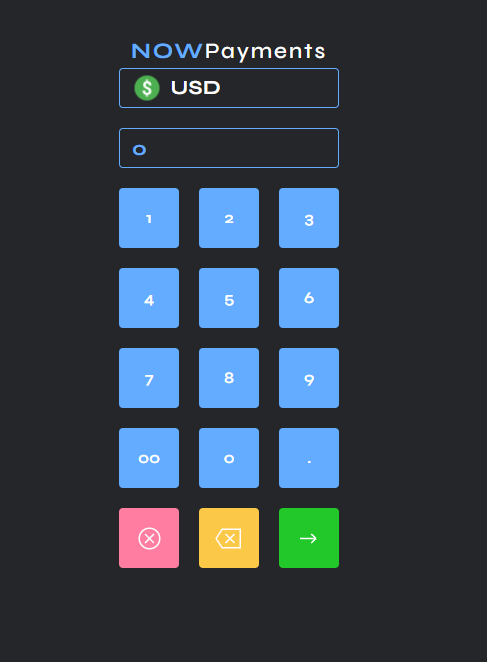 Wide Range of Supported Currencies.
NOWPayments supports a wide range of coins. As a result, your customers will find no difficulty paying with the coin they hold.
Variety of Plugins.
In order to ease the process further, NOWPayments supports the most popular plugins; here's a list:
Shopify
WooCommerce
Opencart
Ecwid
WHMCS
PrestaShop
Magneto
ZenCart
Easy-to-implement API.
Implementing a payment processor into your website doesn't have to be complex at all. NOWPayments offers a simple API that enables users to easily and quickly integrate the solution with their system and make it feel as native as possible.
Supported Coins.
As we mentioned earlier, NOWPayments supports lots of coins, including BTC, ETH, DOGE, USDT, and much more, which you can check on their website here.
FAQ.
How much are NOWPayments fees?
NOWPayments has one of the lowest fees in the market, ranging from 0.5% to 0.4%. You can read more about NOWPayemts fees.
Is NOWPayments easy to use?
Of course, yes, NOWPayments is one of the easiest payment processors that you can use. Once you sign up, you can start going instantly.
Getting Started with NOWPayments.
In this part of our NOWPayments review, we'll take you through the process of starting with NOWPayments step by step.
Sign-up.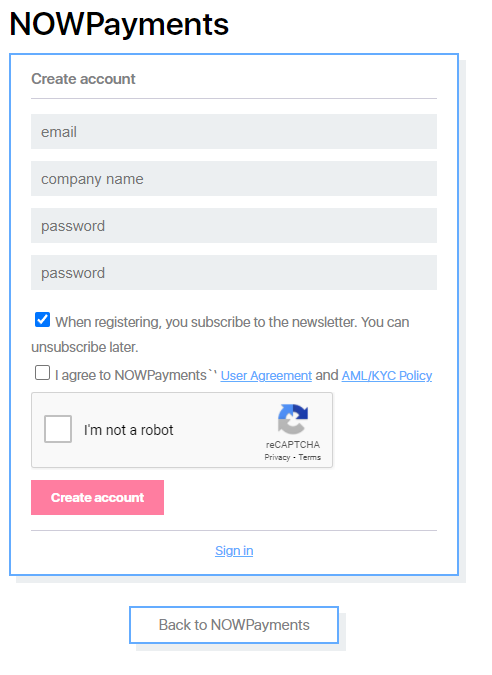 Firstly, head to NOWPayment website and sign up for your account.
Verify Your Account.
Once you register, check your email for a verification link in order to activate your account.
Link Your Wallet.
Now, click on "Store Settings" on the left menu, then click on "Add Another Wallet" and enter your wallet address.
Generate an API Key.
After adding your wallet, on the same page, click on "Add New Key," and NOWPayments will generate an API key to which you can link your website. And for further information on NOWPayments API keys, make sure to check their docs here.
Create a PoS Page.
NOWPayments allows you to create a page where you can receive payments. Firstly, click on "Store settings" and scroll down till you find "PoS Terminal Link". On that page, you can choose which API key is linked to the created page and also specify a link for it.
Create a Donations Page.
You can create a donations page on NOWPayments easily. In the "Store Settings" menu, scroll down to "Donation Link". Now, enter the information the page requires, choose an API key, and specify a link; simple as that.
Conclusion.
NOWPayments is definitely one of the most powerful payment processors. The platform's power is due to its ease of use, simplicity, and wide range of supported coins. However, there are some things that we didn't like, more in NOWPayments pros and cons.
Pros.
Auto-coin Conversion
Fiat conversion
Instant Withdrawal
Easy-to-use
Supports creating PoS pages
Supports creating donation pages
Cons.
NOWPayments Comparison and Alternatives Options.
There are many alternatives for NOWPayments that offer similar features. Also, we have made a detailed review of each one of NOWPayments alternatives, and we highly recommend checking them out.
Description:

Integrate NOWPayments and start receiving online payments in crypto. Accept Bitcoin, Ethereum, and 100+ cryptos globally on your website, store, and social media accounts.

Description:

Take advantage of our global crypto payment gateway made easy and accessible for everyone — whether you're a business owner, crypto user, or even from another planet.

Description:

CoinRemitter is a payment processor that facilitates accepting cryptocurrency for merchants and opens more doors for businesses.

Description:

CoinGate is a payment gateway for blockchain payments. Their goal is to grow the adoption of cryptocurrencies on a global scale by laying out a reliable payment infrastructure that caters to the needs of both merchants and their customers: accessible, convenient, and customer-oriented.

Description:

Introducing Speed, your go-to Bitcoin and Stablecoin payment processor, designed to revolutionize the way you get paid. Whether a business owner or an individual, Speed's lightning-fast platform allows you to accept and send Bitcoin payments anytime, anywhere, and globally.
Finally, we'd like to hear from you in the comments section below. So, make sure to share your thoughts with us, and we will reply to you.