Hardware wallets are essential for every crypto trader or owner, without a doubt; consequently, we've previously reviewed the best hardware wallets. But, which one is the best?
Firstly, before talking about hardware wallets, we need to know what are seed phrases. For security reasons, a seed phrase or backup seed phrase is a list of words that store all the information required to recover your funds. Once you start a wallet, it generates your seed phrase. If you lose your list, you'll lose your wallet forever. There's no way to recover it or protect it from thieves.
Also Read: Best Social Copy-Trading Platforms
Table of Contents
What are Hardware Wallets?
A hardware wallet is a device that stores and secures your seed phrase from hackers, attackers, and viruses. Unlike web wallets, also known as hot wallets, cold wallets are in complete isolation from the outside world in most cases. Each manufacturer chooses a way to make transactions; some use USB connections, others use Bluetooth or QR Code.
Why Are Hardware Wallets Better Than Web Wallets?
In general, hardware wallets are much better than hot wallets for many reasons; the most simple is that cold wallets are always away from hackers; as long as you have the official firmware installed. In the following part, we'll suggest the safest hardware wallets that we've reviewed and show you our best choice of them.
On the one hand, if your device is compromised by a virus that targets crypto wallets, your web wallet is more likely to get compromised even if you have the best antivirus software installed. On the other hand, cold wallets store your seed phrase on cold storage, which viruses can't access.
Best Hardware Wallets Available.
Our Choice of the Best Hardware Wallet.
After reviewing the previous hardware wallets, Keystone convinced us that it's the most secure hardware wallet, but why is Keystone safe?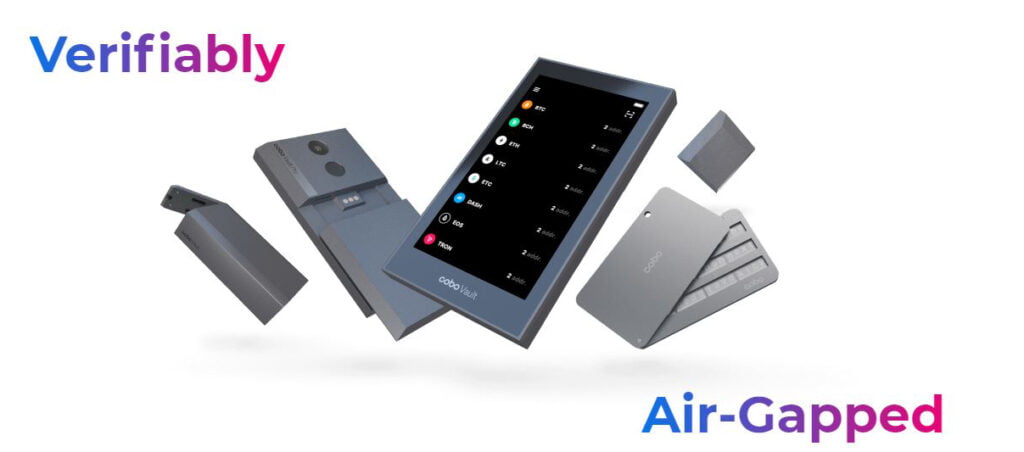 Why Is Keystone the Best Hardware Wallet?
Completely Air-Gapped: Unlike many other hardware wallets with USB ports and Bluetooth, Keystone is in complete isolation. The device stores your private keys on cold storage, and for making transactions, you need to scan the QR code displayed on Keystone's screen.
Water Resistant: We can think of more than one scenario in which your wallet may be exposed to water. Whatsoever, Keystone is water-resistant and reaches IP68 standards, which means it is resistant to submersion up to a maximum depth of 1.5m underwater for up to thirty minutes.
Impact Resistant: In case the device fell, or something dropped on it, the complete device with the body and battery implanted into the case can resist up to 20 joules of impact, which is equal to the force of a 5 kg mass dropped from 400 mm above the impacted surface.
Open-Source Firmware: You can view Keystone firmware source code; therefore, you can make sure that your device is clean. Also, that makes detecting bugs and fixing them much faster.
Wide Support of Cryptocurrencies: Indeed, Keystone supports most coins out there like Bitcoins, Ethereum, Ripple, and more. Also, you can check the complete list here.
Fingerprint: For additional security, you can unlock the Keystone device and confirm transactions using a fingerprint instead of typing PIN.
Eventually, to learn more about Keystone or any other hardware wallet, make sure to check their reviews in our hardware wallets section.
Also, make sure to connect with us in the comments section below. Let us know your thoughts on Keystone or your current hardware wallets.