In today's article: ChangeNow and Changelly Comparison; we will talk about two of the best exchange platforms that provide excellent services to crypto traders.
First of all, crypto exchanges in general are a very important asset in the crypto world. Crypto exchanges allow you to swap, sell, and buy crypto coins instantly without wasting any of your time. There are lots of reasons that encourage traders to use such exchange platforms, we have discussed everything about exchanges in our article: Best Cryptocurrency Exchanges. Make sure to check it out.
And before we start with this comparison, we highly recommend checking each platform's individual review in order to get a comprehensive idea. You can read our article on ChangeNow and Changelly.
Table of Contents
1. Features.
The first thing to talk about is platforms' features as they define and shape your trading experience on the platform.
ChangeNow.
Registration-Free: ChangeNow doesn't require registration; you will do your exchanges on one page.
Different Trading Pairs: Unlike other exchanges, ChangeNow has more than 36,000 trading pairs that you can freely choose between.
Fast Exchanges: Your exchanges will take only a few minutes and will be completed.
No Maximum Amount: There's no limit on your exchanges; that's good news, especially for bulk traders.
User-Friendly Interface: It's essential to complete your exchanges through an efficient, simple, and easy interface. Using ChangeNow, the interface has all you need to finish your exchange. Furthermore, it was interactive and responsive.
Mobile Application: If you don't have access to your computer and it was a good time for making an exchange, no problem. ChangeNow has a mobile app that works as well as the website. Also, it's compatible with both Android and IOS.
Changelly.
Flat Fees: One of the main attraction factors to Changelly is that it charges you a flat fee of 0.5% per trade. Also, that's considered to be one of the lowest fees among all exchanges.
Easy to Use: Once you've signed up for Changelly, you can start exchanging with no limitations for a further smooth experience. Simple as that. And Changelly's interface makes it more efficient as Changelly has a responsive and interactive interface.
No Personal Information: Unlike some other exchanges that require identity verification, Changelly won't ask for any of your personal exchanges. However, in some rare cases, Changelly might require identity verification.
24/7 live support: Changelly's dedicated support team is always ready to assist you with any questions regarding crypto exchanges.
Speedy transactions: Changelly achieved an average transaction speed of 25-40 minutes to ensure you get the best out of the crypto market.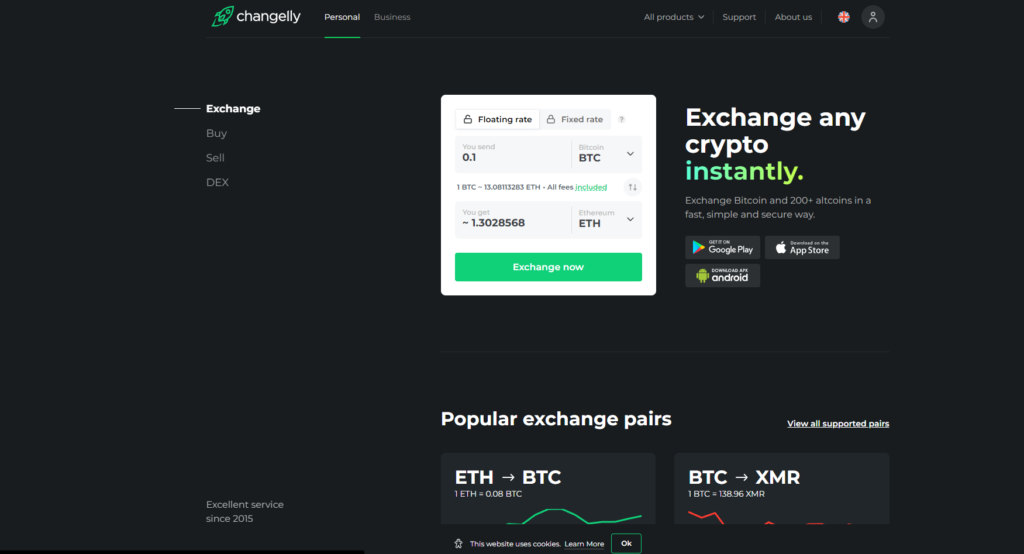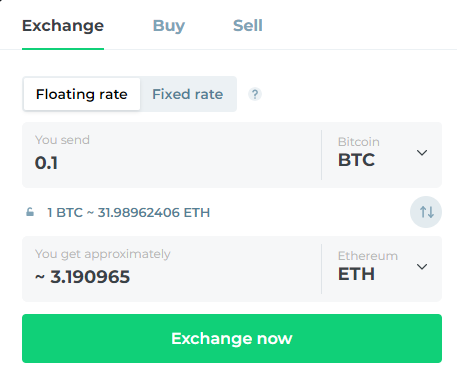 2. Supported Coins.
Of course, supported coins by each platform is a critical point that can actually make you prefer one over the other. In the following table, we will compare supported coins by both platforms.
| | | |
| --- | --- | --- |
| | ChangeNow | Changelly |
| Supported Coins | ChangeNow supports over 208 coins and tokens, including major ones like Bitcoin and Ethereum, etc. Also, it supports over 15 major fiat currencies. Make sure to view the full list here. | Changelly supports over 150 cryptocurrencies that you can buy, sell or exchange. Supported coins including major crypto, like BTC, ETH, and more. Also, you can check more on their main page. |
Supported cryptocurrency coins by ChangeNow and Changelly.
3. Ease of Use.
In fact, both platforms offer a pretty easy and seamless experience. However, ChangeNow might be a little bit easier as ChangeNow does not require registering an account on the platform.
On the other hand, Changelly will ask you to go through a simple signing-up process that will only take a few minutes for the first time.
In general, both platforms allow you to make exchanges seamlessly in 3 steps; therefore, nothing will paralyze your trade.
4. Pros and Cons.
ChangeNow
Changelly
Pros
1. No registration
2. No limits for the exchanges
3. Visa and MasterCard supported
1. Mobile App
2. 24/7 Live support
3. Easy to use
4. Low fees
Cons
1. No charts available.
2. No software wallets.
1. Transactions can be slow.
2. Requires registration.
ChangeNow and Changelly pros and cons list.
5. Exchanges Fees.
| | | |
| --- | --- | --- |
| | ChangeNow | Changelly |
| Fees | In fact, ChangeNow has relatively lower fees than other crypto exchanges. The transaction fee varies from 0.5% to 4%. | Surprisingly, Changelly has a flat fee of 0.5% of the total amount of the trade. |
ChangeNow and Changelly Trading Fees.
After this ChangeNow and Changelly comparison, we can easily say that both platforms will give you a very similar experience.
There are a few differences that you can notice in this article. Firstly, ChangeNow does not require any registration; also, the platform's fees can be less than 0.5%, unlike Changelly which has a flat fee of 0.5% and requires you to go through a simple registration process.
Furthermore, if you exchange less known coins, ChangeNow supports more crypto coins than Changelly; but Changelly will be more than perfect if you exchange popular coins.
ChangeNow and Changelly are both great, fast, and most importantly safe platforms to make your exchanges. We highly recommend experiencing both platforms and also looking for more.
You can also refer to your Exchanges Section in order to read about more than 15 popular exchanges that we have been listing. We wrote a detailed article on each platform with detailed information and a guide on getting started and making your first exchange.
That's the end of our article, we would love to read your comments and thoughts in the comments section below. Kindly leave a comment and we will reply to you as soon as we can.