In today's article: NapBots review, we will look at an excellent automated platform that will assist you in maximizing your profits.
Crypto trading is not beginner-friendly, and novice traders will face losses if they are not cautious or don't have enough knowledge. However, crypto trading can be one of the most profitable things to do.
Automating your cryptocurrency trades can dodge the risk associated with manual crypto trading. Therefore, many platforms adapted and developed the idea of automated trading and social trading. Platforms like NapBots allow you to copy expert traders and get the same profit results and the same losses. In addition to creating and automating your trading strategies.
Table of Contents
About NapBots.
NapBots is designed to automate your trading, removing fear and emotions. Furthermore, Algorithmic Crypto Trading Bots will automatically execute the selected trading strategies on your behalf without the need to be behind your computer after midnight.
Also Read: 14 Best Crypto Tax Softwares & Calculators in 2021.
NapBots Features.
During the following part of our NapBots review, we will explain the platform's features that are definitely worth your attention.
On NapBots, you can follow the signals of the top expert traders and get the same results as them. Therefore, you will trade like an expert and adapt to the different market changes that could have caused you trouble.
Trading Bots.
NapBots has crypto trading bots that work with every trading style. You will find your solution if you are either a short-term trader or a long-term trader.
Every trader needs to keep track of their portfolio. On NapBots, you will get detailed charts and reviews of your crypto portfolio in order to get a detailed view of your performance.
Multi-Account Manager.
You can connect all your exchange accounts to NapBots and manage them all at once; as a result, you will not need to keep changing between exchanges to make trades.
F.A.Q
What exchanges does NapBots support?
Currently, NapBots supports Binance, Kraken, FTX, and more exchanges that you can check the image below. Yes, other platforms support much more exchanges. But also, NapBots supports the top exchanges, and we are hoping for more exchanges support soon.
I have never traded Before. Is this for me ?
Automated trading platforms such as NapBots are created for that reason. Ordinary people who have never traded before can make money by using social trading and copying pro traders who created trading strategies that are executed on the crypto market.
Are my funds secure?
The NapBots team is doing everything in order to protect your account and your information. Also, they conduct regular security audits of the NapBots website. NapBots team is doing their best to provide you with the most secure crypto trading experience.
In addition, NapBots works with Exchanges that have a strong reputation for maintaining high-security standards.
Furthermore, NapBots connects to your exchange through an API key which means you're the one in control of the permissions given with that API key.
How much does NapBots cost?
NapBots has three plans, Silver, Gold, and Platinum. Each plan has different features and targets different categories of traders, and prices changes depending on your trading volume. If you are going with the lowest trading volume, which is 1000€, NapBots will cost 19€ for Silver, 49€ for Gold, and 99€ for Platinum.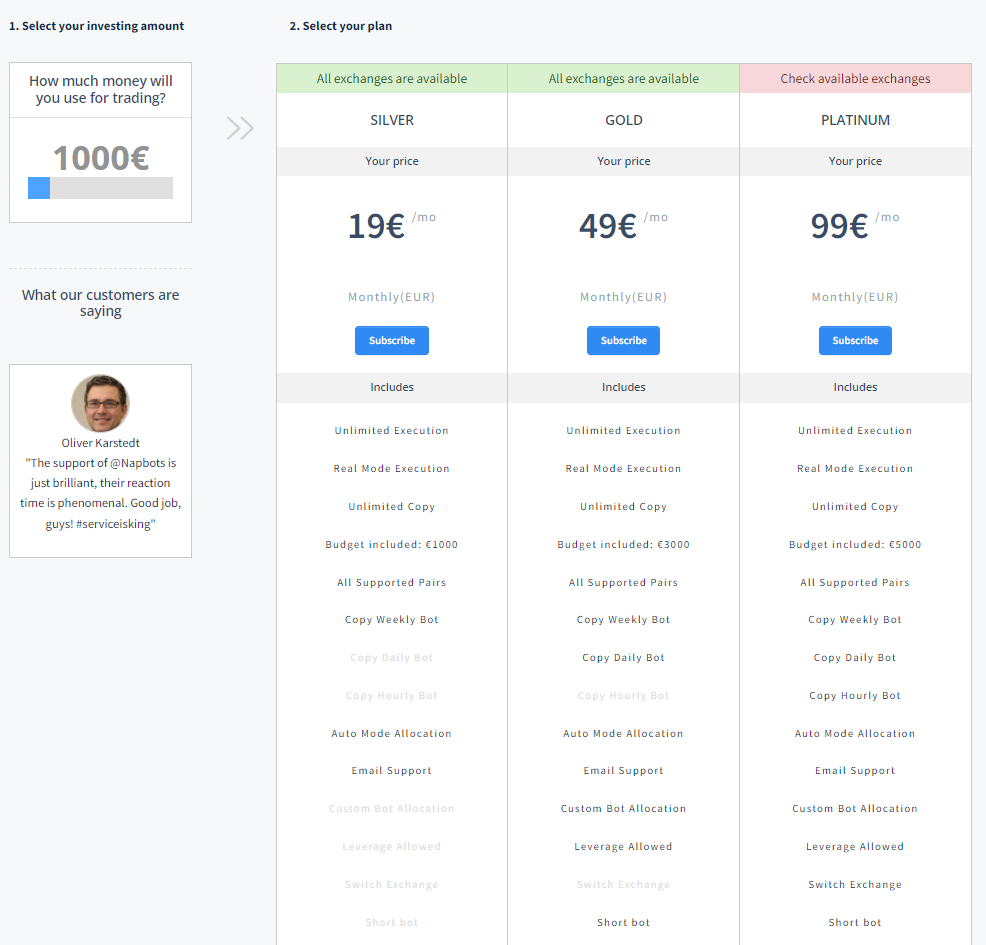 And if you're going with maximum trading volume, which is 50,000€, it will cost 603€, 513€, and 799€ in the same previous order.
For further information, make sure to check NapBots' pricing page.
Getting Started with NapBots.
In the following part of NapBots review, we will demonstrate step-by-step how to get started with NapBots and create your first trading bots.
Sign up on NapBots.
Firstly, head to NapBos' main page and click on "Register". After that, enter your information and proceed with the sign-up process.
Connect an Exchange to NapBots and Create Your First Bot.
After creating your account and verifying it, we can start connecting an exchange to our NapBots account. On your dashboard, click on "Add Exchange."
After that, choose the exchange you are going to use.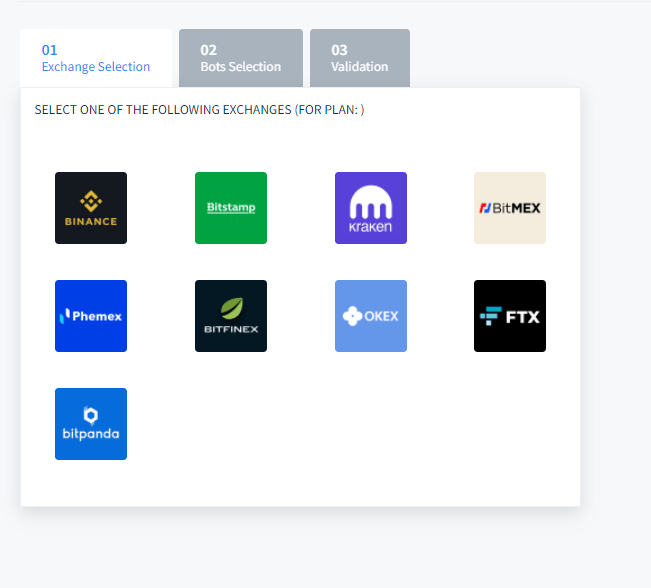 After choosing your exchange, you can select your trading bot right away. NapBots will display all the available bots for your exchange and its previous profits.
After that, you should be able to enter your trading volume and billing information.
After completing your payment, go to your exchange setting and choose your exchange; you can add your API key and API secret. The API key is generated on your exchange platform.
Following that, you can now activate your trading bot on your dashboard.
Conclusion.
In brief words, there's no doubt that social trading is efficient and profitable for both the expert trader and the copier. NapBots allows you to get access to tens of profitable signals provided by the top traders, which can assist you in making good profits. However, there are a few things that we didn't like, more in the following pros and cons list.
Pros.
Simple to use;
7 days of free-trial;
lots of bots available.
Cons.
No manual trading;
can be expensive;
NapBots Alternatives.
After this detailed NapBots review, we are going to share with you the best alternatives for NapBots. Also, we have a detailed review for each of the following platforms; make sure to check each one to get a clear idea.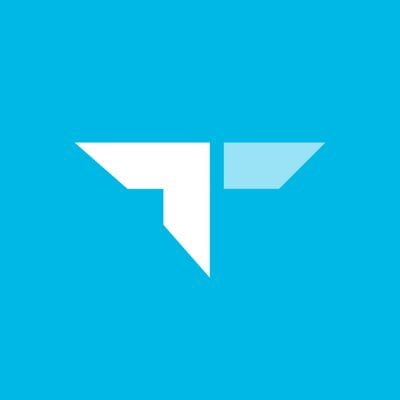 Trality
Trality is an automated trading platform that's meant to fit all types of traders. On Tralitly, you can code your own bot, create a rule bot, or pick a premade bot in the marketplace.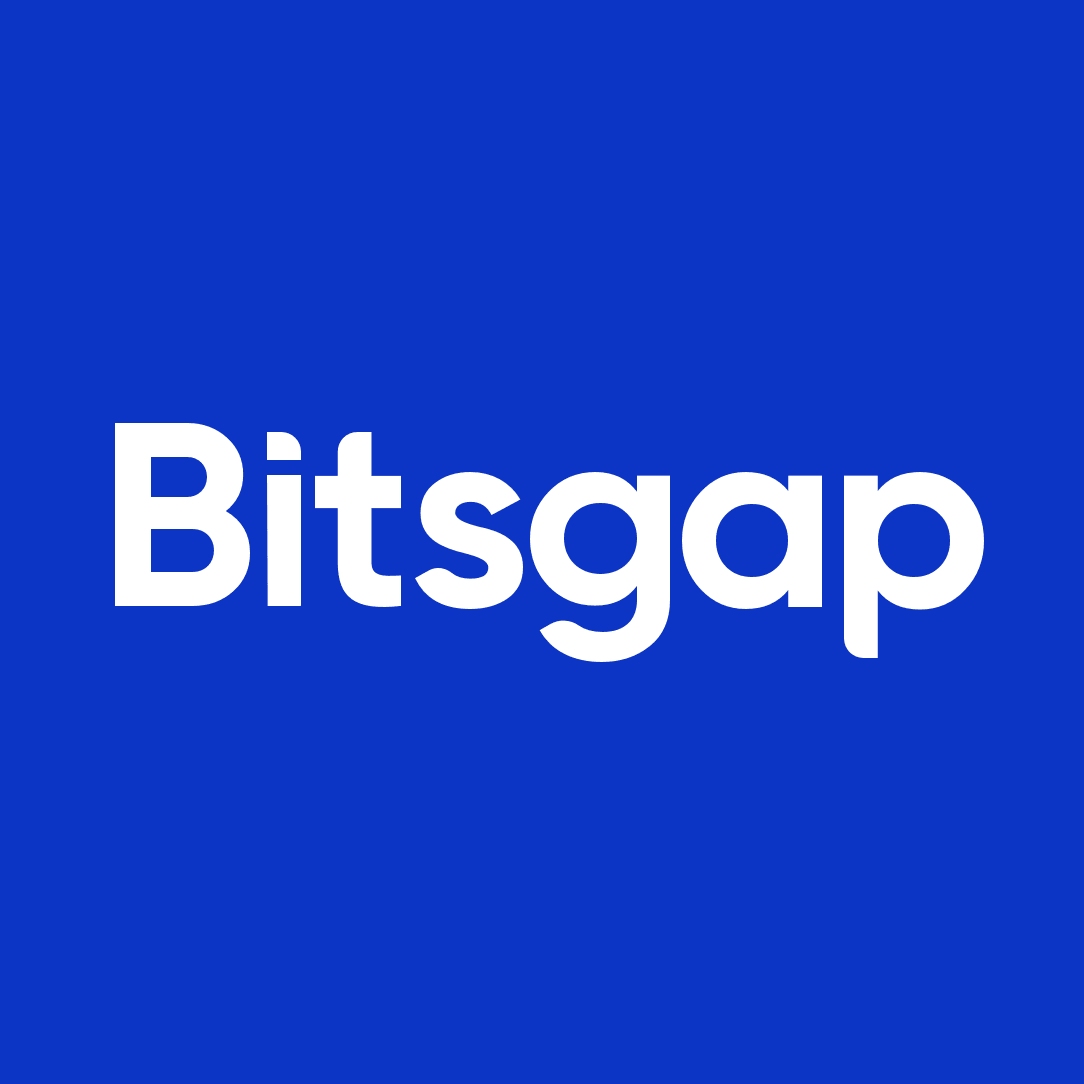 Bitsgap
Starting at 19$ with a free plan. All-in-one trading platform for your Bitcoins and other Cryptocurrency. Trading, Portfolio, Arbitrage, Signals, Demo, and Bots.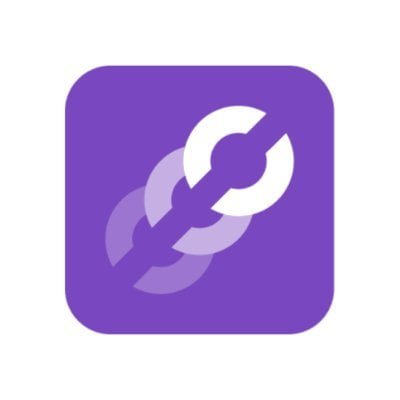 Mudrex
Mudrex aims to give you access to long-term wealth creation opportunities. Also, the platform exists to bring these opportunities for you in the crypto markets.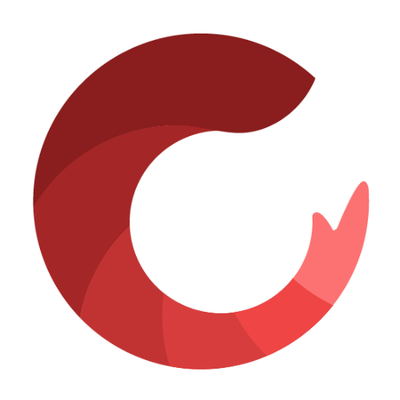 Shrimpy
Shrimpy is building a unified portal for the cryptocurrency market. The platform aims to connect customers to every custody solution and liquidity provider to enable seamless portfolio management.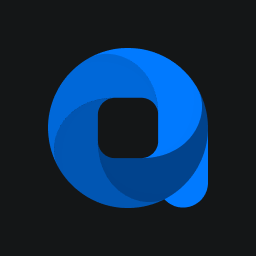 Altrady
Altrady is the ultimate trading platform for cryptocurrencies. Investors and traders can connect their cryptocurrency exchange accounts to Altrady to experience convenient buying and selling of bitcoin and altcoins in just a single platform.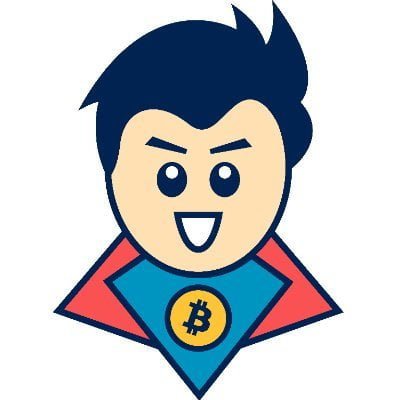 CryptoHero
CryptoHero automates your crypto trades for you 24/7. Create a bot in minutes. Run it, manage it, anytime, anywhere.
Finally, we would love to know your thoughts on this NapBots review. So, make sure to comment your thoughts and ideas in the comments section below.