In today's article: Mudrex review, we will highlight and review one of the best crypto trading platforms and demonstrate all of its features.
Investing in crypto can be a difficult step, especially for novice investors. Furthermore, cryptocurrency investments can be very risky if you don't have enough knowledge of what you are doing and what you are investing in, but luckily, platforms like Mudrex exist.
Mudrex allows you to connect all your exchanges in one place where you can trade and automate. Also, the platform offers a wide range of Coin Sets that you invest in, in addition to unique strategies and signals that can increase your trades efficiency.
Table of Contents
About Mudrex.
Mudrex aims to give you access to long-term wealth creation opportunities. Also, the platform exists to bring these opportunities for you in the crypto markets. They try to help you invest in top crypto trading algorithms and custom crypto baskets that are designed by professional traders and investors.
Also Read: Protect your assets aganist hackers and attackers, check the best hardware wallet.
Mudrex Features.
In the following part of our Mudrex review, we will point out and demonstrate the platform's top features that really make it unique.
Crypto Investing Is Simplified.
Crypto investments can be confusing and are full of unknowns. But, Mudrex will simplify this by offering products crafted by successful traders and experts to help you start.
Manage Your Risk.
Maximize gains as per your risk appetite. Also, Mudrex offers a wide range of investment options with varying risk/reward profiles.
Coin Sets.
Coin Sets are theme-based bundles of cryptocurrencies actively that experts manage. Furthermore, they help you diversify your investments across a theme and minimize your risk.
Mudrex Mints.
Curated Portfolios, created by analyzing over 10 billion combinations of strategies, made by professional traders. The portfolios are managed by Murdex's team to ensure the maximum possible returns while also optimizing for risk.
Algos.
Technical analysis-based bots are preconfigured to give you consistent long-term returns. Utilize the data-driven insights of traders which were only available to institutional investors till now.
FAQ.
Why Mudrex?
Trust through transparency: With Mudrex, you get all the information on your trades in real-time in order to ensure tranparency and credibility
Reliable infrastructure: Mudrex has a system that you can rely on; as a result, you will not miss any good trading opportunity.
Controlled risk: Mudrex has developed a combination of straregies in order to reduce the risk in different market conditions.
Unique products: Access to investment strategies which were only available to institutional investors till now.
How Much is Mudrex fees?
With Mudrex, you pay as you invest. The Fees vary depending on your profits. It can be as low as $5/mo up to %2.5. Also, you pay fees for investing in Coin Sets.
You can learn more about the platform's fees and payment methods here.
What exchanges does Mudrex support?
At Mudrex, users can either trade using the Mudrex wallet, or use a cryptocurrency exchange. These are the supported exchanges:
Binance
Binance US
OkEx
Coinbase Pro
Also, they are working on adding the following exchanges as soon as possible:
Kraken
HitBTC
Poloniex
Huobi
Bitfinex
Is Mudrex Secure?
The short answer is yes. Because Mudrex stores important personal information using bank-level AES-256 encryption on their servers. In addition, all API traffic is secured and goes through SSL, and uses TLS 1.2 to prevent third parties from eavesdropping on your connection.
Getting Started with Mudrex.
In the following part of our Mudrex review, we will explain how to get started with the platform.
Sign up.
Firstly, head to Mudrex main page, and click on"Get started" on the top right. After that, enter your information, you can also proceed with your Google account.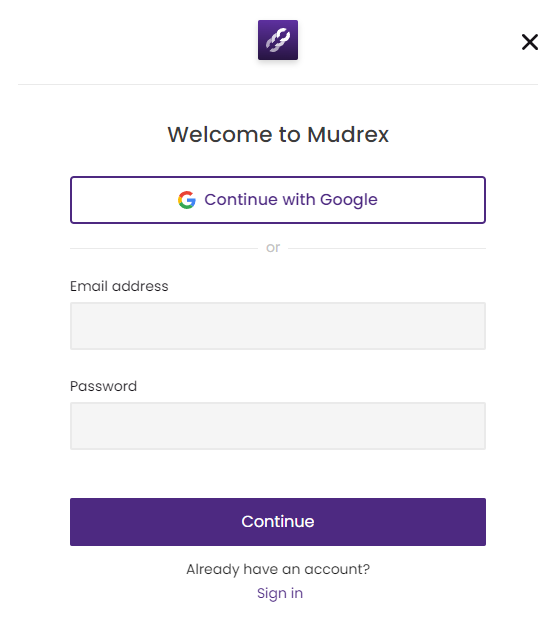 Verify Your Account.
Now, head to your inbox and check for an email from Mudrex's team in order to verify your account.
Connect Your Exchange.
The first thing to do after completing your registration is to link your exchange. Note that you can continue by using Mudrex's wallet too.
If you are going with an exchange, you will need to generate an API key at your exchange platform.
Coin Sets.
We previously explained what Coin Sets on Mudrex are, you can invest in Coin Sets by clicking on the left menu. After that, you can see all the available Coin Sets. You can also filter them for more precision.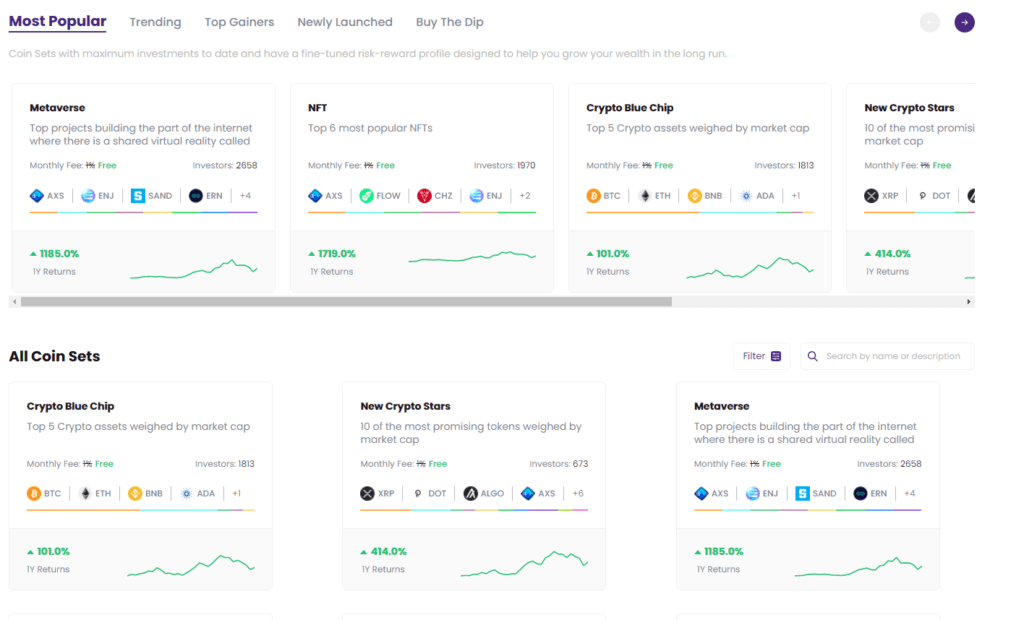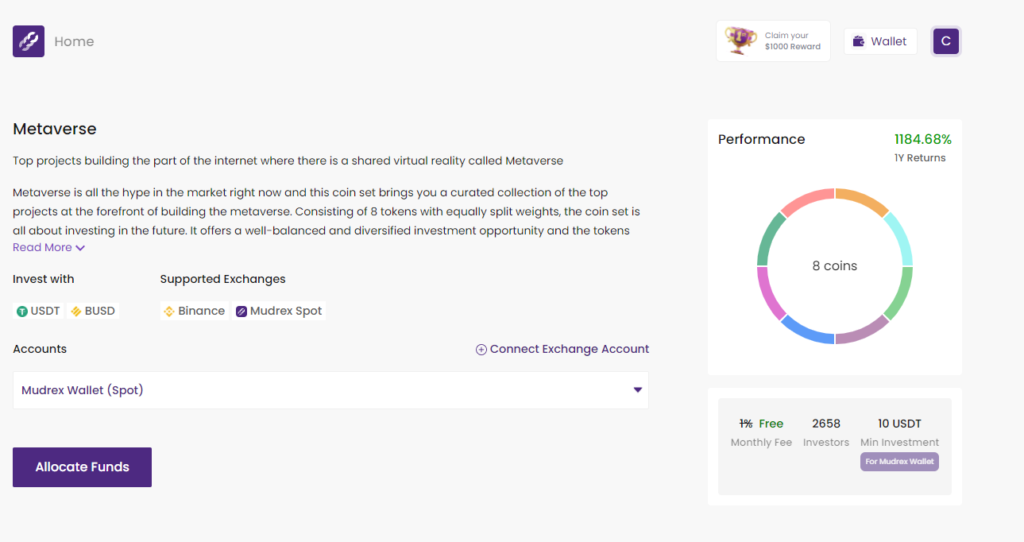 Mudrex Mints.
Click on "Mudrex Mints" on the left menu. There are 3 types of Mudrex Mints available, low risk, medium risk, and high risk.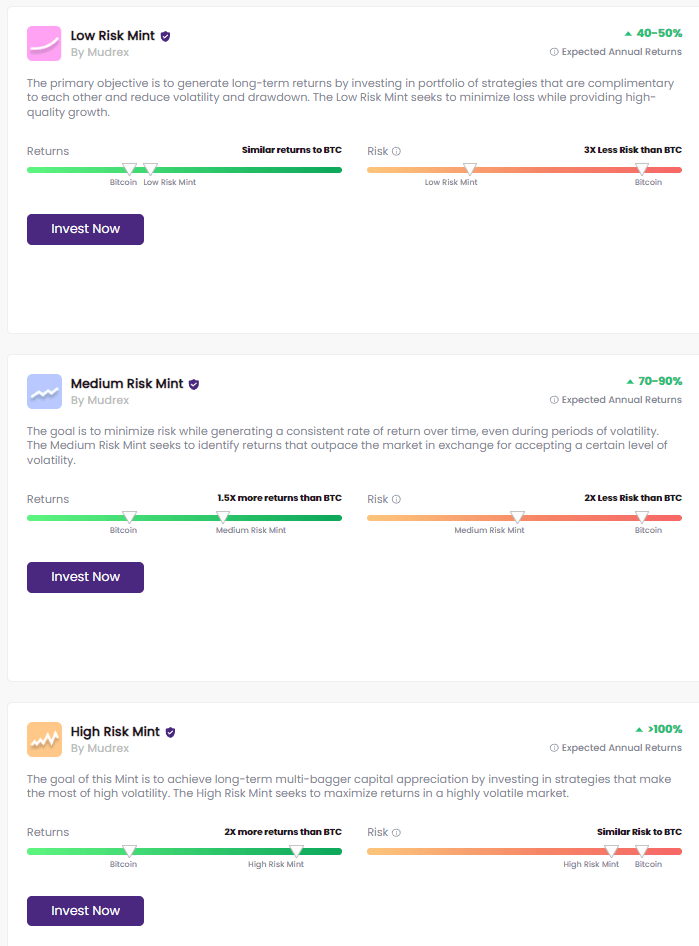 Clicking on any of the strategies will show you its previous trades and performance.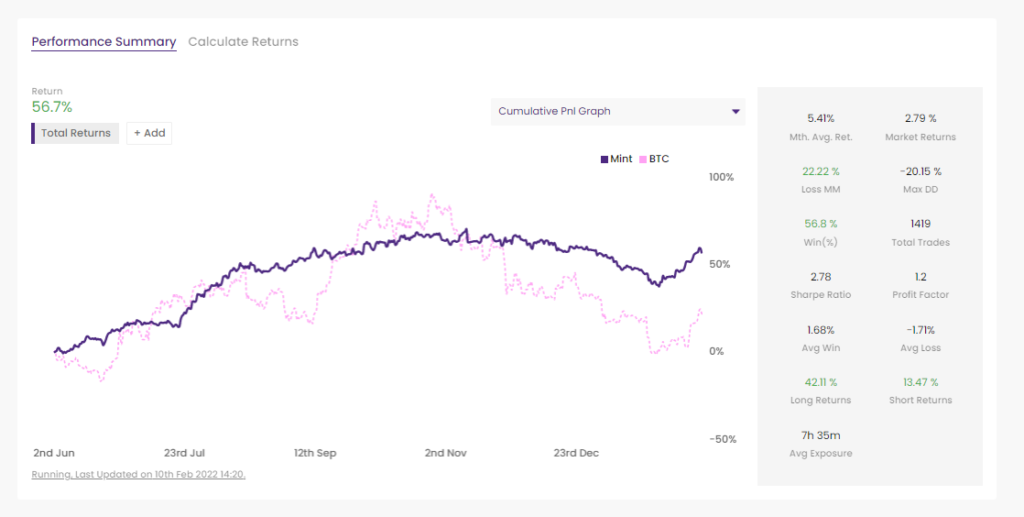 Algos.
Mudrex provides you with a curated marketplace of top Algos created by the best traders on Mudrex. These Algos are completely automated and built to work over market cycles. They are built to minimize risk and hence provide steady consistent returns.
Access all the available Algos by clicking "Algos" on the left menu. And as usual, clicking on any of them will show its previous performance.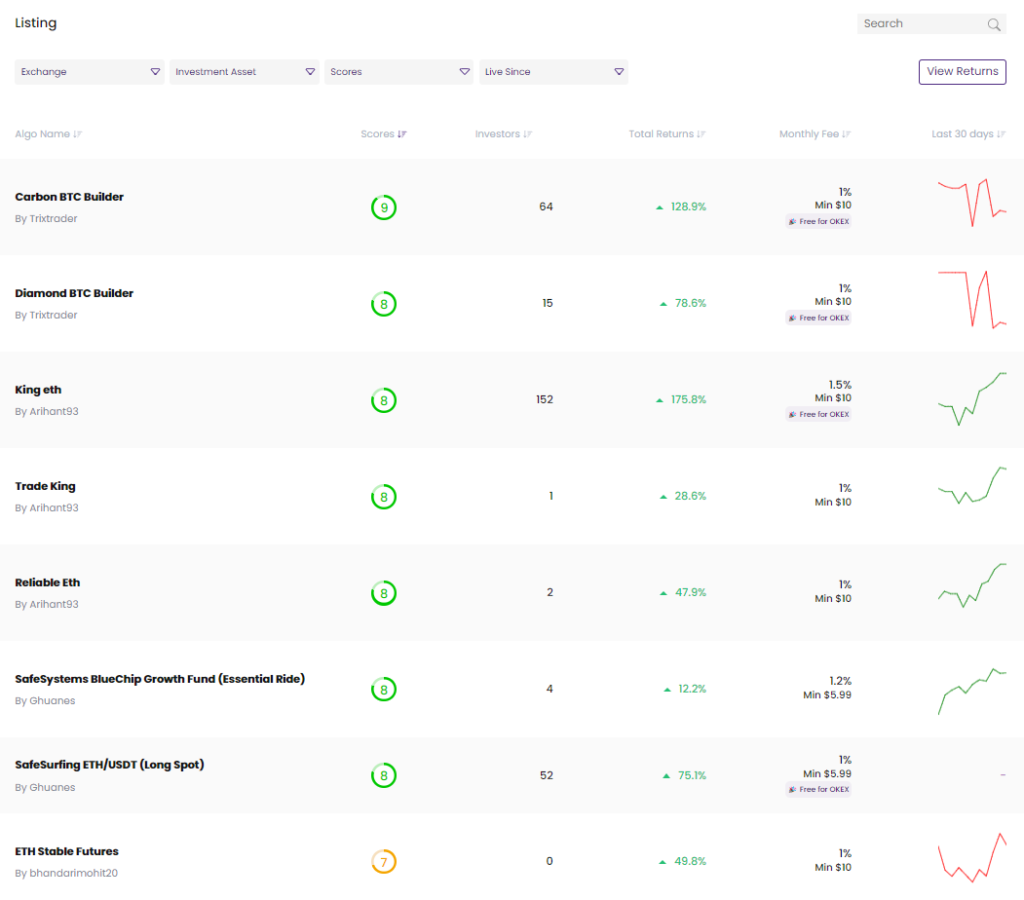 Conclusion.
In brief words, Mudrex is a great platform where you can get lots of features and trading options that you can't find elsewhere. The numbers that Mudrex shows are very promising and encouraging. We highly recommend going with Mudrex. However, there are a few disadvantages at Mudrex.
Pros.
Simple and easy to use;
allows manual trading;
wide range of Coin Sets.
Cons.
No paper trading;
missing some big exchanges such as KuCoin.
Alternatives.
We have made a list of the best alternatives for Mudrex. Each tool has a detailed review and a guide to get you started. Make sure to check each of the following products and reviews.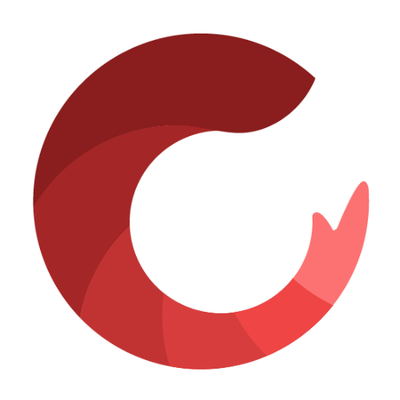 Shrimpy
Shrimpy is building a unified portal for the cryptocurrency market. The platform aims to connect customers to every custody solution and liquidity provider to enable seamless portfolio management.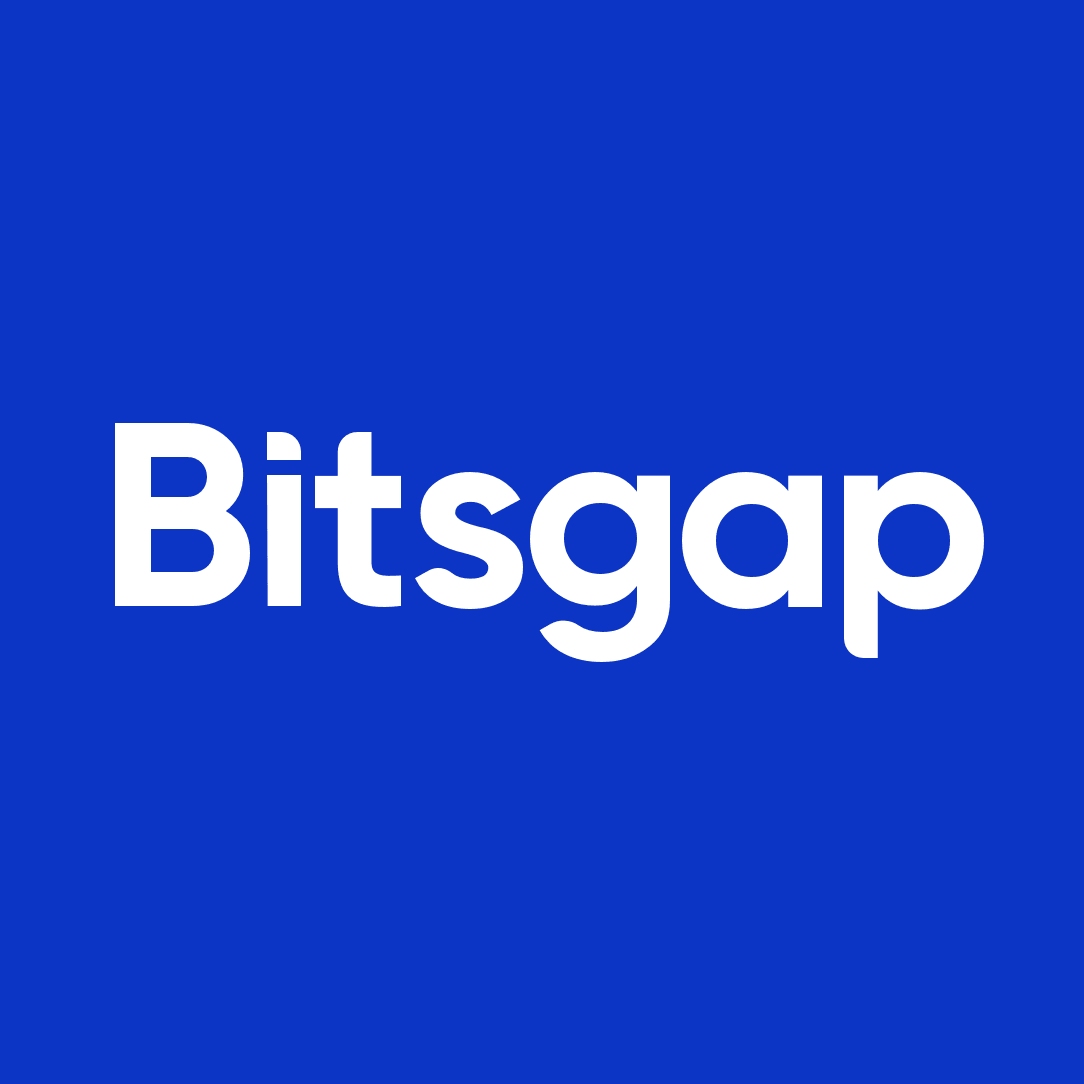 Bitsgap
Starting at 19$ with a free plan. All-in-one trading platform for your Bitcoins and other Cryptocurrency. Trading, Portfolio, Arbitrage, Signals, Demo, and Bots.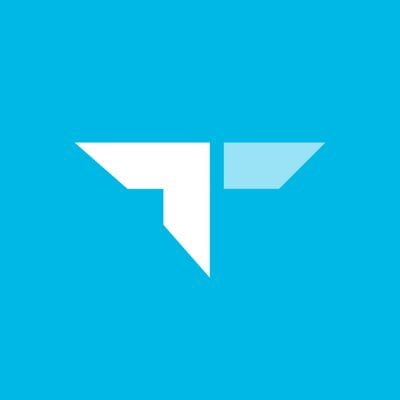 Trality
Trality is an automated trading platform that's meant to fit all types of traders. On Tralitly, you can code your own bot, create a rule bot, or pick a premade bot in the marketplace.
Capitalise
Capitalise is the innovative way that lets you use natural language to make your investment ideas come to life. Also, it offers a seamless trading experience, removing technical barriers and opening new trading opportunities and channels for non-technical traders.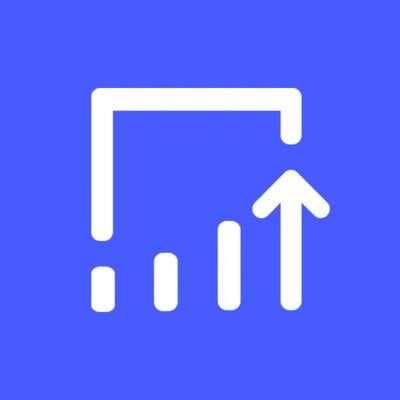 Stacked
No coding required. Stacked offers great features to expand your trade, like pre-built indices, profitable trading bots with automatic rebalancing.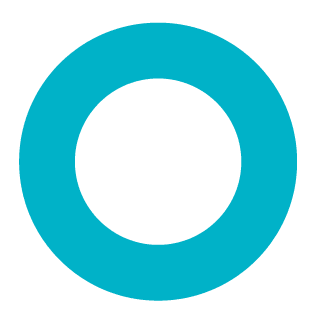 CryptoHopper
Starting at $19 with a free plan. Manage all your exchange accounts, use market-making and exchange/market arbitrage and simulate or backtest your trading.
Finally, we would like to know your thoughts on this Mudrex review in the comments section below. So, Feel free to comment and we will be replying to you.