In this article: LunarCrush review, we're speaking about one of the most reliable social data provider in the crypto community.
Social trends have a significant impact on market prices, especially crypto prices. Social dominance can make crypto's future prices pretty much predictable due to the positive association between social trends and crypto prices.
However, keeping track of all social media inside and outside the crypto community is nearly impossible for individuals. Consequently, that led to the rise of social analysis platforms. Most importantly is that such platforms don't focus only on social analysis, but they offer comprehensive tools and functions for financial data analysis in general.
This article's subject is LunarCrush as one of the experts in social analysis in the crypto community. Considering how many features and functions LunarCrush possesses, it's also eligible to be the best social trends analysis platform in the field.
Table of Contents
About LunarCrush.
LunarCrush uses artificial intelligence and machine learning to analyze cryptocurrency data from dozens of sources to unscrew priceless insights you can use to make confident, data-driven trading decisions.
Also Read: Best Crypto Copy Trading Platforms.
LunarCrush Features.
Coming with many features to enlighten your sight for profitable trading decisions, LunarCrush also has many social analytics tools that we'll come across in this LunarCrush review.
Comprehensive Dashboard.
LunarCrush's dashboard enables you to hunt for hidden opportunities by just taking a quick look at your Dashboard.
On your LunarCrush dashboard, you can get a broad view as it displays a brief of what's happening in the crypto world, including social trends, prices, exchanges, and more. Also, clicking on any of the displayed information will display a detailed view of the category.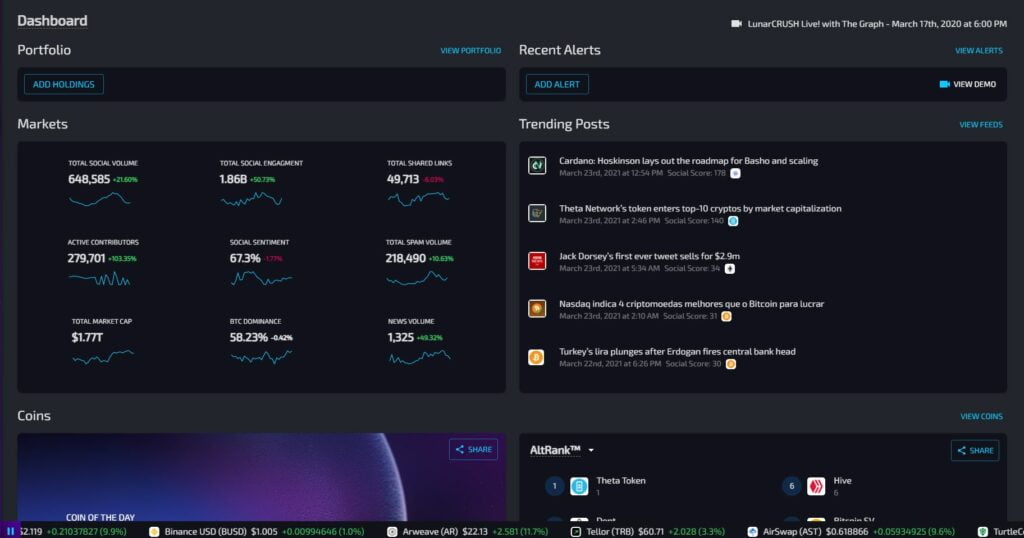 Alerts.
Of course, you're not going to sit all day on LunarCrush looking for the best positions. With LunarCrush alerts, you can choose points and positions where you want LunarCrush to inform you; that way, you're never missing a chance.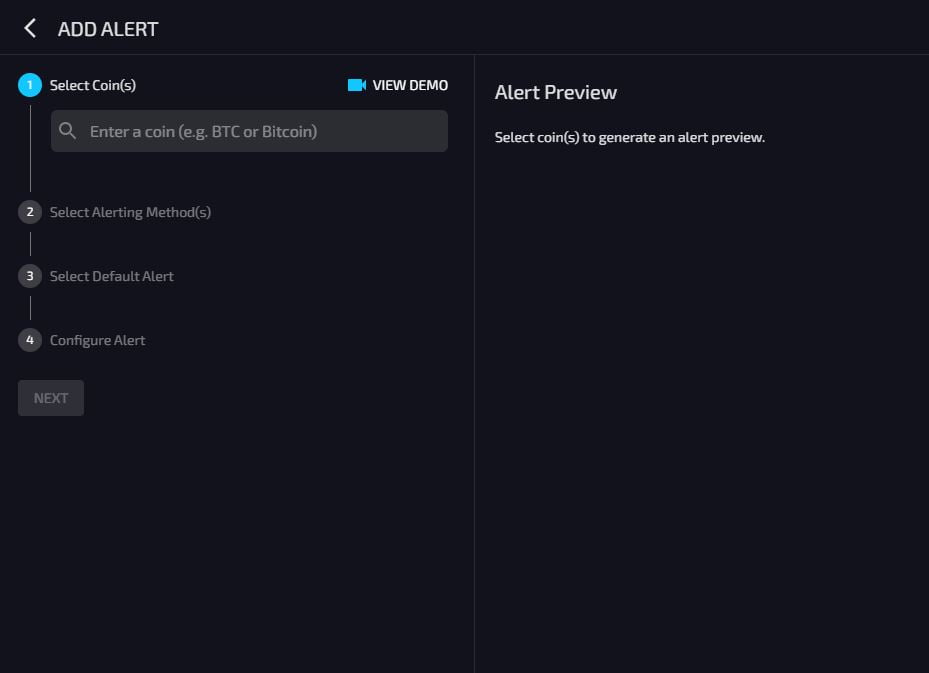 Screener.
At one look, you can view what's happening on both the market and social media. By using LunarCrush's screener, you can view important metrics for all coins in one place like price change, market cap, social volume, social engagement, and more.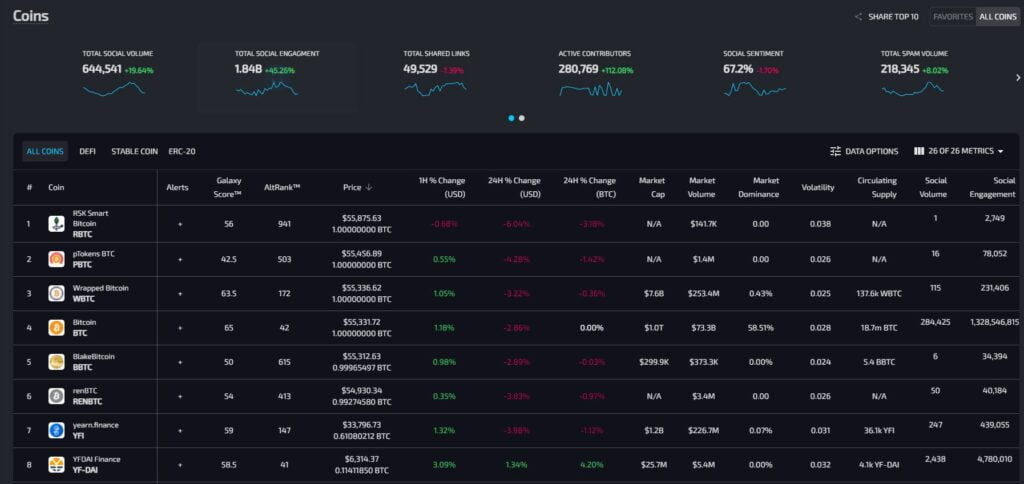 Also, upon clicking a coin, you'll get the most detailed information about that coins categorized as following:
Key metrics (Galaxy Score, AltRank, Correlation Rank).
Social Metrics (social volume, social engagement, etc.)
Trading metrics (market cap, market dominance, volatility)
Key Metrics.
Metrics are the key to tell how a coin is performing. Furthermore, You can swap coins, exit or enter positions based on the knowledge you've gained from reading and viewing metrics.
In addition to the different metrics that LunarCrush has, it also has unique metrics to open more doors for better trading decisions.
LunarCrush Galaxy Score: a proprietary score that is constantly measuring a cryptocurrency against itself concerning the community metrics pulled in from across the web.
LunarCrush AltRank: Designed to access a cryptocurrency's community and traction and compare that across the entire cryptocurrency marketplace.
Correlation Score: a measure of the strength of the correlation between LunarCrush's data and coin prices over time.
Portfolio.
Not only that, you can view all coins' metrics and social trends, but also you will track your portfolio, Add your holdings and view them in detailed charts.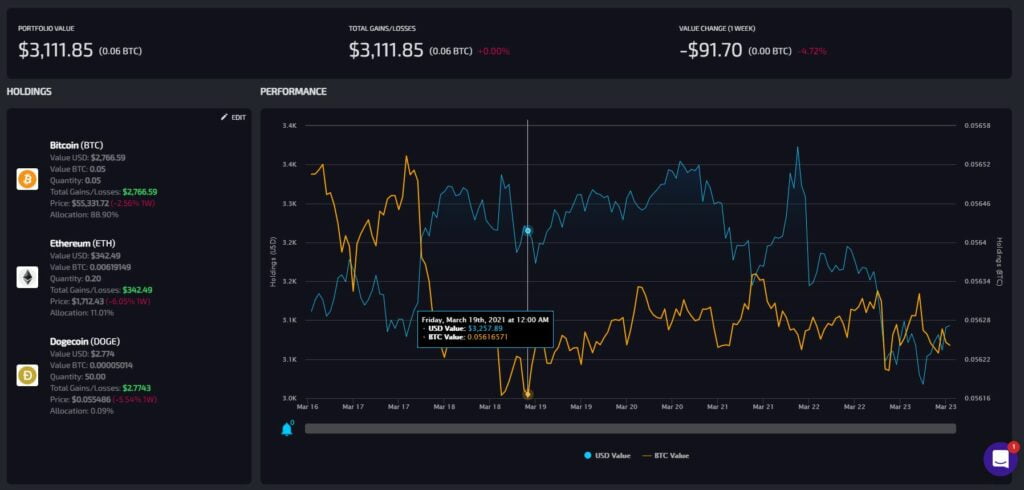 Feeds.
On LunarCrush's feeds tab, you can see trending words in the crypto field, view the most dominant words in the crypto social trends, which leads to prediction future prices. Moreover, you'll view tweets from different coins.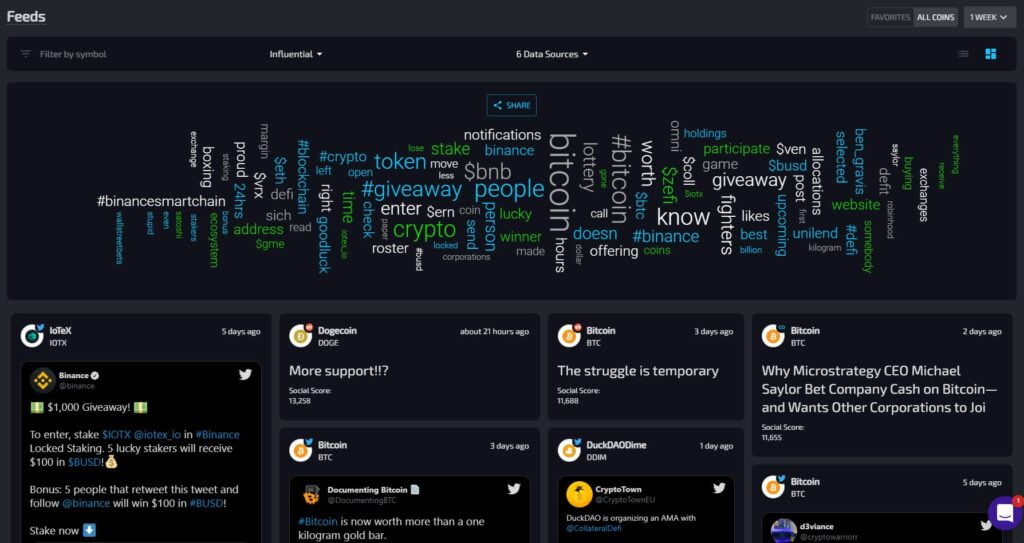 Influencers.
We have all seen how Elon Musk can control the market only using his Twitter. In LunarCrush's influencers tab, you can read the most recent tweets from crypto influencers in one place. Furthermore, you can view changes before and after each tweet.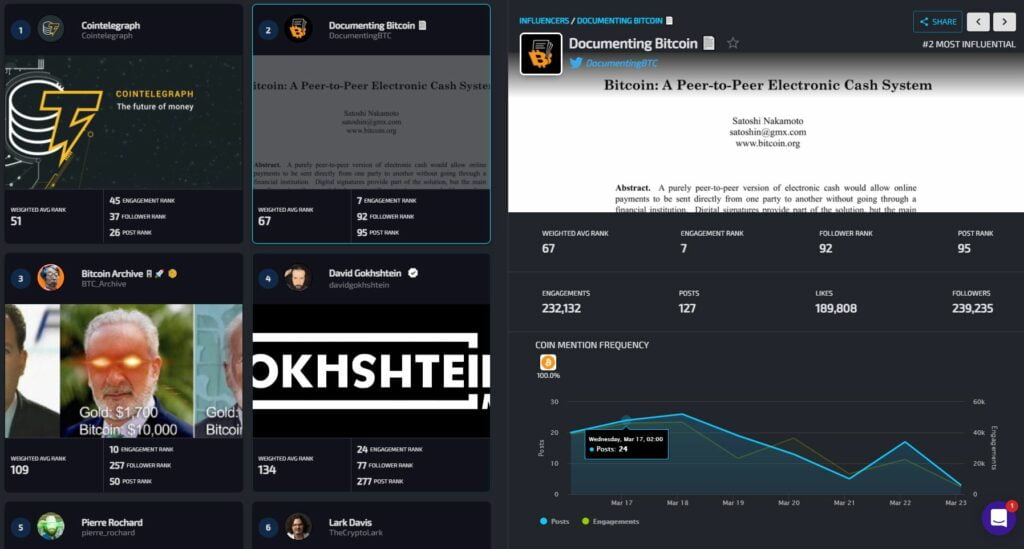 Compare Coins.
Suppose you're puzzled between two coins, no more of that. You can compare different coins' metrics to make better decisions.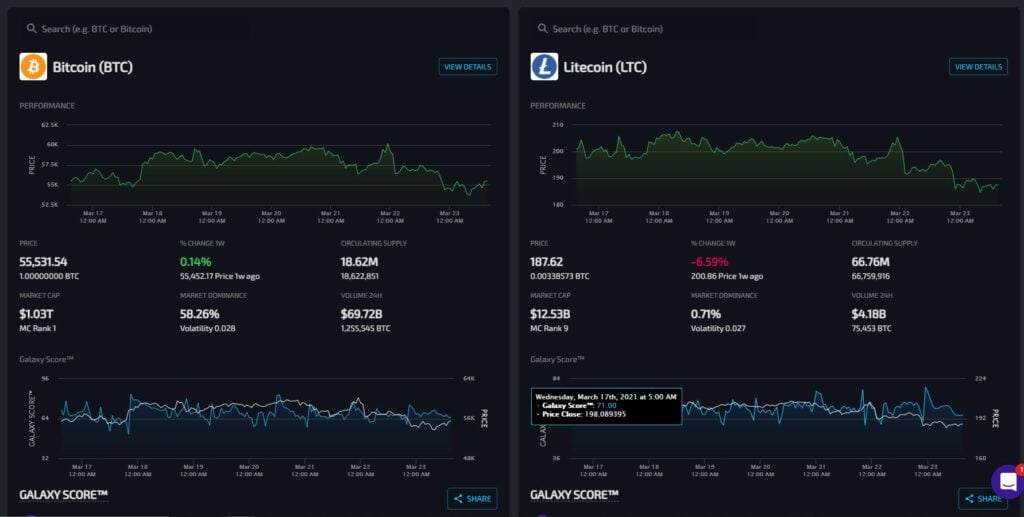 Pricing.
LunarCrush has different plans for different users. Starting with a free plan up to $699. However, the free plan seems to have most of the important functions. You can view LunarCrush's plans here.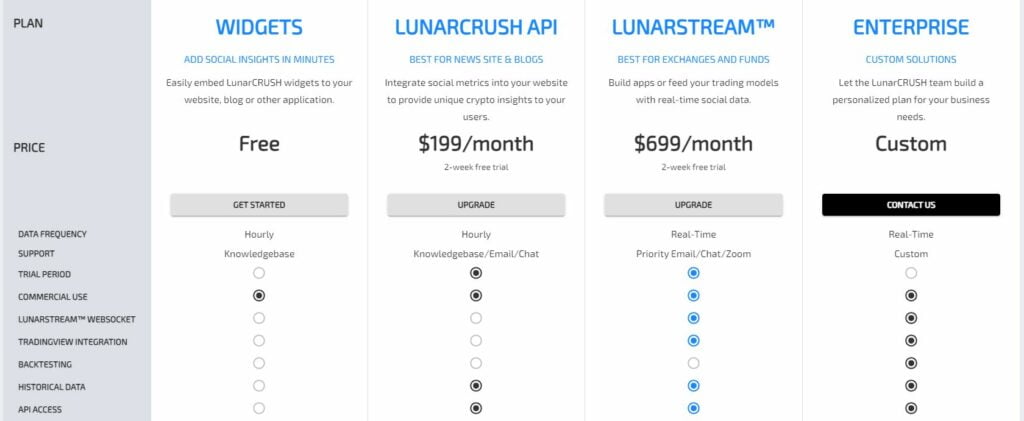 LunarCrush Conclusion.
In conclusion, LunarCrush review was mouthful with different important features like social trending analysis and different metrics and more. However, there is one thing that we didn't like on LunarCrush, More on LunarCrush's pros and cons.
Pros.
Accurate data analysis.
Social analysis.
New LunarCrush metrics.
Portfolio tracking.
Cons.
Alternatives.
Some people might not like LunarCrush; for that purpose, we're introducing the best alternatives for LunarCrush that offer different and unique features.
DYOR.net
DYOR.net is a tool that analyzes Binance and KuCoin spot markets on BTC and USDT pairs by analyzing each symbol every 15 minutes. Coins are ranked based on their current trend strength and their reversal potential, from the highest to the lowest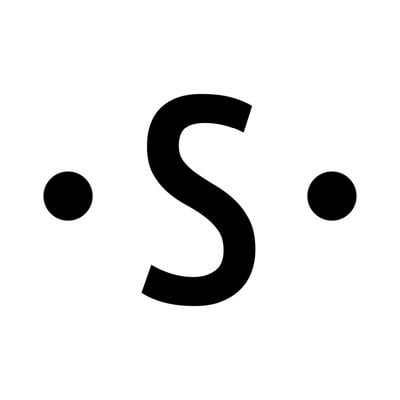 Santiment
Santiment is a comprehensive market intelligence platform for cryptocurrencies, focusing on clean and reliable data feeds, low-latency signals, and custom market analysis. Leveraging on-chain, social, development, and other data sources.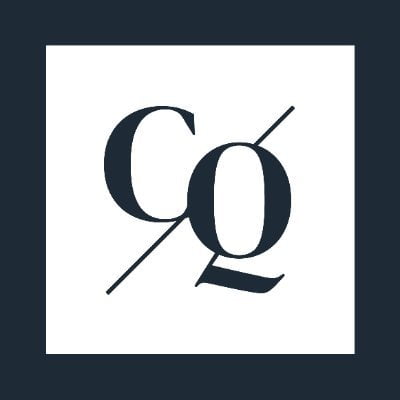 CryptoQuant
CryptoQuant delivers market data and on-chain data via API or directly into Python, R, Excel, and many other tools. Save time and money by getting the data you need in the format you want.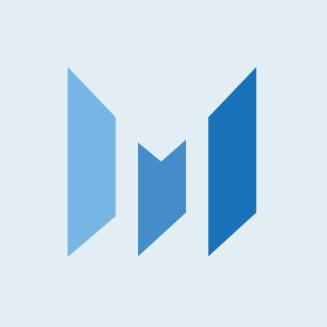 Messari
Messari is a data analysis platform for the global crypto asset community. They believe data is knowledge, and with knowledge, you can invest with confidence.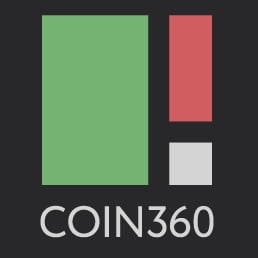 Coin360
Coin360 is a simple and clear visualization of the crypto market that is live-updated 24/7. Follow the market as it changes.
Finally, we'd love to hear from you in the comments. So, tell us what do you think of this LunarCrush review?